What if the air conditioner you own has 4 legs and you can move it as per your requirements? Sounds pretty unrealistic, right? Blue Star has made it possible with their portable air conditioner model.
The most important point is, does it offers similar cooling and is similarly durable in comparison to an inverter or window AC?
The simple answer is a big YES!
Blue Star Portable AC, in our testing, scored a total of 8.2. It beat several other inverter air conditioners as well in terms of cooling performance. For example, Amstrad, Onida, and MarQ ACs even consumed more time to chill out a 10ft. x 10ft. room.
While this portable AC model just consumed 13 Minutes 55 Seconds in its normal mode and 5 Minutes 40 Seconds in the turbo mode.
We can undoubtedly say this ac gave a pretty tough competition to numerous other AC models. Just Sanyo and Lloyd turned out better in terms of overall performance. However, we have a sweet list of numerous models in Croma AC Review, you can cherish them to know if Croma can serve you better.

OUR TESTING REPORT OF FEBUARY 2022
| | |
| --- | --- |
| Rank under 30K AC models | #7 |
| Cooling 10ft. x 10ft. room (normal mode) | 13 Minutes 55 Seconds |
| Cooling 10ft. x 10ft. room (turbo mode) | 5 Minutes 40 Seconds |
| Cooling 12ft. x 15ft. room (normal mode) | 13 Minutes 53 Seconds |
| Cooling 12ft. x 15ft. room (turbo mode) | 7 Minutes 11 Seconds |
| Rapid cooling performance | 7.7 (Average of other AC below 30K – 8.4) |
| Consistency | 7.8 (Average of other AC below 30K – 8.1) |
| Durability | 7.5 |
| Electricity Units saving | 42% more than any other AC at this price |
| Overall score | 8.2 |
While Panasonic provided better coverage but that ac is pretty costly as a 1-ton model. If your plans are to purchase an inverter AC model, then undoubtedly Sanyo 1 ton AC is the best; however, Blue Star Portable AC has its own surprising benefits.
Read this latest & honest review conducted by testing in Ahmadabad, April 2021, and cherish the shocking testing results of this portable AC.
SPECIFICATIONS
| | | | |
| --- | --- | --- | --- |
| Energy Efficiency | 2 star | Control Console | Remote Control |
| Installation Type | Portable | Warranty | 1 year (5-year on compressor) |
| Capacity | 1 Ton | Annual Energy Consumption | 2.56 kWh – hour |
| Color | White | Batteries Required | No |
| Noise Level | 52 db | Condenser Coil | Copper |
Blue Star Portable AC Build quality
The luxury Blue Star AC has a copper condenser that's fantastic. One significant advantage of a copper condenser over a traditional aluminum condenser is improved heat transfer.
In comparison to the aluminum condenser, the copper condenser is more durable and much easier to clean and maintain.
As the copper condenser is more costly than aluminum, you'll just discover it is a highly expensive AC model, but this AC is cheap yet still contains one. Due to the low temperature during the water condensation period, dust particles usually accumulate around the coil of the evaporator.
Fortunately, modern Blue Star ACs have an anti-corrosive hydrophilic bluefin that does not cause water condensate to collect and does not corrode quickly in high moisture levels around the coil.
People who live in humid areas will appreciate this function because it protects their air conditioner from corrosive elements.
Blue Star Portable AC Operation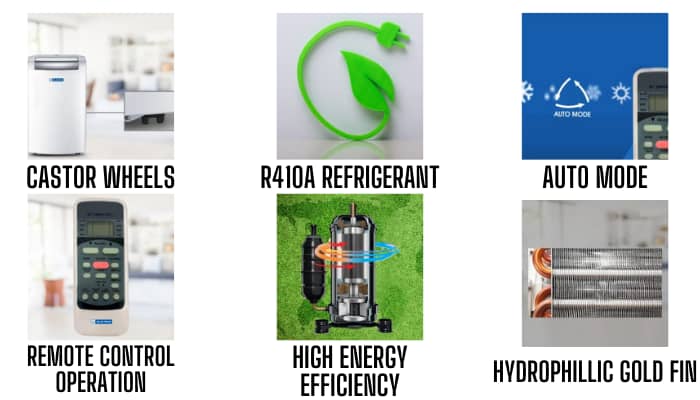 When you hear the term "air conditioner," you think of a device that blasts chilled air into a room, lowering the temperature to a comfortable degree.
However, the founders of air conditioning technology invented it with the concept of "conditioning" or adjusting it to a desired/specific temperature in mind. So, ideally, ACs should condition the temperature in the winter as well. For example, it should heat the room during the cold winters.
Luckily, this air conditioner is capable of putting the principle into practice (of heating during winters). It has a built-in heater functionality in the form of a heat mode alternative that, when powered, reverses the air conditioning mechanism.
The fan is turned off, and warm air is blown before the desired warm temperature is reached. The best thing is that, unlike traditional heaters, it does not use a heating filament.
This ensures they are not only much more energy-consuming but also eliminate the possibility of low oxygen, which is a common issue with traditional heaters.
As a result of the Hot and Cold AC offerings, businesses are gradually shifting the belief that ACs are just seasonal items. With an obbligato overture
Compressor and Performance
Blue Star's new AC models are motivated by the latest Dual Rotor Inverter Compressor technology.
This rotor inverter dual compressor tech gives Blue Star an advantage over its rivals in terms of cooling performance due to its improved operating frequency range.
But, what exactly is inverter technology? To put it simply, inverter technology is similar to a car compressor. When a compressor requires more fuel, it receives more power. When it has less fuel, it provides less electricity.
The compressor is still on with this technology. Therefore, it draws less or more power based on the incoming air temperature and the amount set in the thermostat.
In comparison to traditional inverters, dual inverter-based AC has a high-performance rotor compressor with two compression chambers that operates on a broader frequency range to sustain the desired temperature with minimal fluctuations.
To have a high rotational speed with limited vibrations, an advanced BLDC motor is used. In addition, an acoustic jacket is used with the compressor to reduce noise levels.
As a result of this technology, the compressor cools faster, vibrates less, emits less noise, and lasts longer. However, it can't compete with the wall mounted AC models. For example, you get better compressor performance with Midea AC and Reconnect AC.
Blue Star Portable AC Key Features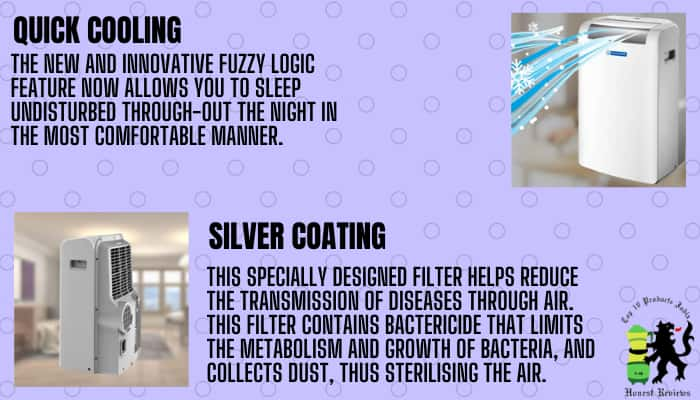 High Energy Efficiency
The technology of the Dynamic Drive Architecture is a special engineering design that guarantees a higher efficiency of energy while offering the best cooling performances.
Quick Cooling
The new revolutionary flip-floppy logic feature now makes it possible for you to sleep all night comfortably long.
R410A Refrigerant
The new R410A coolant is made with Zero Ozone depletion and polyester (POE) oil. Also, it has improved oil return, better heat transfer features, gravity, and it's wax-free.
Silver Coating
This filter is specially developed to minimize airborne disease transmission. This filter includes bactericides that restrict and sterilize the metabolism and growth of bacteria.
Hydrophilic Gold Fin for protection
The hydrophilic golden evaporator fins prevent water condensate from accumulating. This decreases the accumulation of dust and other debris, thus improving the AC's efficiency.
Auto Mode
Also, in high humidity or during the rainy season, the Auto Mode helps you to enjoy a quiet sleeping environment.
Castor Wheels for Easy Movement
Castor wheels have the comfort of fast movement with limited effort.
Remote Control Operation
Regulation from a fixed distance allows for simple and convenient operation.
Self Diagnosis
Blue Star AC displays an error code in the event of a fault during service, allowing for quick and simple detection and careful care to protect the AC from injury.
What We Liked About Blue Star?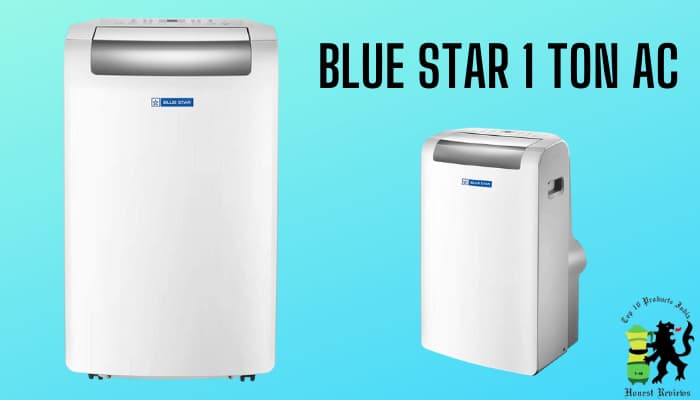 The greatest benefit of Blue Star air conditioners is their adaptability. With the exception of Voltas, it is the only Indian brand that offers a full range of air conditioners, from residential to industrial, from windows to break, and from the inverter to non-inverter.
It has a foothold in the commercial air conditioning sector in India, and its residential coverage has been steadily expanding since its entry into this market seven years ago.
The absence of R410A refrigerant is a huge relief for those who are highly concerned about the environment.
R410A refrigerant is a significant contributor to global warming and has a strong global warming potential. Another significant benefit of the new Blue Star ACs is their incredibly quiet service.
When it comes to reducing noise loads, Blue Star is one of the top brands. Blue Star is the Indian brand that invests the most in research and development. The Economic Times recently named Blue Star one of the "Best Corporate Brands."
FAQ'S
Which portable AC is best in India?
There are several Indian organizations that provide inverter/window air conditioners, but just a few brands are there, such as Blue Star that provides something special and separate from the other AC.
Blue star portable AC is well-known in India. This 1-ton ac model has the highest coverage as a "portable ac." It'll offer you 120 to 180 sq. ft. of coverage, and that's almost impossible to discover in a portable ac model.
Here's the 6 best postable AC in India:
| | | | | |
| --- | --- | --- | --- | --- |
| Model | Capacity | BTU units | Refrigerant Type | Warranty |
| Blue Star Portable AC | 1.0 Ton | 12250 BTU | R410A | 1 year on AC model, 1 year on condenser, 5 years on compressor |
| Eurgreen Portable | 1. 2 Ton | 12000 BTU | R410A | 1 year on AC, 2 years on compressor |
| Lloyd Portable AC- | 1.0 Ton | 11770 BTU | R410A | 1 year on AC |
| Honeywell Portable AC | 1.15 Ton | 14000 BTU | R410A | 1 year on AC |
| Super General Portable AC | 1.5 Ton | 18000 BTU | R22 | 1 year on AC and 5 years on compressor |
| Garrison Portable AC | 0.82 Ton | 10000 BTU | R410A | 1-year on the whole unit and a 5-year on the unit's sealed system |
Which AC is better: blue star or carrier?
This has always been the biggest point of contention between the blue star and carrier supporters, but let us assure you that blue star customer support has always come out on top.
Since the price and consistency are much too good for a standard portable air conditioner. So, if you're curious which one to use, we strongly advise you to get a portable ac from Blue Star.
How does portable AC work?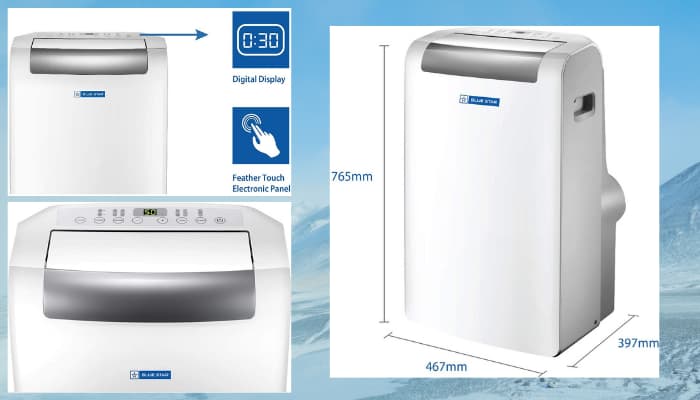 It performs admirably and is also simple to use. The biggest benefit of portable ACs is that no expenses are required in installing them; as it's not permanent, it can be moved to different places easily.
No more installing costs if you want to switch the place. Everything you have to do is connect the hose, plug in the cable, and turn it on. Portable air conditioning is well-known for its simplicity to use and configure the system.
Which AC is better: Blue Star or LG?
The comparison between Blue Star Portable AC vs LG 8, 000 Btu 115V Portable Air Conditioner will depend on how perfect the model is at providing efficient cooling.
To compare these two models and determine which portable AC is better, let's go through Quick Specs, Basic Information, Technical Specifications, Features, etc. Also, you will see Price Comparison between Blue Star Portable AC vs LG 8, 000 Btu 115V Portable AC.
| | | |
| --- | --- | --- |
| MODEL | 2019 Model, PC12DB | LG 8,000 BTU 115V |
| TYPE | Portable | Portable |
| CAPACITY (TON) | 1-ton | 1-ton |
| STAR RATING | 2-star | 2-star |
| LCD DISPLAY ON UNIT | Yes | No |
| COLOUR | White | White |
| CONTROLLING TYPE | Remote Control | Remote Control |
| AUTO MODE | Yes | No |
| SELF DIAGNOSIS | Yes | No |
| SLEEP MODE | No | No |
| CASTOR WHEELS | Yes | Yes |
| BRAND | Blue Star | LG |
Is portable AC worth buying?
We are very well familiar Split AC and Window AC systems. While they are famous and efficient, they still have some disadvantages. However, new technologies keeps on arriving and the availability of Portable AC Units in India (sometimes also known as Tower AC) has entered in Indian market. if you're curious to find if portable air conditioners are really worth buying, you can cherish the following comparison and advantages chart.
Here's a quick comparison of conventional AC units (Window/Split) vs portable AC units.
Window & Split AC:
Advantages:
Highly Powerful in comparison to portable ACs

More energy efficiency

Numerous models to choose from
Disadvantages:
Can't be moved.

Needs at least 1 model per room

for small families with 3 individuals, who spend less hours in living room and prefers sleeping with child air in their bed room. Therefore, two AC means the expense can be double, without entire usage.
Needs installation effort.

Not convenient in for those families living in rented homes or those who wanna keep moving cities frequently.
Is Blue Star a good AC?
The massive advantage of Blue Star ACs is the versatility this brand offers. Besides Voltas, this is the only Indian  air conditioner brand that offers from residential to commercial models. Also, they have vast variety of AC types such as from windows to split, and inverter to non-inverter. Also, now Blue star even offers a portable AC.
This company has a stronghold over commercial AC units segment in India while the  residential coverage they have is ever improving since the company has been in Indian market since 7 years. The R22 refrigerant comes in their models is a big relief for those who are extremely conscious about the environment.
Also, this R22 refrigerant is the great precursor of global warming. Another major benefit from Blue Star brand you get is their AC models' operations is extremely silent. Blue Star is among the leading brands when it comes to decreasing the noise levels with their amazing technology.
Which is better, Daikin or Blue Star?
Here's the 1 Ton air-conditioners comparison between Daikin and Blue Star:
Energy efficiency rating: Both of the companies' models have a similar BEE star rating of 3 stars. The Daikin AC arrives with an ISEER rating of 3.36. On the other hand, the Blue Star model wins this segment with an ISEER rating of 3.54.
Power consumption: If we talk about the actual power consumption, the Daikin AC consumes a minimum of 955W of electricity. Unfortunately, the Blue Star AC loses since it will consume 918 watts. Hence, you can save more on the electricity bills in case you opt a Daikin AC.
Cooling capacity:  The Blue Star AC comes with a cooling capacity of 3380 watts, while the Daikin brand 1 ton model boasts a 3350 watts of cooling capacity. It means, Blue Star will offer you a +30W of bonus in case you choose their model. 
Decibel levels: The Blue Star AC will create a sound of 28 to 41 decibels while you run the 1-topn model. The 1-ton AC model from Daikin operation sound don't have a big difference and produces 29 to 40 decibels.
Hence, both AC are fantastic with their performance, the choice depends on you. In our suggestion, we recommend you Sanyo 1 ton model as it's a lot better in all of the above comparison to these both brands.
What is the best brand of portable AC?
WHAT'S COOL?
Castor Wheels ensures high mobilization.

Convenient operations with a highly responsive remote controller.

Self Diagnosis catches errors and displays them on the screen automatically.

Low noise operation.

Silver Coating ensures to reduce the transmission of diseases through the air.

The 5 feet long exhaust allows users to not compromise with distances.

Highly compact, can be placed in any corner of your room, office, hall, etc.
WHAT'S NOT COOL
Fixing the outlet pipe can be a bit tricky for some people, but YouTube tutorials are there to perfectly fix it.
Final Verdict

Bluestar is an old Indian air conditioning brand that offers a plethora of features in its various versions. The use of an electronic expansion valve, various sensors, a BLDC engine, and a dual rotary inverter compressor means that the room is perfectly cooled while producing no noise.
4D large airflow means that cooling reaches even the most remote corners, ensuring that there is no disparity in cooling inside the room. ACs with a heat mode are a high suitable for customers who live in an area that experiences not only extreme summers but also bone-chilling winters.
With increased urbanization and technological advancement, air quality is becoming one of the most pressing issues, especially in major cities.
With this in mind, Blue Star air conditioners are well-equipped to clean out all forms of toxins, microbes, viruses, dust spores, and foul odors by using an impeccable arrangement of 7 advanced filters that work in tandem.
Finally, for tech-savvy consumers, premium versions have a Smart Control option that allows them to handle AC simply by swiping their screen. If you want a good air purification system in your AC and great cooling efficiency with minimal noise, Blue Star is the way to go.
Note – If you want a better cooling solution that you can mount on wall, we suggest you looking at Onida Inverter AC Review .