On 4th March, our experts brought two models from Midea to perform testing. Reason? Obviously, the deadly heat. They spent 5+ hours testing every single component of both 1 & 1.5 ton models from Midea, and here are the honest results that they discovered.
Now, Midea nowadays is getting a lot of popularity because of its amazing performance. However, are you sure the Midea AC model you're opting for is the best?
There are many variants offered by Midea, so be aware of choosing the wrong one as every model has its own specialties (while some aren't worth purchasing and lack in performance.)
The same case we've discovered while conducting this review, and therefore, we've described two models (1 ton & 1.5 ton.) Most importantly, one of these models completely failed in satisfying our experts!
Midea is a well-known and respected brand in the air conditioning industry and has been producing a wide range of air conditioner systems for many decades. However, our testing uncovered some major drawbacks of their 1 ton AC model.
Read to find out!
OUR TESTING REPORT OF FEBRUARY 2022
| | | |
| --- | --- | --- |
| NAME OF THE MIDEA AC MODEL | Midea 1 Ton | Midea 1.5 Ton |
| Cooling 10ft. x 10ft. room (normal mode) | 15 Minutes 10 Seconds | 12 Minutes 14 Seconds |
| Cooling 10ft. x 10ft. room (turbo mode) | 10 Minutes 15 Seconds | 5 Minutes 50 Seconds |
| Filters | Antibacterial and Dust Filter | Antibacterial and Dust Filter |
| Rapid cooling performance | 4.9 (Average of other AC below 30K – 8.3) | 7.6 (Average of other AC below 30K – 8.1) |
| Consistency | 5.5 (Average of other AC below 30K – 7.9) | 7.1 (Average of other AC below 30K – 7.8) |
| Durability | 6.6 | 8.1 |
| Electricity Units saving | 25% more than any other AC at this price | 40% more than any other AC at this price |
| Warranty | 1 year on product, 1 year on condenser, 5 years on compressor | 1 year on product, 1 year on condenser, 10 years on compressor |
| Overall score | 4.5 | 7.7 |
| What's the Price? |   | |
Note – For those who already have decided to go with Midea brand, you can start reading the review below. However, if you wanna know more about Midea, you can jump to the brand description section below.

Midea 1 Ton AC Review
Air conditioners have been an indispensable part of our daily lives. With the greenhouse effect causing higher temperatures, the suffocating atmosphere will become intolerable without an air conditioner.
To meet the demand for professional air conditioning, a range of high-quality manufacturers are now supplying ACs. Let's find out why this Midea 1 Ton AC is so important in your home appliance.
Most importantly, the Sanyo AC model completely beat this 1 ton model in every ground of testing. Therefore, we would surely suggest you looking at this Sanyo AC review before you start reading to not end up wasting your valuable time on this Midea 1 ton AC model.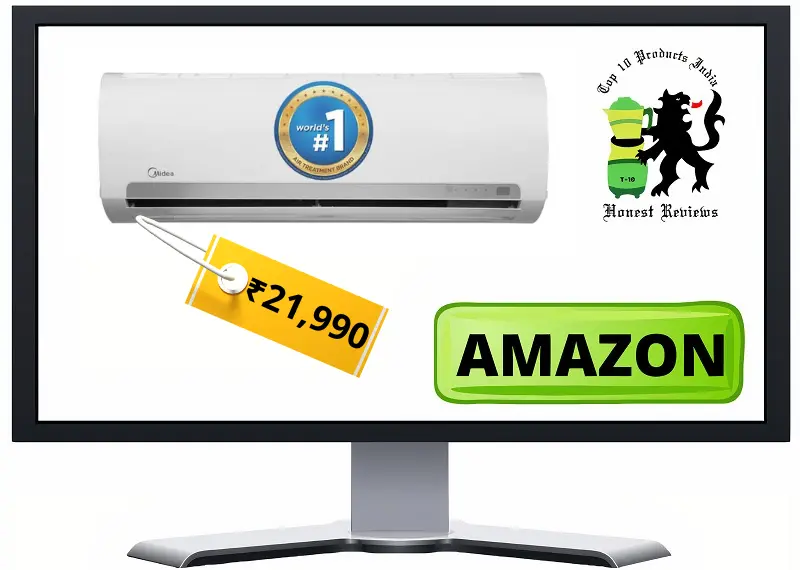 SPECIFICATIONS
| | | | |
| --- | --- | --- | --- |
| Energy Efficiency | 3 star | Control Console | Remote Control |
| Installation Type | Split System | Battery Required | No |
| Capacity | 1 Ton | Voltage | 230 Volts |
| Color | White | Material | Plastic |
| Noise Level | 39 dB | Condenser Coil | Copper |
WHAT'S COOL?
Midea AC 1 Ton Pros
Suitable for small room (10ft. x 10ft.)

Noise level is low
WHAT'S NOT COOL
Mdea AC 1 Ton Cons
Not suitable for big rooms.

3-star energy ratings are somewhat not sufficient as it consumes time to cool your room.

Cooling with turbo mode is not that great.

Consistency with this 1 ton model is a bit behind its competitors.

A few consumers complained about the air Antibacterial feature not working properly.
Notice – We have recently tested some sweet Croma AC models, and listed 9 top choices in our Croma AC Review. If you're interested in Croma brand, you must cherish them.

Key Features of Midea 1 Ton AC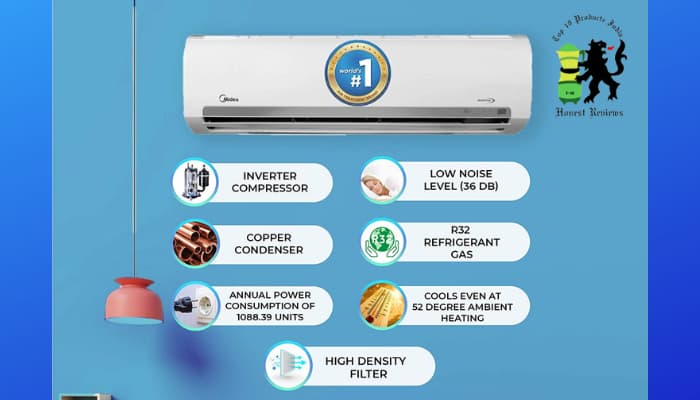 High Ambient Working Temperature of 48 degrees Celsius
Prepare for intense cooling with the Midea air conditioner. Also, at a maximum ambient temperature of 48°C, the air conditioner runs continuously. However, this AC unit sucks greater energy in comparison to its competitors.

Sleep Mode
This feature raises the temperature by 1°C per hour for the first two hours, then remains constant for the next six hours before turning off the air conditioner. As a result, this energy-saving mode provides you with a restful 8-hour night.

Intelligent CRF Alert
This message serves as a reminder to clean the air conditioner's filters on a regular basis. Most importantly, sometimes, it fails to display the reminder, and a lot of consumers reported about this glitch.
Dual Filtration
Dual filters are standard on Midea inverter AC is amazing, and it was among the most crucial aspects while narrating Midea AC Review. The High-Density Filter improves filtration by eliminating dust particles and other contaminants more efficiently than standard filters.
Antibacterial and antiviral properties of silver nano filter This filter not only deactivates the bacteria/viruses but also prevents their emergence. We can say this dual filtration system is sufficient. However, we found Sanyo AC a lot better in terms of this filtration system. This dual filtration you won't find in Amstrad AC.
IDU Display On/Off
The LED light dims over time, and the display finally shuts down eventually.
Midea 1 Ton AC Frequently Asked Questions
How much room size does this 1 Ton AC cover?
In most cases, this 1 Ton AC can cover a space of up to 150 square feet. If your space is going to be cramped, has more heat-generating equipment, or large windows facing the direction where direct sunshine is required, you should consider getting a higher capacity AC.
What's the warranty duration on this appliance?
You will get 1 year on this AC, 5 years on the compressor, and 1 year on the condenser.
Should I get a four-star air conditioner instead of this three-star air conditioner?
It entirely depends on how you will utilize it. If you only intend to use this AC for a few hours per day, this 3 Star AC will save you money in the long run. If you want to use it for extended periods of time, such as overnight, choose a 4 Star AC.
Midea 1.5 Ton AC Review
Now in our Midea AC Review, let's know about the 1.5 ton model. Midea offers an extensive range of ACs that are engineered to deliver optimum cooling power while creating the least amount of environmental damage possible.
With Midea Air Conditioners, you can unwind and enjoy amazing ventilation, healthy living, and luxury.
This Midea 1.5 Ton AC will carry cool and cheerful air into your home, allowing you to work easily without sweating. Let's look at why you should go for the Midea 1.5 Ton AC instead of the 1 Ton AC.
Most importantly, Panasonic AC Review indicated how Midea had a tough competition with it. However, there were some performance checks in which Panasonic was better.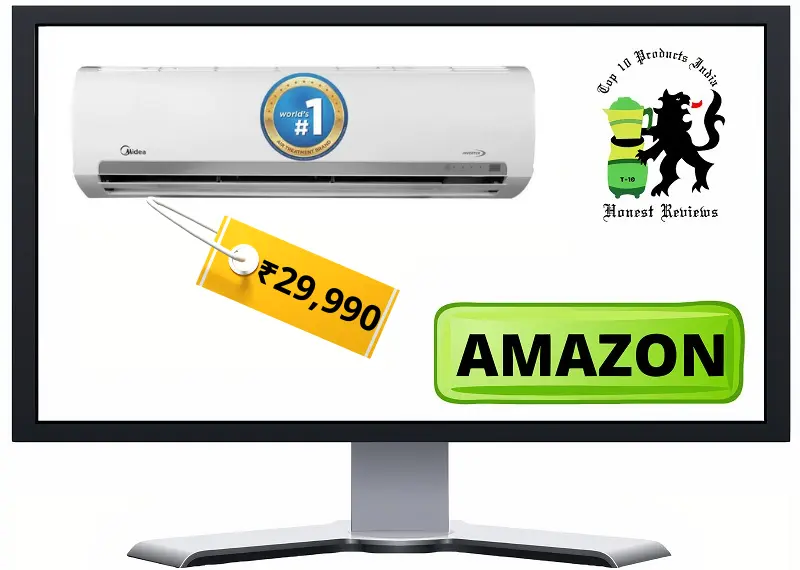 SPECIFICATIONS
| | | | |
| --- | --- | --- | --- |
| Energy Efficiency | 3 star | Control Console | Remote Control |
| Installation Type | Split System | Batteries Required | No |
| Capacity | 1.5 Ton | Wattage | 1800 Watts |
| Color | White | Material | Plastic |
| Noise Level | 36 dB | Condenser Coil | Copper |
WHAT'S COOL?
Midea AC 1.5 Ton Pros
Great at silent operations.
Sufficient for rapid cooling.
Consistency is highly improved in comparison to its1 ton model.
Energy-efficient.
The remote controller has a highly responsive censor.
The Antibacterial feature works perfectly (while the 1 ton model failed.)
WHAT'S NOT COOL
Midea AC 1.5 Ton Cons
Midea AC price is a little higher than its competitors, such as Sanyo 1.5 Ton
The metrics are somewhat satisfying, but 1.5 Ton Models from Sanyo and Lloyd are what we can say SUPREME.
Key Features of Midea 1.5 Ton AC:
100% Copper
Midea air conditioners have a 100% copper condenser, which allows you to save money on electricity every day because of their low maintenance costs. Of course, this model is a lot better in compressor's performance in comparison to the 1 ton model.

36 Ft. Air Throw
The full airflow range is provided by the Midea Air Conditioner. The estimated airflow length of the 1.5 Ton version is 36 ft. Do you want air throw on any corner of your home as you desire? Try reading Blue Star Portable AC Review as this latest model from blue star contains awesome technology.
Backlit Remote
Midea air conditioners have a backlit remote control for ease of use at night.
Dual Filteration
Dual filters are standard on Midea air conditioners. The Electrostatic Dust Filter improves filtration by more efficiently filtering dust particles and other contaminants than traditional filters.
The antibacterial and antiviral properties of the silver nano filter are great. This filter not only deactivates the bacteria/viruses but also prevents their emergence. Most importantly, this filter doesn't work in Midea's 1ton model as well as this one. Most importantly, after conducting Reconnect AC Review,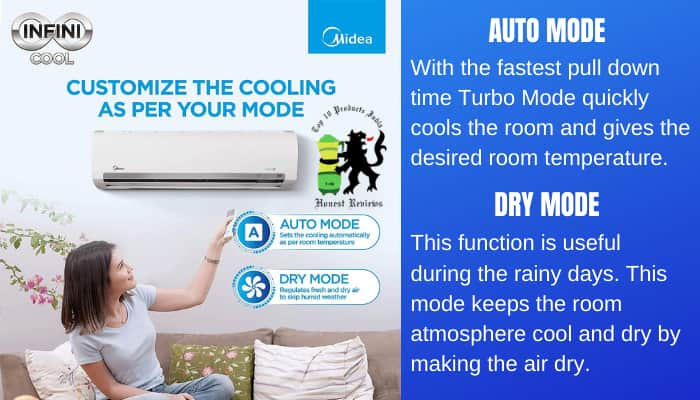 Easy Installation
Midea's all-easy series has a decent installation plate with plenty of space for piping/wiring connections as well as an upgraded wiring terminal, which reduces installation time.
At 52 degrees Celsius, the ambient temperature is high.
Prepare to be cooled to the bone with the Midea air conditioner. And, also at a high average temperature of 52°C, the air conditioner appears to work normally.
Stabilizer Free Operation
Also, at 48°C without a stabilizer, this Midea air conditioner operates reliably between 150V and 280V.
Turbo Mode
While narrating this guide, the 1 ton model was a big failure, but the Turbo Mode of this 1.5 ton model easily cools the atmosphere and achieves the ideal room temperature by having the shortest pull-down time. Most importantly, Onida Inverter AC was not able to provide as good turbo cooling performance as Midea 1.5 ton model.
Why You Should Buy Midea 1.5 Ton AC
The Midea 1.5 Ton seems to be an air conditioner that prioritizes brute strength over comfort. If this setup meets the requirements, we wholeheartedly suggest this AC (just 1.5 ton model.) We considered this AC to be incredibly well-thought-out, with its modest selection of convenient features, since it best fits the needs of many consumer browsers.
Not everyone requires, or can even use, the vast list of features seen on certain other ACs on the market, and Midea has recognized this by excluding many non-essential conveniences. As a result, the Midea 1.5 Ton AC has earned a well-deserved spot in our laboratory. Besides that, Midea AC customer care is really helpful.
According to our experiments, we will gladly recommend Midea 1.5 Ton AC because of the performance, durability, and satisfaction it will provide you in this summertime. In true words, regarding the 1 Ton variant. It's awesome AC as well as per the price range, but when you are going big, why don't you buy the BIG? Also, numerous consumers ask if there is Midea AC remote control is accessible online or not. The answer is yes. Visit this link to purchase it.
Note – most of the time, Midea models are out of stock. Therefore, Llyod and Sanyo can be a better choice for you.
How Does Midea Fare Against Its Rivals?
Midea has made a name for itself in the air conditioning industry since its inception in 1985. It's respected for its diverse range of air conditioning equipment, which includes window, divided, compact, and dehumidifier AC models.
Because of its architecture, technical features, and advantages, each Midea product is unique. Midea has outperformed all competitors to become one of the most profitable businesses.
However, through the other reviews besides Midea AC Review, we found that numerous other models are easily capable of beating it, for example, Sanyo 1 ton AC. Visit the shocking benefits of Sanyo AC by looking through this in-depth review.
Energy Conservation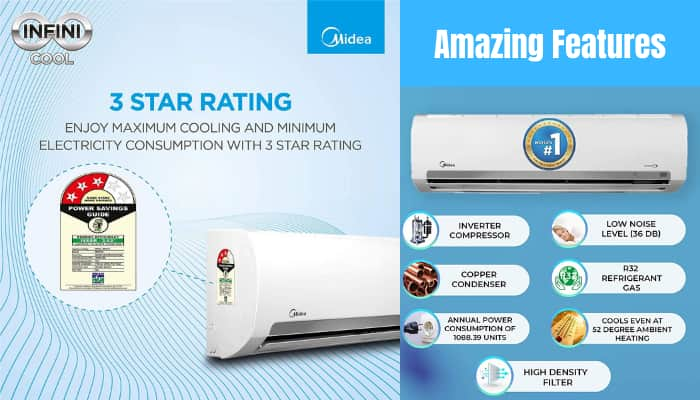 Midea ACs have a 5-star rating for energy efficiency. They are very effective at conserving electricity. They could possibly save you a ton of money on your utility costs by wasting as little resources as possible. This also offers it an advantage over its competitors.
Go Green
Midea is well-known for producing a wide range of air conditioning appliances. These are created with a green perspective on the world in mind. It ensures that all of its goods have optimum cooling efficiency while having a minimal environmental impact. This distinguishes it from its competitors.
Reputation
Midea's partnership with Carrier has resulted in it being the biggest seller of commercial air conditioners. They have a solid reputation for manufacturing high-quality air conditioning units.
It has also been a sponsor of the World Cup in Brazil. As a result, when people buy Midea appliances, they can be confident in their purchase. This is an area in which the rivals fail.
Economic Cost 
Midea inverter AC

designs the air conditioners with cost-effectiveness in mind. It offers consistency and convenience when remaining under the budget.
Its products' prices differ depending on their cooling power, energy star ranking, and other factors. However, they are both reasonably priced. Where else would you go while such a fantastic mix is at your disposal?
Innovative Technology 
Midea air conditioners, whether window, break, or inverter, are outfitted with cutting-edge technology. They have instant smart cooling and automatically reduce the speed until the room is sufficiently cold. They have smart sensors that change the temperature of the room accordingly. Any of their offerings are dehumidifying, which provides much more convenience than competing brands. Also, considering Midea AC's technology, we found that it's better while conducting Onida AC Review.
Are Midea Air Conditioners Really Great?
Midea inverter AC is among the best on the market. Midea has made a name for itself in the field of air conditioners thanks to its environmentally conscious and cost-effective solution.
You're sure to find something that best fits your needs within its vast and flexible range. We have written a brief description of some of the best Midea air conditioners above. You should look at them and see which one is right for you.
Besides that, while narrating Marq AC Review we found that the 1 ton model is better of MarQ brand in comparison to Midea. However, we suggest you going with the Midea 1.5 ton model since it proved a lot better and even defeated Reconnect AC.
Conclusion
So, if you're looking for the right Split Air Conditioners for rooms up to 150 sq.ft., look no further after reading through the Midea AC Review. If you use the air conditioner on a regular basis, the Midea 1.5 Ton AC is ideal.
Considering Midea AC price, we would suggest you cherishing some fresh and highly advanced models from Sanyo. The price is cheap of Sanyo AC models while offering a few more benefits.
With the help of a copper coil, it will provide longevity and all-weather toughness. Midea 1.5 Tons AC is one of the best setting goods available online in its category and is very popular with buyers. It would undoubtedly provide you with a high level of satisfaction.