The sewing machine is such a useful tool. Having a sewing machine in the home doesn't just mean you can repair clothes, but also do several creative works such as making pillow covers, bedroom décor, etc., and when you develop the art and get experience, you can also do your own clothes construction.
It doesn't take much time to turn this hobby into a profession, and trust us, there's much money in this profession, but you need to be that talented as well.
These sewing gadgets vary in numerous ways. Even if you know why exactly you need a sewing machine, you'll feel puzzled to select one.
Well, which model is best for home use?
We actually know what is the most important for you while you sew, and we've formed a list of the best sewing machines in the Indian market, and you'll get a perfect machine for all occasions in this list, except heavy-duty commercial models, as we are just concentrating on those machines, which are perfect for Home Use.
Besides mentioning top models for using at home, don't skip reading the buying considerations, which will highlight what all you should see in a sewing machine before buying, and also help in selecting a perfect helping hand for sewing that meets your needs.
The accessory list we wrote according to what we got in our package. The included accessories might vary with time. So, if something is not included in your package, or some unexpected accessory comes out of your package, no need to get baffled!
Well, are you wondering how much will it cost? Most importantly, we've also provided price ideas in the table below! Certainly, if you are wondering about Usha or Singer sewing machine, which is best, or how cool Janome is in comparison with Juki, then better keep reading! You'll know everything!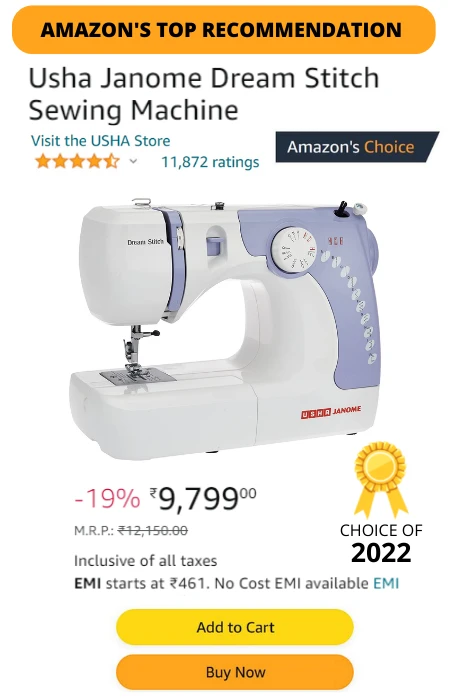 18 Best Sewing Machines in India
| | | | |
| --- | --- | --- | --- |
| MODEL NAME | SCORE | PRICE RANGE | BUY NOW |
| Brother CS6000i Sewing Machine | 9.9 | Under 52,000 | Buy on Amazon |
| Usha Janome Dream Stitch Sewing Machine | 9.7 | Under 9,000 | Buy on Amazon |
| Janome 2212 Sewing Machine | 9.7 | Under 41,500 | Buy on Amazon |
| Singer 8280 Sewing Machine | 9.5 | Under 11,500 | Buy on Amazon |
| Singer Promise 1408 Sewing Machine | 9.3 | Under 9,000 | Buy on Amazon |
| Usha Janome Wonder Stitch Sewing Machine | 9.2 | Under 16,000 | Buy on Amazon |
| Usha Janome Allure Sewing Machine | 9.2 | Under 13,000 | Buy on Amazon |
| Singer Simple 3223 Sewing Machine | 8.9 | Under 13,000 | Buy on Amazon |
| Usha Janome Sewing Machine | 8.7 | Under 18,500 | Buy on Amazon |
| Usha Janome Computerized Sewing Machine | 8.6 | Under 36,000 | Buy on Amazon |
| Singer Sewing Co. 7258 Sewing Machine | 8.6 | Under 15,500 | Buy on Amazon |
| Singer FM 2250 Sewing Machine | 8.4 | Under 8,000 | Buy on Amazon |
| Singer 1306 Sewing Machine | 8.3 | Under 11,000 | Buy on Amazon |
| computerized Brother Sewing Machine | 8.3 | Under 17,500 | Buy on Amazon |
| Usha Janome Excella Sewing Machine | 8.1 | Under 10,500 | Buy on Amazon |
| Brother GS 2700 Sewing Machine | 7.9 | Under 14,000 | Buy on Amazon |
| Mini Multi Sewing Machine | 7.8 | Under 15,000 | Buy on Amazon |
Types of Sewing Machines
Whether you desire an electrical sewing machine for easy and also fast embroidery or an overlocker model to achieve a professional finish, it's essential to select the perfect model for your demands.
This informative guide highlights the vital facts concerning the numerous kinds of sewing gadgets you can buy.
Once you know what you want, after that, it will certainly be very easy to select the most effective machine, which will meet your requirements.
1. Electric sewing machines
A basic electric stitching machine has a motor in the body. This drives the needle in its top part of such sewing helping hands and also controls various other working components, such as the bobbin as well as feed pets that automatically feed the fabrics to the machine under the needle. The motor is driven by a foot pedal that you regulate.
These normally offer a variety of prices. The more difficult you place your foot down, the much faster you stitch.
The electric models permit an affordable variety and also the dimension of stitches, which are picked by turning a dial. They're much quicker and much more precise than old-fashioned hand-operated sewing machines. 
2. Computerized sewing machines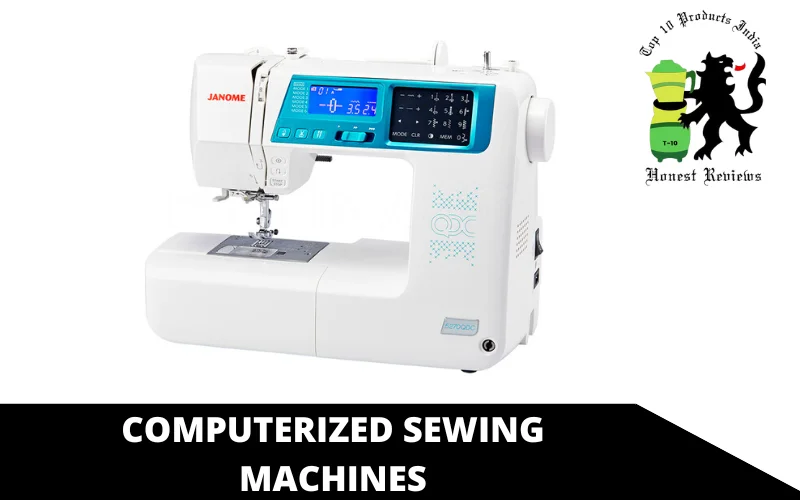 Computerized sewing stitching machines do everything that common electric machines can do– and a lot extra. They are controlled by a computer that is pre-programmed with the right tension, length, and width for each and every stitching style.
These operated utilizing a touchpad and display, as well as with more advanced models; you can download your own programs from your computer. Computerized embroidery machines can memorize previous work and will certainly also save thousands of different stitches for you to select from. 
3. Overlocker sewing machines

Overlocker models are specially designed to stop fraying and to offer a specialist finish to the seams of a garment. They are generally used along with a routine sewing machine– you can't make use of one on its own, as its features are restricted. The main purpose of the overlocker cloth construction machine is to neaten joints, which it accomplishes by cutting while sewing.
While you can utilize a normal dress designing machine to neaten an edge, you have to cut the fabric your own, then set your machine to a zigzag stitch, which takes a few times and creates a slight ridge. An overlocker sews rapidly than a cloth construction machine, and also, you can purchase accessories that make it specifically useful for sewing rolled hems, gathering&attaching bindings.
4. Manual sewing machines
Typically restricted to some old heritage designs, manual embroidery machines are run by turning a hand wheel as you lead the fabric under the needle with your other hand. The only locations that you're most likely to come throughout among these sewing machines remain in an antique store, museum, schoolroom, or maybe hidden away in the loft.
You can also find one of these older cloth construction machines on web public auction sites. The vintage appearance does have a specific charm, but there is also some usefulness to take into consideration prior to you dedicate to purchasing one.
Look at designs that take standard needles as well as have typical feet, or else you may have a problem discovering replacements. Make sure the sewing machine you've selected has a rounded bobbin instead of a long bobbin, as this will make winding much easier.
If you want to get more knowledge about types of sewing machine, you can watch the following video:
Crefit: Tailoring guru
18 Best Sewing Machines in India — Reviews
1. Brother CS6000i Sewing Machine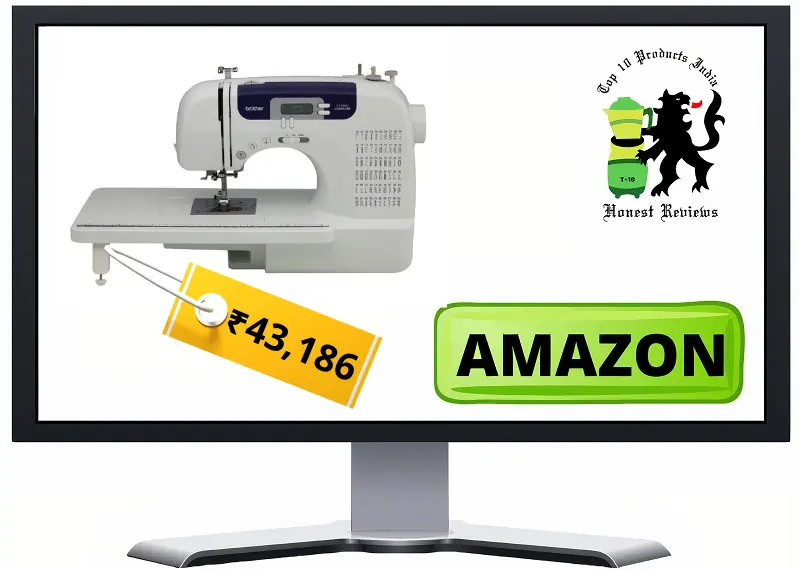 Firstly, it's the best heavy-duty model. Secondly, with a 90% success rate and 8000+ customer reviews, Brother CS6000i is dominating the American market, and no other sewing machine is even able to stand in the competition!
Sales have shattered the records! Brother CS6000i proves to be perfect for all sorts of sewers. One can buy it for hobby purposes, while the same machine can serve you as a professional tool when you develop skills later.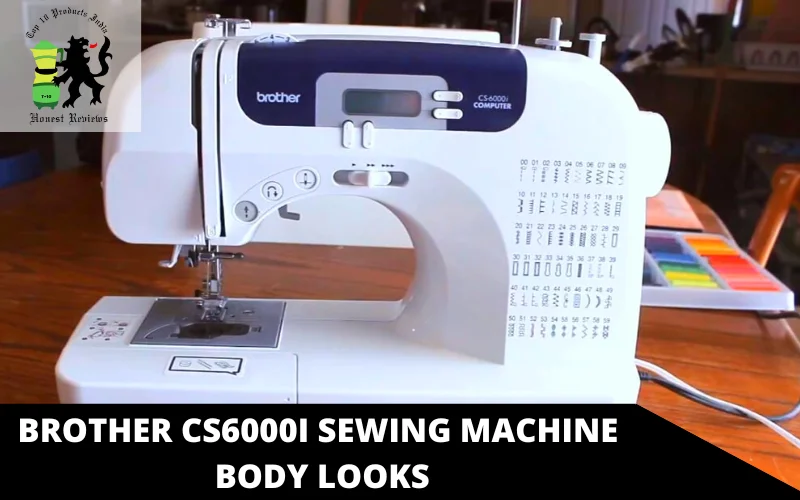 This Brother model highly dominated over a 1.5x expensive Juki model and almost 2x expensive Merritt sewing machine in our testing.
This machine is impressively built. Once you buy it as a beginner for going through learning, this machine is going to be a part of your cabinet even when you become a professional or an expert years after.
What's there in the package?
| | | |
| --- | --- | --- |
| Quilt guide for foot holder | Spring action quilting foot | Quilt guide for foot holder |
| | | |
| | | |
| | | |
| | | |
| | | |
| | | |
Features
Most importantly, as the machine is so versatile, you won't ever have to buy another sewing machine. You get buckets and buckets full of options with this machine, and your creativity won't be restricted.

Due to easy use, this machine is the best heavy-duty sewing machine for beginners, as it tackles everything perfectly without bringing any confusion in operation. 

The width of the sewing beast's table for quilting provides the sewer with enough space for doing free-motion quilting with perfection. It enhances your sewing speed indirectly. Brother CS600i's table is the best one!

Most importantly, you've got access to 60 built-in stitches, and one can do tons of creativity with these many stitches.

Cylindrical sewing is very easy on Brother CS6000i due to its ultra-convenient built-in free arm.

Pedaling is convenient. Your legs aren't troubled the way they do with the majority of sewing machines. It doesn't bring high stitching sound disturbance either.

The machine sews leather, thick fur, denim, and numerous other thick/hard materials much better than several 40-45K rupees machines. It's the overall best model in terms of heavy dustiness.
The Final Advice
This little beast from Brother is truly amazing. This compact tool is heavy features, and at the same time, very easy to use and maintain. Stitching speed of 850 stitches per minute and less vibration lets you sew like a pro, meaning "in a fast and perfect manner."
Settings and adjustments of Brother CS6000i never baffle any beginner. Besides that, no high-level sewer ever complained about any feature missing or fewer creativity options. Brother CS6000i sewing machine doesn't bring a piece of inconvenience!
Undoubtedly, CS6000i is a " best buy." Certainly, it's the best sewing machine-marked here. We are recommending this wonderful little beast to every single sewer.
---
2. Usha Janome Dream Stitch Electric Sewing Machine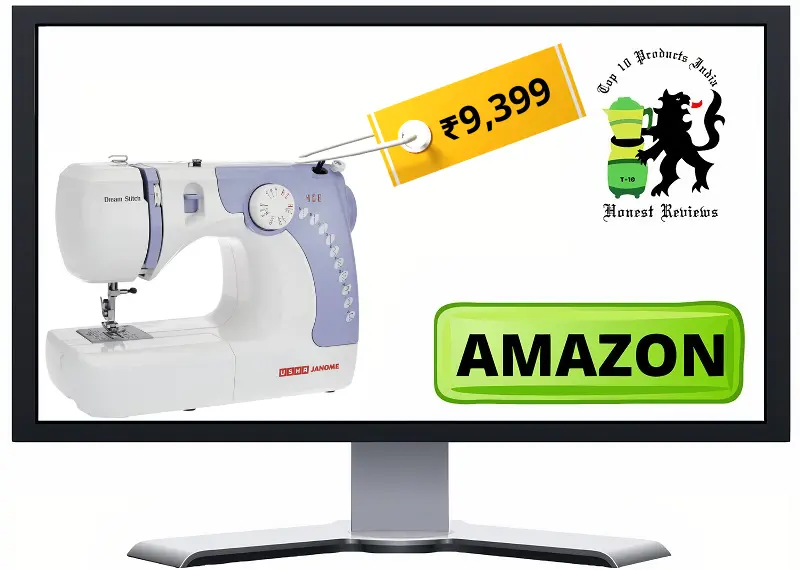 The Usha Janome Dream Stitch is highly trending in the Indian market! It's currently the best sewing machine in India, under 10000. Due to a reasonable price, this automatic zig-zag cloth construction machine is highly preferred by learners as well as clothes constructors.
The shape is user-friendly, and it weighs only 5.98kg. The stitch quality is unbeatable at this price.
Important features are present, but most importantly, none of them confuses the beginner. Besides 7 inbuilt stitches, you've got 14 applications, allowing you to explore numerous functionalities while you are sewing. Also, This beast from Usha is their top model.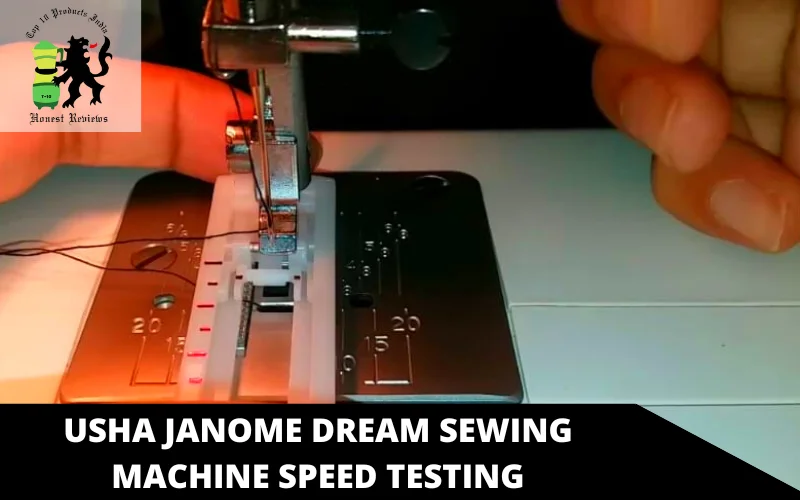 What's there in the package?
Features
Due to bright enough sewing light, visibility is ensured in low light conditions.

Thread tension control is there for ensuring that the thread breaking issue doesn't occur while you are sewing, as it brings frustration.

All systems of this machine work perfectly and make it the cheap and best automatic sewing machine in India!

This free-arm model includes zig-zag stitching also. The stitch quality with all stitch options is decent.

You can mend clothes of various fabrics with ease. Additionally, this machine also consumes less time to mend clothes.

Most importantly, you get a color-coded functional faceplate as well as a couple of dials allowing you to choose stitch length and pattern.

Due to the perfect shape and free arm convenience, circular stitching with this machine is truly easy.

Extra high pressed foot lift as well as auto trip bobbin winder proves to be too beneficial.

This machine comes with a softcover. It doesn't need any maintenance.

Usha sewing machines have been highly durable, and so is this one.
The Final Advice
Talking about the most impressive under 5000 rupees sewing beasts, none of them satisfy. The beginner sewing machine surely and surely needs to be fully convenient, while most of the machines costing below 5000 in India aren't reliable at all. They make you run for repair shops frequently.
As a result, we recommend Usha Janome Dream Stitch Electric Machine, coming at 2000 rupees more, but is highly convenient and very dependable.
Features are enough, and the operation is very easy. So, no confusion, no baffling, just buy Usha Janome Dream Stitch, and it will make you learn sewing faster than other machines. It's truly a boon for beginners.
---
3. Janome 2212 Sewing Machine
These are among the most reliable sewing machines that professionals can utilize. It is a part of one of the trusted brands; customers can trust the high-quality and reliable performance they can expect from the Janome sewing machine.
This sewing machine is the perfect choice for those looking for a comfortable and simple option for front-loading bobbins and other free arms for circular stitching. It can operate at the highest stitching speed of 1000 SPM to achieve immediate stitching results.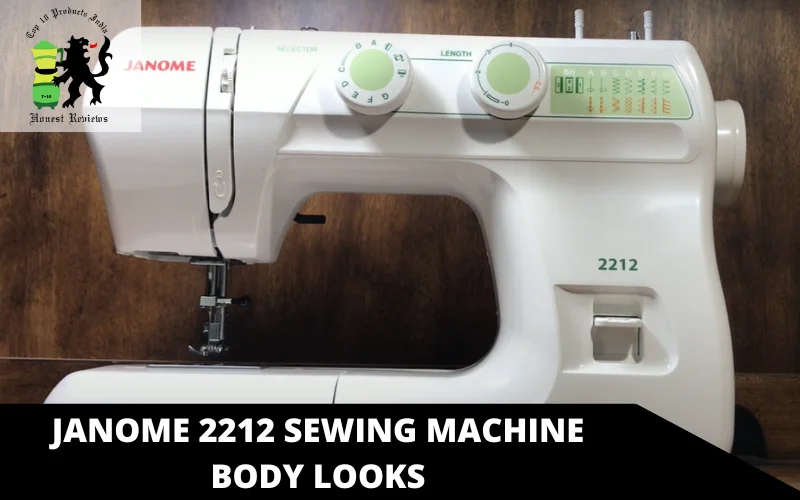 The machine has been designed to provide users with the advantages of manual tension control. The mechanical sewing machine comes with a manual threading system coupled with reverse stitching and an automated winding of the bobbin. The user can also adjust the tension of threads when needed.
What's there in the package?
| | | | |
| --- | --- | --- | --- |
| | Stitch width is adjustment | Drop feed for free motion | Thread Tension Adjustment |
| | | 1000 SPM dial pattern selector | |
| | | | |
Features
It can be simple to use and reliable to perform.
The user is provided with 12 stitch options built-in and a 4-step buttonhole process.
You can use this machine to create various stitching options
The length of the stitch can be adjustable to a maximum of 4 millimeters, along with the ability to adjust the stitch's length to reverse the stitch in the range of 0-2.5 limit.
You get quick results for maximum savings time
The Final Advice
This is a complete set that provides you with the ease of completing all your stitching requirements and fantasies. The system is equipped with length and width adjustments to provide the greatest comfort and convenience for users. Users can also enjoy the advantage of drop feed to allow quilting and free-motion sewing.
In terms of the machine's appearance, it has the professional appearance you'd like. It's also not the easiest to carry around, but it can be moved from one location to another.
---
4. Singer 8280 Sewing Machine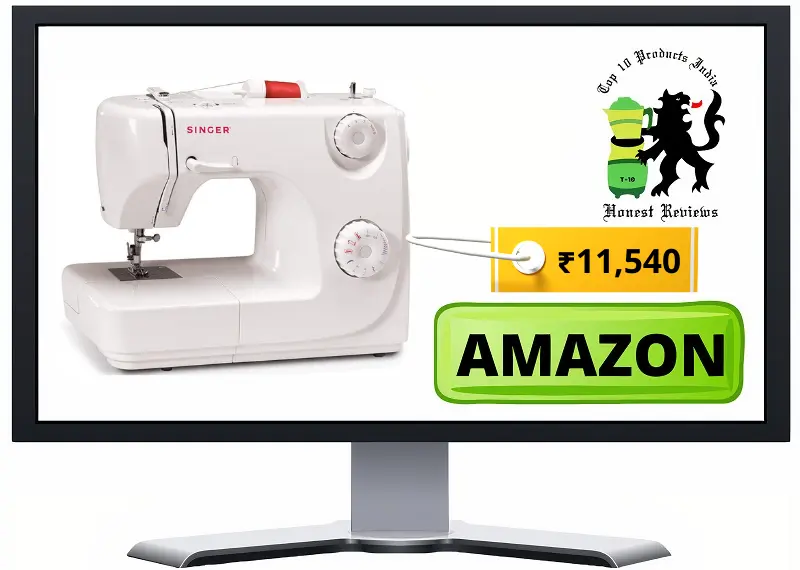 What do you think of a sewing machine that is small in size yet still efficient in its operation? The answer is nothing else than the Singer 8280, a sewing machine. It is among the top sewing machines in India, which is the perfect choice for all your stitching requirements.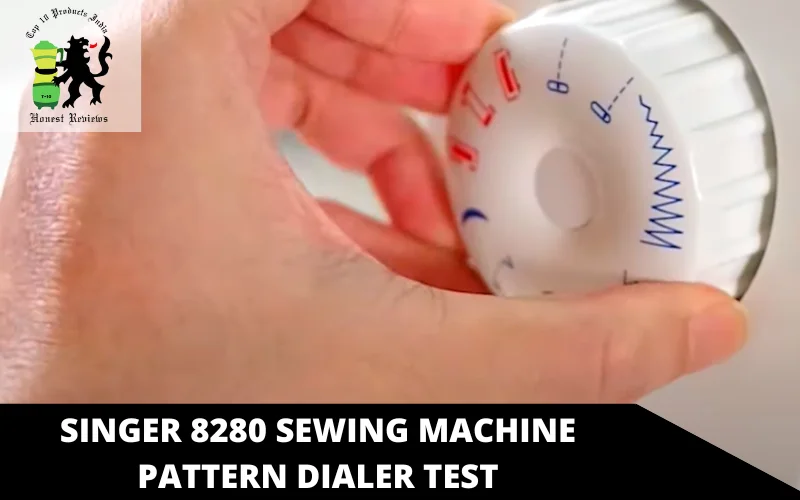 For starters, the machine has 24 stitch options and several other impressive features and advantages. The machine offers a built-in thread cutter inside the pressure bar, which makes the work of this machine truly amazing for the diverse demands of users. It is among the top that can operate at a phenomenal rate of around 800 SPM.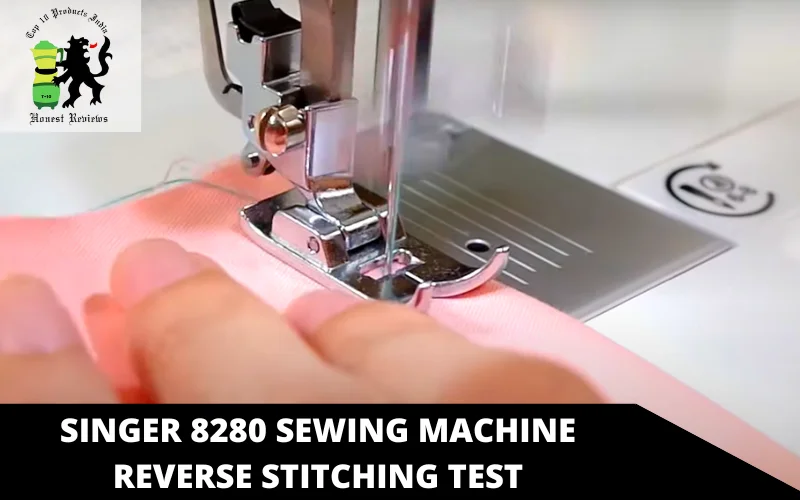 What's there in the package?
| | | |
| --- | --- | --- |
| | | |
| | Accessories storage space | |
| Oscillating Shuttle Mechanism | | |
Features
It is suitable for beginners.
It has the ability to change pressure feet, which can be completed in no time. This makes the intricate stitching process very simple and gives users the necessary convenience while stitching.
This model is highly durable.
You can use this machine for stitching large fabrics.
Because of the shuttle mechanism oscillating, this machine will become more appealing to users.
You get an automatic thread cutter.
You get a 4-step button hole.
The Final Advice
The Singer 8280 machine also gives users the advantage of storage space for your accessories on the extension table to ensure that you have access to all necessary accessories when you require them. It is priced reasonably and comes with a two-year warranty for customers.
The machine isn't just impressive and efficient in its capabilities, but it is also attractive. It is a user-friendly sewing machine with a robust design that brings efficiency and speed to its customers. It's an excellent model to purchase for such a low cost.
---
5. Singer Promise 1408 Sewing Machine
Firstly, Singer's promise 1408 is the cheapest sewing machine for adults on this list, and as the name indicates, it is a very promising high-performance model.
This model arrives with 4-step buttonholes and 8 inbuilt stitches, which include 1 decorative, 1 automatic, and 6 basic stitches. This machine highly expands your sewing abilities and comes with several creativity possibilities, even after costing pretty low.
What's there in the package?
Features
Weighing 2.87 Kg, this sewing machine is the lightest stitching machine out there, which serves well for beginners and intermediates. Put it in the bag, and just carry it wherever you want!

Even after being so lightweight, the vibration is minimal, and you enjoy clean stitching without a single one skipping! Besides low vibration, the noise level is also unbelievably low.

Even after being so cheap, this sewing machine comes with a healthy bundle of accessories, and most importantly, 4 sorts of sewing feet are provided.

The heavy-duty frame ensures long life.

The removable free arms make cuffs, collars, pant hems, etc., easily accessible.

You don't need to adjust stitch width and length manually. This function is automatic, and you start sewing in an easier way.
The Final Advice
Most importantly, the feature of Singer Promise 1408 that impressed me the best was the ability to do 2 thread overlock! Besides that, stitches of this machine don't get unraveled even after several washes.
The 70 watts motor is very promising. As the operation noise of Singer Promise, 1408 is so low, stitching for a longer time also doesn't bring any headache. So, you are able to invest more time in learning and learn faster. Singer Promise 1408 is a very beneficial purchase!
---
6. Usha Janome Wonder Stitch Automatic Sewing Machine
Wonder Stitch is the outcome of technologies used by Usha and Janome, and this blend is a furious one. Running at 860 stitches per minute, you attain professional-looking output. Besides stitch quality, theirs is much to impress you.
Al the dials and buttons are perfectly located, and no setting or adjustment brings tension. Everything is so easy and perfect with Usha Janome Wonder Stitch. The instructional manual and guiding DVD won't let you confuse even a bit!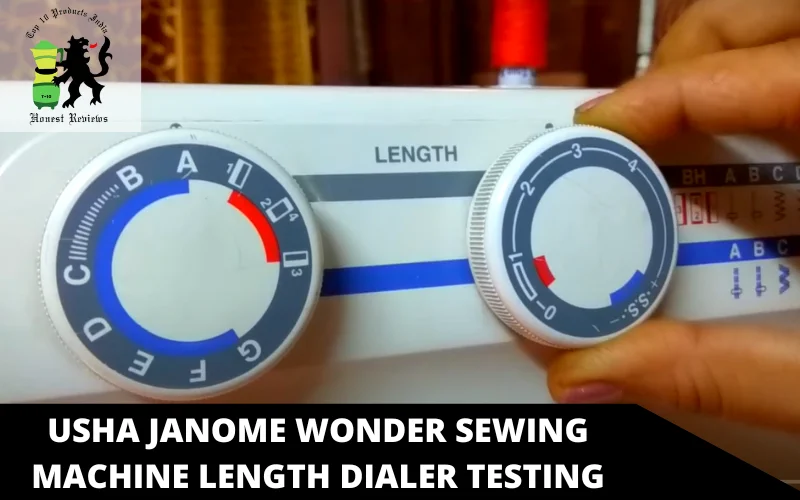 What's there in the package?
Features
You get 13 inbuilt stitches and 21 stitch functions, which include smocking, blind stitch hemming, button fixing, rolled hemming, and zip fixing.

Weighing 6.72 KG only, this machine brings you convenience when you want to take Usha Janome Wonder Stitch to your learning class, friend's home, etc. The carrying handle is also there.

Certainly, customizing your most preferred stitches is very easy due to its adjustable width dial.

This automatic zig zag sewing machine comes with an inbuilt needle threader—no need to guide the thread through your needle's eye manually. Just the press of a button will do that.

Circular stitching is very easy with the presence of a free arm. The extra-high presser foot lift is another convenience. Additionally, you can also adjust foot presser.
The Final Advice
No matter what's your sewing level, this machine makes your sewing experience hassle-free. Also, Usha Janome Wonder Stitch doesn't ask for maintenance. Just oil the bobbin portion, and wipe the machine's body with a dry cloth. That's all under maintenance!
Certainly, if you begin your sewing journey with Usha Janome Wonder Stitch, it's going to be sweet! It's pretty suitable for garment construction. Certainly, you can gift Usha Janome Wonder Stitch to your mother or sister and take her away from boredom!
---
7. Usha Janome Allure Automatic Sewing Machine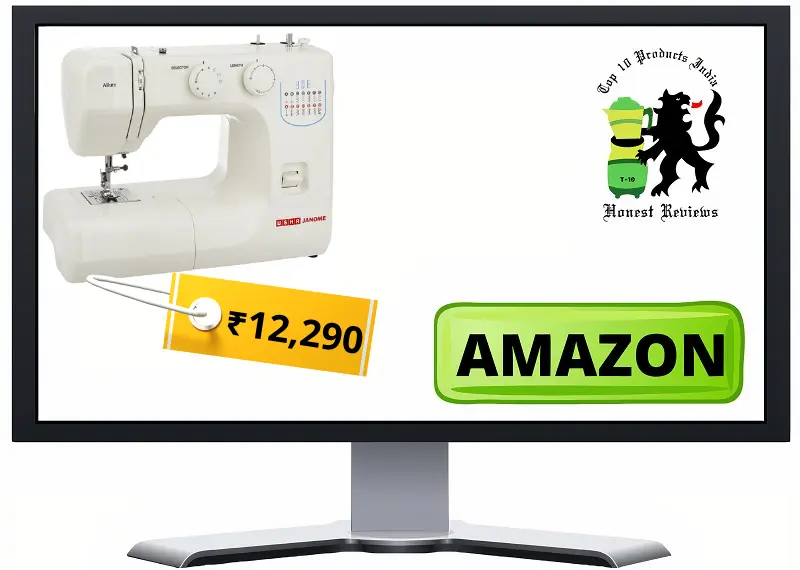 The Usha Janome Allure is a sturdily built, long-lasting sewing machine. The price is kept low, and the features are not compromised at the same time—4 step buttonholes for usage.
This machine was best in our testing regarding fixing buttons on shirts, coats, etc. This fully automatic sewing machine is exceptionally lightweight. It's perfect for tackling all home-level sewing projects and clothes mending.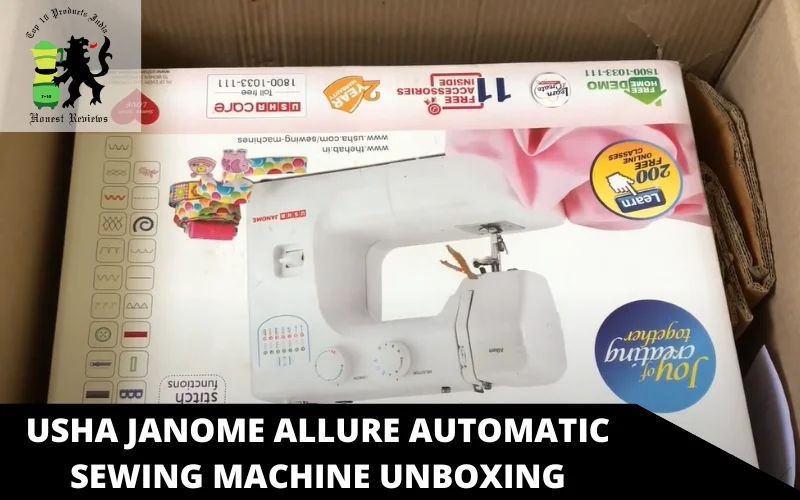 Most importantly, this machine brings no complications. You can easily fit Usha Janome Allure in your cabinet. 45x23x35 cm is the measurement, and you get a regular 2 years warranty here.
What's there in the package?
Features
There are 13 inbuilt stitch functions (and 21 applications) to choose from, and these are sufficient for home level use and tackling intermediate level creativity. Besides clothes mending, you can also try some decorations.
As the one is a perfectly shaped free arm sewing machine, circular stitching (pant hems, shirt sleeves, etc.) is never an issue.
The width and length controlling mechanism of this machine are recently updated, making it more convenient. 7.42kg is the weight.
A manually adjustable thread tension control enables you to stitch without any effort for getting neat stitching.
The stitch pattern selection is very easy with its 2 dials. Additionally, in the same way, you can also choose the stitch length as per the cloth.
Due to the stitching light feature, you get light to focus on the fabric's part on which you are stitching it at a time.
most importantly, the performance of Usha Janome Allure is also appreciable with thicker fabrics.
The Final Advice
With Usha Janome Allure, sewing tasks can be completed effortlessly. Comparing Usha Janome Allure to similarly priced electric sewing machines, this one consumes much lesser energy. You can tailor and design most of the fabrics, and the noise level is also below par.
In testing, Allure performed better than the Jack sewing machine, which was costing almost double! Additionally, this class machine is providing great stitch quality without costing any high. Usha Janome Allure is entirely worth the purchase.
---
8. Singer Simple 3223 Automatic Sewing Machine

Here comes the most attractive sewing machine on our list. Not just the red, but also the green version is too attractive. Aimed squarely at beginners, Singer Simple 3223 isn't just exceptionally easy to operate but also easy on your eyes.
Additionally, this machine brings a great starting variety of stitches. You've got 23 stitches here, including six essential stitches for helping you through the basics, while seven stretch stitches are there for opening up the range of fabric as well as designs you can work with.
An automatic buttonhole and eight decorative stitches are there, as well. The design is pretty straightforward.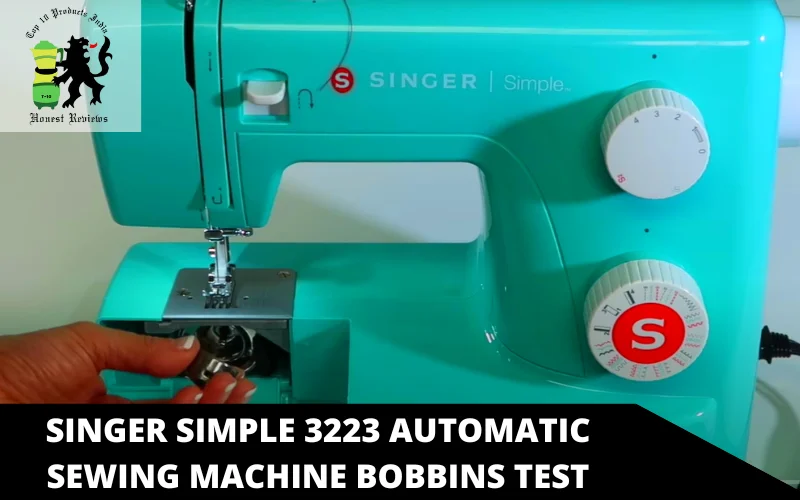 What's there in the package?
Features
In Singer Simple 3223, front-loading bobbins are provided. Considering easy operation, this bobbin system is better than the sideload.
While sewing, you can't avoid threading. Fortunately, this process is very easy with Singer Simple 3223.
Placing the thread is too important before starting to sew. Keeping the tension strong can be tough for beginners. Fortunately, Singer Simple 3223 has an automatic bobbin winder, cutting off that hassle of manually setting the thread tension.
The compact and lightweight sewing machine is very suitable for beginners as they can carry it to their trainers and classes for learning.
The instructions provided with these sewing machines are full of informative guides and tutorials, helping the beginner in getting used to various sewing tasks.
Undoubtedly, Singer Simple 3223 looks cute from the outside, but inside, there's a super sturdy metal frame, which doesn't let the machine collapse even after heavy usage for years.
The Final Advice
Undoubtedly, Singer Simple 3223 delivers high perfection. Testing this machine with a variety of heavier fabrics actually stunned our experts, as we were not expecting this cute little machine to do the job of a sewing beast! This machine delivers a wonderfully retro vibe without costing much. Just buy Singer Simple 3223; you're in for a treat!
---
9. Usha Janome Automatic Stitch Magic
Many people wonder which sewing machine is best in India for making clothes. On this, experts are divided with opinions. Brother CS6000i is the dominating one, but how many of you can afford that 30,000 rupees machine for the home business of clothes making?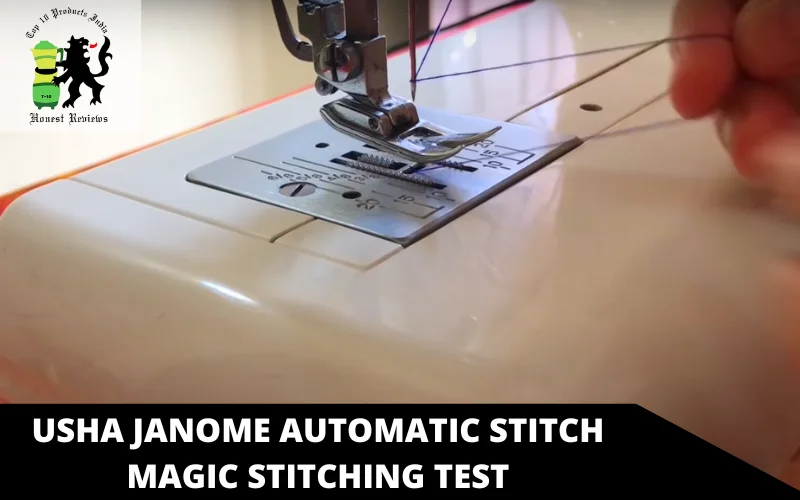 Usha Janome Automatic Stitch Magic puts the hand up here! It's among the best & highly versatile sewing machines in the Indian market, considering the price range. Like other Usha Janome models, we mentioned in Best Sewing Machine For Home Use Review.
This one also has two convenient dials for making your stitch length and pattern selection easy. Of course, a free arm is also there to support you in cylindrical sewing. It's a straight/zig-zag sewing machine, which is receiving much appreciation from sewers that have been on the scene for years, and beginners are also finding it convenient.
What's there in the package?
Features
Due to An aluminum die-cast body, the weight of Usha Janome Automatic Stitch Magic is pretty low. Just 10.1 kg it is.

The one-step buttonholing saves a lot of time.

You can achieve perfect stitch quality with any fabric you want by adjusting the presser foot dial.

Beginners are finding automatic needle threading and twin needle facility very supportive.

You've got numerous design options, and in total, 23 inbuilt stitches are there, helping you in adding creativity to the garment that you construct.

Our experts counted Usha Janome Automatic Stitch Magic among the best sewing machines for the housewife, who just don't need to mend torn clothes of her family, but also begin a sewing business from home, and earn money.

The home business supportive fact is, while testing, Usha Janome Automatic Stitch Magic was the machine that caught the least heat when we ran these machines for a continuous long time.

This machine can stitch at very low speed also, which proves to be too supportive for the newbies, who just lack that balance in their hands, which one needs while sewing perfectly.
The Final Advice
Undoubtedly you'll have a sweet journey sewing if you buy Usha Janome Automatic Stitch Magic. Most importantly, if you spend some time on this machine and learn a few beginning lessons, you won't take much time to become an expert and look further to open a garment sewing business from home!
All facilities and conveniences are there, and besides being a speedy one, perfection is never at stake. Its long-running capabilities and strong motor make Usha Janome Stitch Magic sewing machine suitable for all sewers out there.
---
10. Usha Janome Dream Maker 120 Sewing Machine
It's an expensive sewing machine, though, but if you want to start a sewing business from home, then no other model in our listing is as versatile as the Usha Janome Dream Maker. It sews everything coming its way. Power and sturdiness are never an issue, and nor is durability.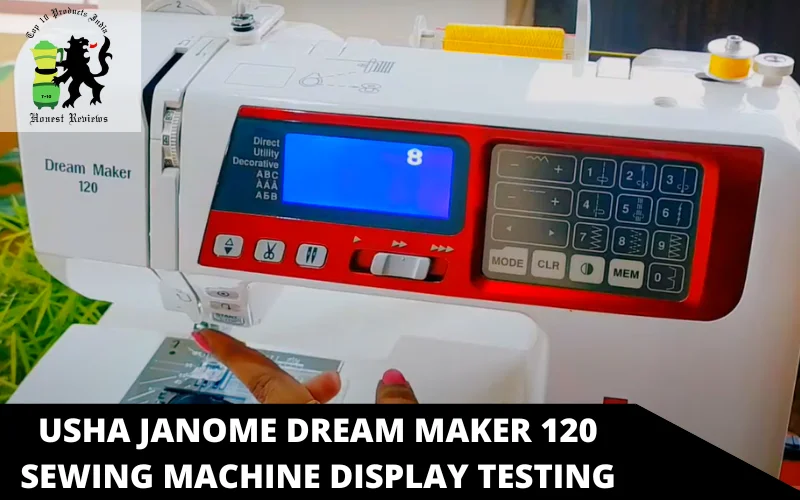 The design is perfect, and 35 watts is its power. With this machine, you can carry out numerous embroidery tasks! Can you believe it weighs 35 watts only!

What's there in the package?
Features
There are up to 50 varieties of combination patterns for you to try out. 2 years warranty is there.

The start/stop button of this machine with variable speed control allows you to sew without the foot control.

The table size of this machine never let anyone complain! 

The needle threader of this machine worked perfectly in all 10 trials. Certainly, it's a big plus point.

You enjoy 120 in-built stitching patterns and alphabets, which are enough to test your own creativity levels. 

It comes with a very convenient automatic thread trimmer, which makes embroidery easier.

It pretty handy to carry around your house, as it weighs only 10 kg. Normally, embroidery machines are much heavier than that.
The Final Advice
If you are looking for an embroidery machine that comes with an embroidery hoop and does elaborate designs, then it's not the one for you! Those machines cost around 60-70 thousand. As per our advice, you don't want much from a home-level embroidery machine.
It's offering enough for the price. Its name is dream maker, and that fits perfectly also because, with this machine, you can make those tough dresses, which you always dream of.
Certainly, the functioning of this 35W machine is perfect and easy. Mostly, embroidery machines require experience, but you don't even need much experience to operate this one.
---
11. Singer Stylist 7258 100-Stitch Sewing Machine
Singer provides you with the top and most reliable sewing machine choices designed to provide users with the greatest comfort and convenience in handling every stitching need and demand. A Singer sewing machine comes with all you require for a high-quality sewing machine to give a professional edge to your sewing projects.
In light of the numerous benefits it will bring to the people who use it and the many benefits it can bring, it was awarded the Consumers Digest Award for 2-times. The sewing machine is constructed of high-quality materials, which makes it a durable item to rely on. Therefore, it is more durable and can be used for a long duration without hassle.
What's there in the package?
| | | |
| --- | --- | --- |
| | Automatic Needle Threader | |
| | | |
| | | Programmable Needle Up/Down |
Features
A durable, long-lasting, and reliable model.
It is equipped with simple threading that can help make the most efficient use of users while handling tough threading tasks.
You get a variety of stitching options.
It takes only 6 seconds to use the needle to meet your threading requirements.
You get LED lights that can reflect off the surface of the stitching.
The automatic needle threader is one of the greatest advantages of the Singer sewing machine.
The machine also comes with a simple to load drop-in bobbin system that makes the job a lot easier for users. In addition, it has a transparent cover that makes the control of the thread supply very easy and simple.
You get a drop-in bobbin system.
The Final Advice
Also, you're assured about getting the best results from your sewing work since this machine provides a constant glowing LED light above the machine's surface. The lamp can last for 100,000 hours and keep its coolness for the entire duration it is being employed.
It also has 100 stitch options in-built (including 9 essential 8 stretches, 7 decoratives, and 76 automated buttonholes), of which users can select the one they prefer. Users can also count on the seven fully automatic, perfectly sized in-built buttonholes.
---
12. Singer Tradition FM 2250 Sewing Machine
This sewing machine by Singer was designed to handle both traditional requirements for stitching and the various and different needs for stitching of users. It was specifically designed to meet the different needs and types of people in the most efficient way.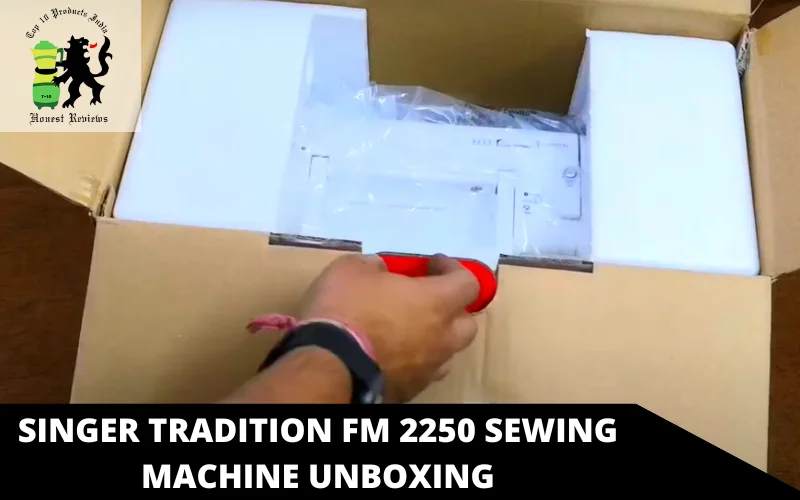 One of the machine's main advantages is the ease of use for users by making the threading process straightforward. Users can experience instant and speedy results about various types of threading.
With endless possibilities for different design options, This machine can be utilized for more advanced work. It can stop puckering on any type of fabric and make seams durable enough. It can also add ease to switching stitches with only one easy step.
What's there in the package?
| | | |
| --- | --- | --- |
| | | |
| | In-built decorative designs | |
| | | |
Features
You get am automated buttonhole procedure. 
It can use with almost any material.
Alongside the automatic four-step buttonhole, users also have 10 stitches built into the machine.
It is extremely user-friendly.
In addition, users can create the most professional-looking automatic buttonhole with this machine by making the necessity of four steps. Users are also offered the option of controlling the stitch's length and the zig-zag's width.
You can choose this model for energy efficiency.
The Final Advice
This sewing machine only requires just 80W power and an operating voltage of 230V to provide all the benefits to its users. This makes this sewing machine an energy-efficient machine. Users also get two years of warranty with this Singer traditional sewing machine for their comfort.
The customers also receive several free accessories to use with this machine and the dust cover that will shield it from dirt and dust problems.
---
13. Singer Start 1306 Sewing Machine
The Singer Sewing Machine Start 1306 is another decent beginner sewing machine, costing almost the same as Usha Janome Dream Stitch, and this one is the best kid's cloth construction machine. Even after costing so low, the build quality surprises you.
While testing, the stitches result was perfect, and out of 34 middle school girls (who sat on this machine for 2 hours every day for 3 days), 24 concluded that Singer Start 1306 is the most convenient!
Buying the 1306 model is much beneficial than buying a regular handheld dress designing machine. It was the best mini sewing machine, 2018!
What's there in the package?
| | | |
| --- | --- | --- |
| ​Extra-high presser foot lifter | Seam ripper and lint brush | ​Needle plate screwdriver |
| ​Darning plate for free-motion sewing | ​Automatic 4-step buttonhole | ​Preset stitch length and width |
| ​Quick-start guiding manual | | |
| | | |
| | | |
| | | |
Features
In terms of learning, the machine is designed as simply as possible.

There are 6 important built-in stitches. The selection dial shows all 6 inbuilt stitches, making the stitch selection very easy for the user.

Besides the comprehensively written instructional manual, you also receive the quick-start learning guide, which introduces the user perfectly to this sewing machine.

The automatic bobbin winder is very convenient, and so is the ​Darning plate for free-motion sewing.

The 4-step automatic buttonhole provides much ease. Additionally, snapping On/Off the presser foot is very easy.

Due to the tension adjusting feature, the chances of thread breaking are eliminated. You can enjoy uninterrupted sewing.

Generally, beginner sewing machines of similar price work at 500-550 stitches per minute, but Singer Start 1306 provides perfect stitch quality at 700 stitches per minute also.
The Final Advice
This immediate learning tool is exceptionally durable. You can take down several complex sewing projects with this little machine. Singer Start 1306 is a true motivator for beginners from all aspects. Especially the early teen children will get deeper into the hobby of sewing very easily.
Features are all very easily understandable, and this is what a learner needs. So, if learning is the motto, then instead of buying highly-featured expensive, invest in Singer Start 1306, as it'll serve you the best regarding learning.
Also, if you are planning to buy a sewing beast under 5000, then better add 200 more, as most of the below 5000 rupees sewing machines have hardly anything to offer. To get this sewing machine online, tap the button below!
---
14. Brother FS101 Computerized Sewing Machine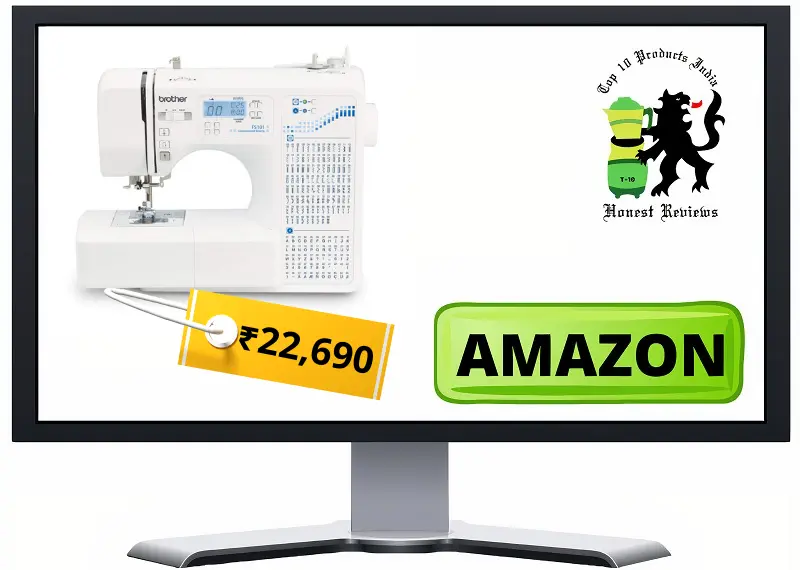 If a home garment construction business is what you're thinking to start, then Brother FS101 Computerized Sewing Machine provides you full support.
Weighing 6.96 kg and measuring 48.4 x 40.2 x 27.4 cm, this is a perfect sewing cum embroidery machine with which one can do lifetime creativity.
You'll see everything well-printed on its metal body. Those are all stitch and embroidery patterns. Most importantly, even after so heavily featured, Brother FS101 is pretty easy to use.
This machine does not require an extension table. In testing, we found that Brother FS101 has the best sewing machine motor at its price range, meaning that it can tackle heavy workloads.
What's there in the package?
Features
The Brother Embroidery machine is popular for its durability and multiple functions.

100 unique inbuilt sewing utility stitches, heirloom, decorative, and quilting stitches are there. 55 alphanumeric stitches you get for monogramming and also 8 styles of one-step buttonholes.

This machine is a computerized one that only needs an input of the user's command for starting to work on its own and further show you its wonders.

It's the best sewing machine with an automatic threader at this price. Additionally, its automatic needle threader works perfectly!

It has a heavy-duty, high-quality metal frame that ensures stable and clean embroidery.

The Brother sewing machine doesn't require stitch adjustments like its width and length, which are automatically set by the computerized mechanism of this machine.

The noise level is lesser than other embroidery/sewing machines at this price.

Most importantly, when the needle isn't able to pass through the fabric, the machine indicates an error, and stitching automatically stops. The same happens when the needle hits the foot. As a result, needles breaking is never an issue with Brother FS101.
The Final Advice
Varieties are limitless here and costing around 16K rupees. No other dress designing machine brings such an abundant range of stitches, embroidery patterns, and features. This lightweight sewing machine is a perfectionist in its department.
Read the number of stitches, alphanumeric stitches, and one-step buttonhole, and after that, tell honestly, do you feel hesitant to invest in Brother FS101? We'll include numerous automatic features also!
You are definitely getting this machine at 8-10 thousand less than machines with similar features and stitches range. Certainly, Brother is truly genial! Do you want more information on this model? You can read the entire detailed Brother FS101 Review.
---
15. Usha Janome Excella Automatic Machine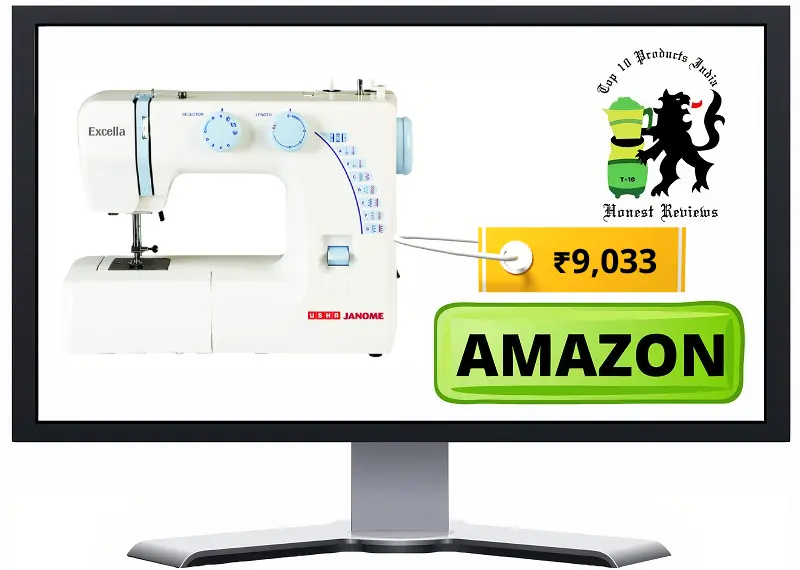 There is no shortage in selecting options that the Usha brand provides in their machines for sewing. This is another fantastic sewing machine made by the brand, which is known for its ability to impress customers with its capabilities and user-friendliness.
The beginning sewing machine has two dials to adjust the pattern settings and select the length of the stitch. With the help of these two dials, users can stitch anything they wish with ease and comfort. It also provides the necessary ease for those trying this system for the first time.
A Usha sewing machine is made easy for the user by its lightweight. It can be conveniently moved from one location to another without difficulty. Additionally, the machine is fitted with a carrying handle to enhance the user's comfort.
What's there in the package?
| | | |
| --- | --- | --- |
| Up to 30 Built-in Stitch Functions | | |
| | Extra High Presser Foot Lift | |
| | | |
| | Easy Selection of Patterns | Detachable F & Rear Pannel |
| | | |
Features
You get quick results from stitching of this sewing machine.

This model from Janome is simple to use.

It is possible to get a simple circular stitching arm to make it easy to stitch any fabric you require.

You get a lightweight body of this model and it has a carry handle.

You get a 2 dials system.

It offers 13 stitching options for the user, which

includes a button

stitch.

In addition, users also have access to additional applications like button fixing,

stitching, zip fixing,

etc.
The Final Advice
The machine is an automated bobbin model that can be found in style with a foot pedal. The machine provides the fastest stitching speeds of 860 SPM to its users to provide quicker stitching results.
A Usha sewing machine comes with a warranty of two years to cover any issues and defects that could be incurred. It is also possible to count on the exceptional customer support services that the Usha company is known for providing to its clients.
---
16. Brother GS 2700 Sewing Machine
Since its inception, the brand Brother has been among the most popular people's choices. The sewing machines manufactured by Brother are incredibly impressive because they provide users with numerous innovative stitching options to use.
Like the numerous options for sewing machines, the machine isn't an exception in delivering top-quality performance to customers.

What's there in the package?
Features
This machine comes with LED light enabled.
When we talk about this machine, it comes with 27 stitches built-in and a one-step buttonhole. The machine can be used to perform a variety of tasks that enhance the user's comfort.
It is also possible to see impressive results from this machine regarding speed. The maximum speed for stitching on the machine can be as high as 800 SPM, giving quick results with no hassle. The machine also sews free arms and desired adjustments to the width and length measurements.
stitches free arm sewing using length and width adjustments
The Final Advice
One appealing feature offered by this machine is the brightly lit LED lights. This enhances the comfort of users using the machine in dim light or at night.
The machine made by Brother will also prove to be a joy for beginners since it is quite simple and advanced in its operation. The operations aren't complicated and, therefore, can be easily understood by users.
Other benefits of this machine include thread tension adjustments, an in-built needle threader, and a bobbin winder. This sewing machine won't let you down with its features and will provide an absolute pleasure to use it.
---
17. Liolis Mini Desktop Electric Portable Sewing Machine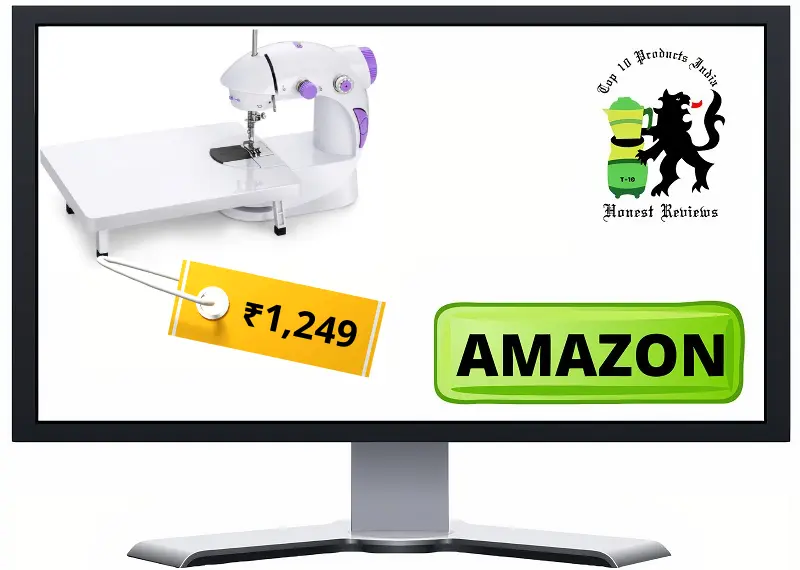 Now, what if we tell you that below a thousand rupees, you can buy a sewing machine, with which you can mend your clothes very easily?
Yes, Lillis Mini Desktop is the smallest, cheapest, and most portable cloth construction machine in this rundown. Not just that, you get 5 accessories also.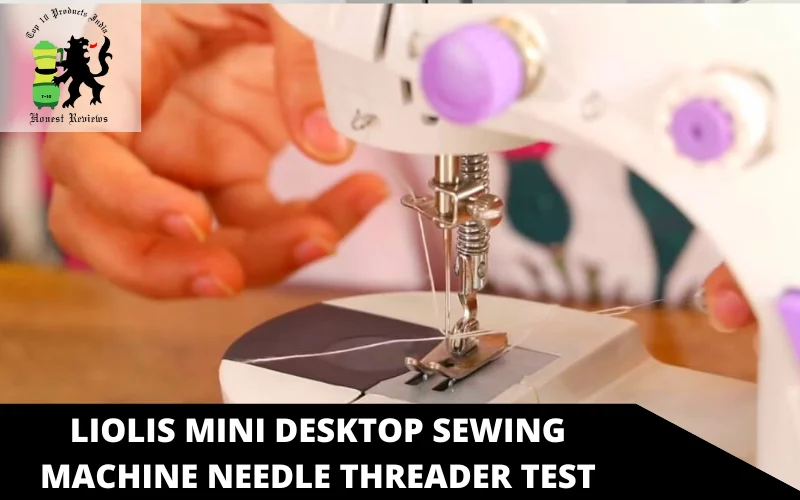 Its 4-in-1 functionality is surely going to make sewing easy for you. This machine doesn't take much time in stitching. Certain mini sewing machines are available, but the build and features of Liolis Mini Desktop impressed us the most! It also serves as a pretty amazing feature for kids!
What's there in the package?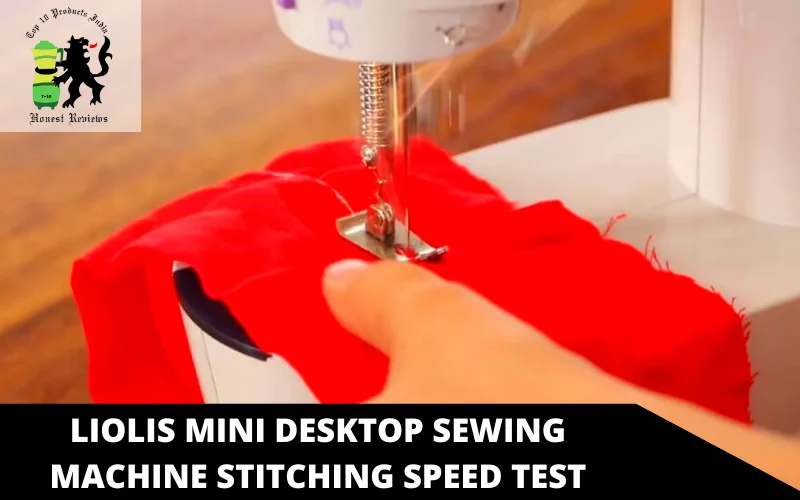 Features
Most importantly, the two-way speed control is the best feature and is very beneficial for various households.
Being a minute machine, it doesn't eat any space. Blindly fit it anywhere you want!
One can't believe the stitch quality Liolis Mini Desktop sewing machine provides at this price.
You can conveniently control this machine's speed through the pedal.
This machine says, for killing boredom, you don't always have to spend high!
Unexpectedly, LED light is also there. Stitching noise also doesn't trouble.
Even being a tiny machine, one cannot call it a delicate machine. The build is still impressive.
It's the easiest one to use in our Best Sewing Machines for Home Use in 2021 Reviews. Hence, it can be the best starter dress designing machine for your kid!
You can use this machine with batteries also. In case there's a crisis of both DC and AC sources, this machine can still run because it comes with a foot pedal.
The Final Advice
The Liolis Mini Desktop Portable Sewing Machine is beneficial for two types of people. Number one, for the curious kids, who want to step into the sewing department for a hobby, and number two, for those grown-ups, who actually don't want to do much with a stitching machine but want to deduct the hassle of manually sewing torn clothes in the home.
It's strictly not meant to sew leather, denim, etc. bulky and thick materials. Just look at its size and have mercy! However, sewing torn shirts, pants, bedsheets, pillow covers, etc., can be very easily done.
It's almost impossible to believe that the sewing machine is costing near 900 rupees, bringing 5 accessories, and also some unexpected features! Please don't be scared of spending that little amount; this little buddy is fully worth that!
---
Here's The Buying Guide To Help You Choose a Suitable Model

Who doesn't love being innovative in fashion& style? If you enjoy creating your very own fantastic cloths creation, then you surely need the needle power, but you will not be able to do it just with your hands, right?
For that purpose, there are a lot of the latest sewing machines available that will make your work much easier despite your experience, and if you get on a search to get the most effective sewing machine, then this guide is absolutely for you.
You will not only be guided but also be provided some finest options, which will surely help you in picking the best model. Let's start the post with the purchasing guide, as it is really vital to know that if it's the best sewing machine that you're getting according to your requirements.
You'll know about motor, features, expertise, and much more!
Features One Can Find in a Sewing Machine
Features pretty much depend upon the sewing machine's cost. There are some features without which you can do, while some features are necessary. So, what all features should a model carry? We have divided the features to consider into two parts.
1. Budget-friendly cost
That's the most vital thing if you're just learning to stitch. What's the advantage of getting a machine that you have to replace after some time since it does not have all the options you discover and require? Get a machine that you can easily use for a long time, maintaining the worth for rate in mind.
Also, if you're going to simply use it for periodic usage, then looking for basic functions as well as keeping the expense down will certainly make sense.
2. Portability
Portability is the first thing you definitely check into before purchasing a sewing machine if you carry it with you when you are traveling or taking a trip, specifically if you are a clothing developer or a passionate sewist. You will discover several compact-sized sewing beasts that are also as powerful as a standard sewing machine.
Most sewing machines are hefty and also may be difficult to carry here and there. If you're learning sewing, you definitely need equipment that has a lightweight layout so you can also effortlessly carry it with you for learning lessons.
3. Sound level
A normal sewing machine's noise levels vary from 65db to 80dB depending on its developed top quality and functioning mechanism. Equipment that produces greater than 70dB is taken into consideration as a loud machine. However, it is not uncommon for heavy machines, and also, if you are seeking one that fairly makes a minimal sound, then look for one with low sound levels from 65 dB or below.
4. Service warranty
The majority of the machines come with sufficient guarantees as well as you don't need to worry about it expiring before your done utilizing it or updated. However an excellent warranty will help to make sure in case you face any kind of problem, you can constantly ask as well as call the manufactures company for fixings. It is suggested that if you use a sewing machine regularly, you should routinely service your sewing machine.
5. Machine fabric and feed area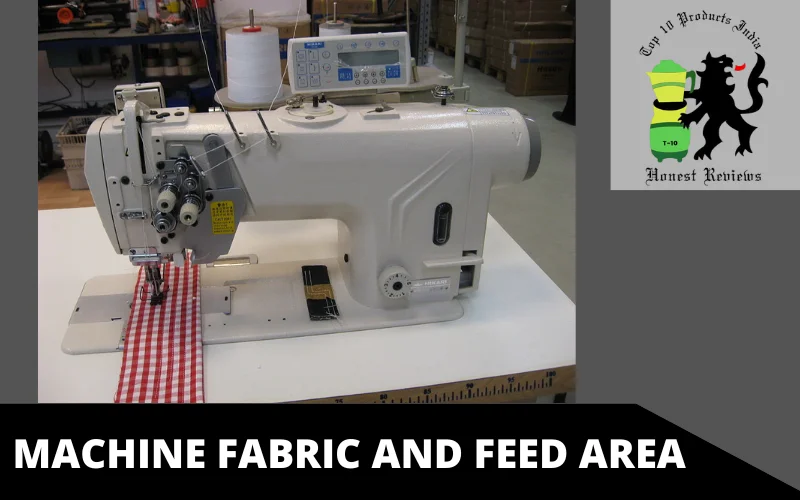 It can or can not be of great importance for some individuals. However, if you want to work with big fabrics in a reliable way, then this is a substantial alternative. Some machines have a prolonged feed space, so you can deal with large pieces of your fabrics such as drapes or bed sheets easily, without changing & adjusting their position.
6. Several speeds
This feature helps you to control the rate at which the fabric moves under the needle; for example, if you're dealing with a large piece of fabric and you want to sew the fabric's edges in a straight line after that, you might get the benefit of this option as it can keep a continuous rate throughout.
7. Numerous Integrated stitches
If you're learning, after that you could not require thousands of stitches, yet your machine should can at least some basic stitches such as zigzag stitch, a straight stitch, back stitch, and a button stitch, as these different styles can prolong your ability to get even more out of your sewing machine.
8. More than one function
Some models aren't just sewing machines! You get extra functions like "Embroidery" with them. These sorts of stitching machines are pretty popular in the USA, but in India, these are less popular, and a major reason behind that is high cost. It's true that with a sewing cum embroider machine, you can do endless creativity, but for getting a dependable one, at least 30,000 rupees you need to shed.
9. Foot pedal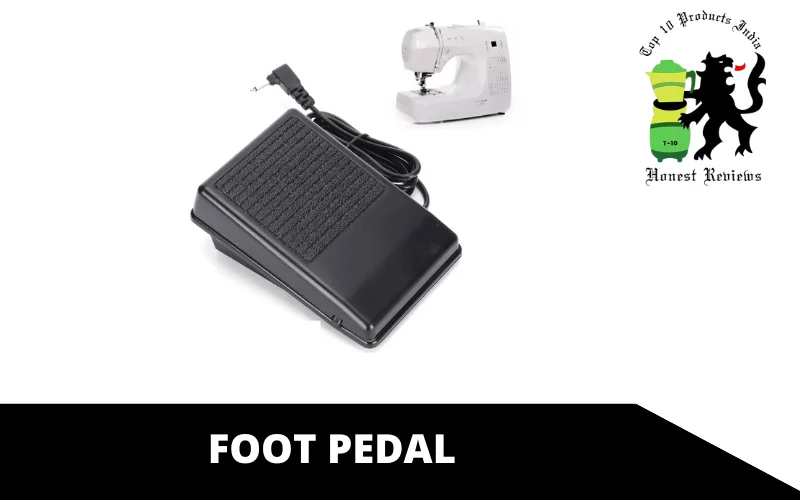 A foot pedal is excellent for running your machine in a hands-free setting, so you can conveniently use both of your hands while changing the fabric to the perfect place. Constantly try to find a stable and decent-sized foot pedal with an anti-slip base that makes certain you have a solid grip while sewing.
10. Automatic button-holer
A buttonhole is a slit to put the button for attaching and also to make your work less complicated for making a buttonhole you can search for an automatic button-holer so you won't require to stop for adjusting the fabric and also transforming it repeatedly for precise positioning.
11. Needle threader
If you are finding the best sewing machine in India for beginners, then this is the first feature to consider! A lot of the modern-day models featured an automated needle threader that is useful for practically everybody, yet it is of great help to specifically those individuals that have weak eyesight or dexterity challenges due to the fact that this function automatically places in the string in the needle without your effort to discover the hole.
12. Top-load Bobbin
If the bobbin is running reduced on the thread or not, that age of sewing machines is long gone in which you have to open up the whole recessed area to examine. With modern-day stitching machines, you do not need to go with this issue as you can easily slide open the panel and also go down the bobbin in, and a transparent cover is provided to see if your string is running low or not.
13. Features that a beginner must see
If you are just beginning to learn sewing, then you will certainly at least require three sewing choices: zigzag, reverse, and straight. These options will help you for learning the stitch in a flexible manner, and also not only this, but you can additionally make tailored designs using them.
To suit a range of projects, it's advised that you additionally look at the very least three sew lengths, the capability of the machine to differ the stitch size from 0 to 5 mm. For efficient and also faster working, it is great to have a foot pedal that will get rid of all those problems like jamming as well as bunching that you might deal with when operating the machine with your hand.
The automated needle threader is a fantastic alternative to have that can save you some extra time and similarly help you avoid getting an eye pressure that you may get while placing the thread into the needle-hole with your hand.
Also, you can learn how to clean a sewing machine by watching the following video:
Credit: BBkrafting
Which Sewing Machine Is Best for Me?
Stitching makers for beginners or occasional sewers If you're simply starting or mean to sew only once in a while, a simple electronic sewing machine will possibly match your demands. You will not need to spend even more to get an excellent basic model.
As a basic rule of thumb, seek models that offer a selection of foot accessories that will certainly enable you to do the basics like inserting a buttonhole foot, zipper foot, or maybe a plastic foot for fragile fabrics is a good choice for beginners.
Search for a few different stitches: several different sizes of straight stitch, a selection of zigzag stitches as well as an automated buttonhole are the bare minimum.
Decorative stitches are good to have; however, they aren't worth paying a lot more for unless you're confident that you'll advance to producing work with attractive decorations.
A few brands have accessories, which you can purchase for this purpose, which comes in handy if you decide you want to obtain even more adventurous as soon as you have actually understood the basics. This is much less most likely with more affordable versions.
Sewing Machines for Soft Furnishings and Dressmaking
If you prepare to use your sewing machine much, especially for dressmaking, after that, a mid-range model is possibly a good bet. The more complicated the clothes you're constructing, the more likely it is that you must require a machine with a large range of features.
Right here are our leading ideas for choosing a wonderful mid-level design: Ensure you acquire a machine with a totally free arm.
Many types of equipment have them, yet they're a have to if you want to stitch anything with sleeves or pockets.
Seek for a sewing machine with an overlocker stitch, which is used to neaten joints as well as hems. If you're not able to afford a machine with that on, you can utilize a close-set zigzag stitch rather.
If you assume you'll be using lots of thick, heavy fabrics, then you need to seek a reasonably sturdy machine that has the ability to feed via these fabrics without them getting stuck.
Select a sewing machine model with a large selection of machine feet: a zigzag foot, concealed zipper foot, blind hem foot, narrow hem foot, and also piping foot will all be found in handy for dressmaking & stitching soft furnishings.
If you are using a wide range of stitches, consider choosing a computerized machine, which takes the uncertainty out of choice regarding the perfect stitch size, tension & width for the majority of stitches.
Sewing Machines for Embroidery and Craft
If you intend to do much embroidery and also have a great budget, consider a top-range, professional embroidery machine or a computerized machine. These machines have a large range of patterns, which are pre-programmed and can create multi-colored hoop embroidery patterns.
Sewing Machines for Professionals or Heavy Use
If you're preparing to do huge amounts of sewing, and your machine will be in use for most of the weeks, then you will require to spend on a high-end model. If you're using your sewing machine for any business, then this is especially the case.
A computerized model will assist your work no end, specifically if a lot of it is repeated, as you can set stitch patterns. Once more, you need to make certain it is sufficiently heavy-duty for handling the fabrics which you will certainly be using.
Best Sewing Machine Brands That Have Won Customers' Hearts in India
Which is the best company for a sewing machine? Well, down the years, various brands are accessible all around the globe have actually kept up with these demands. When it was very first created, the very first model that attached two items of fabric together with straightforward locking stitches has actually changed such a lot from what it was.
If you're on a lockout for purchasing a cloth construction machine, you will certainly find some noticeable sewing machine brands and, afterward, some not-so-popular ones you may not have actually heard the name of. You will need to wade through a number of these brands and their models till you find a perfect machine.
These top 4 brands mentioned here have shown their guts with their developments as well as intelligent and also exciting features/offerings.
Brother
Brother is a Japanese international electronic device and also electric tools business company that was founded in 1908, and Brother is known for producing fax machines, printers, domestic and also commercial sewing machines, and so on. Also, their 6000i model is topped in our listing.
Their Industries began their foray right into model by giving repair services for sewing machines, and Brother has now become one of the most popular sewing beast brands around the whole world. You will also find the very best dress designing machines from this brand in this review. The Brother sewing machine is always great value for money.
Singer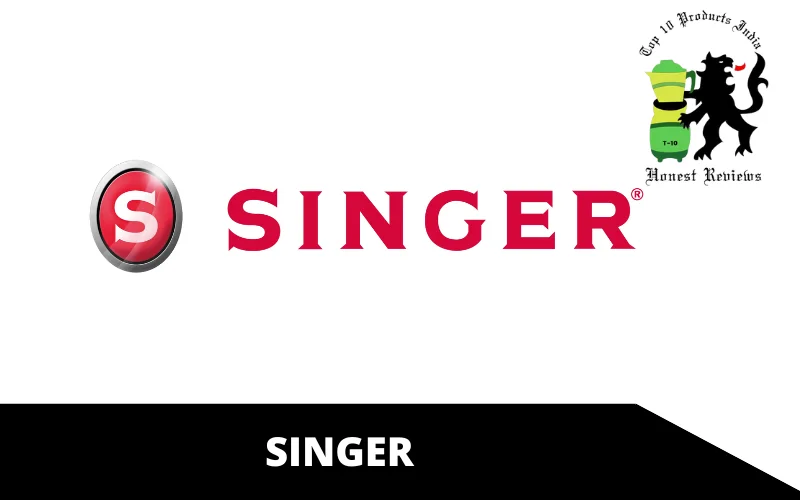 Due to the fact that of its huge market share in the sewing machine industry, Singer is a brand that needs no introduction. It was established in the year 1851 by Isaac Merritt Vocalist, who additionally invented the first practical models for home using purpose. Most importantly, Singer's sewing machine price is always comfortable.
Because of this brand's lengthy effective history and also name, you can absolutely rely upon their machines, and we've also recommended the very best Singer stitching machines in this rundown, so you can have a look at them and also choose the right one according to your requirements and needs. The Singer is fully dominating the category of mini sewing machines in American and Indian markets. 
Janome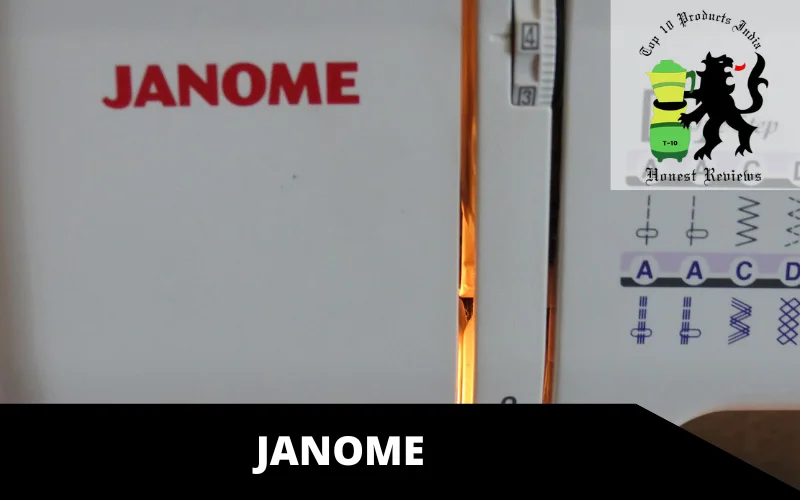 Janome is an additional leading Japanese sewing machine manufacturer brand, and they've numerous first's innovations in cloth construction machine manufacturing to their credit. For your knowledge, Janome was the first to establish a computerized machine for home usage, the first to offer expert design embroidery to the home market, and also the very first to use a long-arm quilting machine for home usage. 
Their sewing machines are offered throughout the world. Their machines have always been user-friendly and so best for a sewing newbie. Juki is another Japanese brand, but the Juki sewing machine price is generally higher than similar sewing beasts of Janome. That's the reason Janome dominates Juki in the Indian market.
Bond of Usha and Janome are dominating here as you always feel good when you see the Usha Janome sewing machine price list! Everything is reasonable!
Usha
Usha (India) was engaged in the manufacture of sewing machines in Feb. '62, it's managed by Chairman Vinay Rai, much before Japanese and American embroidery machines brands landed in India. The company additionally has major cooperation with top global companies.
Not simply sewing machines, Usha is a leading producer of various other digital appliances such as fans, coolers, juicer mixers, and so forth. Usha is truly a nit-picker, and the parts they make use of in every electronic appliance are of top quality, and the very same is with their models. Most importantly, Usha sewing machine parts are easily available.
Certainly, its machines do not just last longer, yet also set you back pretty cheaper than the American and Japanese costly stitching machines. Sometimes, you discover a respectable Janome or Singer sewing machine at a given price, but Usha dominates by giving nearly the exact same attributes and also sturdiness at 1500-200 rupees less, talking about the boon for home-usage.
Not just the sewing machine for homes, but also the dress designing machines for beginners from Usha confirm to be extremely convenient. Certainly, they have covered all sewing levels, and also for professional sewers, they've some incredible very included sewing, quilting, and embroidery machines, once more, costing lesser than international brands. Additionally, the consumer support of Usha is fantastic.
Conclusion
Certainly, it was an amazing list, and there was much under the buying guide also. However, we still need to do a quick recap of the best sewing machine for home use review.
Talking about the ultimate model, which takes your sewing experience to the highest level of luxury, it's none other than Brother CS6000i! the beginners should buy the Usha Janome Dream Stitch Electric model for making their learning process easy and fast. If your kid has a freshly caught sewing hobby, then buy him/her the most convenient sewing machine for kids, which is Singer Start 1306.
Considering home use convenience, then Singer Promise 1408 serves the best, and for basic sewing and embroidery purpose, you should buy the Brother FS101 model. If you are more into embroidery and want a machine providing vast embroidery features, and options, then buy Usha Janome Dream Maker 120 model. If you have a budget of around 15K, then Usha Janome Wonder Stitch Automatic model is the best choice.