Make your kitchen work lighter by using a hand blender. No matter it's whisking, chopping, churning, or blending, a hand blender makes it easy. 
Also, these hand blenders top in terms of performance, overall quality, and convenience only if you select an ideal model.
Therefore, as this appliance can become a great kitchen assistant, we researched among 13 different hand blender brands to select the most impressive model among them.
Prestige PHB 5.0 Hand Blender among them is what we gonna describe today s it performed fabulously among all other competitors. However, just Bajaj and Philips Daily Collection Hl1655/00 Hand Blender turned out as a compatible opponent to this model. Also, you can look through the vast majority of Best hand blenders and mixers.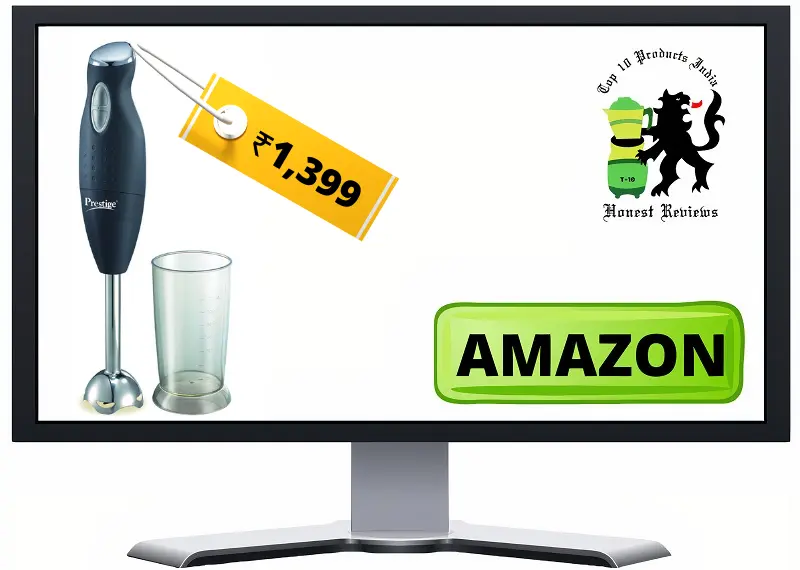 PROS
Comes with a wall hook

Stainless steel made blades

Slim & ergonomic design offers a tight grip

2-speed variable switch control

Easy locking system for chopper

Power wattage is 200 Watts

Provided with chopper

Very easy to clean with blade shield

Product warranty is 1 year & 10 days Replacement 
CONS
A bit noisy in comparison to Philips & Orpat Hand Blender 
How powerful is Prestige's Hand Blender Motor?
A hand blender's ability to blend ingredients into a smooth consistency is the true measure of its quality. 
A hand blender should have a motor that produces between 200 to 250 watts. This will create a vortex that pulls food into the blades and circulates it back out.
The High-powered motor you get with Prestige Hand Blender with 2 Speed Setting provides high-efficiency performance and power consumption of only 200 Watt.
What is the cost of design?
It should be easy to hold the blender. Although it might not be the most important feature of the handle, the design and size of the power button are crucial. 
Hand blenders may require that the power button be held down while being used. A well-placed and large power button is perfect for one-handed maneuvering. Fortunately, that's exactly what you get with this blender. 
Handy and Powerful
This kitchen companion is great for preparing special meals. This hand blender makes it easy to prepare and cook delicious recipes with its easy-to-use working system. 
All you have to do with this blender is just push a button and make complete your blending, whipping, and mixing tasks with 2-speed control and a powerful 200 watts power easily.
Note – Who doesn't love fried food? But weight gain becomes a major issue right? Consider reading Prestige Air Fryer Review or you can cherish the plenty of models from Best air fryer in India.
Is there a container?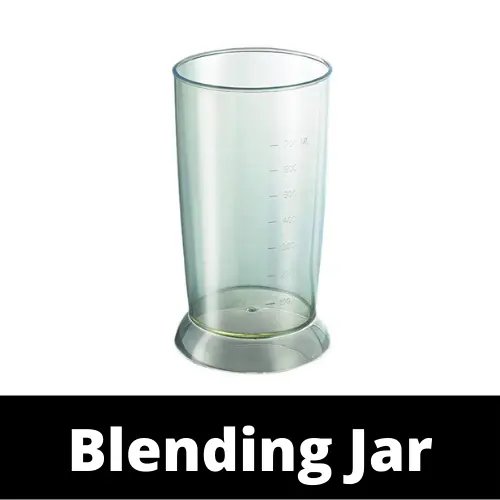 Many hand blenders include a blending cup. This is a great tool for small tasks as it allows you to keep the food closer to the blades, which results in more efficient blending.
The Blending Jar you get as a "free" accessory with this model is transparent with a perfect blade shape and liquid quantity measurements marks. This jar is ideal for making milkshakes, lassi, and juices. It is now even easier than ever.
However, if your juicing needs are big, Hestia Cold Press Juicer Review will shock you by showing how this model is the #1 choice among all other cold press juicer models.
One-Touch Buttons
You can operate the blender quickly, efficiently, and conveniently by pressing a single button. No requirement of waiting. It will immediately start and finish your task in no time.
What accessories are included with Prestige Hand Blender?
Some models also have additional wand attachments, such as whisks or chopping blades. These attachments allow you to expand the use of your hand blender, making it a stronger utility tool in your kitchen.
With a prestige hand blender, you get a blending jar, chopper, and wall hook – Phb 5.0. However, if you want to cook a variety of dishes, consider opting for the Best Ovens for Grilling & Baking.
Blade Shield
This is a great safety feature you get with this model. It protects the blade and keeps it safe. It prevents liquid splashing from entering the shaft and prevents vessels from coming into direct contact with it. This also prolongs the product's life.
Our trust is with Amazon
---
Buying Guide
There are many top-of-the-line hand blenders on the market. It is important to make an informed decision when buying a hand blender. These are the main considerations to look at when buying a hand blender.
What is the difference between a hand blender & a hand mixer?
Hand blenders are useful to blend, chop, whip, and puree. Many attachments are available, such as a chopping bowl or beaker.
Hand mixers are usually fantastic at whipping cream, eggs, or other ingredients. You can also use the dough attachments to mix flour for making dough or cakes.
These are many benefits that a hand mixer can bring to your kitchen. However, if eggs are among your mainstream dishes cooked in your home, try Best egg boiler Review to find out the most suitable model for you.
Why you should use a hand blender
When you need to blend your ingredients into liquids or fine pastes, a hand blender is a great tool. Hand blenders are often lightweight and compact. 
This helps you to easily carry it around your kitchen while doing multiple tasks. Also, it won't consume your kitchen's counter space. 
You can clean the best hand blenders easily by just rinsing them. These blenders are super-efficient and user-friendly, which you can use in your kitchen. 
It is possible to make purees as well as smoothies, whipped cream, and mayonnaise.
Does smells of cooking gives you a hard time? Then you should consider fitting the Best kitchen exhaust fan.
Important Tips to Remember When Using a Hand Blender
You have just brought home the best hand blender. Here are some tips to make sure it lasts.
1. Don't use a hand blender to blend dishes that are too hot.
This is an important tip. Before you blend the ingredients, let them cool off. Although heat won't harm your hand blender, hot liquids can cause burns to your hands.
2. For better results, always move the blender around.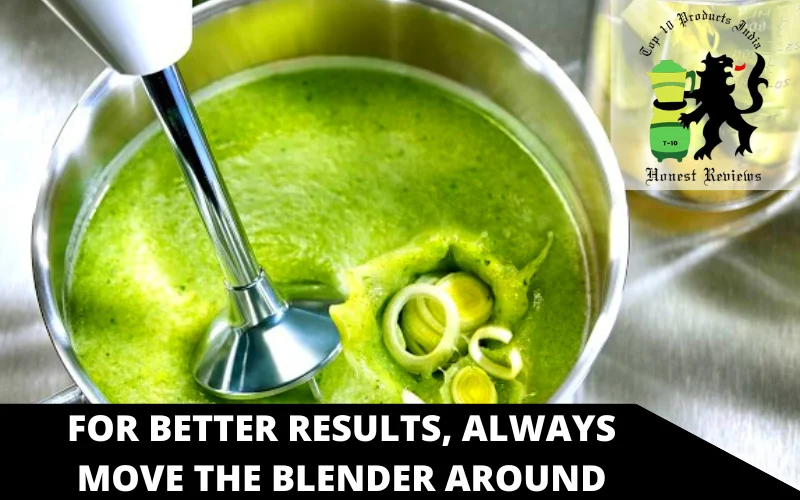 Blend anything you can move around the vessel when you blend it. This will ensure that your hand blender blends all ingredients evenly.
3. Only use the hand blender when you have large quantities of liquids/dishes.
Large quantities of ingredients are the best way to get the best hand blender. The larger the volume, the better results. The best results are achieved when the blender's head is fully submerged in the dish.
4. After every blending, wash it properly.
Make sure to wash your blender after each use. This will help keep it free of contaminants. There may be hidden areas on the blades that are difficult to clean. 
Make sure to wash it well after every use. Also, look for a hand blender that's attachments are easily de-attachable.
Which Features/Attachments a Blender Must Contain?
You must have a suitable motor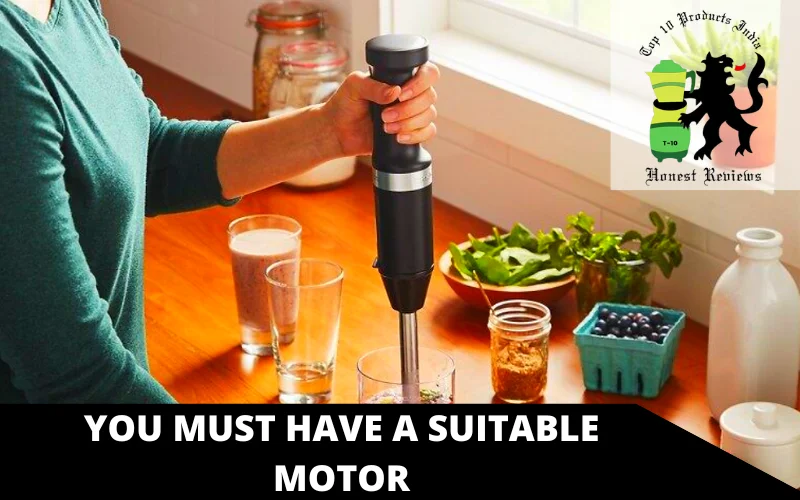 The power of most hand blender motors is between 100-600 watts. You should ensure that the blender you buy is    powerful enough to complete all tasks. 
A motor of 100 to 200 watts is sufficient for simple tasks such as blending and pureeing. A motor with power between 200 and 300 watts is required for chopping and processing frozen fruit. 
A hand blender that can do heavy-duty work, such as crushing ice, will need a motor with more than 400 watts.
Variable speed controls are preferred
Hand blenders must have variable speed controls to ensure precision in blending. This is especially important when working with hot liquids. Blending hot liquids at a slower speed is important to avoid splashing and causing burns.
Built with high-quality materials
It is important to use food-grade plastic or stainless-steel bodies. If plastic is being used in the body of the hand blender, make sure it is BPA-free food-grade plastic. 
Stainless steel body would be the best option since it is not prone to rust and corrosion easily. They are also easier to clean. Stainless steel is ideal for blender blades as plastic blades can break easily.
Design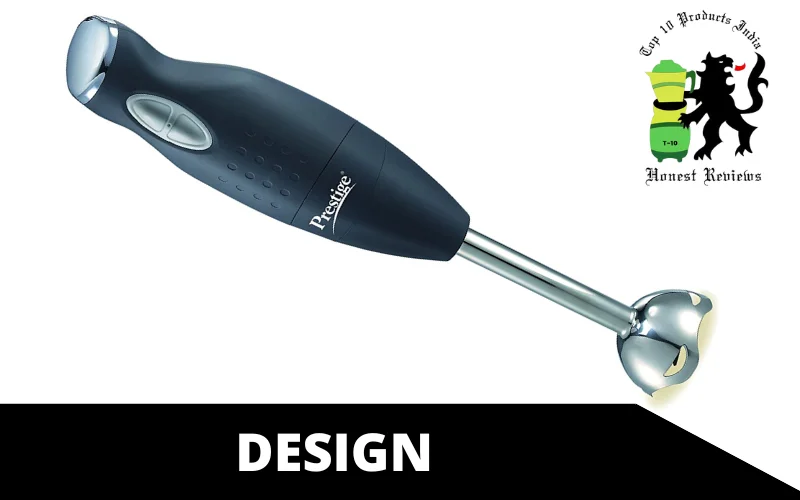 Hand blenders should be ergonomically designed so that they are easy to hold and use. You should choose the right size blender for your needs.
The power button should also be placed so that it is easy to reach even while you blend. Considering the best design and variety of cooking features, LG Convection Microwave 28L Review is what you should read.
Safety features should be included
Hand blenders may have a power button that must be pressed while blending. This prevents anyone from leaving the hand blender with the blender blades still spinning, reducing the chance of injuries and cuts.
Note – Do you love coffee? Here's a dedicated article on Why to buy an Espresso machine.
It should be simple to clean
Many hand blenders have a removable shaft. This makes cleaning much simpler. There are risks of damaging the motor if the shaft isn't removable. 
Also, it is better to go for a hand blender in which the various attachments and blades are dishwasher safe, especially if you have access to a dishwasher.
It should be simple to maintain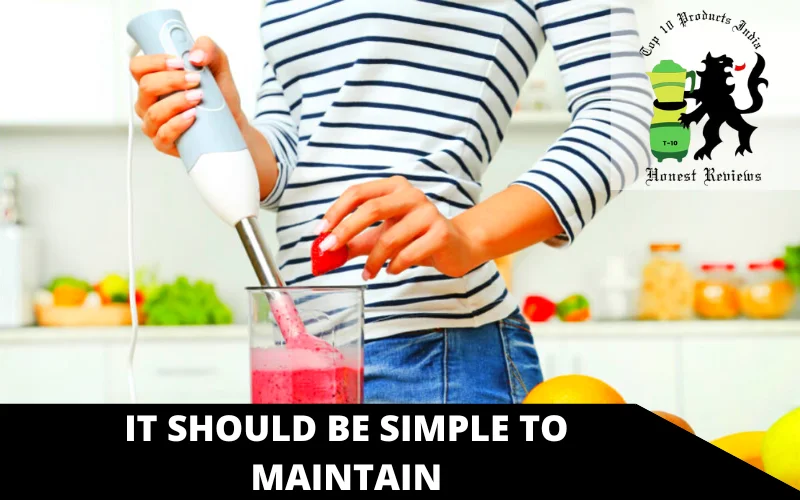 A hand blender made of stainless steel is the best choice. The stainless steel body is resistant to rust and corrosion and will last for longer. It's also very easy to clean and doesn't require a lot of effort.
Multiple attachments are possible
You can do more with your hand blender by adding attachments. Many hand blenders include jars that allow you to chop and process fruits and vegetables. 
You can also use the various blades to whip up cream or eggs and even emulsify. A few blenders can even crush ice to make your favorite slushies or for an unplanned gola-making session at the house.
A long cord is recommended
An immersion blender's unique appeal is its ability to be carried around and used wherever you need it. If the power cord is not long enough, this can make it difficult to use. 
A long cord allows you to use your blender in the way that you prefer, without any limitations. Even better is a cordless hand blender. You can use it anywhere you like and don't even require electricity.
Lightweight should be the goal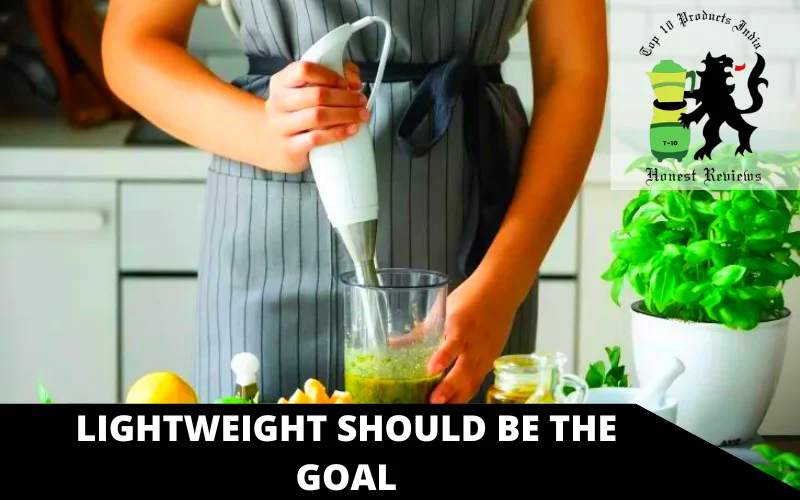 Hand blenders should not be difficult to use. An immersion blender that is lightweight and portable is easier to carry around. 
There are greater chances that you will drop a heavy blender on someone else or on the person who is helping you.
Maximum run time
Imagine that you are in the middle of making your favorite soup when your hand blender starts to heat up. It does! 
This is especially annoying if you are already short on time. Before you buy a blender, make sure it can run uninterrupted for at least 30 seconds.
After-sales service and Warranty 
Make sure the Warranty on your immersion blender is valid. It's not just the warranty period that matters, but also the coverage for damages. 
Make sure the blender's manufacturer offers excellent after-sales support. You should research the service carefully as it can vary from one region to another.
Accessory
We consider the accessories included in the package to be the fifth important factor in hand blender selection. They can make it versatile and adaptable for a variety of uses.
There are models that come without accessories, which may be appealing if you only need the blender. However, most hand blenders come with at least one accessory. Let's take a look at the most popular:
Graduated beaker: A common feature in most products, the transparent plastic graduated beer has a capacity of 500ml to 1l. It may also come with a lid that can be used to store liquids or prepared in the fridge.
Chopper: This is the most popular accessory. It can hold 250 ml to 500 ml of liquid and has a lid that allows attachment of the motor.
Whisk: This accessory is quite common. It is usually a single stainless steel wire whisk that is attached to the motor body. Rare models have an adapter connector that allows you to attach two whips to the motor body.
Food processor: This accessory can only available in higher-range models. The discs are used for cutting, grating, and julienne cutting. 
You will also find blades for shredding and kneading, as well as a squeezer stem. Sometimes, it is also available in two sizes, either in steel or plastic.
Do you want your tea/coffee to remain warm for a long time? Read Prestige Electric Kettle PKOSS Review and try this cheap yet amazing model.
Brand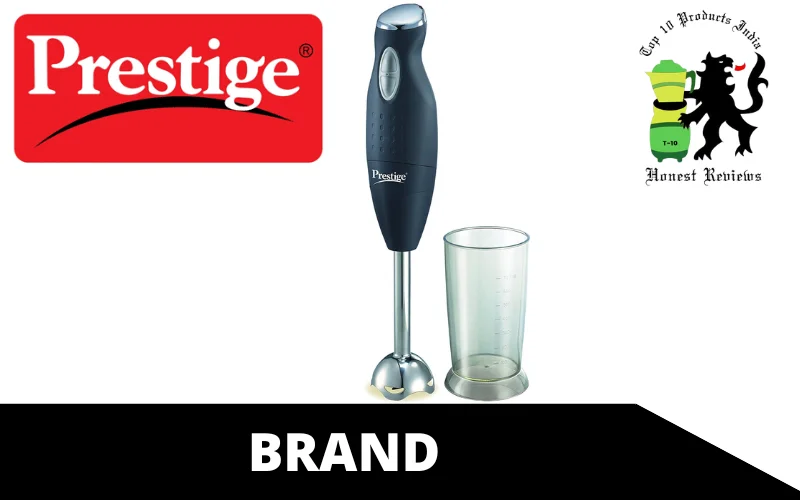 The brand is an important aspect to consider when choosing a hand blender. There are many brands that have been in the hand blender industry for years.
They can be proud of a long history of producing reliable, high-quality models that are regularly refurbished and improved upon.
Major brands have amazing technology. Just think about the brand you select that should offer you amazing features and technologies. 
Also, the brand must be popular among individuals and hold a good reputation with their customer support.
Therefore, after-sales support is another reason to trust a well-known brand. Globally representative manufacturers can provide support to their customers via telephone or electronic communication. 
Accessory and spare parts can also be accessed easily through their website. For example, Prestige will fulfill your every requirement with their amazing customer support, and also their brand reputation is high.