Unfortunately, in India, only a few dishwashers are available, and Bosch seems to entirely dominate in this department.
Already buying a dishwasher is a big investment, and when you aren't having sufficient knowledge about its operation and features, you'll fall into a big dig!
Dishwasher machines can make life much easier! You just stuff the dishes in, then turn on the dishwasher, and in a given time, your dishes come out squeaky clean. Most importantly, your dishes won't break.
We figured out 5 dishwashers, which will hold a large number of dishes, clean them in the most effective manner, without damaging them! Does your housemaid really dictate terms to you? Does she every now and then express her importance? Now here, all wives have a great chance here for firing their housemaids!
The dishwasher is truly a great kitchen appliance!
Now, as we Indians have numerous odd-shaped utensils, buying the dishwasher with the very right features and capabilities is important, and we've don't all experiments for you! Just trust the dishwasher machines that we are recommending in our dishwasher reviews in India!
The following table shows the dishwasher machine price in India! Also, before you buy dishwashers online, you must read our buying guide.
Note – To keep your fluids warm such as tea/coffee, Prestige Electric Kettle PKOSS Review suggest that this cheap yet highly helpful gadget can help you while traveling
Here's the list of some amazing dishwasher models with price category in India
Best Dishwasher in India 2022 Reviews
Bosch

Dishwasher SN256W01GI

Free-Standing 



It's the supreme best dishwasher machine in India. Now, Bosch is a well-known washing machine manufacturing brand (just in India, if we talk about the USA, then they actually manufacture thousands of electronics), and meanwhile, they have brought the same perfection in making a superior quality dishwasher like Bosch 12 Place model. 
Talking about the current cost of a dishwasher in India, this model isn't much costly than the competitors! By the way, this 12 place mode, costing around 42 thousand rupees (might change with time), isn't among the cheap dishwashers in the review, but it does make great payback. We tested this dishwasher in all its settings. 
In intensive settings, it consumes 1 hour and 50 minutes, consuming 11 Liters of water. On normal mode, it requires 1 hour 30-35 minutes, consuming 10.4 Liters of water. The echo mode is the super saver mode, where it consumes just 9 liters of water but takes 2 hours 25 minutes, while the clean shine modes do the job in 1 hour and 20 minutes, using 10 liters. Yes, it is a great water saver and uses it less than one expects.
Features
The makers say it uses 12 liters of water, but while testing, 11 Liters of water proved to be enough (using it on an intensive level), and the washes utensils were perfectly clean and shining.
Half a dozen of washing programs are there, and 2 spray levels. There's no compromise with convenience.
Due to the perfect inside and outside design of this dishwasher, you are able to wash a humongous variety of utensils in it. Its push touchpad brings you a great experience.
This model works perfectly when you run it putting a half-load in it. There are 2 adjustable trays in it.
In testing, we found that this dishwasher model consumed the least amount of detergent for perfectly cleaning the utensils.
This model is very hygienic. Bacteria can't protect themselves, but you surely protect yourself from various diseases.
You can put various soiled dishes inside, and Auto Programme is gonna take care of all of them. Certainly, this program adjusts the water usage with all perfection, rinse time, and water temperature to give you a great wash.
The Final Advice
We are highly expecting this dishwasher to clean the heavy oil and masala-stained kadhais, and it actually nailed the job! In contrast to average-quality dishwashers, you're paying around 8-10 thousand more and attaining unbeatable perfection. The energy and water consumption is very low, and this machine is taking no more time to clean dishes than the competitors.
Then we tested the Whirpool model also, but the Whirlpool dishwasher price in India doesn't seem right for the performance. Hence, we recommend you to buy the Bosch Dishwasher Free-Standing 12-Place Settings model and save a respectful amount here if the washing time or one-two liters of extra water is not hurting you.
Bosch SMS66GI01I 12 Place Settings Dishwasher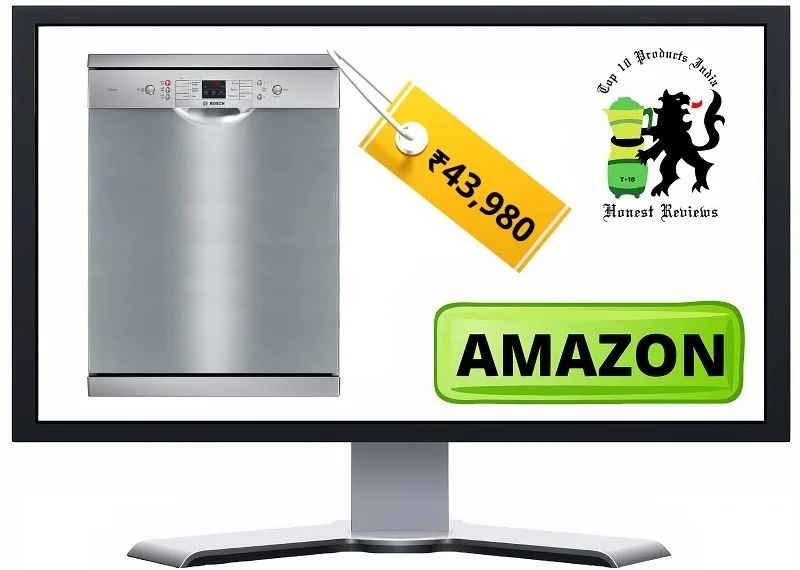 Here comes the Bosch dishwasher India! If you ask us which dishwasher machine suits the best for Indian kitchen, then it's none other than Bosch SMS66GI01I 12 Place Settings model. This one arrives in several versions. Bosch is a USA-based company, who are masters at manufacturing tools and appliances of all departments! 
They dominate the US market in current date in terms of tools (Dewalt is giving a great competition!). Their build quality is always impressive, and also, they are dominating the Indian dishwasher market by providing amazing models like Bosch SMS66GI01I. 
Considering Bosch and Samsung dishwasher prices in India, Bosch highly dominates due to more features and high durability for the money. Most importantly, the Bosch dishwasher price won't hurt anyone! Let's know after all why is Bosch SMS66GI01I the best dishwasher in India 2019 & 2020.
Features
It eliminates 99.9% of bacteria by heating the water to around 70 deg. C, hence, delivering a perfectly hygienic wash.
Pre-rinsing of your utensils is simply not required before you place them inside the Bosch SMS66GI01I dishwasher. 
You can delay the commencement of the cleaning with the help of its Electronic Delay Timer.
Although it's a huge appliance, it doesn't suck much energy, and especially the Eco Silence Drive feature is provided for ensuring the same.
The auto program feature lets you place all your utensils inside this machine and lets this machine do the rest for you.
You've got the half load function available, and there isn't any need to wait for the complete load. This also deducts power consumption to a good extent.
This machine saved max water in our testing. That's a big factor for which Bosch SMS66GI01I is recommended by all experts!
The Final Advice
60 minutes wash cycle and load sensor prove to save much energy, while features compete with each other to bring max luxury! You also enjoy the 10-year rustproof warranty.
The performance of this dishwasher machine was fabulous while washing heavily stained oily kadhais, pans, and such type Indian utensils. Undoubtedly, Bosch SMS66GI01I 12 Place Settings Dishwasher is doing much for you, maintaining perfection. It's truly worth its price tag. Tap the button to know Bosch dishwasher price in India.
Bosch SMS66GW01I 12 Place Settings Dishwasher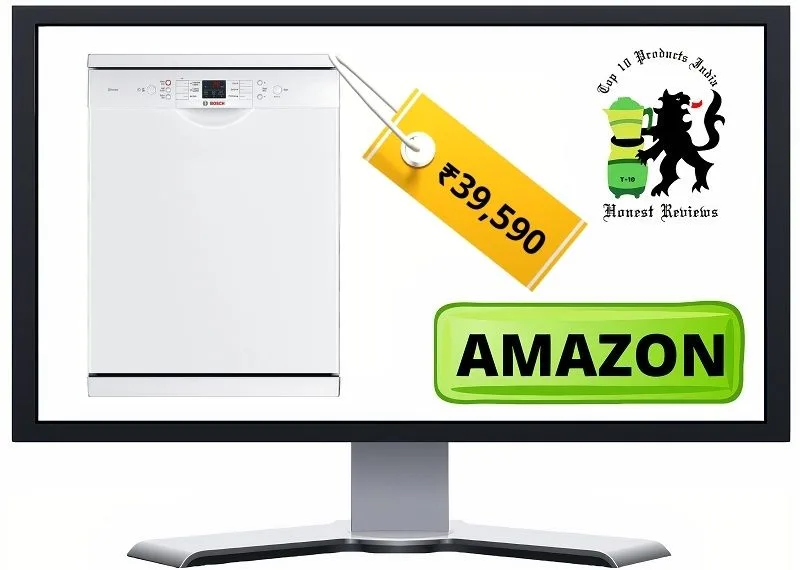 This dishwasher is equally successful and recommendable to the Bosch SMS66GI01I model we recently discussed. This one comes with a bit of modification. The price difference isn't much either. 
However, in looks, certain people will prefer this dishwasher over Bosch SMS66GI01I! Its bright white body is easily cleanable. A 2-year comprehensive warranty is there. You feel full convenience while operating Bosch SMS66GW01I.
Features
It is big enough to serve a 6-8 members family. All settings and controls are easy.

The One place setting of this machine consists of a dessert plate, single glass, dinner plate, teacup with saucer, soup bowl, knife, spoons, and fork.

There are a total of 6 washing programs, which are Intensive Kadhai – which is the best for Indian Utensils, then comes Express Sparkle, which saves time, then Extra dry increases the drying efficiency, and Half Load for washing fewer utensils. Besides that, 2 more are there.

The water consumption is the only 9L, and the energy consumption is only 1.45 Kilowatt-hours, and in both these departments, this dishwasher highly dominant.

We tested cleaning oily and fully masala-stained kadhai with Bosch SMS66GW01I, and it cleaned and dried it in lesser time than all other dishwashers we tested. The powerful spray arms are truly doing a fabulous job!

In case of a power cut, taking out all half-washed dishes isn't required. It will automatically continue the washing process once the power comes.
The Final Advice
Talking about cleaning, Bosch SMS66GW01I promises to kill 99.99% of germs & bacteria and provide you with a hygienic wash. Most importantly, it's saving much water electricity. Loading your dishes in this particular dishwasher doesn't take anything above 10 minutes.
And it just doesn't just clean effectively, but also takes comparatively very lesser time for doing that. What else you need? You need Bosch SMS66GW01I 12 Place Settings Dishwasher! Click below and know Bosch dishwasher cost in India.
Looking for something more versatile? Geek Robocook Electric Pressure Cooker review will shock you.
IFB dishwasher Neptune VX Fully Electronic 
With the same 9L water consumption and 12 place settings capacity, here comes IFB Neptune VX Fully Electronic Dishwasher, which is the third hot favorite dishwasher in the market. 
The two wash arms of this machine work perfectly in dealing with stubborn oil and masala stains on your utensils. 
1.26 Kilowatt Hours is the power consumption here. The dark silver color looks cool. Hey, are you looking to buy a Siemens dishwasher in India? Better go this IFB Neptune VX, as it's far better.
Features
It comes with an impressive four-place settings capacity, due to which it washes your utensils in not more than 18 minutes, most importantly, without producing much noise.

Your utensils always sparkle and appear new.

It doesn't compromise with cleaning at all even after ensuring very low consumption of both water and electricity.

It comes with adjustable racks and shelves for ensuring customization of space. So, you're able to line up your utensils of various sizes and shapes in lesser time.

It also has a flexible half-load mode, which means if utensils are less, you don't have to wait for more utensils to fill this machine fully. In such a case, you can run it with half load only and expect the same results.

With the help of the steam drying option, it vaporizes all the moisture and ensures that your utensils are fully dry without any possibilities of moisture and detergent marks over them. Utensils look fresh that way.

Special water softening device is present for ensuring better cleaning. This further optimizes detergent uses. With this feature, the machine softens hard water up to 60Dh for allowing detergent to dissolve perfectly in it. Cleaning takes place more efficiently that way.
The Final Advice
Your maid is not washing your dishes perfectly, and you don't know about it! How unhygienic is that? You are truly inviting health hazards that way! It's much better to get a suitable dishwasher like IFB Neptune VX, which Is going to wash your utensils to the best for several decades to come.
IFB Neptune VX Fully Electronic Dishwasher is providing a feature for everything! Buy it without any hesitations. Click the button to know the IFB dishwasher price in India.
IFB Neptune FX Fully Electronic Dishwasher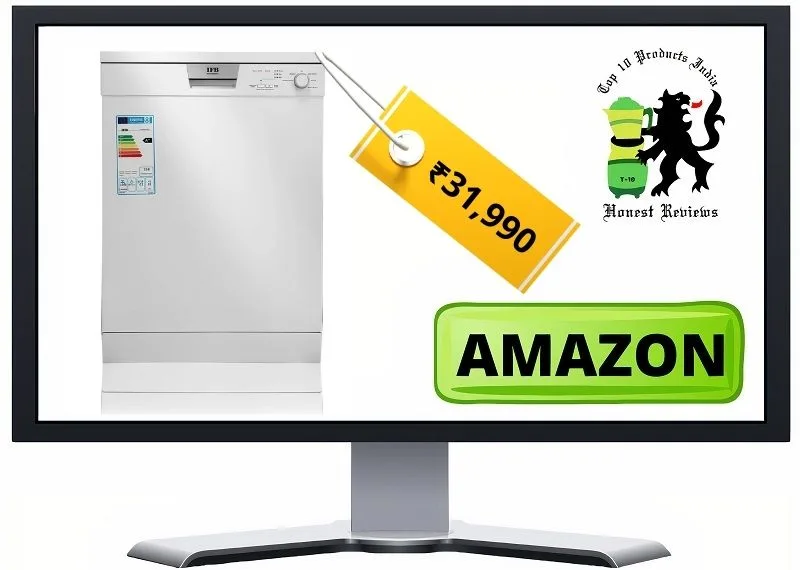 Here comes another amazing dishwasher model from IFB, and this one is around 7000 rupees cheaper. This one is also suitable for a 6-8 members family. 
One place setting comprises a single glass, soup bowl, dinner plate, dessert plate, knife, teacup with saucer, spoons, and fork. Besides that, there are a total of 5 washing programs. 
A 2-year manufacturing warranty is there. Talking about water consumption, it needs 3 more liters than our previously discussed 3 dishwasher machines. In our testing, even the best LG dishwasher India (which we were expecting to work better) wasn't able to compete with IFB Neptune FX. Also, the LG dishwasher price was higher.
Features
The operation of the IFB Neptune FX Fully Electronic Dishwasher is pretty low noise. 52dB is the top noise level.

There are 4 shelves, which you can easily adjust.

This white dishwasher highly suits your kitchen interiors. Not just that, it suits needs also.

You get the extra heavily soiled program feature, which will help you in removing the most stubborn and troublesome stains on your utensils.

Loading the utensils is made easier by the height-adjustable upper baskets, and you're able to loads the utensils in a much better way.

Its design highly accommodates small cups, tall glasses, cutlery, huge pans, and a large variety of dishes. It allows you to maximize the use of the space by using racks that fold, and you can easily shift the basket.

This machine also comes with a device that is inbuilt, that energizes the water. Due to this feature, the detergent dissolves in the water pretty perfectly, and your utensils stay spot-free and always.
The Final Advice
This dishwasher machine has got A++ energy efficiency, and you definitely save electricity bills. You can also load just the lower or upper basket for easy washing, and this machine can be used half-loaded also. This particular dishwasher works pretty fast.
If you want to use less water, waste less energy, and save much detergent, then IFB Neptune FX Fully Electronic Dishwasher isn't just the perfect but a very reasonable purchase. Are you looking for the best IFB dishwasher tablets? Tap HERE to buy. In that pack, you get IFB dishwasher detergent as well.
Buying Guide
Here comes the best dishwasher India reviews buying a guide!
A decent first step is to consider how to use a dishwasher machine. What are your needs? How regularly will you run the dishwasher? Would you like the choice of running littler loads all the more regularly? Do you have huge pots, baking dishes, and pans that need washing on a regular basis? How essential is the noise factor?
As you read through this informative guide, make a note of the features and design, which matter most to you. Most people searching for the new dishwasher machine need a standard 35 "H x 24 "W in-built model. In-built dishwashers have incomplete sides and are specially designed to be installed under the countertop.
Many in-built dishwashers have the tall-tub design that gives increasingly inside space to bigger loads and tall things, similar to cookie platters or sheets. If you're having a little kitchen or need a dishwasher for your office or a second area in your home, similar to a bar area or second kitchen, compact (18-inch-wide) ins-built are available too.
A few countertops are under 34 inches in tallness because of new flooring being laid over an old deck or handicap availability. For this situation, search out a short tub or the ADA-agreeable dishwasher for the correct fit.
How to use a dishwasher? How does the dishwasher work? What features should the best dishwasher for Indian cooking consist of? Besides dishwasher cost, what else should one consider? Keep reading!
Types of dishwasher machines
Freestanding dishwashers
Freestanding dishwashers are the most basic, so they will undoubtedly be ideal for you. It will fit into every type of kitchen that will accommodate them, as well, and their front door is specially designed to remain completely visible. The freestanding dishwasher is the most widely recognized type of dishwasher, so it's simpler to find one that matches your spending budget.
In contrast to integrated models, they're not in-built to your kitchen units, so you could feasibly take the dishwasher with you if you're moving to a new home. They're the easiest dishwashers to pull out as well as remove for maintenance. 
Integrated dishwashers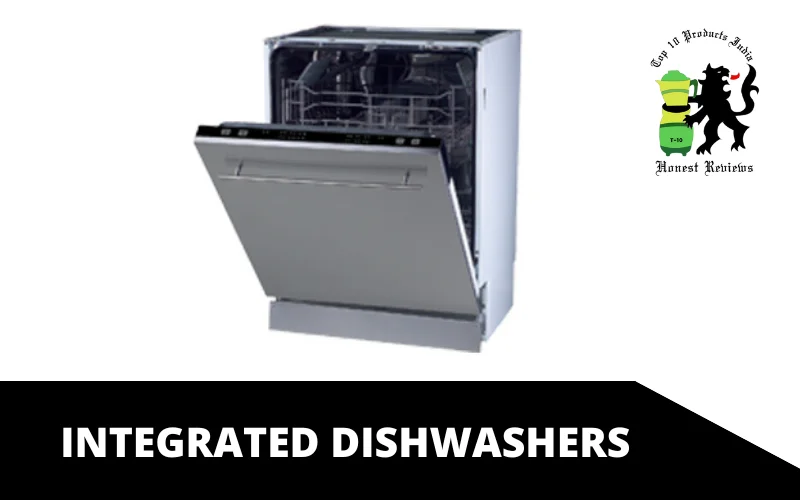 These are specially designed for incorporating into in-built kitchens. The whole front panel of this dishwasher can be completely hidden behind the kitchen cabinet door. Accordingly, you'll not be able to see to what extent is left of the program at a glance.
However, some high-end models get near this. They project the light or even the rest of the time onto your floor in front. If we talk about Integrated dishwashers, they completely blend with your kitchen, hidden behind your cabinet door. 
Semi-integrated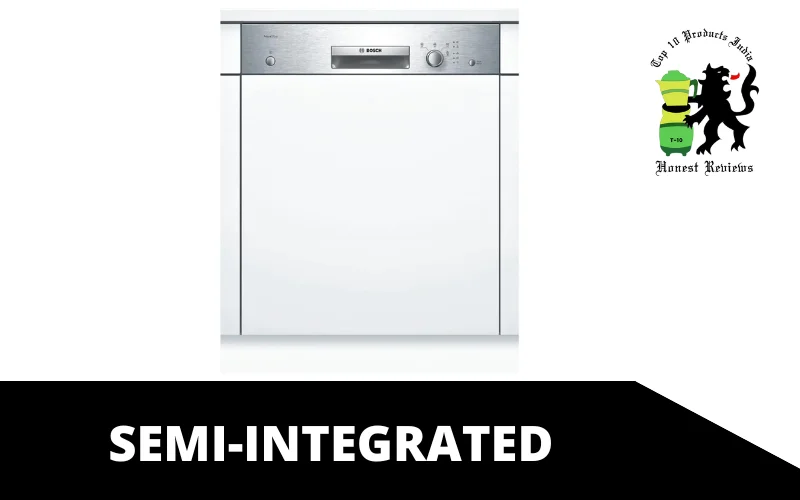 Although uncommon, semi-incorporated dishwashers will offer the best of both. They're integrated into the kitchen cabinets but have only the control panel, which is at the top on display. Accordingly, you're getting all the functionality of the freestanding dishwasher model, but along with the streamlined look of the integrated dishwasher. Semi-integrated also perfectly blend with your kitchen, basically behind your cabinet door – incredible if you want the kitchen to look streamlined. 
Slimline, full-sized or compact?
Undoubtedly, dishwasher sizes are big considerations. Dishwashers usually come in three different types of sizes, which are full-sized, compact, and slimline. In case you want to fit another new dishwasher into your kitchen, you'll have to measure the width of the space in which you want to place it; there will be no big issue because slimline dishwashers are smaller.
We've in some cases found them a bit trickier to load, and our experts' tests uncover that they use about a similar measure of power as well as water as a full-sized dishwasher – which means per item, they're in reality less economical. It means going with the full-sized dishwasher will be better if you've got big enough space. 
Full-sized Dishwasher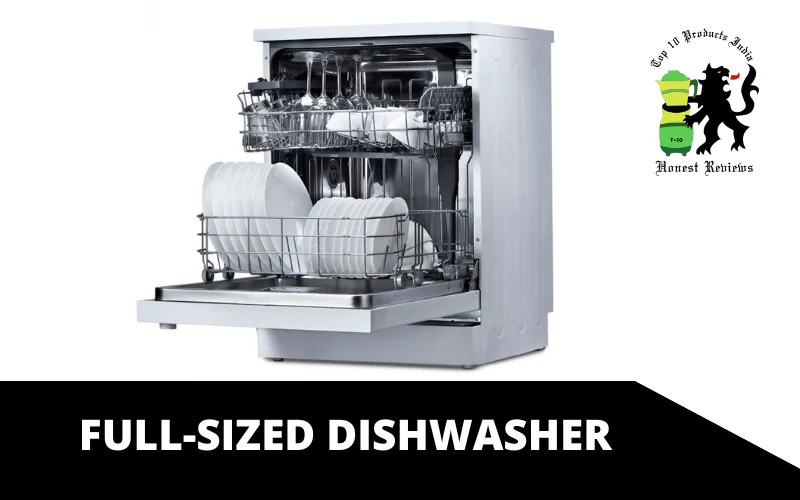 The width of the full-sized dishwasher is approximately 60cm capacity, and 120-150 things can be put. They can easily wash a minimum of 120 items at one time. Basically, they're also better for water as well as energy efficiency. The smallest full-sized machines also have the capacity for 12 place settings – each place setting can fit 10 items, so that's 120 pots, pans, plates, and pieces of cutlery in total.
The biggest dishwashers can even squeeze in more than 150 items – so they can easily cop the washing up after big dinners/family get-togethers. If you consistently have many dishes to wash, then go for a dishwasher model with a bigger-than-average limit, so 13m, 14, or 15 is what place setting you'll have. 
Slimline Dishwasher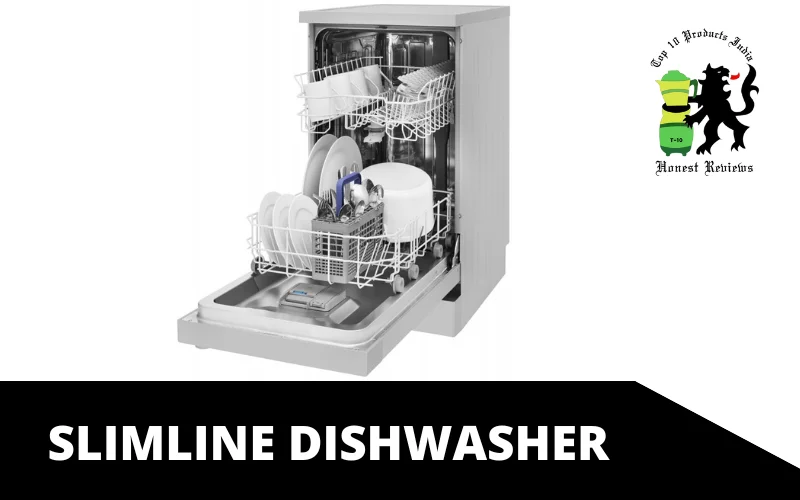 Slimline dishwashers have the capacity of 90-100 items, and the width is approximately 45cm. It's an extraordinary choice in case you lack space. At the point when there's less space in your kitchen, a slimline dishwasher will be an ideal option. At something near to 45cm wide, these are 15cm slimmer when compared with full-sized dishwashers but are also capable of washing 9/10 place settings easily without taking much time.
Compact of table-top Dishwasher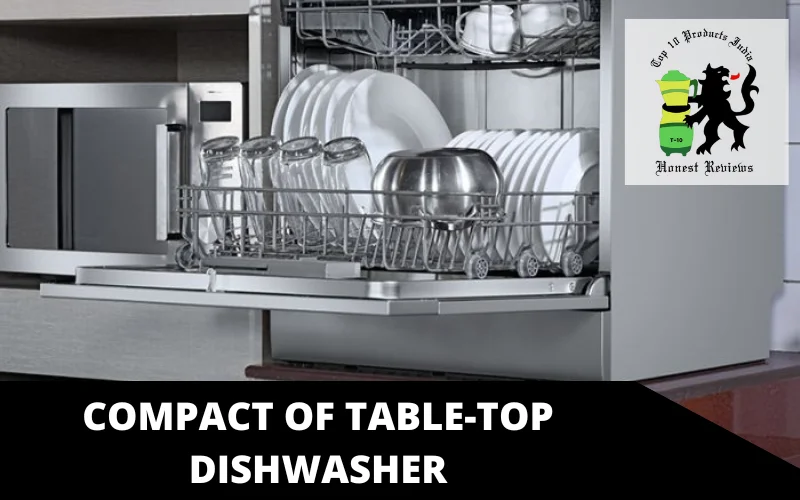 Let's talk about dishwasher dimensions now! Width Approximately 55cm size and the capacity of 40-60 items, It's a decent option if you don't use that many dishes or having less space in your kitchen. Table-top versions mean there's no need to bend down for loading your dishwasher.
Small-sized dishwasher models can be either integrated/table-top dishwashers. As their name indicates, table-top dishwashers sit over kitchen worktops, while integrated small-sized models occupy the space of your big drawer in your in-built kitchen.
They're a bit bigger than a big microwave or a huge drawer and have a little capacity of between 4 to 6 place settings, so you won't be able to wash such a large number of dishes at once. In that capacity, compact dishwashers utilize more water as well as energy per item when compared with slimline & full-sized machines. 
Smart dishwashers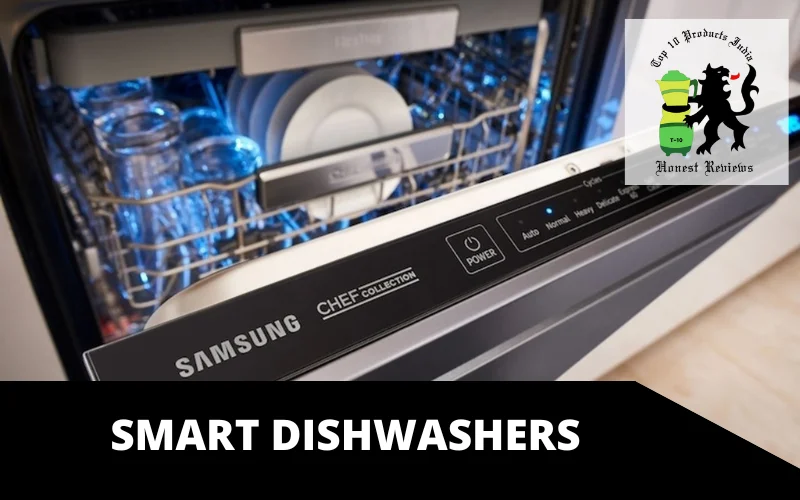 Smart dishwashers can be connected to your wi-fi system at home. Further, you can pair them with the application available on the smartphone/tablet, but they're expensive. Most of them also let you start your dishwasher. However, some let you automatically order more detergent on the timer & download new programs.
This brings you more flexibility for operating the dishwasher without needing to be present at home. However, we're not suggesting it's worth paying more for. If you totally forgot to put the dishwasher on in the morning, having the option to do it from the smartphone would not be of much utilization. There won't be the detergent of the dishwasher in there.
Further, unlike with washing machines, you can also leave clean dishes & glasses in the dishwasher throughout the day. There's no need to time the wash to be done for only when you return home.
How to load your dishwasher machine?
Say goodbye to your days when you avoided placing certain things in the dishwasher, as bigger utensils & odd-shaped dishes. Search for the following flexible features for loading the dishwasher easily, and clean-up after every dinner will be a breeze.
Third racks: Third racks give much more space and are extraordinary for bigger utensils and cooking equipment such as tongs, whisks, and cooking knives. Odd-shaped and little things, similar to coffee cups, measuring cups, and infant bottle tops, fit well here as well. Some third racks also include silverware tines, so that silverware will not stick together and get away from an exhaustive cleaning.
Adjustable or removable racks: With customizable upper as well as lower racks, you can easily move racks up or down for accommodating tall glasses as well as stemware or large plates & cookie sheets.
Adjustable or fold-down tines: Give huge pots, pans, and large dishes more space by moving tines right or left or out of your way altogether. Fold-down tines can also ensure lids as well as lightweight things, which tip and fill with water during the process of washing.
Silverware caddies: A few silverware caddies are easily movable, so that changing the area from one load to the next dependent where it fits best. Covers on a few caddies guarantee little things stay alright during the process of washing.
Credit: Garima Sharma
How does a dishwasher work?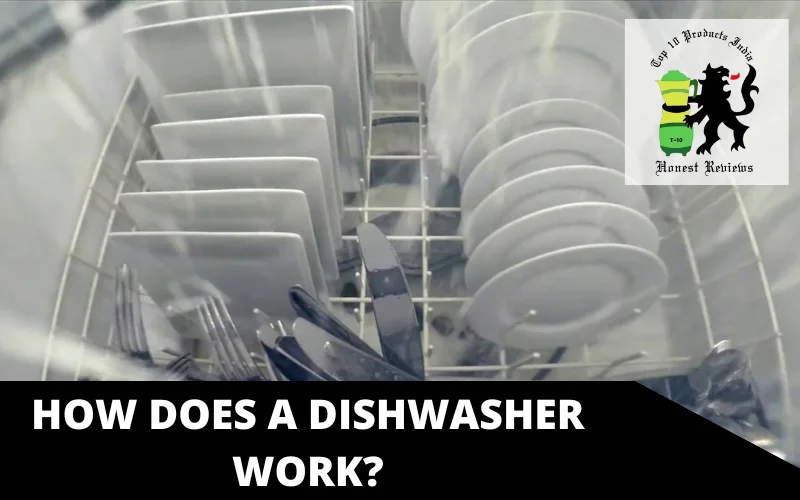 Wash Systems: Most dishwashers usually have three rotary spray arms, which are located at the top, center, and base of your dishwasher tub that spin as well as circular water during the process of washing. Washing system numerous tiers and washer arms give a more thorough cleaning when compared with a system with only a couple of rotary arms.
For more dominant cleaning, a few manufacturers include many strategically placed spray jets, which clean up stuck-on food during pot-scrubbing cycles or modes of turbo wash. New sorts of spray arms and systems of washing are continually being developed, so look for the latest developed technology.
Cycles: Almost all dishwashers offer a similar basic washing cycle like light, basic and heavy, that is mainly utilized for pans and pots. Specialized cycles include extra cleaning power or handle various kinds of dish-washing tasks. The more cycles and more alternatives you have, the more you can customize your cleaning process for various kinds of loads. However, choosing extra, specific cycles will make the time of washing longer.
Testing these wasn't easy, and finding experts for this particular kitchen appliance for conducting a deep testing session wasn't just tough for us but was expensive also. After the entire test, 5 excellent dishwasher machines we chose! Here they are!
See, many guides are available on the internet on dishes as it's among the Must-Have Kitchen Appliances, but we'd put forth 100% honest and genuine advice.
Structures and Finishes
When looking for a dishwasher, consider how it will fit in with the design as well as the style of your kitchen. Control panel finishes and handles largely affect how your new dishwasher will look!
Exterior finish & Interior finishes
There are numerous finishes available to guarantee your dishwasher coordinates your existing appliances as well as kitchen style. You're supposed to select black, bisque, white, off-white, stainless look or stainless steel, and custom panel prepared finishes. Inside tubs come in either plastic or stainless steel. While dishwashers with stainless steel tubs basically cost more when compared with a plastic tub model, they can also help in reducing energy costs as they hold heat for a longer time, making dishes dry quicker. They're also very durable, more stain-resistant, and more smell safe than plastic. Plastic tubs, basically found in cheaper dishwashers but are durable as well. 
Stainless
Stainless look and stainless steel finish both beautiful lovely as well as the modern look; however, there are a few essential contrasts. Real stainless steel is typically not magnetic and will, in general, accumulate fingerprints easily. However, stainless look finishes are magnetic, increasingly resistant to fingerprints, and simple to clean.
Custom panel-ready
This is an alternative that lets you customize the dishwasher to make a consistent look with your kitchen. Custom panel-ready dishwashers have unfinished outdoor, so you can join the custom panel, which matches your existing cabinets. At the point when the door is closed, the dishwasher will look like another cupboard.
Control panels & Handles
The control panel will either be situated on the front of your dishwasher (semi-coordinated) or covered up on the top edge of the door (completely coordinated), so you'll not be able to see it when the door is closed. Hidden control panels give a clean & perfect look and also keep buttons out of reach, which a helpful advantage if you have little kids in your home who love pushing buttons.
With hidden control panels, you probably won't comprehend what stage the dishwasher is actually in during the cleaning cycle, so search for dishwashers having a time remaining display if it's essential to you. A few dishwashers sparkle the light on your floor to tell you that the dishwasher is still running or when the dishwasher is done, dependent upon the model. Dishwasher handles come in various styles, including recessed, bar, and pocket handles. Recessed and pocket handles will make the front of the dishwasher simpler to clean. 
Features and different programs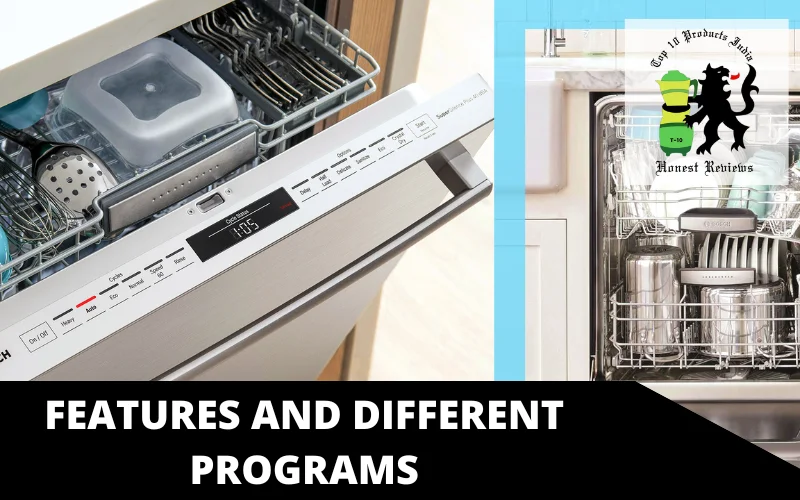 Following are the basic features & programs that a Dishwasher should have:
Quiet Performance
Do you move the discussion to another room or increase your TV volume when the dishwasher is running? In case you're updating from the older model, you'll get amazed at how much quieter today's dishwashers are than they used to be. With a few of them, you can barely hear them when they're running. Most dishwashers accompany sound decrease packages, dependent upon the manufacturer; this may incorporate layers of insulation, a strong base, which absorbs the sound, a motor manufactured with fewer moving parts, and other sound-reduction technologies.
Regardless of what the noise decrease package includes, the primary feature to search for when looking at the dishwasher sound level is the DBA rating or decibel level. Producers utilize various terms to clarify how they decrease sound, but the decibel level is the main genuine comparison. Dishwashers with a rating somewhere in the range of 40 & 50 are genuinely quiet. The lower the number, the calmer the dishwasher will be while working. If the noise level is a big headache to you, steer away from the dishwasher with the self-cleaning filter or hard food disposer.
This sort of filter is more helpful than the manual-clean model, as it doesn't need cleaning, and dishes can go directly from your table to your dishwasher without scraping. However, as the filter crushes the food particles, it inevitably makes an extra sound. Manual-clean filters need periodic cleaning but produce no sound. Both sorts of channels are incredible at keeping the food from being re-deposited back onto clean dishes. 
Adjustable upper racks & Anti-food protection
This implies you can lower and raise the upper rack's height for fitting big items in. The Roller system lets you adjust your rack's height. However, as you have to remove and afterward replace the basket, this isn't, in every case, simple, and it can't be done while the rack is full. This avoids flooding if something turns out wrong. 'Float switches' identify water in the base of your and prevent it from filling more, while the 'aqua stop' prevents flooding if its hose, which fills the dishwasher, leaks or splits. 
Automatic sensor wash & Delay start

This estimates how messy the dishes in your dishwasher are and changes the temperature as well as the length of the wash in a like manner. This feature is only found in super-expensive dishwasher models. In-built wi-fi or smart features can be found in very good quality dishwashers, which are very costly. The dishwashers with a wi-fi connection can be easily paired with the application on the smartphone and can be checked or controlled remotely.
Most dishwashers accompany a delay timer that lets you set your dishwasher hours before you need your wash program to begin. This is convenient to use at night time particularly. At least you are not stuck in tasks at that time and can get your dishes ready to use by morning. 
Kid security lock & Cutlery tray
This is a sensibly normal feature, which prevents unwanted changes, which is made to the dishwasher's settings while it's being used. A few dishwashers presently have the third rack as well, directly at the highest point of your machine, that replaces the cutlery crate. Some dishwashers also incorporate a basket or even come with two baskets, giving you the alternative for extra flexible loading. 
Fold-down prongs & Huge spray head
Dishwashers that come with fold-down prongs make loading big items simpler. Search for dishwashers with this feature in both lower and upper racks. Huge shower heads can be utilized on extremely messy items, for example, roasting plates. Removing the spray arm and joining the big splash head focuses the water in one direction.
Here are some particular cycles you should consider before buying a dishwasher machine
NSF certified sanitizing rinse: This warms the final rinse water to an exceptionally high temperature for killing germs on dishes as well as cookware that is incredible for cleaning infant bottles or cutting boards and gives an additional measure of prevention during the cold season. Dishwashers that are NSF Certified are independently tested for confirming the cleaning cycle reduces bacteria by almost 100%.
Steam clean: Dishwashers that have steam cleaning options use steam in various manners, dependent upon the model. Some have a cycle, which pre-scrubs your dishes, using steam for soaking & melting away stuck food. With a few, you can also add a steam option to the traditional cycle for higher cleaning power. What's more, some have an exceptional setting, which solitary uses steam for cleaning delicate dishes.
China, glass, or crystal care cycle: This gives shorter wash as well as rinse cycles with cooler water for dishes, which are delicate.
Extra rinse or rinse/hold: In case you're not prepared to run a full load, wash the messy dishes with this 5-10 minutes rinse cycle for preventing a stuck-on mess that is harder to clean up later.
Speed wash or eco-wash cycles: If the dishes aren't caked with stuck-on food, utilize the speed/express cycle, which uses less water or has a lesser wash cycle.
Drying cycles: If your dishwasher's drying cycle incorporates a fan, you'll use less energy as the dishes dry quicker while utilizing less heat. On numerous dishwasher models, you can run the drying cycle without heat.
Cleaning your dishwasher: It's not a too hard task, but still you must consider that your dishwasher should be totally cleanable. However, you can also watch the dishwasher cleaning video to get the best results.
Credit: The Grapevine India
Expert Tips
Before buying a dishwasher, we want to highlight some additional tips, which are very important.
Soil sensors & Dishwasher Installation
Dishwashers that come with soil sensor innovation monitor the measure of dirt as well as particles of food in every load of dishes and also change the level of water and cycle time as required. The dishwasher utilizes just the measure of water & energy needed for getting the dishes clean.
Every dishwasher installation package comes with installation by a licensed and guaranteed professional installer. A dishwasher hook-up pack (sold independently) is also needed for the installation.
If you install the new dishwasher all alone, you'll just need to buy the dishwasher hook-up pack. It contains the parts which you'll have to connect with the dishwasher to a waterline & power source.
Energy Efficiency & Half burden choices
To further reduce energy consumption and further save much more on utility bills, consider buying a dishwasher with the following energy-efficient features. If you have littler dish loads, search for a dishwasher with the half load or just an upper rack cycle. These cycles commonly utilize only one spray arm, or they're shorter cycles, which use less water.
Environment & Adaptability 
Is this the cottage dishwasher? Would you say you are on septic, or does thinking about mother earth take first place in your decision of appliance?
With certain models offering 'enviro' modes, 'light' modes, and other environmental features, it's simple to make a decision for you and also for the planet. These modes regularly use less heat/energy and decrease water utilization. Remember, in case you're on septic. You must use the appliances in a septic-friendly way.
How flexible do you require the dishwasher to be? If you have a variety of dish sizes & hosting needs, look for a dishwasher with adjustable racks, in which you can conveniently lower or raise the racks as per your requirement.
If you know it'll be plates & cups over and over, this extra feature won't be of any utilization to you, so it's best to keep away from the extra expenses.
The Conclusion
Already many dishwashers aren't available in the Indian market, but fortunately, we managed to pick 5 for you! Bosch and IFB seem leading the current market. Let's revise which dishwasher machine is the best for which purpose.
Bosch 12 Place Settings Dishwasher SMS66GI01I is the best commercial dishwasher there. Bosch SMS66GW01I 12 Place model ensures best performance is minimum water consumption. IFB Neptune VX ensures rapid cleaning with minimum detergent usage. Further, IFB Neptune FX Fully Electronic Dishwasher is the best dishwasher in India under 30000. If the cheapest dishwasher machine is what you need, then buy Voltas Beko 8 Place DT8S Table Top model. 
Undoubtedly dishwashers are expensive, but there bring high convenience also. You save much time, detergent, and water by using a dishwasher!
Besides cleaning dishes, we've chosen some extraordinary gadgets to help you in cooking. We assure you, your cooking experience is going to be better than ever! Besides dishwashers, we recommend you to read Best Air Fryer in India Reviews. Besides these two, there are numerous other kitchen appliances related reviews in our Top 10 Products India's Kitchen appliance category.