If you're looking to buy an electric mixer with an integrated food processor, two choices you could consider are Preethi Zodiac and Philips HL7707. They share similar features and functions that shouldn't be surprising because Preethi is part of Philips.
There are some distinctive features as well. We'll examine them in detail to aid you in making an informed choice about which one is better for you.
Before we start, we have a dedicated reviews on the best Philips food processors. You can know about the newly launched models there with better features and reasonable prices.
Now, let's start the comparison guide.
Philips HL7707 vs Preethi Zodiac Food Processor
Philips HL7707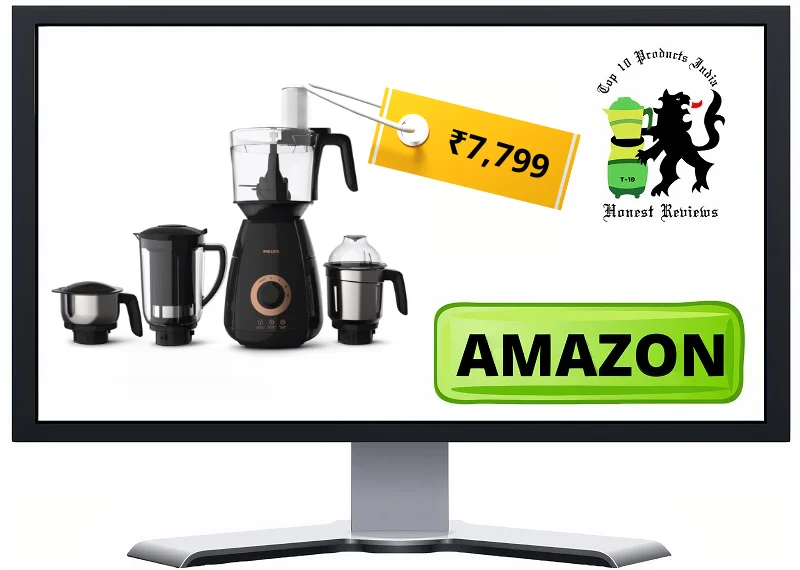 Preethi Zodiac

Overview of Philips HL7707 vs Preethi Zodiac Food Processors
Preethi Zodiac and Philips HL7707 are almost identical food processor jars with identical blades and attachments.
Although it comes with a 3-in-1 juicer with specially designed extraction blades and cutting blades for blending, the juicer jar made by Philips is standard in appearance and comes with a blending blade to aid in juice extraction. 
You will also notice that Philips food processor isn't equipped with its 1.5-litre grinder that is wet that Preethi Zodiac comes with. Suppose you are a frequent idli dosa batter maker and plan to make juices regularly.
Choose Preethi Zodiac by all means. If you can make do with a 1-litre multipurpose container and juices aren't an issue, then go for Philips HL7707. It is lighter in your pocket.
Jars

Comparison

of

Philips HL7707 vs Preethi Zodiac
Preethi Zodiac comes with 5 containers. They include a 500ml Chutney jar, 1-litre multipurpose container, 1.5-liter wet grinder jar, 3-in-1 extraction jar, and a 2.1-litre food processor Jar.
Philips HL7707 is a set of 4 Jars. They are the exact 500 ml chutney container and one-litre multipurpose jar. The food processor jar is pretty similar in style.
The juicer jars are very different. Additionally, you won't find the 1.5-litre dry grinding jar. In terms of the differences between Philips HL7707 and the Preethi Zodiac, it is evident those handles on the Zodiac are screwed on the outside of it.
Therefore, screw heads are located inside the walls of the jar. This small distinction can have a significant impact since Zodiac's jars are much less difficult to clean since, over time, screw heads collect a great deal of dirt.
The shape, blades, and other elements of design in the 500ml chutney and 1-litre multipurpose jars are identical. 
The dry and wet grinding capabilities of both models are identical.
The juicer jar is available in a variety of designs. Zodiac includes two blade kits, one for extraction and the other for mixing. The HL7707 is, however, a unisex design with blender blades used for juice extraction.
As noted in the previous paragraph, the jars for food processors with their attachments and blades are virtually identical. The only difference is that Preethi Zodiac's food processor is separated from the jar lock.
This makes it easier if you have to cut or chop one food item following the next since removing the entire unit off the motor's base isn't necessary.
Also, you can look through the best Inalsa food processors. The company has newly launched some decent models at a reasonable price range with amazing features.
---
How Is the Juicer Jar Performance?
The juicer Jars from Philips, the HL7707, and Preethi Zodiac are quite different.
Philips HL7707 is an ordinary style. It features a 6-prong blender blade with an elongated strainer encircling it. In contrast to Bosch Truemixx, a similar product, this one has no opening on the lid, so the fruits cannot be inserted through the hole while the mixer is in operation.
The quality of its juice is better than the average for watermelon, pomegranate, and apple, among other fruits.
Preethi Zodiac comes with a unique design for the juicer jar. It is referred to as the 3-in-1 extraction Jar. It has two sets of blades- one for extraction to juice and a blending blade that can be used to make shakes and smoothies.
Also, you get two lids, one for mixing, and the second features an opening that allows you to feed the fruits and pusher. Preethi Zodiac's juicer's efficiency in extraction is superior. 
It produces less leftover pulp when compared to the Philips HL7707. Furthermore, because it has a spout, it is possible to juice huge quantities of fruit simultaneously.
However, the overall look isn't very pleasing. It's a bit difficult to switch the blades on the container. You might even break the jar if you switch the blades regularly. The blender blades don't work well for dry fruits.
The dry fruit can't be properly ground when making shakes with dry fruits. Therefore, you'd prefer to use the juicer container for juicing only and the wet grinding jars to make smoothies and shakes.
Motor Housing
Although both models have a 750-watt motor, the housing styles for Preethi Zodiac and Philips HL7707 are completely different.
The HL7707 has a basic style and doesn't come with an indicator of power. By turning its knob, users can adjust the speed to 3 levels and pulse/whip.
Preethi Zodiac is, however, a tripod style. It features an indicator that indicates power. It is blue and then turns orange when overload protection is activated. In comparison to the HL7707, it's more stylish and compact. However, it also takes up a lot of space.
Both have basic safety features, such as vacuum suction feet over-protection switch and a shockproof body.
Noise Levels
Each of HL7707, as well as Preethi Zodiac, have similar noise levels, which range between 90 and 100 decibels. They're moderately loud. However, they're not as loud as Bosch Truemixx and Hamilton Beach.
Performance Test Results of Philips HL7707 vs Preethi Zodiac Food Processor
Both models have identical attachments and blades for cutting, grating, kneading, cutting, and juicing citrus fruit.
In addition, since Preethi Zodiac comes with a jar separated from the lock motor, there's no difference in the quality of their work. 
Safety Features
The security features of both models are identical. Both models come with standard safety features such as the overload safety switch and a shockproof body, and suction feet.
While Philips HL7707 plug has a 2-pin plug, Preethi Zodiac has a 3-pin plug, which is superior.
The two brands don't provide storage options for sharp blades of food processors, which is a major disappointment.
---