Both of these types of washing machines provide similar results, and it is tough to figure out which one is more suitable.
There have been discussions and scientific tests. I can't tell about other nations, but it was concluded that the top load washing machine is more suitable for Indian washing styles. Still, the choice is yours. The top-load option provides a more traditional configuration.
Now, if you have firmly decided, then there are certain washing machines which we have selected for you, have huge tubs for huge loads, provide perfect cleaning, use comparatively lesser water, with powerful agitator and also save much energy.
Normally it's tough to point out the best top load washing at a given price, as there are a bunch of competitors providing washing machines with almost the same features.
Normal people can't, but experts like us can easily figure out the best top load model for washing clothes for you by distinguishing features and performing several durabilities and toughness tests.
Most importantly, you'll get price ideas for top loaders, deep info about the feature, and a bit of comparison too! That all is highly going to help!
Most of the models under 10000 were not passing our benchmark, and we were not sure with our recommendations that they will last long or not. We don't recommend anything until we're 100% sure. As a result, we started our review with under 15000 rupees, and the other two categories are under 20000 and 25000.
Firstly, you need to figure out whether the top loader type is the machine you want or is it the front-loading washing machine.
To know that better, we'll throw light on top load vs. front load in the guide portion later.
Here's the list of 12 best top loading washing machines to ensure master cleaning of your clothes
| | | | |
| --- | --- | --- | --- |
| MODEL NAME | SCORE | PRICE RANGE | BUY NOW |
| Samsung 6.2 kg | 9.0 | Under 15,000 | Buy on Amazon |
| Haier 5.8 kg HWM58 washing machine | 8.9 | Under 15,000 | Buy on Amazon |
| Bosch 6.5 Kg | 8.7 | Under 15,000 | Buy on Amazon |
| Whirlpool 6.2 kg 621S washing machine | 8.5 | Under 15,000 | Buy on Amazon |
| Mitashi 7.5 kg | 8.4 | Under 15,000 | Buy on Amazon |
| LG 6.5 kg | 9.3 | Under 20,000 | Buy on Amazon |
| LG 6.2 kg washing machine | 9.2 | Under 20,000 | Buy on Amazon |
| Samsung 7.5 Kg | 8.8 | Under 20,000 | Buy on Amazon |
| Samsung 6.5 kg | 8.6 | Under 20,000 | Buy on Amazon |
| IFB 6.5 kg SSDR | 8.5 | Under 20,000 | Buy on Amazon |
| Whirlpool 7.5 kg PRO washing machine | 9.1 | Under 25,000 | Buy on Amazon |
| LG 8.0 Kg | 8.9 | Under 25,000 | Buy on Amazon |
1. Samsung 6.2 kg WA62M4100HY
Here comes the Samsung model, top load, fully automatic one! If the budget is tight, then please don't buy any under 10000 models, as durability and perfection are most of the time issues. Try to add around 3000 rupees, and buy something like Samsung 6.2 kg WA62M4100HY, which is durable, and ensures perfect cleaning even after several years of usage. Everybody knows Samsung is a big brand. The build of the Samsung WA62M4100HY is impressive, and the operation noise is lower than the acceptable limit.
Features
Samsung is providing warranty support of 2 years, and the post-purchase support will please you.

It keeps the tub clean from various chemicals and also notifies you at the exact time.

For proper overall cleaning, the even distribution of detergents is very important, and Samsung 6.2 kg WA62M4100HY does the same for you.

The round edge design is attractive, and a convenient LED provides clear info. Besides that, the standard control panel adds to convenience.

This fully automatic machine's drying capacity is appreciable at this price. After the drying treatment, just hang the clothes for a while.
The Final Advice
The technician is provided, which installs the washing machine perfectly and checks whether it is rolling perfectly or not. You just need to fit the tap, or you can hire a plumber. Right from the time you install the WA62M4100HY model till you start washing your clothes regularly, you won't face inconvenience. The operation of the WA62M4100HY model is simple enough, even for a kid! So, trust Samsung once again, and grab Samsung WA62M4100HY with both hands.
Notice – If you are searching for a comprehensive review of the most impressive washing machine model from Samsung, you can read this 6kg article. It will clear all your doubts.
---
2. Haier 5.8 kg HWM58-020S Washing Machine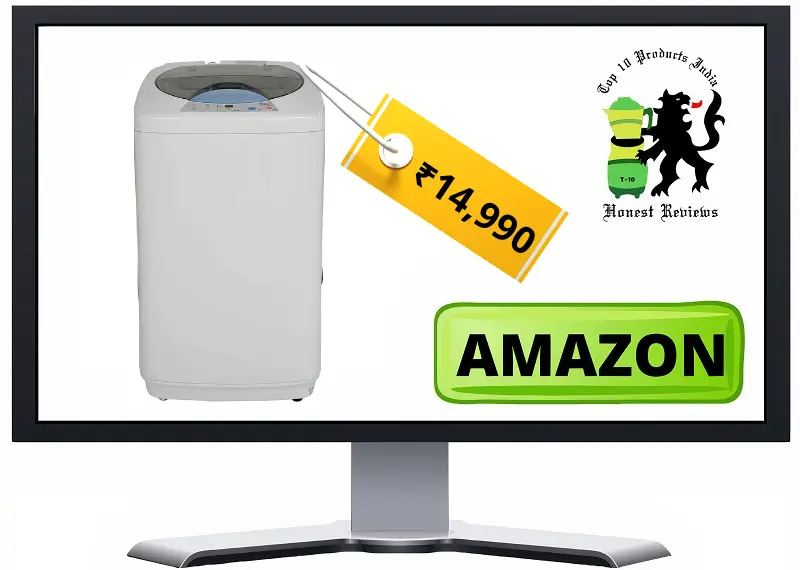 After Samsung's top load fully automatic washer, here comes an amazing model from Haier. With Haier 5.8 kg HWM58-020S, you can wash and clean your clothes pretty rapidly. When you wear those clothes, you'll definitely feel the freshness. The overall performance of Haier HWM58-020S is very smooth, and the noise level is acceptable. The capacity is 4.8 kg here, and it spins at 1000RPM! That's amazing speed! We tested this 5.8 KG model with a much expensive Godrej top load model, and this Haier model won with a great margin! Thus, this model proved itself most impressive in 2019, 2020.
Features
The body of this top-loading washing machine is entirely rust-free, and if you clean it with a cloth after every use (it won't take over a minute), your machine will always appear new.

With its digital display, you can conveniently choose wash programs (you get six available options).

Most of the cheap washers are harsh on clothes, but not Haier HWM58-020S. So, no issue if you want to wash delicate fabric clothes.

It became the best top loading washing machine in India in 2017 due to its supreme sturdy construction also!

Buttons work perfectly for long (rare case with other cheap automatic washing machines), and the press is convenient! The detergent box is of good size.
The Final Advice
Because of fast and perfect washing, over 2300 units of Haier HWM58-020S have been sold on Amazon. Around 85% is the success rate. You get a 2-year warranty on Haier HWM58-020S and a 5-year warranty on its motor. Quadra flow and Double level spin tub prove to be very beneficial. 438 Kilowatt Hours is the annual energy consumption. After knowing all that, you can definitely make a mood to buy Haier 5.8 kg HWM58-020S Washing Machine!
---
3. Bosch 6.5 Kg WOE654Y0IN Washing Machine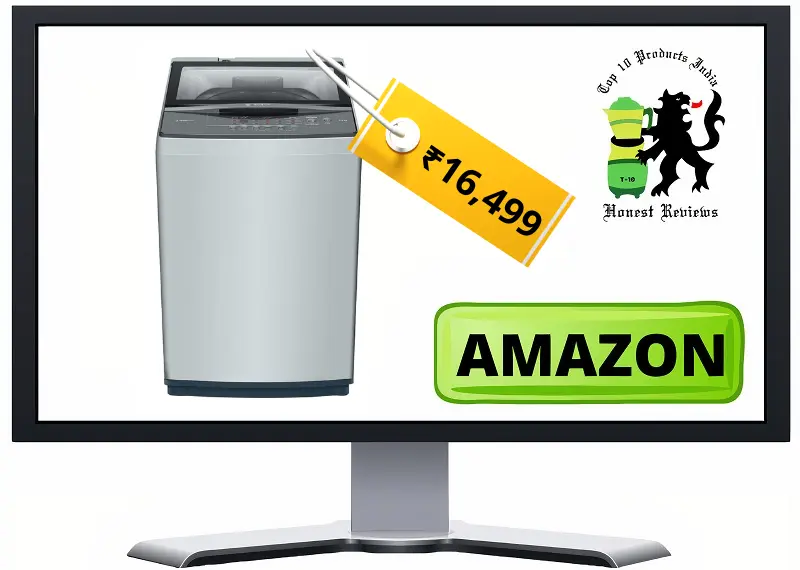 An intelligent power wave wash system is used for making Bosch 6.5 Kg WOE654Y0IN, with the help of which the perfect wash quality is ensured. Our experts found its drum movement innovative and perfect. Innovative Pulsator design and dynamic water flow are other attractive points! The warrant Is 2 years for a product and 10 years for a motor. This Bosch machine to wash clothes is incredible regarding build quality.

Features
Sometimes you unexpectedly injure your fingers due to unwanted lid shutting with various cheap top load washing machines. Fortunately, the lid of the Bosch 6.5 Kg WOE654Y0IN shuts gently.

The lid is of toughened glass and provides a convenient see-through. Even after being so thin, you can conveniently put a load on it.

The duel dispenser of this machine uses powder or liquid detergents, which ensures good solubility of your detergents for further providing better wash results.

The magic filter feature ensures the fast gathering of fluff and lint for making your laundry stay fully clean.

The memory backup feature is very impressive, with the help of which it resumes the washing cycle from the time it stopped because of a power cut. Impressive feature!

Its reviews are amazing! Users are mostly happy. High durability is a big factor here.

The one-touch start feature is a super offering from Bosch. Just press a button, and the machine is going to select the suitable wash program automatically.
The Final Advice
Water supply is an issue in more than half of India. For that, Bosch has designed this washing machine to work perfectly at low water pressure. Further, with the help of the child lock feature, you can lock all the keys and prevent the machine settings from getting disturbed by your child. Anything else you want to support your purchase? I guess not! Tap the Amazon button rapidly! The tip is, this 6.5 Kg model is better than the Bosch 7kg model.
Notice – If you want to know more about Bosch's models, we have dedicated reviews for the 6.5L and 7L model from this brand.
---
4. Whirlpool 6.2 kg 621S Washing Machine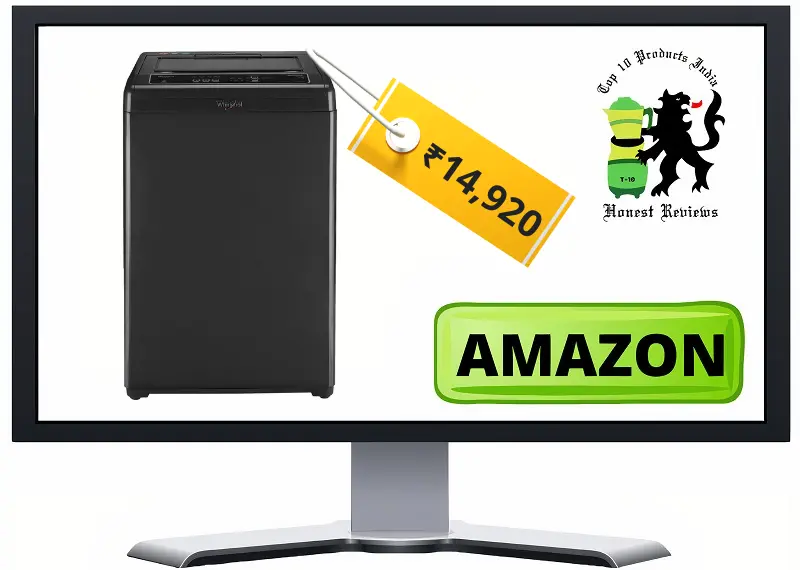 At a very reasonable price, Whirlpool 6.2 kg 621S comes to your home and ensures perfect clean washing by letting you select the right mode. There is a mode for all clothes types. These modes include synthetic, wool, quick, cotton, Curtain, Normal, Speedy, Heavy, and Delicate. It measures 59D x 60W x 97H cm. The steel drum of this washing machine was concluded as the sturdiest one at this price level by our professional testers. At less price, whirlpool has provided features as per expectations.
Features
The child lock is a "must be there" feature in a washing machine, and several times, it is missing in low-price models. Fortunately, Whirlpool 6.2 kg 621S provides you this safety feature.

Drying is impressive. You've got a time left display and a cycle progress indicator. Most importantly, all the touch control buttons for selecting time, modes, or anything else, all very convenient.

The display of Whirlpool 6.2 k gis bright enough to show you info even in bright sunlight.

The tempered glass window is pretty strong, and also, when not in use, you can place stuff on this washing machine, which saves your space. You can see the cleaning progress through the transparent window.
The Final Advice
Besides the conveniences mentioned till now, there are certain features supporting your purchase, such as 3 step wash, convenient start, stop, pause, perfect rinsing, and draining, and also, it is rust-free. The 6.2 kg 621S model is a perfect creation of Whirlpool. You aren't asked for a high price for these many features. Yes, this 6.2 kg whirlpool model is a beneficial deal.
---
5. Mitashi 7.5 kg MiFAWM75v20 Washing Machine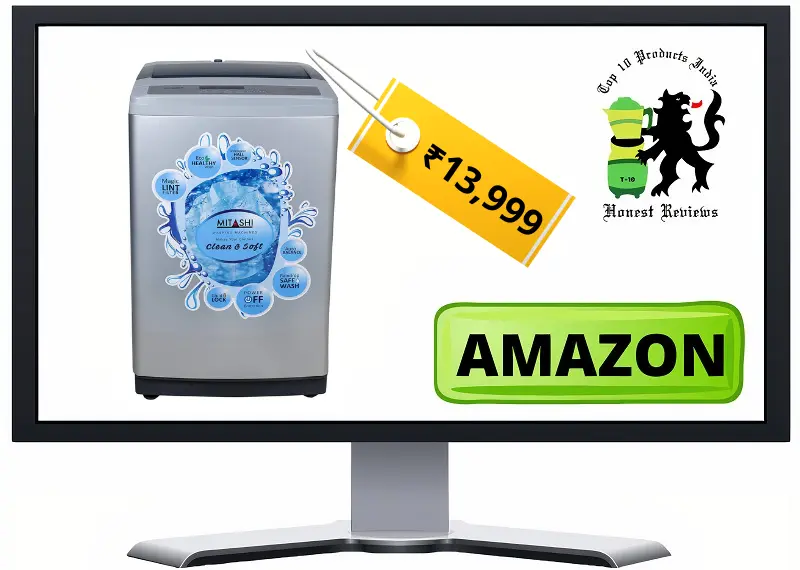 Mitashi 7.5 kg MiFAWM75v20 is a high-selling and well-trusted washing machine. The design is attractive, and regarding features also, it never seems to be left behind. In this price category, this machine has the biggest capacity. It means if you have a 3-4 member family, and dirty clothes gather around pretty rapidly, then also you'll be able to wash all the clothes in lesser turns. Its 600RPM spinning speed ensured the drying of clothes in less time. The motor warranty is 5 years long, while 2 years warranty is for the washing machine.
Features
There are certain things to appreciate in the 7.5 kg MiFAWM75v20 model, and the one among those is the variety of modes. 8 modes are there in total, suitable for every sort of fabric.

Child lock is provided for ensuring your kid's safety and also reducing your headache. You can complete other works simultaneously, staying carefree.

When we tested, the washing noise level was 60.8 dB, and the spinning noise level was 71.2 dB. Both levels are less than 70% of the top loaders, which we tested at a similar price.

There are certain advanced features like power-off protection, raindrop safe wash, intelligent hall sensor, autoload balance, and overload protection. Finding so many features together in a similarly priced model is very challenging.
The Final Advice
This machine is a big time saver. Suppose if you have a heap of clothes, which can be washed after three turns of an ordinary washer, Mitashi 7.5 kg MiFAWM75v20 will do that in 2 turns. Besides that, the machine has so many automatic features that you just have to put your load on it, press a few buttons for desired washing, and complete your other works without keeping an eye there. It's entirely safe. Keeping the features and, most importantly, the size in mind, Mitashi 7.5 kg MiFAWM75v20 is a very beneficial deal. Remember, a 7.5 kg capacity will cost 2000-3000 higher than this. Undoubtedly, money is saved here.
---
6. LG 6.5 kg T7581NDDLG Inverter Washing Machine
Here comes the LG top-loader, fully automatic model, which is truly amazing. Under rupees 20000, LG 6.5 kg T7581NDDLG proved itself the most amazing top loader. It can tackle the washing load of a 4 member family easily. LG is truly an expert in making the washing machine, and with LG 6.5 kg T7581NDDLG, you enjoy perfection. The drum spins at 700 RPM without troubling you with high noise. This machine is smart enough to adjust the energy consumption at the right level according to the required power. Further, there are certain beneficial points with this LG top loader.
Features
The motor is embraced by BMC Motor Protection, which surrounds it entirely. Now, as the motor isn't disturbed by humidity, insects, duct, debris, etc., it keeps on working efficiently for years.

You've got the support of the SmartThinQ app, which you can use for finding the solution whenever you find that your washing machine isn't working properly.

The door bang at certain times causes finger/hand injury. Here you get the smart closing door, cutting off the chances of that accident. It takes its time to close, so nothing happens in the blink of a wink! You get enough time to remove your hand.

Inside the drum, water streams are created in the vertical direction, due to which laundry is repeatedly moved up and down, ensuring greater washing results. Even the toughest stains will be removed.

The tub is never going to smell unpleasant. Tub Clean sterilizes both outer and inner tub.
The Final Advice
It's pretty smart. If there's any power cut, the machine is going to begin the same cycle from the time when it stopped. So, there is no hassle to take out wet clothes, place them again in the machine, or start the cycle from the beginning, or anything else.  Also, you can disable the control panel via a child lock to keep the settings safe. Undoubtedly, LG 6.5 kg T7581NDDLG is a very safe investment.
Additionally, we advise looking at LG top load washing machine tub clean powder , and LG top load washing machine cover. The cover will secure your washing helper from dust, while an impressive powder will offer you good cleaning results.
---
7. LG 6.2 kg T7281NDDLG Inverter Washing Machine
If you are falling just 2000 short of your budget, and your budget is just sailing over 15000 rupees mark, then also LG is providing a decent washing machine, without deducting certain attractive features. Appearance-wise and feature-wise, it matches with LG 6.5 kg T7581NDDLG pretty much. There is a 300grams difference in weight, as you can see. This model was sold the most in India 2018! This machine comes with long motor life, by accompanying BMC Motor Protection like LG 6.5 kg T7581NDDLG model.
Features
The warranty is the same (10 years on its motor, 2 years on the washing machine), as the previously discussed LG 6.5 kg T7581NDDLG Inverter Washing Machine.

Even the spinning speed (700 rpm) and the drum motion are the same. The clothes move with the vertical direction flow, ensuring no stains remain on your clothes after washing. The tub won't give any foul smell, either.

Not just for the regular clothes, but it also washes very delicate clothes (such as silk saree or woolen items) with perfection, and most importantly, it doesn't go harsh on delicate clothes.

There are safety features such as soft closing doors and child safety locks, avoiding all possible disasters.
The Final Advice
This new model is exceptionally beneficial at its price and provides all expected luxuries. Most importantly, issues don't occur. This machine is a silent performer. Even if there is any trouble, the SmartThinQ app won't let you call professional help. LG 6.2 kg is rustproof and highly durable. The features and safety are up to the mark.
---
8. Samsung 7.5 Kg WA75M4500HP Washing Machine
The sparkling plum color of Samsung 7.5 Kg highly attracts, and after knowing its washing ability and supportive features, one would hardly skip this deal. Samsung provides installation and demo as it does with other washing machines. You get 5 water levels & 6 wash programs, ensuring that you attain perfect washing & cleaning of your clothes types. If you're thinking of buying Samsung 7kg, then add just a bit of money, as this 7.5 Kg model performed much better in our testing and is more capable.
Features
Several washing machines claim to clean delicate clothes, but in that case, the cleaning is most of the time not perfect. This machine provides gentle care of soft fabrics and, simultaneously, doesn't compromise with the cleaning perfection.

This machine uses wobble technology (which you normally find in more expensive machines) for preventing the tangling and twisting of clothes, especially the delicate ones.

Eco Tub Clean course ensures the freshness of your clothes without the usage of harsh chemicals. When it needs cleaning, it automatically notifies you.

For gathering lint and fluff coming out of your clothes, you've got a magic filter. As a result, your laundry always stays clean.
The Final Advice
Looking at this washing machine closely, you'll find the Diamond drum featuring an appreciable "soft curl: design with diamond-shaped ridges which are smooth. It goes gently on your clothes. The water exit hole is also pretty small, meaning that your clothes won't get trapped and damaged. After reading Samsung 7.5 Kg WA75M4500HP's features, one thing is for sure that even your most delicate clothes are ultra-safe, and the stain cleaning is perfect for this machine. All features are highly appreciable, and the price tag is lesser than what it naturally should be. Opt for this model, and enjoy great space for washing and low-noise operation.
---
9. Samsung 6.5 kg WA65M4205HV Washing Machine Review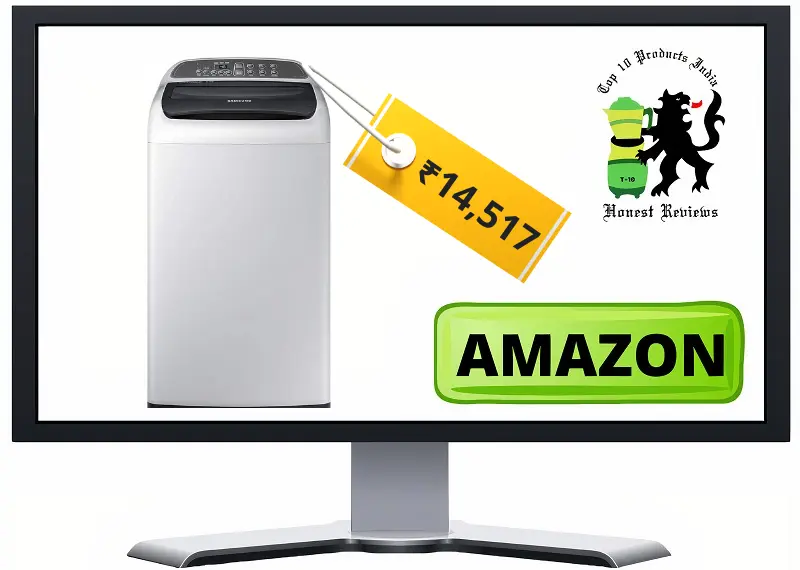 Like we did with LG's model (where we recommended a bit lower price alternative for the first machine), here also we have a bit cheaper alternative to Samsung 7.5 Kg WA75M4500HP, and this one is 6.5 kg model, carrying almost safe features. The same diamond drum feature you get here. Further, The Jets of water, which are generated by the Pulsator's center, highly improves washing effectiveness. It lifts the clothes which fall down on the Pulsator's surface, preventing tangles.
Features
Most importantly, it ensures fast washing and drying, and it uses a special technique for that. The drum extracts all extra water by rotating rapidly, reducing the drying time.

Even the distribution of detergents is very important when it comes to cleaning clothes evenly and perfectly. Water Fall Technology is present in this machine, delivering more rinsing and cleanliness.

The tub always stays clean from chemicals, fluff, lint, and particles for keeping your laundry clean. It also prevents drainage clogging up.

Many times with expensive machines also, you don't get a 100% convenient and durable tempered glass window. The one you are getting with Samsung 6.5 kg doesn't just provide clear see-through but also is resistant to scratches and damage. It can hold much pressure also.
The Final Advice
If you really think that 6.5 kg space is enough for you, then I would highly recommend Samsung 6.5 kg WA65M4205HV rather than the 7.5 kg model, as here, you are saving almost 3000 rupees. Most importantly, you are getting 3 years warranty (generally, you get a year warranty) on the machine, and 10 years on the motor, showing the trust of Samsung in its product. Samsung 6.5 kg model is a safe and beneficial choice.
---
10. IFB 6.5 kg TL-SSDR Washing Machine
As you saw, LG and Samsung were dominating till now, so making space for themselves for any less-known brand was pretty tough, but IFB has deeply satisfied with its 6.5kg model. While even the leading companies like Samsung are providing 3 years product warranty, IFB is providing 4 years warranty for this machine. However, the motor is warranted for a comparatively less period (4 years). Certain things impressed us while narrating IFB top load washing machine review. You get wide washing options with IFB 6.5 kg TL-SSDR, and safety is also looked upon. You've got water inlet selections, which are Hot/Warm/Cold.
Features
The machine is highly featured and simultaneously easy to use. Controls and settings are convenient. The LED size and brightness also impress.

This machine's speed is 720 RPM, which is above par. This means you can complete the washing of huge heaps of clothes rapidly.

After our professional testers checked this machine internally out from out, they concluded this machine is specially designed to suit Indian households.

The deep clean of this machine isn't harsh on clothes, still provides perfect cleaning. Also, IFB 6.5 kg top loader comes with Aqua Spa Therapy.

The filter treatment dissolves detergent in a better way of providing clothes a softer wash. The 3D wash system soaks clothes thoroughly for delivering an excellent wash.
The Final Advice
The smart sense feature is hard to find in washing machines of this price range. It will automatically weigh the load and further adjust the settings accordingly for saving detergent and water. A nifty compartment adds softener to your clothes before washing begins. So, IFB has brought max convenience for washing clothes, and if you own IFB TL-SSDR, then you'll be able to deal with huge heaps of dirty clothes (no matter you were gathering them for two weeks because of laziness) in comparatively less time, and most importantly, without frustration or much hard work.
---
11. Whirlpool 7.5 kg Washing Machine
Talking about the most impressive model in India under 25,000, this 7.5 kg model appeals the most. The Whirlpool 7.5 kg makes a high return on your money.  The product warranty is for 3 years, while you enjoy a 10-year warranty with the motor. Now, with this model, we will introduce some modern features, which you haven't read about in this article.
The construction this gadget contains is superb, and the experts say that this 7.5 kg model can last for over a decade if the user doesn't go harsh on it. Even while spinning at 740 RPM, the machine takes care of the delicate fabrics very well. The glass lid won't be damaged, as the hydraulic mechanism of its soft closing lid provides safety by taking its time to close.
Features
A total of 12 wash programs are there, which means all sorts of your clothes will be washed with perfection.

While washing, all germs are removed, preventing the chances of allergies. The in-built heater senses the load automatically and heats the water inside up to 60 degrees Celsius.

The hot catalytic soak mechanism of this washing machine soaks clothes in concentrated detergent water for loosening the dirt, due to which clothes get cleaned easily.

Hexa bloom impeller comes with 6 vanes and washes your clothes, adopting a unique 360-degree blooming wash motion, which further makes clothes rub each other and bring you the best results without fabric damage.
The Final Advice
Undoubtedly, Whirlpool has shown its mastery in making washing machines by providing this model. It can tackle daily heavy loads of clothes cleaning whites, sari, woolens, stain wash, bed sheets, shirts, thicker jackets, etc., everything with uniform perfection. You've got convenient drum access due to its extra-wide, one-piece glass lid. You need nothing else to wash your clothes to the best. Just grab one Whirlpool 7.5 kg, and make washing luxurious. For knowledge, in our testing, the Whirlpool 7.5 Kg model performed much better than the LG 8kg top load model. Besides that, it was better than the IFB 7kg top loading model also.
---
12. LG 8.0 Kg T9077NEDL1 Inverter Washing Machine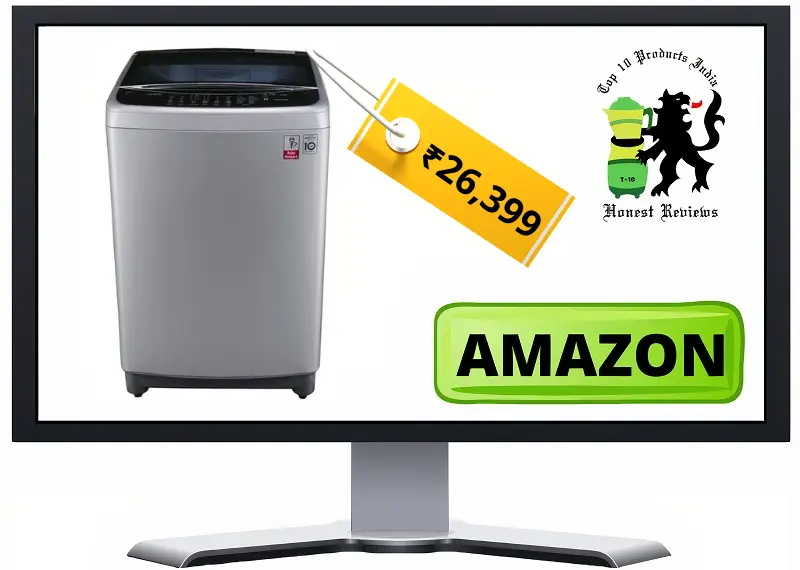 The LG 8.0 Kg T9077NEDL1 is another luxurious washing machine, coming at almost the same price, and it's competing high with our previously discussed Whirlpool model. The warranty is for 2 years here for the model, while the motor warranty is equal to what Whirlpool provides. While our testing, IFB top-loading 7kg highly competed with LG 8kg top load model, where the LG model was victorious.
Here, the features are a bit different and are convenient enough to attract a lot of buyers. Besides the soft closing door, clear see-through glass lid, and child lock, there are certain features that ensure the long life of your clothes.
Features
The power-saving ability of this machine is appreciable. It adjusts the energy consumption to the perfect level, matching the required power. Some washers suck high energy. Buying LG 8.0 Kg T9077NEDL1 brings you long-term benefits!

The motor arrives with BMC Motor Protection for protection against dust, debris, insects, humidity, etc. experts say that if the motor is sealed so well, then there are exceptionally fewer chances of the motor to malfunction or quit (make sure you don't overuse the washing machine).

Obviously, like other models in our list, this one also starts from where it stopped when the power cut took place.

SmartThinQ app supports you in dealing with any issues regarding the functioning of this washer. You get all the answers in this single app.

It comes with Turbodrum and 3 smart motions. The turbo drum and pulsator of this machine move in opposite directions for eliminating dirt the fastest way.
The Final Advice
This machine exactly knows how to wash your clothes safely. The water stream is created in a reverse direction, for pushing your clothes up/down perfectly. The build quality of its stainless steel drum is highly appreciable. It will last pretty long. Tub Clean feature disinfects the tub while cleaning it. If you truly want to save water, detergents, clothes (from getting damaged), power, and time altogether, then do buy LG T9077NEDL1.
---
Buying guide



Now, after knowing the best fully automatic top loading washing machine in India under various prices, the Top loading machines guide to help you buy waiting for you. The heart of the top load washing machine is the vertically aligned drum. As the name suggests, clothes are loaded as well as unloaded through a door on the top. Throughout the wash cycle, water is added for floating your clothes, which are then moved about by the impeller or agitator.
This is a pretty different washing cycle for front loaders that utilize gravity as well as a tumbling activity to clean. Top loaders have a tendency to utilize more water than front loaders because your washing needs to float openly, but top loaders wash your clothes incredibly. Speaking of agitators– they take up a big room, so you'll obtain much less capability from a larger leading loader than you would certainly with a front loader. The extra water usage does generate a better rinse efficiency, though. After washing, clothing is rinsed and also spun to remove as much water as possible before drying.
Benefits of a top load washing machine
Less complex engineering– so they should be less complicated to fix if something fails.

You can include or remove things mid-cycle– you can quickly include that errant sock or essence your keys after the cycle has begun.

No need to bend down– so it's less complicated to load& unload, particularly if you have wheelchair or accessibility issues.

Less vibration-prone– so they're more secure on dodgy floorings.

Quieter– not by much, but this may be a variable if your washing is near your living areas.

Kid-safe(r)– With access and also controls on the top, it's more difficult for little explorers to climb up within or to turn it on inadvertently.

Faster laundry cycles– it's simpler to do several loads back-to-back or for washing on the run.

Door seals not needed– much less maintenance is required.

Cold and hot intakes– you can utilize your solar or off-peak hot water and save on electricity.

Light-weight– which you'll observe if you move home a whole lot or require to get one up lots of stairs

Less costly to get—both on average and also in absolute terms.
What is the difference between a basic, good and premium top load washing machine?
Top loaders aren't as mechanically intricate as front loaders, so they'll be less expensive usually. The biggest rate difference will be due to ability, with larger equipment using a higher cost. Presently, top loader washing machines' brands provide alternatives from 5.5 kg with to 10Kg tons capability. A greater price tag basically means advanced features, settings, and much better build quality. For a standard top loader, you can anticipate a mechanical timer with 1 or 2 different programs and also hand-operated water setups.
Pay a bit even more cash money, and you'll start to get electronic controls, with a large number of programs, and automatic tons, which will help you lower your water consumption. Significantly though, we didn't find much of a relationship between rate as well as total efficiency, so paying, even more, does not always lead to cleaner clothes.
This is great news for budget-conscious consumers since if your demands are fairly basic and you do not have a great deal of laundry to wash; it's possible to get a top-performing cleaning machine for relatively inexpensive. Similar to any home appliance, consider how you'll utilize it and don't spend on features that you do not require.
Testing on a cold wash cycles
We test on a cool laundry, so warming water does not factor right into our results. The energy ratings are calculated, making use of warm laundry, and home heating water takes power. Shouldn't this mean that front loaders, with an internal heater fitted, use even more energy than top loaders, which don't heat or use your house's hot water supply? You'd believe so, but the power scores are calculated to consider the energy utilized to warm the water in your house as well as the energy straight made use of by the washing machine.
This informs you of your overall power price for conducting a wash cycle for that machine, and you're utilizing this energy, even if it's not made use of straight by the equipment itself. To place it another method, this is what it's actually going to cost you to run a wash cycle. That is unless you have solar hot water– in which situation your energy performance with a top loader will be better than what gets on the sticker label because your hot water is basically complimentary.
Well, if you wash in cool water, a top loader will be more energy-efficient sense of the gravity thing and shorter cycle time. If you wash in hot water, since top loaders need more warm water generally, and also it's provided in a much less efficient manner. Another thing to consider is if you select a clothes dryer, after that, a top loader, with its lower spinning speed, means there's pretty more work for your clothes dryer to do– so what you save in washing you might repay again in drying out.
The capacity of a top load washing machine
With an ordinary capability of just over 7.5 kg, the top loaders in our examination currently track the front loaders by simply over half a kilogram in capability risks. Yes, however, you shed out in absolute terms as well as top loaders max out at around 14kg, whereas front loaders will currently go to 16. Energy & water efficiency apart, a 5.5 kg top loader will take up concerning the exact same area as a 7.5 kg front loader, without the beneficial top surface workspace.
Top Load Washing Machine F.A.Q
Now, ready to reveal some doubts? Oh yeah!
How does a load washing machine actually work?
Do top loaders need cold as well as warm water cycles? Yes, the majority of top-loading machines have both cold and also hot water connections and use your residential warm water supply for warm or hot laundry cycles. While you don't 'require' to attach them to warm water if you do not intend to, you'll call for accessibility to a hot tap if you want to wash in hot water.
Having warm water consumption does suggest you can benefit from cheap off-peak or totally free solar hot water for your cleaning, which, if you're a hot-wash follower, can save you on your power costs. Since they have warm water consumption, top loaders do not need internal heaters, which helps in keeping their rate and complexity down.
Can you put the top load washing machine in a cabinet or cupboard?
Yes, provided you have easy accessibility over the machine. As top loaders need very easy access to the top of the appliance, also the smallest one simply isn't going to operate in a washing niche with low shelves or a dryer that's been wall-mounted a little on the reduced side. And also, eliminate any type of thoughts of piling a clothes dryer on your top-loader or installing it under a bench, as that's just not possible. So while you might have the ability to get away with a top loader in a cleaning space, they're far better matched to houses with even more large laundries.
How long does a top load washing machine take to wash?
A regular top loader takes around an hour for a full clean cycle. While it isn't exactly instant cleaning, it is about 50% of the average cycle time for the front loader. If you simply do not desire to wait, teaming a fast top loader up with a similarly fast clothing dryer suggests you could obtain a lot of laundry and dried out in about 2 and a half hrs, which is a rather outstanding turn-around.
Does top-loading washing machines are noisy?
The fact is, There's no huge difference between the normal noise levels of front and also top load washing machines, but top-loaders are somewhat quieter (58dBA, or about the equivalent of a somewhat softer than basic conversation) than their front-loading contemporaries (61dBA). Top loaders are additionally much less susceptible to extreme resonance on dodgy floorings, which will see a huge adjustment in sound levels. So if your floorboards are pretty well flawed, then selecting a top loader may be a far better choice, and if the washing machine is certainly be close to your living locations, after that, the functional sound might be a big factor in your decision making.
What is the spin capacity of a top-loading washing machine?
There are no two means regarding it– with the topspin speed of 1,100 rpm, top loaders just do not spin as fast as front loaders, which can reach an excessive 1,800 rpm. Faster spin speeds imply even more water's extracted from the clothes, which minimizes the time of drying out, and if you utilize a clothes dryer, your household energy intake. Faster spinning makes a washer louder and also much more high-pitched, and enhances creasing, and also crushes the heap in the towels, so you may want to call this down for delicate fabrics. The maximum speed provides you the most alternatives.
What's the difference between a top loader and front loader detergents?
Since top loaders use even more water than front loaders so your clothes can drift openly, as well as because they use a side-to-side movement instead of a tumbling action, they have a tendency to call for more suds. Consequently, washing detergents developed for top loaders will foam up far more than the front-loaders.
Using a detergent made for a top loader in a front loader washing machine may lead to a recipe for disaster, but with a top loader, the danger of a foamy surprise is negated, and also you can comfortably utilize the detergents in your leftover front loader (you may need to include a little bit extra though). Nowadays, there's likewise a growing number of laundry detergents that have actually been developed for use in both fronts as well as top loaders.
Are top-loader machines water efficient?
Lots of modern washing machines are likewise able to vary their water intake based on the size of your washing lots, so try to find a machine with a sensor if water waste concerns you. This additionally clarifies why our examination results and the figures priced estimate on the water label are different– our examinations utilize a 3.5 kg load. However, the number specified on the energy and water star ratings are gauged when washing at the machine's complete capacity, which might be more than double that.
It's additionally worth bearing in mind that many machines attempt to make up for unbalanced loads by including extra water. Top loaders aren't as adept at rearranging unequal tons, so it's twice as essential to load your washing machine thoroughly.
How big is the top load washing machine?
Unlike front loaders, which are developed to suit a standard 60cm kitchen cut-out, top loaders have been available in all various sizes and shapes, ranging from a small 94 x 55 x 56cm to 120 x 70 x 73cm. Certainly, you likewise get much less ability for your cubic cm with a top loader than you make with a front loader, so it may well occupy more space – a 10kg capacity top-loading machine can be as large as a 16kg front loader in general.
Perhaps a larger downside than total size, though, is the lack of utility afforded by a common top loader. Due to the fact that they are top-loading, you can not install them under a benchtop or pile a clothes dryer in addition to them. You also can't make use of the top surface area as a workspace the way you can with a front-loading machine (even temporarily, because many modern top-loading machines come with curved covers & top surface areas), so they're not so great if you're promoted room in a smaller laundry.
If you're much shorter of stature and also not excessively limber, then this could be a bargain breaker, so check if you can easily reach an all-time low of the drum in-store prior to your purchase.
Top load vs front load washing machine: Which is better?

According to you, which washing machine is a better top load or front load? Well, decisions highly differ here, and certain experts also contrast regarding the same. Let's make things clear! Buying a new top loader model is going to make a humongous difference to your family – the high convenience it brings to cleaning laundry brings a huge impact on your household budget, daily activities, and (increasing) spare time.
However, selecting precisely the correct kind of washing machine for the home is what will make certain differences. Here, we explain a few key differences between a top loading and a front loading washing machine. We will up the pros & cons of both, helping you in deciding which model is better for your family.
Some benefits of buying a front-load model
Now, a front-loading machine needs less water per wash cycle. New models are becoming more efficient with time. These machines are capable of cleaning and drying more effectively and efficiently in contrast to the top-loading counterparts as they spin the clothes around pretty faster inside the drum.
Some negatives of buying a front-loading washing machine
These front-loading machines make you spend higher in comparison to top-loading machines. The powerful motor spins clothes very fast. However, that means that the machine can be louder and also vibrate more. If you are the one living in a busy apartment or are having the washing machine located near your living areas, then you'll need a model which works a bit silently.
Brands like Samsung and Panasonic are developing machines with new direct-drive motors. These are a lot quieter in comparison to their older models). These front-loading gadgets to wash clothes are larger and eat much space. You need to open the door out as well. It can be challenging in a small apartment to find such space for your washing machine to stand.
Some benefits of buying a top-load model
The second type, the top-loading machine, costs less. Most importantly, a mid-range top loader costs lesser than a mid-range front loader machine. The drum door is situated on the machine's top. So you don't need to panic regarding the extra space which is required for opening a front loading machine. The design of top-load machines is easy and simple for new users to understand. There carry fewer mechanical parts for getting malfunctioned or damaged. Similarly, the top-loading machines are evolving as more sophisticated.
Furthermore, the latest models are available with a full range of wash programs as well as built-in extras. For example, the Electrolux High-Efficiency series of Top Loading machines need less water per cycle. These spin the clothes without any requirement for a space-consuming central agitator. As the drum doesn't generally spin as rapidly in a top loader, the machines work quieter.
Some negatives of buying a top-loading model
Dissimilar to the front-loaders, the top-loading machine requires more water. The top-loading drum needs to be completely filled with water while the wash cycles are going on. This increases household water bills. However, we have picked only those top-loaders which are highly energy efficient. These Top-loading washing machines arrive with fewer features and functions. However, our chosen models do carry more than enough features for the money.
Talking about front loader vs. top loader, then you read, positives and negatives are on both the side. It fully depends upon you which negatives you are ready to accept. So, if you are asking which washing machine is the best top load or front load, then we highly recommend you to read our Best Front-load washing machine review once so that things get clear for you.
The Conclusion
We are highly focused on providing you high features at comfortable prices. Still, if the price is the biggest consideration for you, then go with our budget pick, which is Samsung 6.2 kg WA62M4100HY machine.
In the same sense, Haier 5.8 kg HWM58-020S is also a brilliant choice. Also, in the low price category, Whirlpool 6.2 kg 621S made the least operating noise in our testing.

In the under 20 thousand rupees category, LG 6.5 kg T7581NDDLG Inverter Washing Machine satisfies the most. If you are 2000-2500 short in money, then LG 6.2 kg T7281NDDLG provides much convenience and features like the LG 6.5 kg T7581NDDLG only. If you want to put more bulk on clothes at once, for finishing all your washing faster, then choose Samsung 7.5 Kg WA75M4500HP model.
At last, if while your laundry, you need max comfort and the best range of features, then buy Whirlpool 7.5 kg Washing Machine, which costs around 25K. So, we hope we've made your clothes washing experience much better, yes?
Besides that, we've reviewed an amazing front load washing machine model; read Samsung Front Load Washing Machine 6Kg Review to find out why it's highly beneficial!