Preethi Zion MG227 and Preethi Zodiac MG 218 are among the top-selling mixer grinders manufactured by the company of Preethi. Although they look alike, their style and functionality are plenty different.
We'll examine every point deeply in this guide and compare them wisely to bring you the best model & it's benefits. However, before we start, Philips food processors are also great in terms of features and durability.
It's worth looking at the newly launched Philips food processor models before you start this comparison guide.
Preethi Zion vs Zodiac Food Processor – Which is a Better Choice?
Preethi Zion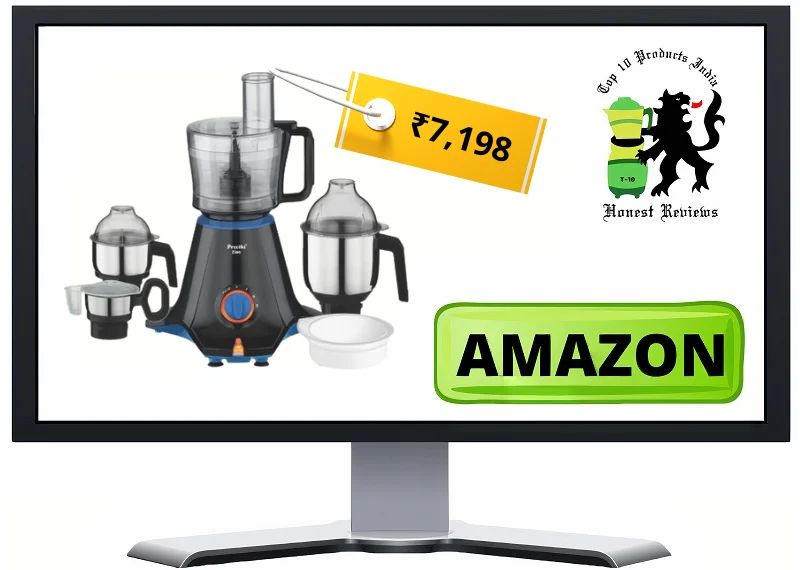 Preethi Zodiac
Jars

Comparison

of Preethi Zion vs Zodiac
Preethi Zion MG227 is a set of four jars, including Food processor units. We will discuss the food processor in greater detail in the following section. Let's look around the rest of the Jars.
Zion MG227 comes with a 200 ml Dry grinding container, a 500ml chutney jar, and a 1.5 Wet Grinding Jar of 1.5 litres.
Also, Preethi food processor (Zion addition), in comparison, comes with five Jars. There is a 500-ml chutney jar, a 1-litre multi-purpose container, a 1.5-litre wet grinding jar, a 1.5-litre 3-in-1 juicer jar, and an ice cream maker container.
One advantage for Zion compared to Zodiac is that its 200ml dry grinding jar is utilised to grind small quantities of ingredients.
In Zodiac, grinding about 50 grams of the ginger-garlic mixture in the Chutney jar, you will get it with an unground consistency, with pieces. 
However, grinding them inside the 200ml Dry Grinding Jar is ground to a more fine consistency with fewer fine bits. This isn't just due to the small size and the dual-edged blades that aid in finely grinding the ingredients.
In the same way, Zion's 1.5-litre wet grinding jar comes with a double-edged blade which is ideal for grinding masala, batter paste, and other wet ingredients.
Its blade is identical to Preethi Blue leaf Diamond's 1-litre multi-purpose container.
While you won't receive one litre of a multi-purpose container, Zion makes up for it by offering a Flexi lid, which can be used to convert a 1.5-litre container to 1 capacity of 1 litre.
---
Motor Housing
The motors of both Zion and Zodiac have a decent 750 watts power. Apart from a small variation in hue, there's hardly any difference in their design, efficiency, or functionality.
Both models feature an ergonomic tripod, the vacuum suction feet, a corresponding knob, and an indicator of power that turns bright red when overload protection goes off.
Noise Levels
Because both mixer grinders have identical motors, their noise levels are similar. The noise is moderately high, between 90 and 95 decibels.
Juicer Jar
Preethi Zion doesn't include the juicer Jar. This shouldn't necessarily dissuade you from buying Zion since most users quit using the juicer jar within the first 2 or 3 months of purchasing the mixie.
The 3-in-1 juicer jar, which includes Preethi Zodiac, has two blades – an extraction blade to juice and a blending blade that you can use to make smoothies and milkshakes.
It efficiently extracts watermelon juice; however, it is not as efficient for other fruits. It comes with a spout through which you can gather the juice when you produce it. 
Additionally, it has a pusher that can move the pieces of fruit towards the blades. The downside can be that changing the blades is complicated. It requires a lot of effort, and if you don't make it right, it can damage the polycarbonate jar.
Food Processor Unit

Comparison

of
Preethi Zion vs Zodiac
Each Zion and Zodiac are equipped with an identical food processor that is suitable to chop, grate, slice, and mix. There is also the attachment to citrus juice.
There are separate blades to use to knead and chop. Since it's sharp, you must cautiously handle the cutting blade. It is suitable to chop garlic, onion, ginger, ginger, chilly tomatoes, and other vegetables and as a tool for chopping chicken.
You must attach the grating and cutting blade to a disc-like attachment. With it, you can grate and slice firm vegetables like carrots, onion, and cucumber, as well as beetroot and green bananas.
However, it isn't possible to cut ginger, garlic, or other small vegetables using it.
The attachment for the citrus juicer is also very helpful since you can prepare an entire glass of juice in less than two minutes.
In the same way, the kneading knife allows you to create chapati dough effortlessly. To make paneer or methi parathas, you need to chop the ingredients with the chopping knife, switch to a kneading tool, and add enough flour and salt, oil, and water to create the perfect dough.
Be sure to pour the water in little by little as you knead since the dough will become somewhat sticky when you pour water, according to the measurements provided in the pusher.
Price
Preethi Zodiac is more expensive since it comes with 5 containers, including a juicer's container and a 1-litre multi-purpose jar, which Zion does not have.
As of the article's time, Zion's price is around Rs. 6800, and Zodiac costs about Rs. 8900.
Who is the Winner?
Do you want to buy Preethi Zion or Zodiac? We suggest going on Zodiac only if you use the juicer container. Otherwise, go for Zion.
It's cheaper, and also, the 200ml dry grinding jar is ideal for Indian cooking, where we freshly prepare masala powders and garlic paste for curries.
Also, you can look through our huge guide on 16 best food processors, and we guarantee that you'll definitely find a suitable model there.
---