Preethi Blue Leaf Platinum is one of India's most popular mixer grinders. More than 2000 users have given it an average rating of 4.2 stars, making it among the top products from Preethi.
This review will consider its construction quality, performance, security, ease of cleaning, and noise, among other things, to aid you in making an informed choice.
9 Things That We Loved About Preethi Blue Leaf Platinum MG 139 Mixer Grinder
To test this Preethi Blue Leaf Platinum mixer grinder, we tested it in a normal South Indian kitchen for 10 days. To create an analysis of its performance compared to other models, we examined and ground different ingredients.
We also measured noise levels, blade thickness, RPM, and many other variables, to provide an overall view of the model.
1. Jars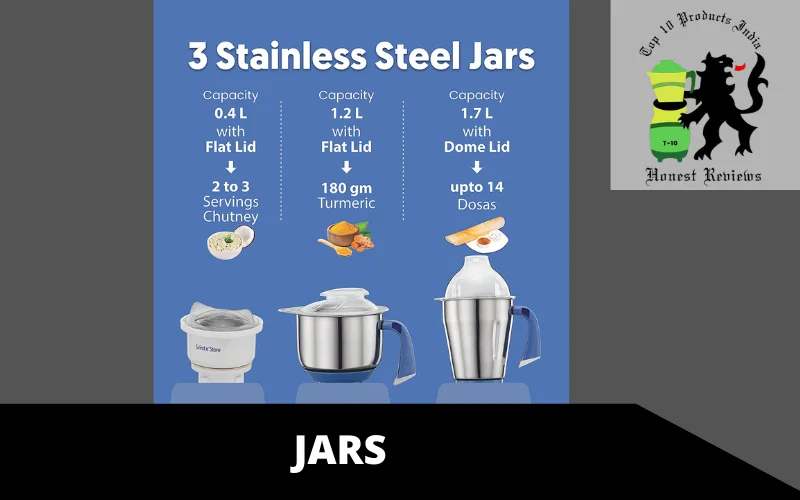 The Platinum Preethi Mixer Grinder is supplied with four Jars. They're
300ml Grind N Store Chutney Jar

1.5-litre Juicer Jar

1.7-litre Wet Grinding Jar

1.2-liter Multi-purpose Jar
Additionally, you receive an additional storage container of 400ml that can be fixed to the Grind N Store Chutney container.
The tiniest Grind N Store jar has stainless steel exteriors and interiors made from ABS plastic. The lid is made from food-grade plastic.
These jars, which are used for storage purposes, are made of stainless steel and have lids made of polycarbonate. They are also shatterproof. However, they are susceptible to scratching.
The juicer's jar is made from polycarbonate with a lid.
Each jar has strong lids made of plastic, which are held with screws on the inside of the container. This means that food can build up around the jar after a time.
The build quality of all the jars is quite excellent. The jars are 0.8mm thick, while the blades are 1.2 millimetres thick.
This Grind N Store jar has blades that have a zig-zag edge. The multi-purpose jar has four-prong blades of different lengths that evenly grind all the ingredients.
The mixer comes with a chopping blade when you purchase your mixer. It can be positioned in a wet grinding jar to cut vegetables or meat.
Contrary to Bosch's truemixx, which are sold at similar prices, The juicer jar of Preethi Platinum doesn't have a tall filter that is situated at the centre. The sieves measure just two centimetres high.
What we didn't love about the jars was that the screws on the bottom and sides ( fixating the handle) are oversized and can be prone to collecting dirt.
Furthermore, frequent use increases the chance of becoming loose over time. On the other hand, Sujata Dynamix has a flat head which provides a better fit and less accumulation of grime.
2. Performance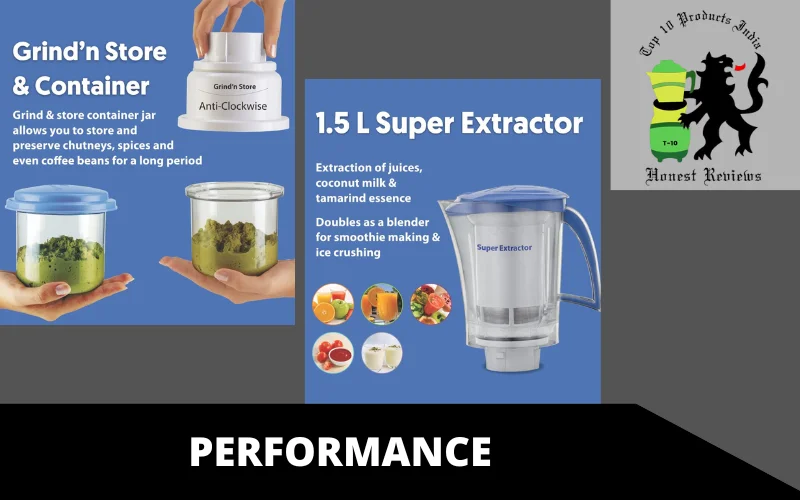 The mixer grinder equipped with a 500-watt motor is efficient for everyday use. It can run continuously for five minutes, which requires two minutes of relaxation. In this way, it could continue running for 30 minutes, which requires 45 minutes to rest.
According to the manufacturers' specifications, it can run at a maximum speed of up to 11,000 cycles under loads.
If we tested the RPM with a tachometer, it was found that at the initial speed, it had an RPM of around 17K. At the 3rd speed, it is running at the speed of 18.5K cycles.
The mixer grinder can do an excellent job grinding pepper and other hard spices like garam masala. There were a few fine residues left after filtering.
It is possible to grind ginger-garlic paste to a fine consistency. There were, however, a few pieces that were not ground.
Wet grinding is a huge advantage. The wet grinding jar is an impressive 1.75-litre capacity; the jar can grind dosa and idli batter for up to 4-7 people in a single go.
The consistency of the batter is very soft. Since you can make the batter in under an hour, it does not heat up.
The USP of this item is the Grind N Store Jars. It's pretty effective. It's easy to grind spices, chutneys, or any other ingredient you like.
After that, turn the jar upside down, remove the lid and close the jar by putting the lid on. It's airtight and the ideal way to grind spices for long periods.
The juicer jar comes with an identical design to other alternatives offered. It's proficient in producing pomegranate, watermelon, and apple juice.
However, it's not so great to use citrus juices since you'll crunch seeds, which impart a bitter taste to the drink. In the same way, it performs poorly in extracting coconut milk because the pulp left over can hold plenty of milk.
You must manually move through a sieve to get rid of the milk. It's a time-waster as well as more equipment and bowls to clean!
With the juicer jar and the wet grinding jar, the smaller ice cubes can be crushed easily. But not so with bigger cubes of ice. In terms of performance, we suggest you opting for Panasonic or Sujata Juicer Mixer Grinder. 
3. Motor Housing
Preethi Blue Leaf Platinum Preethi Blue Leaf Platinum comes with a 775-watt motor. It is made of pure copper winding that is superior in performance and quality compared to motors with aluminium winding.
Motor housings are made in a teardrop shape. It comes with a power-on indication, and, using the knob, you can adjust the speed to 3 levels and set the speed to the pulse. All models within the Preethi Blue Leaf range come with identical motor housing.
The drawback to this style is that the space between the top and bottom through the gap where water or spillage escapes is so narrow that you cannot clean it effectively.
Bosch Truemixx, on the contrary, is equipped with a 2cm wide gap that is large enough to scrub the surface around the coupler easily.
4. Safety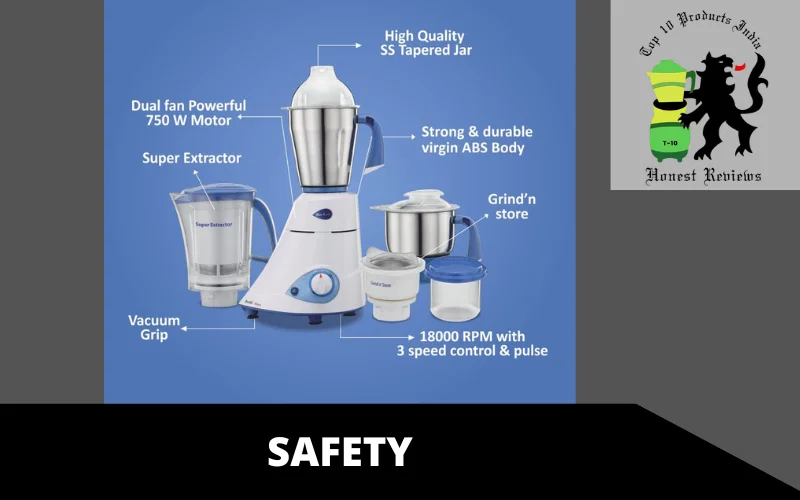 Preethi Blue Leaf Platinum comes with standard security features such as the body being shockproof, the wire insulated overload protection switch, and vacuum suction feet.
In contrast to Bosch Truemixx, it doesn't come with leakproof lids or lid locks that allow hands-free operations.
5. Noise
Similar to other Preethi mixer grinders, this one produces a loud sound. It has a sound level of around 80dB when using an app called a sound meter for mobile.
6. Cleaning is easy
Jars used for storage and food preparation can be simple to wash. Preethi suggests adding drops of dishwashing fluid and filling the water to about half capacity, then running it for 30 seconds to wash it completely. This is well.
However, this Grind N store chutney jar is less easy to scrub since food particles can get caught in the space between the plastic and stainless steel sides.
Therefore, food particles could accumulate in the space and cause unpleasant smells if you're not vigilant each time.
The screws that are used to secure the handle, as well as the jar lock base, protrude in such a way that they make it an ideal location for the accumulation of dirt. The screws that are at the bottom are difficult to reach.
When we contrast it to most of the other similarly priced options, they all are much more tough to clean that this. If you want the easiest cleaning model, we suggest you going with Hamilton mixer grinder or Inalsa mixer grinder.
7. Warranty and After Sales Service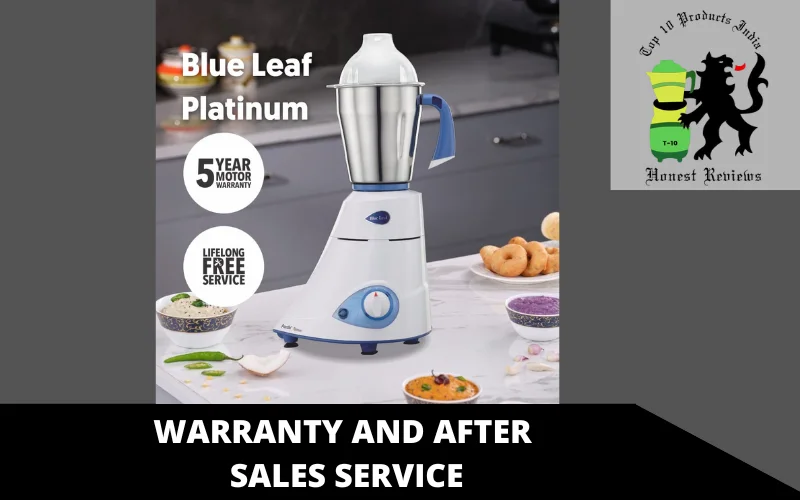 The mixer grinder is covered by a 2-year total and five-year warranty for the motor. In the initial 2 years, Preethi can fix any defect by replacing or repairing the components at no cost.
After that, they do not charge a fee for service. However, they charge a part cost.
Contrary to Bosch, however, they do not provide services at your doorstep. You'll have to bring it to one of their service centres. For South India, almost every city has at least one authorized service centre.
When the warranty expires, you can bring it to the local store for repair. A majority of technicians are proficient in fixing Preethi mixers. Parts are readily available.
Another alternative is to select an extended warranty, which is effective when the manufacturer's warranty has expired. They provide service right to your door.
8. Comparison with other products with Similar Prices
In comparison, Bosch Truemixx offers better high-end, user-friendly features, such as lock-on lids and leakproof Jars.
For grinding performance, they're similar. Preethi Blue Leaf Platinum, however, has much less noise than Bosch Truemixx.
Sujata Dynamix doesn't have a juicer container. However, regarding grinding efficiency and build quality, Sujata Dynamix is simply the top.
Preethi Zion costs a bit more, at around Rs. 6500. You don't get a juicer jar. However, the food processing container that you receive is extremely beneficial.
When it comes to grinding efficiency as well as other aspects, the two are nearly similar.
9. Other Variants of Preethi
The Preethi Blue Leaf range has a couple of extremely well-known variations. Of the variants, it is the most desired.
It's priced competitively at less than 4000 rupees and comes with three Jars. It provides decent grinding performance, and the build quality is very good.
Preethi Blue Leaf Gold is another option worth considering. It does not have the Grind N Store jar or a juicer Jar. Instead, it's got three normal jars with stainless steel lids and a polycarbonate body.
Expert's Verdict on Preethi Blue Leaf Platinum MG 139
With decent build quality, grinding performance, and security options, Preethi Blue Leaf Diamond is a decent option at this price. It's a good option for those who appreciate features like Grind N Store.
You could also look at Bosch Truemixx or Sujata Dynamix, which have almost the similar price and with higher performance and better-constructed quality. If you want more choices, you can read the entire review of 11 best mixer grinders in India.