Because it's compatible and easy to use, the Usha Mist Air is a top choice for pedestal fans. It features the most efficient blades, which allow for a wide distribution of air in the area.
You can make it rainy, winter, or summer and still enjoy it.
For decades, pedestal fans have been used to transfer additional air. This fan is mainly used by those who want natural air circulation and prefer to use air conditioners less frequently.
The pedestal fan has evolved and is now easier to use. They are easy to use and simple.
A pedestal fan is a great feature because you can put it wherever you like and move it around in any room or house.
These fans consume less electricity and make very little noise. They can also be controlled by pressing a button.
Usha Mist Air Icy 400mm Fan: Quick Overview
For long-lasting performance, this fan has a 100% copper motor. You can adjust the fan's speed to your preference. Its aerodynamic blade design allows for high air supply rates at 1280 RPM. This fan is fantastic.
This fan is a revolutionary design that includes a sleep timer, three intelligent wind modes, and a dependable remote. It also features five high-speed performance blades for icy cool comfort.
The Usha Mist Air Ice Sweep 5-Blade Pedestal Fan will allow you to enjoy cool, icy relaxation. The fan produces a calm, pleasant flow of air which helps relieve fatigue. A fuse shields against thermal overload to ensure safety. It has a pivot design that makes tilting easy. Button controls are a guarantee of long-term performance. The sweep width is 40 cm. Amazon has the Usha Mist Air Icy Pedestal Fan for Rs 2199*.
SPECS
Model number: PF 400MM MIST AIR ICY WHITE

Weight: 6.95 Kg

Product Dimensions: 45cm, 40cm, 133cm

The voltage required: 230V

Mounting type: Standing

Power required: 50 watts

Maximum speed: 3
What is the most remarkable thing about Usha Mist Fan

?
Blades with aerodynamic design
The semi-transparent, aerodynamically engineered PP blades of this Usha pedestal fan deliver an incredible 67 cubic metres per minute. The fan's high-speed 1280 RPM fan provides ideal cooling, even on hot summer days.
Tilt-back Feature
You can customize the distribution of cool air. This feature is available with the tilt-back and height-adjustable features. The fan circulates cold air horizontally and provides relief and relaxation.
Extra Safety Features
This pedestal fan comprises a 100% copper motor that provides long-lasting durability. It also has an overheat protection feature which makes the motor more durable. This feature shields the motor when a short circuit takes place or when it is overheated/overloaded.
The Usha Mist Air Icy 400mm Fan has many features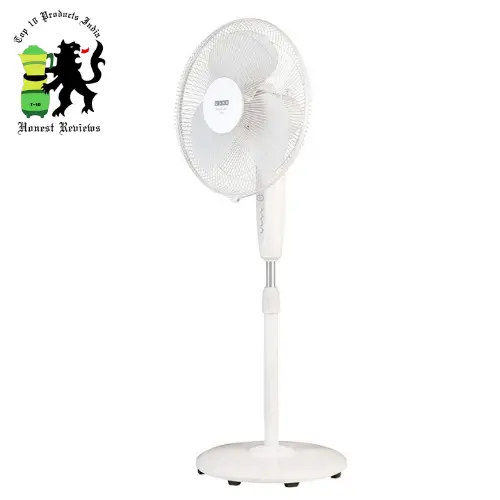 The Construction: This pedestal fan has been designed with the highest level of intelligence. The fan's aerodynamically-designed blades provide air distribution throughout the room at high speeds without making too much noise. The motors of pedestal fans should be able to withstand Indian weather conditions.
A powerful motor: It is powered by a copper motor and can be used anywhere in the world. It also uses only 55W at peak speed, so it is safe for operation.
Best-Designed Blades: The blades are made of high-quality polypropylene, which is strong and durable. This allows for high-speed air delivery at low noise levels.
It's easy to clean: The blades are made of polypropene (PP), which is easier to clean and maintain with a single swipe.
Safety measures: You can adjust the airflow angle using oscillation and tilting. It is 1.3m high above the ground and you can lift it to protect any objects that you place beneath it. You can manage the pedestal fan with ease using Uniform and jerk-free oscillations.
Protection against thermal overload: The fuse prevents overheating by protecting the fan against thermal overload. An Auto Thermal Overload Protection (Resettable), which protects the fan against overheating, and the motor from voltage fluctuations, is fitted to the fan. The circuit is temporarily disabled in case of overload to protect the fan.
Elegant Designing: The switch box has been designed in an elegant and secure manner to keep your fan safe. Its switch box also features easy-to-use push-button buttons that allow for the smooth operation of the pedestal fan.
Warranty Period: The Usha Air Mist offers a 1-year warranty and an easy-to-understand instruction manual.
Features
Energy-efficient motor

Easy maintenance and low noise operation

Beautiful Designs

Aerodynamic Blade Design

Simple tilting and oscillation control

RPM: 1180
PROS
The device vibrates very little when it is in use.

It has three-speed buttons and a good speed.

The fan assembly is lightweight because most of its parts contains plastic. However, its base is sturdy enough to ensure stability and balance.

Only 55 Watts are needed.

It is very easy to put together.
CONS
This product has one drawback: it is not suitable for outdoor use.
Conclusion
If you are looking for something unique and stylish that lasts longer and doesn't have a heavy design, the Usha Mist is the right choice. This pedestal fan is a great product and well worth the price. There are no negative reviews online or warranties.
It is amazing to have a pedestal fan that can be conveniently set according to your preferences without having to worry about the safety box or blades. It not only meets these needs but also looks great and should be your choice. The Usha Air Mist is worth considering.