Guys, one amazing gas stove has entered the market, which actually left us open-mouthed with its price tag. This much efficient 4-burner gas stove set costing below 6000 rupees? Seriously?

To quench our thirst for exploring this stove and for letting you know whether this Kaff's model is worth buying or not, we tested this gas stove to the deepest point in our lab.
We're actually confused regarding why the sales of these super amazing gas stoves are low!
Sometimes, the right thing doesn't reach you, and this time, we won't let that happen!
Please allow us to describe our Kaff Gas Stove testing results, and flaunt its amazing features!
Kaff Gas Stove Reviews in 2021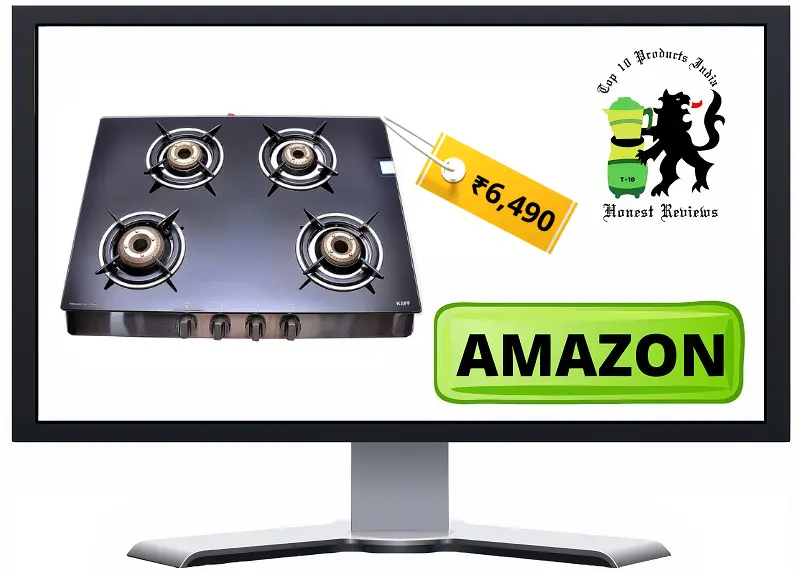 Construction: Is it sturdy enough?
Whatever you buy, the material quality is always a huge consideration. While buying cooktops, you definitely need to see how easy it is to clean, as cooking does lead to a mess.
The toughened glass used for the outer construction of Kaff's gas stove is of such quality that we get nothing to complain about (it's 8mm thick). It's black and looks awesome.
We pour dal, sauce, etc., and even kept the stain to stay there for a night to check how tough it gets to clean it. Fortunately, this material doesn't let any stain get deeper, and you can wipe it clean at any time. Knobs are of metal, and these work perfectly with enough smoothness!
What utensils can you use?
Guys, the answer to this is – all those utensils that you can use with normal multi-purpose gas stoves. This one arrives with Heavy Duty pan support (4 mm). We cooked using a pressure cooker, a kadhai, and a couple of fry pans here, and the results were all-time fine. We tested non stick cookware also, and again, this gas stove pleased us.
Look at the design, especially the placement of the gas burners. They are located in such a way that you can conveniently cook food in various size utensils at the same time, and it highly helps for Indian style cooking.
These four burners are small, Big extra big, and Jumbo. Now, let's move towards our Kaff Gas Stove review for knowing about its burners.

Euro coated grid & Heavy Brass Burners
This cooktop is designed with durable finish standards, and that ensures genuine & rigid performance. Its Euro-coated grid supports to prevent your pan from chipping off.
Thus, it provides astonishing care while you cook. Besides that, burner quality is another big consideration, and Kaff hasn't let you down here either!
WHAT'S COOL?
Very easy to clean.
Euro coated grid.
High-quality Brass burners.
Kaff Gas Stove price is lower than expectations.
Highly durable 8mm toughened glass construction.
WHAT'S NOT COOL
Low sales, so you won't find many customer reviews.
The Final Advice!
What's the need for customer reviews when we've already tested Kaff Gas Stove and provided with the score that our expert team attained.
Overall, this promising gas stove has hardly anything to complain about. Starting from the build quality to the placement of burners, everything is going to highly compliment your cooking. Kaff Gas Stove is a one-time investment and a smart one, though!