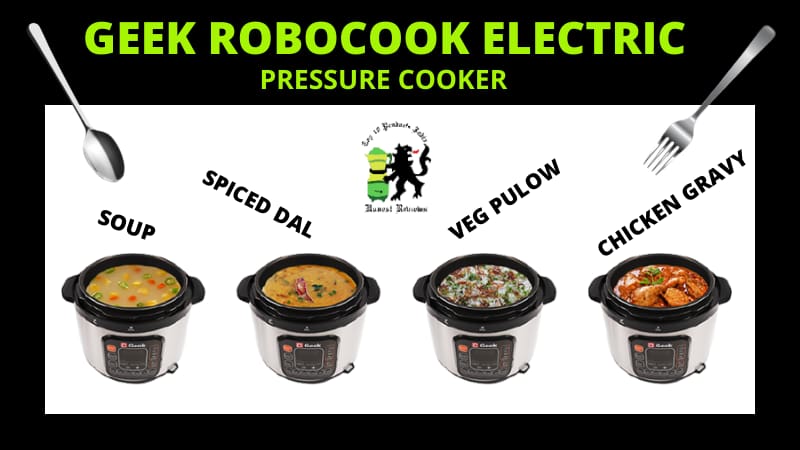 There are tons of different electric pressure cookers, and as we Indians aren't that familiar with this particular cooking appliance, and that makes choosing the right one a bit tough.
We believe that the Geek Robocook Electric Pressure Cooker —one of the most popular models in India—is the ultimate best choice for the price.
This modern yet super simple appliance performs all the core functions, like sauté, pressure-cook,  and steam, and is much better than models from various other brands.
You can't even imagine what all you can cook in this appliance, and how much hassle it eliminates. On top of that, it still costs less than expectation!
The 8L model costs you below 7500 rupees, while the 5L model is of around 5500.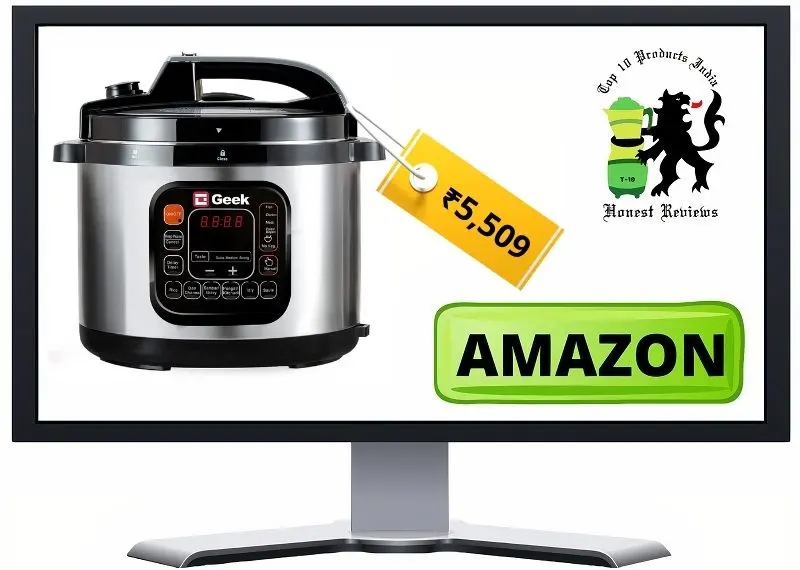 How did Geek Robocook Electric Pressure Cooker perform in our testing?
First of all, it was too exciting to test the electric cookers, and we brought a total of 11 of them to our testing to figure out which one is the most recommendable.
The testing session was of 11 hours in total, and Geek Robocook proved to be the most versatile model.
Durability and Construction
The color, finish, construction, and durability, everything is up to the mark. Most importantly, cooking utensils face high temperatures, and that's the reason the majority don't last long, but this electric cooker entirely pleases.
It's a superb quality Stainless Steel construction, and also the quality of the coating is unbeatable. You get such building materials with some expensive American electric cookers.
The kitchen appliance expert exclaimed that this particular appliance is capable of serving you for a decade if appropriately used.
But is the brand worth trusting?
Whether it's craftsmanship, smart productivity, or unparalleled performance, that all are considered the core principles of GEEK. 
The brand isn't among the most popular ones, but their work delivery and quality are nothing less than the most dominating kitchen appliance brands in the Indian market currently, including Usha, Kuvings, Bajaj, Whirlpool, Godrej, Philips, Samsung, etc.
As per GEEK, as a brand  they believe in being beyond imagination, innovation at the best and delivering unbeatable user experiences.
After testing their electric cookers, we were actually amazed to see how they dominating over big brand electric cookers.
Ok, now let's understand the features (truly appreciable)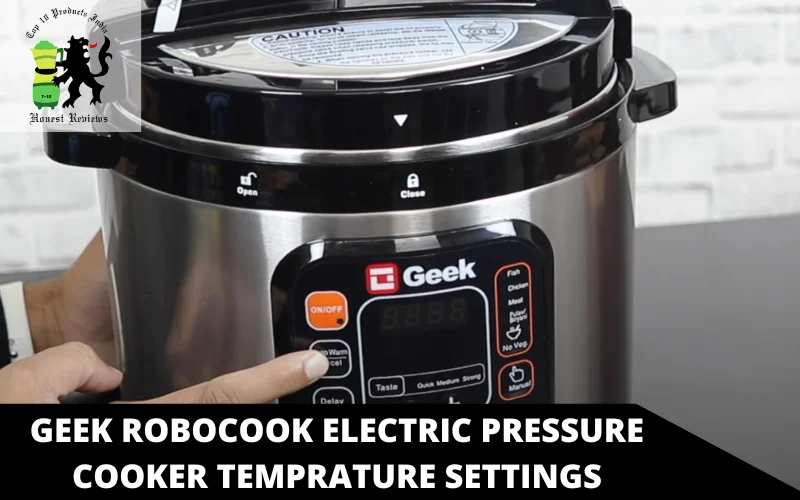 Not all cooking appliances come with these many features, and if you're getting this much to do with a single appliance, then truly, it's remarkable. There' a whole streak of features here, and we'll cover only the most appreciable ones.
Programmable Intelligent cooking
It seems that this cooker works its best to make your cooking as simple and luxurious as possible, and a major role is played by its automatic features. This cooker is capable of managing heat, pressure, time, and temperature to bring you perfectly cooked food.
Robocook also arrives with 7 additional safety guards & preset menus and, advanced microchips are fitted to control these.  Even if you're inexperienced in cooking, you can conveniently cook with it.
11 Preset menus taking versatility to the next level
Do you ever feel tired of wondering what to cook now?
Well, we all do many times, and sometimes it's due to either lack of the right ingredients or the right appliance.
If you've got something like Geek Robocook Electric Pressure Cooker, then you really don't have to worry much, as you actually cook so much with this appliance (including several dishes you watch in cooking shows or videos).
Indian breakfast dishes like Sambar, Pongal, Idly or succulent Biryani, Pulao, etc., can be conveniently cooked. If you prefer non-vegetarian foods, then you'll definitely appreciate yourself mar deciding to buy this electric cooker.
The thing that we loved was the texture of the food. Everything is so evenly cooked.
So, no matter in which part of India you're residing and what your food culture is, you'll be able to cook your set of dishes conveniently.

8L capacity: Good enough for joint families
First of all, there are 3 models of this wonderful electric cooker
5 Litre model at around 5500

6 Litre model at around 6500

8 Litre model at around 7500
For small families, the 5l model is recommendable, while for big ones, the 8L capacity model proves to be perfect. If you cook biryani, it can easily fill the stomach of 6-7 people (if 2 are kids).
Now that's great capacity, and busy people can cook once and eat twice after heating. Also, the food won't be stuck (due to Teflon coating) as it does in a traditional cooker.
Hence, no food is wasted, and not just that, even you won't have to do the hassle of cleaning it. Just a semi-dry cloth to wipe from inside.
WHAT'S COOL?
Highly durable due to solid stainless steel construction.
11-in-1 multi-purpose electric cooker.
13 present menus for versatile cooking.
Evenly cooked food, and no food sticking at the bottom.
High quaity Teflon coating in the inside pan.
Very easy to clean.
Great quality for the money.
performed the best at its price in our testing.
WHAT'S NOT COOL
You cannot wash it from inside.
The Final Advice
Final Verdict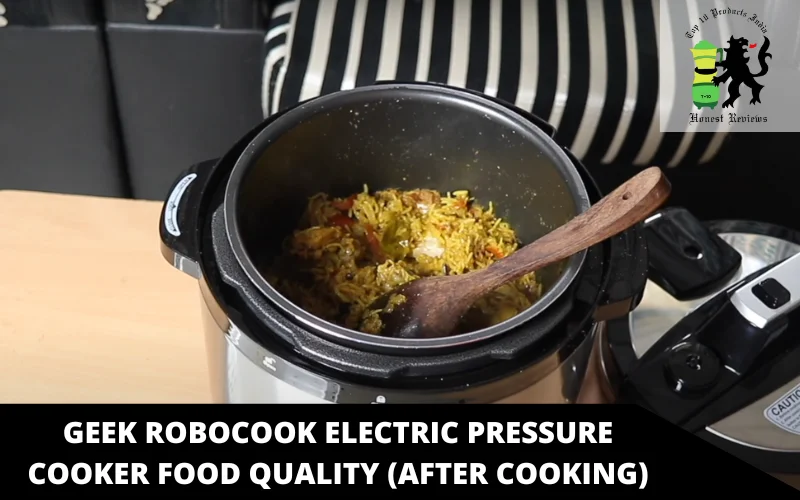 Robocook can be your "everyday cooker" and cook an unbelievably huge range of dishes. The Monotonousness of cooking is broken, and you'll actually start enjoying cooking even more.
Most importantly, it retains a great amount of nutrition in the food in contrast to a traditional cooker.
After all, what's the benefit of feeding healthy green veggies to your kids when they aren't actually healthy because all nutrition gets destroyed in traditional cooking methods.