There are many vacuum cleaner options available when it comes to choosing the one that will fit your needs. It can be overwhelming to choose the right vacuum cleaner model for you. We'll be giving you a thorough review of AGARO Vacuum Cleaner Rapid Wet and Dry.
This review will allow you to quickly understand the features and help you choose the vacuum cleaner that best suits your needs. AGARO Lifestyle produces products for the home and kitchen, such as Toaster Grills or Ovens. These are ideal for urban Indians. There are several vacuum cleaners that can be used in the home, office and car.
AGARO's best feature is its 5-meter-long cord. Other features include an automatic cord winder, flexible hose, 360-degree-movable wheels, indicator lights for dust bags, and telescopic pipes.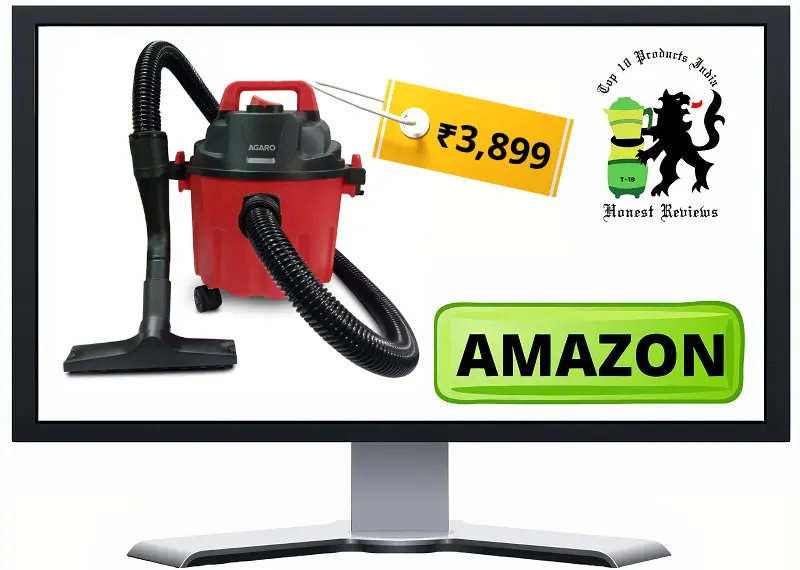 Why should you prefer wet and dry vacuum cleaners?
A wet and dry vacuum cleaner can be a great option when it comes to cleaning. This vacuum cleaner not only cleans out dry dust but also cleans up any wet spillages in your home. These brushes can be used for either type of cleaning and are interchangeable. This vacuum cleaner is a good choice for homes with children who are likely to spill water on their floors or carpets.
Is AGARO Rapid 1000-Watt the best wet and dry vacuum cleaner?
AGARO's quick wet/dry vacuum cleaner is versatile because it has strong suction power. It can also easily clean solid and liquid waste. This vacuum cleaner's powerful blower can separate dust particles easily. These are just some of the vacuum cleaner's features that it has to offer.
Key Features
Preferable for dry and wet cleaning
1000W motor
This 10-litre dust collection container is very large
Suction 16.5 kPa
360-degree swivel wheel for effortless mobility in all directions
Blower function available
6 meters long power cord
The vacuum cleaner includes the floor brush, crevice nozzle, and multipurpose brush.
1-year warranty
There's another amazing model of Vacuum Cleaner suitable for micro cleaning, read Euroclean WD X2 Vacuum Cleaner Review to know more.
What Are The Benefits of AGARO Rapid 1000-Watt Vacuum cleaner?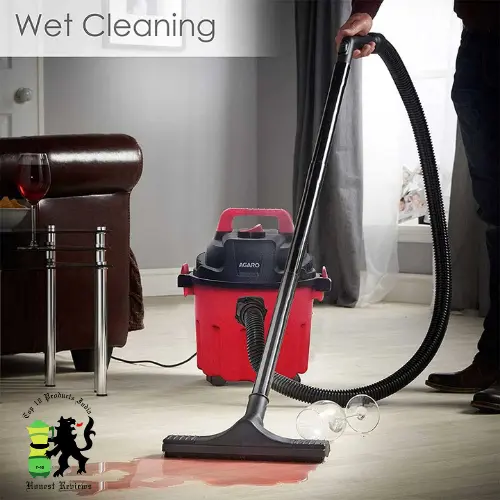 These are the top benefits of choosing this AGARO vacuum cleaner:
Flexible
You can use the vacuum cleaner to clean any surface. The vacuum cleaner can lift debris, clean up spills, clear a blocked pipe, inflate toys and mattresses, and retrieve items from a sink. It can also clean your fireplace.
This vacuum cleaner can be used to replace traditional tools like spades, brooms, pumps, and spades. The hosepipe is 2.6m long, which allows you to clean most of your house. This model was also a strong competitor in terms of reading flexibility.
Organized cleaning
Through a crevice-nozzle, the AGARO vacuum cleaner captures liquid spillages and dust. The liquid spillages will be collected in a container and will not come into direct contact with dirt. This is particularly important for those with dust allergies.
You can reach every corner of your home with the crevice nozzle. The vacuum cleaner has a 3-litre dust bag that can hold pet hairs, dust and other tough stains.
Powerful suction
The wet-dry vacuum has a strong lifting mechanism, making it very efficient at cleaning liquids and dust particles. This vacuum is easy to store because it has a separate tub that houses fixed motors. The vacuum's powerful 1000W motor has 16.5 kPa of suction power, which allows it to lift both liquids and solid particles with ease. It requires very little effort to clean your office or home.
Movable
The vacuum cleaner is lightweight, so it can be carried around. You can clean multiple floors in your house or office. The 360-degree wheels allow for seamless mobility and more flexibility than conventional vacuum cleaners.
Multipurpose cleaning brush
The AGARO dry and wet vacuum cleaners come with extra brushes that can be used on a variety of surfaces, such as tiles and carpets. These brushes can also be used to clean cushions, sofas, curtains, and mattresses.
Cost-effective
Vacuum cleaners are more affordable than commercial cleaners. You also get additional benefits for the same price, as opposed to other cleaners.
The Verdict
AGARO Rapid Wet and Dry Vacuum Cleaner is great for modern cleaning needs
These are only a few of the many benefits that vacuum cleaners offer. These benefits are just the beginning. The vacuum cleaner can be used in any size home, no matter how small or large. You can also use the AGARO model to clean other appliances.
These vacuum cleaners are not suitable to clean your keyboard of micro dust. This tiny vacuum cleaner is versatile and affordable and can be used for a wide range of cleaning tasks. It saves you money on other cleaning tools like mops and brooms. These appliances can be tedious and time-consuming to clean. This vacuum cleaner is fantastic for those who don't have the time or energy to clean their homes.
With their blower mode, you can quickly clean out sink blockages. You can drain water from your home using a long pipe. The vacuum cleaner's suction mode will remove all ash from your fireplace. A portable water bed can also be cleaned by a vacuum cleaner. The dual-mode model can clean carpets and curtains.
The vacuum cleaner is not limited to indoor cleaning. You can change the mode from suction and blower to clean outside. This mode allows you to blow the leaves. The blower mode can be used to dry wet cars.
The most popular vacuum cleaner is AGARO rapid dry and wet vacuum cleaner. To ensure that your appliance functions properly, you must follow the manufacturer's instructions. OTG was also a great toaster grill and came out as the best among 32 models.