Panasonic recently added a new product down their already remarkable cooker line – Panasonic SR-WA22H (E) Automatic Rice Cooker; the cooker looks quite promising and comes with exciting new features. However, is it worth the hype? Will it keep up with the existing name of Panasonic?
Panasonic rice cooker supports auto cooking with an auto cut-off and comes with a cooking plate. It supports a handy round holder with a warranty that comes with all Panasonic products. The product comes in two colours of blue and green, with anodized aluminium material for better durability.
The wattage is approximately 750 Watts with 2.2 litres of capacity. The weight is 0.6 kgs, so it's not too heavy either for you to carry it around over your kitchen. After you complete cooking , you can make the serving in the cooker itself too! One appliance serving two purposes, amazing, right? 
It's priced between ₹2200-2500, considering the different market prices and discounted offers. The product have 4.5/5 stars, and customers totally love this rice cooker after using it. Let's take a look at some of its key specifications.
Key Specifications
SPECS
Brand –

Panasonic

Colour –

Blue or Green

Material –

Anodized aluminium

Capacity –

2.2 litres

Wattage –

750 Watts

Total Volume –

2.2 Lts/Cooks up to 1.25 kg Raw Rice

Warm Function Capacity –

5 hours 

Warranty –

2 years on rice the cooker and 5 years on heater

Operating Voltage –

220-240 Volts

Product Dimension:

27 x 27.4 x 26cm; 2.9 Kilograms

Item Weight:

2kg 900 g

Item Dimensions LxWxH:

27cm x 27.4cm x 26cm
What Are The Top Features of Panasonic Rice Cooker?
Panasonic Rice Cooker supports automatic rice cooking; it is supported by a thermostat that measures the cooking bowl's temperature and controls the heat. 

It comes with an Anodized Aluminum Pan that is generally considered safe to use as it is sealed and does not interact with acid the way typical aluminium does. 

The cooker has a power-saving feature that switches off automatically and instantly when you complete the cooking process. 

The cooker also comes with a cooking pan while it's inserted into the rice cooker's shell, the pan's weight helps to depress the thermal-sensing device, and the heating plate will quickly settle in. 

The rice cooker will safely hold the rice, non-sticky and easy to clean. They are perfect fit to the front or back of the house, don't require any extraction and are very simple to use. 

Long durability – Panasonic has always been known for its durability and long-lasting features; we are sure that this version will not disappoint either.
Which Benefits Does Panasonic Rice Cooker Provides You?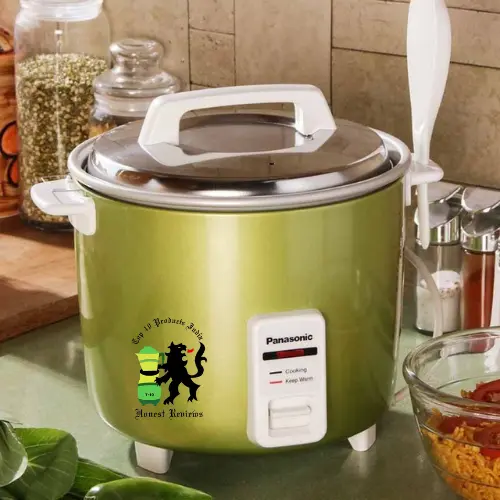 Two-Size Capacity
The Panasonic Rice Cooker comes in two varieties with different capacities; one has a capacity of 2.2 Litres, the other has 1.25 kgs. It is a good capacity, which is ideal for a small family of 4-5 individuals or any other small house gathering. You can cook delicious food for the family guests and make them absolutely delightful – cook up to 1.20 kg of rice at a time in this cooker. 
ROHS Compliant Material
The body of this Panasonic rice cooker is of premium quality CRCA, which contains food-grade material. The lid contains tough and authentic stainless steel. The cooking pan that comes with the cooker is made with anodized aluminium, which is long-lasting and durable; this is known as the ROHS compliant material. 
Auto Cut-Off and Auto Cooking
These two features set the Panasonic rice cooker apart from other cookers and truly stand out. Once the cooking duration is over, the cooker will automatically turn off. So even if you forget to do it manually, you are good to go. 
Easy to handle Bridge Handle
Bridge handles are pull handles and easier to handle. It's easier to carry them with hot rice or food inside or even to wash them out. 
Low Maintenance and Durable
The all-new Panasonic rice cooker has a durable body with a strong double-wall body made of stainless steel and anodized aluminium. This will protect the cooker interior from damages and dents, as well as enhance the life of the cooker. 
Built-in Heater Structure
The cooker comes with a built-in overlapping heater structure that ensures uniform heating within the cooking process. 
Rust-Proof Body
The usual cookers go rusty with use over time. The all-new Panasonic rice cooker comes in two vibrant colours with superior quality painting for long-lasting paint and a rust-proof body even after multiple uses and washes. 
Control Mechanism
The cooker comes with an easy to use control precision mechanism. It also contains a ferrite thermostat. You can put the exact measures and make your cooking experience accurate and amazing! 
Power Saving Series
The new additions in the cooker product line by Panasonic comes with power-saving series; you can save a lot of power for multiple uses due to its Automatic on/off feature. 
Precoated Non-Stick Pan
The non-stick part helps to cook easily while you are not peeling off the rice from the edges. After pressing, it easily peels off. 
Final Words
Panasonic has been producing state of the art products for decades, and they continue to do so – the detailed discussed features ensures that their all-new Panasonic Rice Cooker is worth the hype and investment as well. If you have a small family and are planning to invest in a new cooker for your kitchen, then a Panasonic cooker is the right choice for you! 
It is not only reliable but lighter on your pockets too – a remarkable cooker while staying lowkey on budget, amazing, right? Check out its multiple other features over the website and make your purchase soon. If there are any issues with the cooker, ensure that you are not working it out yourself; instead, call customer care right away for this purpose; the company ensures that your experience is smooth and hassle-free!