After competing with several brands in the digital world in the term of a smartphone, Motorola is able to capture a decent spot in the competition. 
But as the big names like Samsung, one plus, and Mi are putting their legs into Smart TV and launching their series. Now, Motorola has announced their first TV product and fixed their price range between Rs. 13,999 to Rs. 64,999 according to the differences in the sizes and resolution. 
However, are they worth it? 
Exactly that's why we put their TV models in the various testing ground with other brands such as Kodak, and here's everything regarding features, build quality, display, sound, etc., with a comparison on should you really go with Motorola TV models or choose any other.
PRODUCT 1
Motorola 32-inch HD TV Review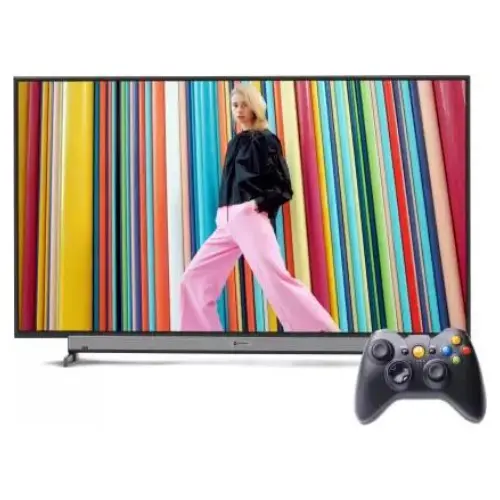 The first product from Motorola is a 32-inch HD LCD TV. It comes along with a 32-inch and LG IPS panel also with that it gives you HD resolution. According to experts LG IPS Panels are very good in terms of resolution, and after testing this model, we were a little bit disappointed with the visuals and the quality of output. 
Also, Motorola is using some unnamed and unknown quad-core with a mali-470 MP3 GPU, along with 1GB RAM and 8GB onboard, and we think this type of conditional things may put you in trouble. Before investing in an appliance like television, you must gain full knowledge about this TV's details from tip-toe.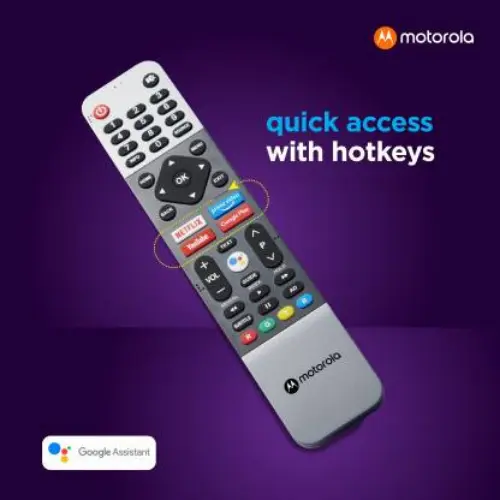 This model comes with features like a built-in Chromecast, available on the play store. For screen mirroring, this feature is helpful, and surprisingly this feature is good enough to cast your mobile screen on your Smart TV. 
However, because of some network connection issue in the TV, you may face a problem while connecting it as soon as it loses its connection. You must start connecting back your Wifi process again to continue, which might ruin your watching experience.
PRODUCT 2
The Motorola Revou is India's first Android 10 4K TV
Jumping to another model of the series and its 43-inch Motorola Smart TV with Ultra High Definition Resolution along with 4K supporting your visuals. After hearing this much, you may think that in this model, the results of the visual are mind-blowing as 4K is supported, and they are providing you UHD resolution. 
We were also assuming that only but instead of getting a perfect 4K type of output, it was like we were watching some videos in 720p resolution. Also, the colors were spreading across the screen like the red color was not on point, and the vivid model is worst in comparison to the Kodak Tv model that we tested a week back before Motorola's TV models arrived in the testing lab.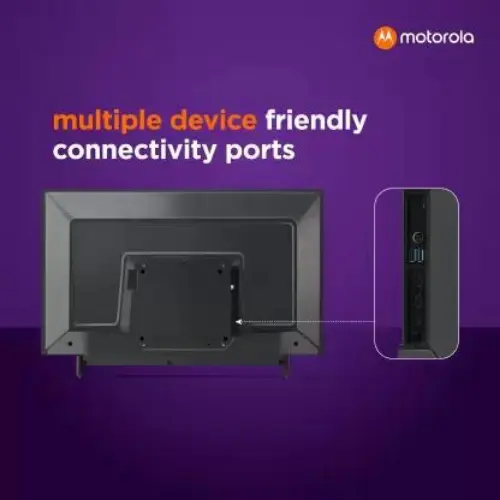 As this model is India's first Android 10 4K TV, purchasing it is what you might have thought to try the new technology. But again, the same problem arises they use that same unnamed processor in this TV, just like the 34-inch model. 
So, what's the benefit of having the android 10 version on the TV if the overall performance won't satisfy you? Also, what if sometimes your processor fails, so at that time, android 10 can be your solution? Absolutely not.
Is it really worth it? Other Disadvantage Exposed
Most importantly, Kodak TV models also have got the Android 10 system. Yes, the smooth interface from their TV models highly impressed our experts.
It also includes "Razer Thin Panel" for its "Endless Edge (LED) Display" along with the "AmfiSound Pro" soundbar. We have also tested the sound quality of its soundbar, and it is quite impressive in comparison to other features, but there is lots of bass coming out from the speakers, and the tribal are less. 
Some actions scenes you might surely enjoy with the high-bass sounds, but what about the feeling and sad music? Tribal plays a vital role. Therefore, the sound quality should be clear, just like the top 5 43-inch TV models we tested in this review.
PRODUCT 3
Motorola 65-inch UHD Review
The latest model with the massive 65-inches UHD Smart TV With IPS LCD Panel along with Dolby Atmos. Coming up with an exclusive HDR10 and MEMC Technology assures you a smoother video experience. It also has 2.25GB RAM and 16GB ROM as well as it is configured with a 30W front-facing Soundbar system. However, these are some fake gold coins to make you greedy and purchase this.
The truth we came across after testing this model was that the performance was normal and not extraordinary. Also, the remote control highly dissatisfied us. We when inquired those who already had this model about how the performance is going on. They said the performance of remote highly decreased like it losses the responsiveness. 
Also, the customer service is not fast. You'll have to wait long if Motorola's TV malfunctions. A customer complained about getting the service's assistance after calling them for days. There's another glitch in watching YouTube content. 
You may face the problem of the picture is moving fast, but the music is a little slow. We first thought this issue arises due to a bad internet connection, but it was not the case. This was a technical issue which Motorola should surely fix.
Most Importantly, 5GHZ Wifi is not supporting wifi; hence your movie or video might face buffering problems while streaming them in high quality. ARC is not gonna work with a soundbar from some brands. TV's Bluetooth might fail to detect your soundbar, whereas it works perfectly on other devices such as Fire TV Stick. 
Therefore, after going through all these issues, you finally know what deep things Motorola's TV model hide from you.
The Big Benefits
Are There Any Awesome Benefits with Motorola's TV Models?
The software is amazing
The brand new android TV software boosts your enhancing speed and supreme accuracy. It will help you in your optimizing process, and it is far better compared to the android 9 version.
Absolute beauty that stands out
Showing You a style quotient along with the razor-thin panel and schematic stand with a classy metal finish—unique double tone of Swedish linen soundbar adding more elegance and presents you with a premium look.
More screen, more wow
The Removal of driving circuit all over the bezels make it easier to adapt more screen space along with the Endless Edge Display.
Be Smart To Buy Smart TV (Read This Buying Guide Before You Choose)
Which is the best TV Technology? Whose LCD TVs are the best among all? Which screen size is suitable for your living room? Is there any difference between LED and LCD TV's?
This is not as easy as it looks. In fact, purchasing a brand new TV can be a nail-biting situation because even the people who are familiar with the tech.
Those all sometimes are also confused in deciding as there are so many different brands, various advanced features, so many screen sizes with price differences, display considerations, colors, and many more things.
You are deciding which one is perfect for you, your family, and for your living space? In this guide, take our lift and tighten your seatbelt on the journey of knowing some crucial smart TV buying considerations.
Buying Consideration
What is a smart TV?
We can Consider a TV to be a Smart TV if that television is capable of connecting to your internet and can give you access to your favorite Streaming apps like Amazon Prime, Hulu, Netflix and casino games. 
There are so many various TV manufacturers who have their own proprietary technology regarding smart TV platforms. It extends your speed, usability, quality of searching, and it depends on what kind of app support is obtainable. In many smart Tv's you may notice that there is no Disney Plus Platform. 
Some of them are geared up with a more streamlined layout. On the other hand, many smart TVs have an extraordinarily superior voice search for the people who are lazy in typing with a remote so that they can command.
Do the best TVs need 4K resolution?
TV companies normally define it, 3840 x 2160 pixels. You have seen this pixel many times while playing a YouTube video. If the videos are in 4k resolution, then they are visible in the quality section as "2160p60". But Remember, Full HD 1080 image is just 1920 x 1080 and different from 4K resolution. The 4K screen consists of around 8 million pixels, comparatively 4 times more than the 1080 display. 
What types of TV are there?
You can find lots of different and various types of the screen out there, all working in their own individual way to bring out the same result. Each and every technology are having its own Firmness and delicacy, so here are some basics to consider:
LED TV: Direct LED
These displays are arranged at backlit along with an array of LED (light-emitting diodes) directly on the backside of the screen. This makes it possible for local dimming means it can immediately Fix and adjust the brightness and darkness areas so that it can display them more effectively as well as improves your contrast too. 
LED TVs have more strength, efficiency, and capability of widering color gamut than CCFL sets. Only because of the high cost of assembling these arrays of LED, usually what cheaper brands do with their TV is using of Edge-Lit LED screens instead of Full-Array LED screens. 
LED TV: Edge LED
Talking about these TVs, the arrangement of the LED backlights is mounted with the edges of the panel. This set-up enables radically slender display as well as offers you excellent contrast levels to CCFL, but the only thing that remains is you can't get the same picture quality as directly lit LED sets.
 And honestly, they are far cheaper in the competition nowadays, and usually, most LED TVs are going For this technology only because they can't arrange the best ones. 
OLED TV
The arrangement of backlighting on OLED (organic light-emitting diode) sets can be started with an electric current through an exudation, electroluminescent film. This technique brings you far better colors and high-quality contrast. 
With that, it also enables the screen to be vastly thin and workable. It comes with holy grail display technology. Also, Sony, Phillips, LG, and Panasonic already adopt this in their flagship sets.
Quantum Dot
Quantum Dot is like bitcoin to Samsung's LED TV space. Also that, brands believe that they can easily produce so many colorful pictures. Compared to Sony and LG also offer brighter panels. All the Ultra High Definition TVs of LG are having a variation of Quantum Dot known as Nano Cell, and Hisense makes up a number of Quantum Dot TVs for China and Us. 
How big should your TV be?
Most people likely choose the size of the TV according to the amount of space they have for it. Certainly, this isn't clever. Usually, Flat TVs use much less space, less even than you think. This right position of your new TV will be a foot or two further to one side from your viewing position; therefore, that the appearing picture remains smaller.
Additionally, hi-def helps you to have a bigger screen and similar viewing distance without getting agonized about seeing blemishes inherent to the respective source. If you are willing to buy 4K TV' then it may result in less amount of noise means that the 
How many HDMI sockets do you need?
If you are planning a TV for the living room, then it must be carrying at least 3 HDMI inputs with it. In fact, when you attach a set-up box or any sort of games console at that time, HDMI ports will make your work even faster and connect them with ease.
Should you wall-mount one of the best TVs?
First off, get a positive approach from a construction expert to verify that your wall is not problematic and strong enough to hold a flatscreen.
Afterward, check out whether the set you want is relevant and well made to be properly mountable on the wall, and if so, then take a cross-examine on the relevant bracket so that you come to know that they are already included in the package or else an optional extra. 
Do you need a separate sound system?
First of all, be sure about connecting your TV with a separate soundbar or surround system. If not, then you might think wisely and carefully regarding your set's audio performance. You Should Go for that screen that can fulfill your need of being as loud as you want without any cabinet rattle or distortion. 
For example, take a look at how much dialogue is audible and sounds effective. Also, with that check, the capability of low-end rumble the bass can be. To be honest, it's a waste of money if you are spending more cash for extra built-in speakers, even if you already have a good home theater system.
The Conclusion
As the final advice regarding Motorola TV models, we suggest you opting for some other brands' TV. For example, Kodak TV models highly satisfy your all needs and have minimal complaints with the performance no matter you use them for years. In comparison, Motorola TV has issues like Bluetooth connectivity, YouTube content playing glitch, Remote's less responsiveness, etc. Kodak won't give you a chance to worry about anything.