Among those competitor brands producing some amazing budget TV models without compromising with features or build quality surely are standing out in today's television market. Kodak is among them. They offer you a wide TV variant that ranges from 14k up to 52k.
The prices you'll find will differ as per screen size. It's like to get a bigger screen size yet better regulations. You'll have to spend a few thousand more. Kodak TV models will start from 24-inch up to 65-inch.
The company has offered the best value-for-money TV models with amazing features no matter which variant you go with. Their models offer a conventional design: sleek bezels around the screen display. Most importantly, Kodak is among the few brands in India that offer the cheapest 4k resolution televisions.
However, rather than going with the cheapest model just for the 4k resolution, what about rolling your gaze at the list of Kodak TV models we have listed? From budget-friendly to mini home theater size TVs, you can select as per your requirement.
The model we have picked is the best value for money choice. It's the 50-inch Kodak 24HDX100s with a 4K HDR display and, of course, the 4k resolution you'll get.
So, why the 50-inch model?We found that the technology and the features you're getting with this model are no less than a mini-theater setup. Let's uncover everything about the 50-inch model from features, build quality, compared with other brands, etc.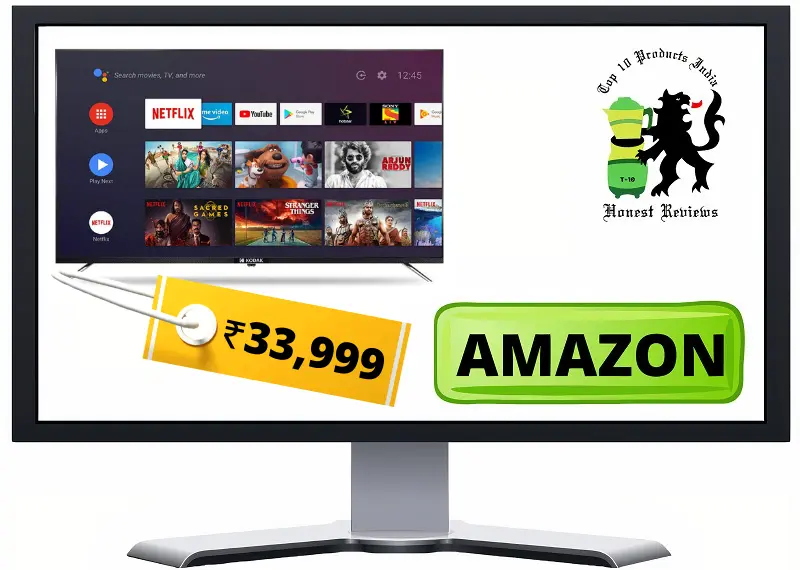 Best Kodak TV Models in India
| | | | | |
| --- | --- | --- | --- | --- |
| TV Model | Screen Size | Resolution | Display | Sound Output |
| Kodak 60 cm 50UHDX7XPRO | 24-inch | 1366 x 768 (720p) | HD Ready | 20 Watts |
| Kodak 102 cm 40FHDX7XPRO | 40-inch | 1920 x 1080 (1080p) | A+ Grade Panel | 24 Watts |
| Kodak 108 cm 43UHDX7XPRO | 43-inch | 3840 x 2160 (4k) | 4K HDR | 24 Watts |
| Kodak 126 cm 24HDX100s | 50-inch | 3840 x 2160 (4k) | 4K HDR | 24 Watts |
| Kodak 139 cm 55UHDX7XPRO | 55-inch | 3840 x 2160 (4k) | 4K HDR | 24 Watts |
| Kodak 164 cm 65CA0101 | 65-inch | 3840 X 2160 (4k) | A+ Grade DLED panel | 30 Watts |
SPECIFICATIONS
Key specifications of Kodak TV
Panel Size: 50-inch

Resolution: 3840 x 2160 – 4K

Panel Type: IPS

Refresh Rate: 60Hz

Dolby Digital Plus: Yes

HDR 10 support: Yes

HDMI Ports: 3

USB Ports: 2

Wi-Fi: Yes

Bluetooth: Yes

Ethernet: No

Blu-ray speakers

: Yes

Built-in storage: 8GB

CPU: Mali quad-core GPU (1 GHz speed)

OS: Android 10

Warranty: 1-year

Price: Rs 33,999 (the price might differ with time)
The Big Benefits
Kodak 126 cm Features

Build and design
Starting off with the build and design of this model, durability is never an issue, and that's what we can expect from Kodak. The slim built will keep it fit with the all straight without a big bump no matter it has a 50-inch huge display size.
This model's panel arrives with black bezels around it. It offers a glossy finish to the outer interface. However, the glossy borders might get annoying when your room is lit as its glossiness will reflect light off the bezel.
Anyway, it'll not ruin your viewing experience. This problem will not arise until your light isn't too bright. It must not reflect on the bezel, but it is something that can be considered as a buying factor. The tabletop stand is highly sturdy and will hold the TV in place well.
Also, it's removable, in case you wanna mount the television on your room's wall. Most importantly, no matter even if you put a soundbar system on your TV, it'll never fall off. Also, the tabletop will keep it still, providing you a mini-theater sound experience.
Anyway, we would suggest you not going with a soundbar system as it already offers you 30 Watts Output with its Powerful Speakers with Digital Dolby Plus Audio. However, to feel like you're in a theater, you can opt for a home theater system instead.
Overall, it's the most impressive design and builds quality you would find with a 50-inch TV. Also, Kodak beat Motorola TV models in terms of durability tests.
Ports and connectivity
When we talk about the connectivity settings and system, the Kodak 24HDX100s 4K TV arrives with 3 HDMI along with Two HDMI ports that you'll locate at its backside.
On its side, you'll discover the antenna port, 2 USB ports, and an SD card slot. At the back, besides the two HDMI ARC/CEC ports, Bluetooth connectivity port as well.
It's highly convenient that one HDMI port is near to the USB ports. It is making the devices like a Fire TV Stick or a Chromecast connecting a lot easier.
Display panel and picture quality
The display on the Kodak 50-inch is truly amazing. Also, it supports amazing Ultra HD 4k (3840 X 2160) resolution. Most importunately, not like some other brands, Kodak has offered the HDR 10 for Ultra bright screen and flawless picture quality no matter you're in the bright room.
Now, if you're new to HDR, always think twice if the TV model you're going to purchase contains it or not. The lack of HDR will lead to an awful watching experience as the television will provide a darker image. Therefore, always opt for the HDR display system.
Another advantage with this model you get is the customization of backlit, brightness, contrast, etc. It means you can easily turn the screen brightness as per your requirements. For example, at night, if you're watching a movie with Kodak TV, turn the contrast to minimal. While at day timer with lit brightness, you can enjoy the colorful animal programs on the Discovery channel.
4K content
To check the 4k resolution, gaming can be the best option! Therefore, we used Xbox One X, and it worked impressively. If you wanna enjoy a smooth gaming console experience, you should surely opt for this 50-inch TV model from Kodak.
Most importantly, the HDR display and awesome 4k resolution were so bright, and the refresh rate keeps on working. To be honest, even after testing this television for an hour, we didn't find any drawback of lagging or glitching. The overall experience with the 4k resolution display from Kodak TV was really awesome.
Not like other televisions that get slightly grey or start producing dark screen resolutions, it has a 60 Hz of great refresh rate. Also, according to your requirements, adjusting the brightness and backlit from the setting is possible.
How is 4k Content Advantageous in Kodak TV?
Here comes another department in televisions that matters a lot in terms of improving the overall watching experience. Yes, the 4k resolutions (4000p). It means when you play movies, no matter it's Hollywood or Bollywood, you'll notice that the display quality is bright, vivid, and even more clear with the Standard picture preset.
If your TV has a small resolution, the picture quality will decrease enormously; it's the same as YouTube videos when you run in 360p and 1080p. Of course, there will be a big difference, and the same goes with televisions. Another drawback you'll face with lower resolutions will be that the screen will shift from dark to light, ruining your watching experience.
Besides that, no matter you adjust the brightness and contrast of the TV to low; still, the picture quality will never drop, and you'll enjoy 4k resolution. The Vivid mode will work best in dark light as well. Overall if you are looking for a 4K TV for gaming, this should get the job done.
Audio from the built-in speakers
The model is pretty loud. To be honest, it offers as much volume as a soundbar. Just at 40 percent volume, you'll feel like your neighbors might come to complain to you!
However, some TV models, such as Motorola when we compared with this one, failed to offer clean volume. When we turned the volume to 80%, the TV models started shaking, and the sound started cracking.
However, with Kodak 126 cm 24HDX100s, the sound was crystal clear, and you get more than sufficient volume no matter you mount/place this model in your large hall. Also, different sound modes are provided, for example, theater mode, stereo mode, etc. You can set them according to your preference.
Built-in services and UI
The Kodak 50-inch Tv with 4k resolution is capable of running on Android 10. While the other models, such as 24, 40, and 43 inches from Kodak, contains Android 5.1.1. (AOSP). However, these android systems can be modified.
With this Android system, you'll be greeted with a detailed UI when you press the home button. IN this home section, you can easily access Video, Sports, Music, the App store, etc. The section on video, music, and sports will entertain you with popular videos from YouTube.
Besides that, you can integrate applications such as Netflix, Skype, Facebook, Twitter, etc., with the help of the App Store. However, we suggest you a device for running Netflix, for example, a gaming console, a Chromecast, or you can also use a Fire TV stick. Read this comparison guide between Chromecast and Fire TVstick to better know which is more suitable.
Most importantly, the freshest Google Assistant support will search you all your favorite content by just talking to Alexa Voice. Fortunately, this feature is integrated into Kodak TV's remote. That means you won't have to go near the television to search for content with your voice. This feature eliminates the hassle of pressing buttons.
Kodak TV Remote Control
The versatile remote control you receive with this TV is durable yet contains every single essential controlling system which eases the watching experience. As the Google Assistant is there, without paying attention to looking around and finding buttons, you can just use your voice to find your preferable content.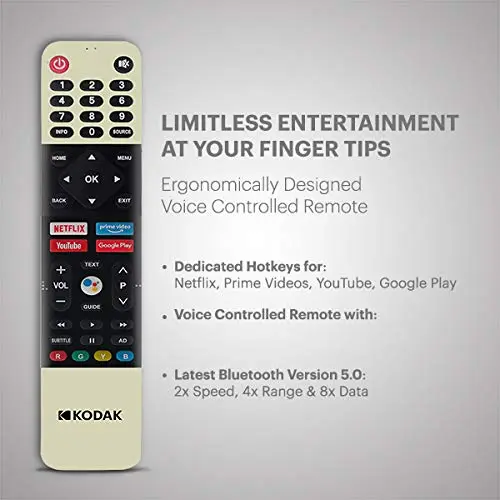 The slight curve at its back adds to the ease of grip, while the sleek design provides you a feeling of smoothness. For accessing traditional Dish TV/Cable channels, controls are offered. The Home button is present in the middle, which you can smack to return to the television's home. The volume and other buttons are present around the home buttons, ensuring that you use them conveniently.
You get the playback controls, and a mouse button is also present there. You need to use the directional buttons to get the cursor where you want. It assists you in navigating the mobile applications on the TV, ensuring the best experience.
So, Should You Really Purchase Kodak 50-inch TV? The Conclusion
The Final Advice!
A lot of variations are present of TVs from 24-inch to maximum 64-inch within Kodak brand only. Fortunately, every single of those is worth your money. For those having a low budget, the 24-inch can be the best choice. It contains more than sufficient features.
While this 50-inch model is the best value for money, therefore, we selected it among all the models to review! Most importantly, the brand new features such as Google Assistance with Android version 10 are something you should surely try. Over 5k different apps can be installed in this model, and you get 8GB of total space, which is, for you isn't sufficient. Adding a hard drive is possible.
No matter we talk about resolution and display, this TV has the maximum limits. You can go with Kodak 126 cm 24HDX100s to experience the smart life with this TV's top-notch functionalities. Not just for watching, this television will highly satisfy your gaming experience as well with 4k resolution and HDR display.
However, you can visit the 43-inch TV's best models list down in 2021 as well if Kodak is not the brand you wanna go with, or you're looking for something extraordinary.