The All-In-One convection microwave is a great product that facilitates fast cooking and makes it a lot easier. LG 21L Convection Microwave Oven is suitable for all, be it young bachelors, elderly or small families who want easy cooking that is healthy and nutritious.
With a 151 auto cook menu, cooking is a lot more automated now. Being energy-efficient, you can directly control the cooking time. This Convection microwave oven from LG uses less energy than the conventional ones; you save power and time cooking for your favourite menus.
This microwave oven is incredibly beneficial for baking, defrosting veggie and non-veg food items, stewing, roasting, grilling, and reheating. 
Whether you are diet-conscious millennials, who love diet frying or want to relish barbecued food often, this product is an ideal choice.
Making ghee or clarified butter at home has been messy but with LG microwave ovens, making hygiene ghee is much easier (with no smell) in just a few minutes. 
Why compromise with the taste or on the calorie intake!! 
Stay light on your waist and enjoy crispy delight every day without worrying about oil usage.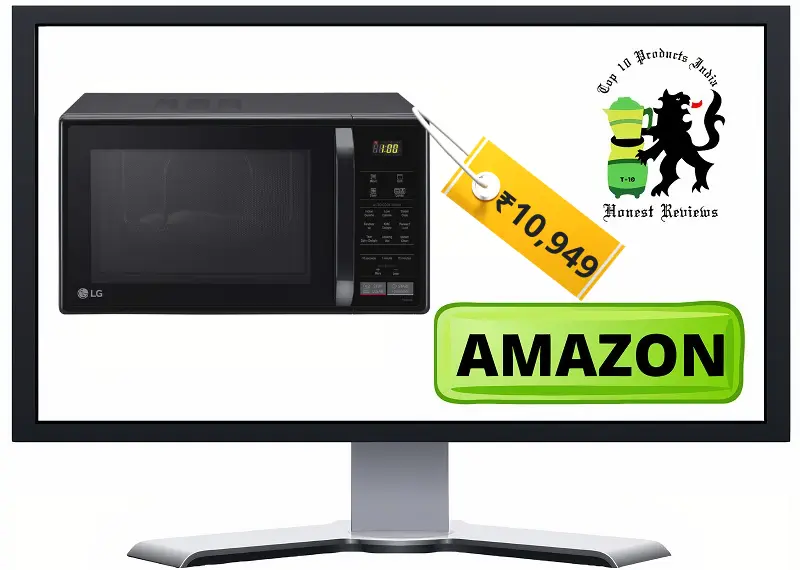 A Quick Overview of LG 21L All-in-One Convection Microwave Oven
This All-In-One Convection Microwave Oven from the brand LG is a black colour machine made up of ABS material. It has a touch keypad (membrane) that is touch-sensitive and easy to clean.
This product is specially designed for modern kitchens and hence comes with five power levels to have complete control over the heat.
The stainless steel cavity with a quartz heater enables better heat reflection for cooking the food. There is no paint in the cavity area. Hence, there's no chance of peeling off the coating or rusting, exposing the base material.
With the health plus menu of this microwave convection oven, you can design delicious and healthy recipes for calorie-conscious people.
For your daily morning tea/ dairy delight, the unique warming feature of this microwave is bliss.
Also, come along with the microwave oven in the recipe book. It lets you learn to cook exotic and mouth watering recipes, either veg or non-veg. Now your food can be a lot more healthy and oil-free with microwave cooking.
Features Overview
Touch keypad (Membrane)

Auto cook menu To make cooking super convenient for your family favourites

Cooking completion alarm and child lock for extra safety

Healthy cooking Options for calorie conscious people

Fermentation option for making curd and paneer

Stainless steel cavity that ensures no hand harm during cooking
Specifications
Dimensions
The microwave has the dimensions of 475mm x 285mm x 460mm ( w x h x d). 
Capacity
It has a capacity of 21 L, making it ideal for a family of 4-5 members. 
Output & Input Specifications And Power Requirement
Watt microwave output – 800 W

Watt convection input -1860w

Watts grill input – 1150 w

Watt combination input -1860

Microwave Frequency (MHZ) – 2450
It requires the power of AC 230v, 50Hz. 
Door Orientation
It has a left-sided door orientation so that taking out dishes with your right hand is always convenient.
Turntable Diameter
Turntable diameter is 245 mm, on which you can place considerably bigger diameter vessels. Prepare your pan-size pizza at home anytime!
Cooking Completion Alarm
This alarm notifies you that your set cooking time has ended so that you can take your dish on time. It is especially relevant when you are baking cakes or Dhoklas.
What makes this LG 21l convection microwave different from the rest?
Child Lock
This microwave has a child lock as a safety feature. This ensures that children in your house can not open the microwave while it is operating. With the control panel lock, you can be assured of no playful mishandling of the microwave.
One Year Warranty
This microwave oven comes with a 1-year warranty.
Starter Kit
The brand provides a starter kit to know how to operate and care for this product. Also, the cookbook included gives you recipes for cooking delicious recipes in this convection microwave oven.
Stainless Steel Cavity
The stainless steel cavity of the microwave makes the product different from the usually coated interior. This interior does not rust or peel off with repeated heating. Even when the turntable continuously rubs against the stainless steel interior cavity, there is no deterioration or harm to the interior.
Touch Keypad
There is no need to rotate the knobs as the microwave operates with the touch keypad. This keypad is highly sensitive to touch and easy to use. The keypad can be cleaned with a damp cloth. Also, there is no chance of the knob getting obsolete after repeated rotations.
Concealed Quartz Heater
Concealed heater in this new LG Convection microwave oven reduces every risk of getting hand injured by touching the hot interior of the microwave. Your cooking would be a lot safer and easier with this microwave. Due to the stainless steel interior, cooking is much faster, and you can cook large portions in one go.
Paneer Making Is Never This Easy
Do you and your family love cottage cheese or paneer? With an All-in-One LG Convection microwave oven at your home, can you make the paneer at home without any chemical or enzyme usage?
Why not make the most hygienic, perfectly blended, and delicious homemade curd at home. With LG All-in-One convection microwave oven, you can have your daily share of nutrition and protein with homemade curd. With the fermentation feature of this microwave, making curd is never impossible in any weather.
Features Of LG 21L All-In-One Convection Oven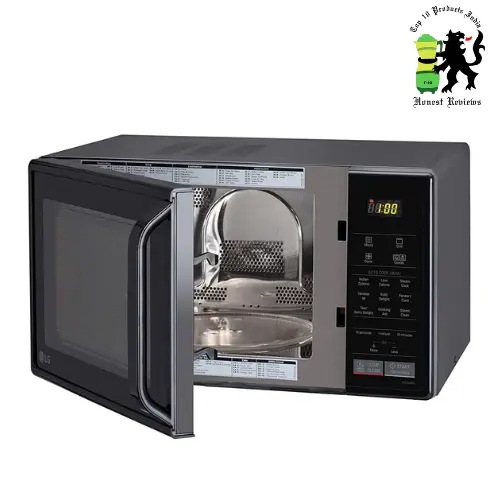 Numerous unique features distinguish this LG 21L convection microwave from the rest. Some of the unique features include:-
Different Rack
To adjust the heat transfer to the food while cooking, use the racks options of the microwave.
Cleaning Is Super Easy With A Self-Cleaning Feature
With the self-cleaning feature, you get your machine cleaned within minutes. No bad or foul food odour in the microwave ensures no bacterial growth.
Interior Light To Check The Browning Level
If you are cooking or baking, the crust colour or browning matters a lot. The interior light in the microwave helps you check out the crust colour without opening the door.
Defrost Within Seconds
Defrosting is sometimes needed for thawed food. Once you defrost your food in the microwave, you can immediately cook it. With the LG microwave defrosts feature, you have a lot of convenience of defrosting your food, especially the cut meat.
Preset Menu For Easier Cooking
This LG convection microwave model comes with an auto cook menu feature having a heap of different preset menus. Just select the microwave dish you want to cook and put in the ingredients. Press the 'Start button, and you can try something new most of the time.
Keep Food Rightly Warm
If you want your food to stay at the optimal temperature you set, choose the keep warm food feature so that it stays at the right temperature for up to 90 minutes.
PROS
Super convenient to operate through its touch keypad and easy to clean through its steam clean feature makes it user-friendly.

Child lock to ensure no accidental operating

A highly informative recipe book for dishes from all over India

Stainless steel cavity which is more hygienic and durable

Chatpat corner to prepare healthy crunchy snacks at home anytime

Bake, cook, grill, reheat or defrost

Increase /decrease function so that you can set the temperature as per your requirement

Highly efficient with features like two-stage cooking, fast cook, light disinfect, fast defrost, auto defrosts features.
CONS
The slightly more prominent and bulky backside of the microwave is because of the cooling fan. But this bump at the back does not hamper the utility of this great product.
Frequently Asked Questions (FAQs)
1) Whom to approach if repair is needed in the LG All-in-One convection microwave oven?
In case of any repair, you can raise a request with LG customer support, and the technical support team will help you instantly.
2) What all cooking functions can be performed in this convection microwave oven?
You can bake, roast and crisp food, cook, defrost, toast, grill, reheat, and keep the food warm in this convection microwave oven.
3) Which is better – a convection microwave oven or microwave and 0TG?
A convection microwave oven performs functions like defrosting, heating, baking, roasting, grilling, cooking, and much more in the same machine. This one does not get heated up while operating and cooks the food evenly from the inside out with the cooling fan.
4) Can I put it in a metal pan or container in a convection microwave?
It is best to use glass or ceramic cookware in the microwave oven. However, a convection microwave cooks food by blowing hot air, so you can use metal pans when operating it on the convection feature. But, it is always advisable to check manufacturers' instructions and the manual about using the metal pans.
The Conclusion
LG 21 L All-in-One convection microwave oven is an excellent product from the brand if you are looking for a Convection Oven that adds beauty to your kitchen. 
As this Oven comes with many preset menus, you can always enjoy tasty dishes without putting in a lot of effort in cooking. 
This product is a versatile kitchen partner that eases your daily kitchen task without harming the food flavour or taste. Whether you want to cook, bake cookies at home, prepare fresh paneer, or curd at home, this Oven will do everything needed for your family. 
LG convection microwave oven is the best companion as a lot of gas cooking will be eliminated without compromising quality and taste.