Most people have had the unfortunate experience of a washing machine or dryer breaking down, resulting in costly repairs. IFB understands the frustration of a broken appliance, which is why they offer the TriShield Protection warranty program.
With this comprehensive warranty, customers can enjoy peace of mind knowing that their appliances are covered for four years. The TriShield Protection program includes coverage for parts and labour, so customers can rest assured that they will not be stuck with a hefty bill if their appliance breaks down.
In addition, the program offers 24/7 customer support, so customers can always reach someone if they have any questions or concerns. With the TriShield Protection warranty program, IFB has got you covered.
Today, let's deeply explain to you the purpose, importance, and benefits of this amazing warranty program by IFB!
TriShield Protection – IFB's Warranty Program
IFB washing machines come with a 4-year warranty. That's 2 years more than what most companies offer. IFB Washing Machine also comes with an in-built heater that ensures your clothes are protected from wear and tear.
TriShield Protection is an extended warranty service that IFB provides to our customers. With this service, you can be assured that your washing machine is well-protected against any unforeseen damages.
The service is valid for a period of 4 years, and it covers all internal parts of the machine, including the inverter board, motor, and main PCB.

It also covers water leakage from the tank, damage to the drum, and rusting of the tub.

IFB's team of experts will inspect the machine and repair it free of cost in case of any damages.

This extended warranty service is available at a nominal price and provides complete peace of mind to our customers.
What exactly does TriShield Protection offer?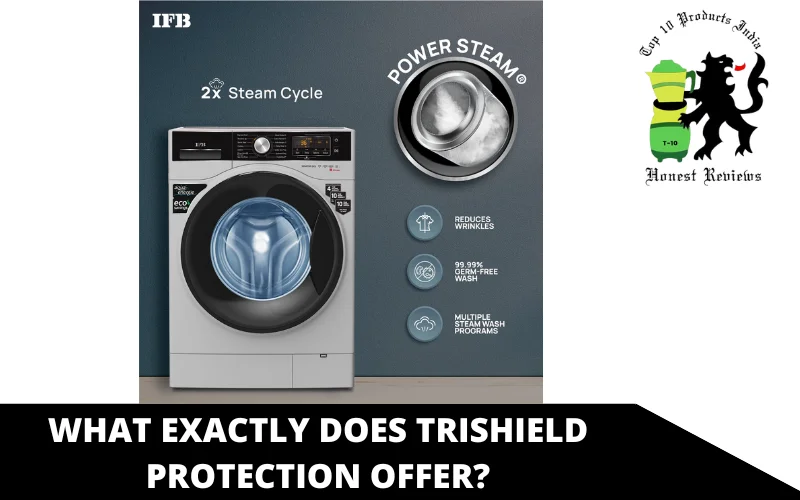 TriShield Protection offers IFB appliance users several benefits they can avail of over the period as an IFB user. It offers repair, service engineer visits, etc.
Here's what's covered in TriShield Protection.
Warranty extension: 

When considering extended warranty products, TriShield Protection offers unparalleled coverage and peace of mind. Their warranty extension allows customers to purchase an additional period of protection beyond the original manufacturer's warrant.
Instead of stopping protection at the original expiration date, TriShield's extension ensures that you are covered for more years and for more parts than you ever thought possible.
With coverage options ranging from accidental damage to low diagnostic fees, TriShield Protection is your go-to choice when it comes to purchasing extended warranty products.
Free repairs:

TriShield Protection provides free repairs. Their coverage is extensive and can provide repair or replacement of specific damaged parts, though restrictions may apply regarding the extent of coverage.
Furthermore, TriShield Protection offers additional protection plans that customers can purchase as additional coverage for their device or appliance. Customers who have these plans enjoy always-on support with knowledgeable and friendly customer service reps available whenever they need assistance.
Replacement:

All IFB washing appliances and machines usually come with one year of manufacturer's warranty. While IFB automatic top-loading washing machines come with a long-lasting warranty of two years, the IFB's front-loading washing machines are covered by an extended warranty of four years.
Naturally, the damages are not recorded under certain conditions and terms. This gives you ample time to take advantage of the repairs for free in case of any issues. Look over the terms and conditions of the warranty and examine the limitations of the guarantee.
TriSheild Warranty Terms & Conditions
Warranties can be tricky to understand. Often, they're full of legal jargon that can be difficult to parse through. If you're the owner of a TriShield warranty, you might wonder what exactly you're covered for and what isn't.
That's why we've put together this handy guide breaking down the TriShield warranty terms and conditions, so you know exactly what you're getting with your purchase.
Here are the terms that could void the warranty of the IFB appliance.
The appliance is used for commercial purposes.

In case of negligence or misuse, its usage. If the appliance was altered in an unauthorized manner.

The appliance has been altered or repaired by a person who is not the authorized IFB repair centre or an agent.

Any physical damage to the device post installation.
In these cases, your warranty will be invalid, and any repairs that must be made will cost you money.
How to file a claim under the IFB washing machine warranty program?
Has your washing machine stopped working? If you purchased an IFB washing machine, you might be covered by a warranty. Filing a claim under the warranty program is simple and can help you get your washing machine repaired or replaced quickly. Here's what you need to do:
First, gather together your proof of purchase and your IFB washing machine serial number. These will be required to file a claim. 

Next, visit the IFB website and navigate to the 'Customer Service' page. On this page, you will find a 'Claims' section. 

Click on the 'File a Claim' button and fill out the required information. 

Once you have submitted your claim, IFB will review it and determine whether or not your washing machine is covered under the warranty program.

 IFB will arrange for a service technician to come to your home and repair or replace your washing machine if your claim is approved.
Filing a claim under the IFB washing machine warranty program is easy and can help you get your washing machine fixed quickly. Follow the steps outlined above to get started.
What parts are covered by the IFB washing machine's warranty?
IFB washing machines have a small number of components under their warranty program. The company handles any problem or defect that arises with these components. Repairs will be covered until you have reached the warranty and the warranty has not expired.
Door/Lid

Pump

Knobs/Buttons

Tub

Motor

Hinges

Control Panel

Filter

PCB (Parent Control Board)
The IFB warranty program doesn't cover these parts or issues, however.
Physical damages, like dents, paint peeling, scratches, etc.

Damage caused by natural calamities.

Misuse or negligence.

Any damage caused by accidents (let's say, dropping the machine)
When you buy a washing machine, you want to know that it will last. That's why it's important to understand the warranty coverage for your appliance. Now, let's check various types of warranties for various IFB washing machines so that you can have peace of mind when using your appliance. 
Warranty Coverage for New IFB Washing Machines
IFB washing machines come with a comprehensive warranty coverage that offers peace of mind to all users. From the motor and control panel to user manual and installation, customers are protected in case of any factory or material errors.
With their product service centers situated across major cities, it is easy for customers to receive prompt repairs and replacements if necessary. Furthermore, the customer helpline is available 24/7 allowing customers to receive instant help in case they come across any issue with their appliance.
With such exemplary services being offered by IFB washing machines, it certainly remains one of the best brands available on the market today.
Extended Warranty Coverage for New and Refurbished IFB Washing Machines
In addition to the standard one-year warranty, IFB also offers an extended two-year warranty on all new and refurbished washing machines. This extended warranty covers parts and labour, so IFB will send a technician to your home to fix the problem free of charge if something goes wrong with your washing machine during the second year of ownership.
Warranty Coverage for Refurbished IFB Washing Machines
Refurbished IFB washing machines provide a cost-efficient way to purchase a high-quality machine. With so much invested, it is essential that customers have peace of mind when buying one. IFB provides comprehensive warranty coverage options on all refurbished washing machines they sell.
The coverage includes repair and replacement of certain parts and technical support that lasts up to 1 year from the purchase date. Customers need only to register the machine with IFB within 15 days of the original purchase in order to qualify for this extended warranty.
This ensures customers will get years of use from their machines and a stress free buying experience when purchasing a refurbished IFB washing machine.
IFB Customer Support Contact Details
IFB Customer Care Phone Number – 1800 3000 5678 / 1860 425 5678  
IFB SMS Care – SMS 'IFB' to 58888
IFB Email Support – [email protected] | [email protected]
Frequently Asked Questions (FAQs)
How long is the warranty on IFB washing machines?
IFB washing machines have a warranty of 2 years on the overall machine and 4 years on the motor. This warranty covers all manufacturing defects and any damage that might occur due to regular wear and tear. In case of any issue with the machine, customers can contact the IFB service centre, which is available in all major cities.
The service centre will send a technician to inspect the machine and offer a solution. If the problem cannot be resolved, the customer can either get a replacement or a refund. This warranty provides peace of mind to customers and ensures that they can enjoy their IFB washing machine for many years to come.
What is a comprehensive warranty on a washing machine?
A comprehensive warranty is a type of guarantee that covers nearly everything related to a product. For instance, if a customer buys a washing machine with a comprehensive warranty, they can rest assured that the warranty will cover any issues they have with the machine.
This may include defects in the materials used to make the machine and any problems that occur during normal use. Comprehensive warranties provide peace of mind for customers and are often seen as a sign of a high-quality product.
In the washing machine example, a company that offers a comprehensive warranty is likely confident in the quality of its product and stands behind it. This type of warranty can give customers the confidence to purchase an expensive item knowing that they are protected against any potential problems.
What is covered in the IFB washing machine warranty?
When you purchase an IFB washing machine, you're not just getting a top-of-the-line appliance. You're also getting the peace of mind that comes with knowing a comprehensive warranty covers your machine. IFB washing machine warranty covers all parts and labour for one year from the date of purchase.
In addition, the warranty covers any damages caused by the manufacturer's defects. If your machine develops a problem during the warranty period, simply contact IFB customer service to arrange for repair or replacement. With an IFB washing machine warranty, you can be confident that your machine will continue to provide years of trouble-free operation.
What's the name of this IFB Warranty program on washing machines?
IFB's warranty program is known as TriShield Protection. Through this warranty program, the users of IFB can easily access repairs and replacement services from IFB absolutely free until the appliance is still under warranty.
Conclusion
The IFB TriShield Protection Warranty Program is a comprehensive solution for those who want to ensure the longevity and efficacy of their washing machine.
With up to 15 years' worth of coverage, ITIS offers extensive protection against any manufacturer-related issues that may arise during this period. From protecting against PCB failures to repairs due to rust, the program covers an extensive range of potential damages.
In addition, all parts and labour used in repairs are guaranteed to be genuine and of good quality, thanks to the approval from IFB engineers – giving customers peace of mind that their product is always performing optimally.
Overall, the IFB TriShield Protection Warranty Program is a great way for customers to ensure their washing machines remain working efficiently and reliably over time.