Installing an elegant modular kitchen in your home adds to the convenience of any household. However, it is common to forget about chimney cover pipes while doing what you may believe is the final touches of setting up your dream kitchen.
Especially if you're remodelling from a non-modular kitchen to a modular one, then you should pay extra attention and consider installing chimney pipes.
Fitting these pipes can be tricky, but with the right guidance and instructions, it will be a breeze for you. In this guide, we'll help explore this process with tips and tricks so that your modular kitchen can look flawless without exposed chimney pipes ruining the look!
5 Tips To Cover Chimney Pipes In Modular Kitchen
1. Wall-Mounted Cabinet
There are several ways to cover a chimney pipe in a modular kitchen. One of the most popular options is to use a wall-mounted cabinet. It offers several advantages, such as low maintenance and easily customising it to the desired configuration.
It can also be stored remotely from the cooking area, freeing up space and eliminating those pipes from view. Additionally, wall-mounted cabinets are often made from durable materials that can survive constant exposure to heat and moisture in a kitchen environment.
Ultimately, installing one of these cabinets is an easy, stylish way to keep your chimney pipe hidden away while providing excellent kitchen ventilation.
2. Use Paint To Hide The Chimney Pipe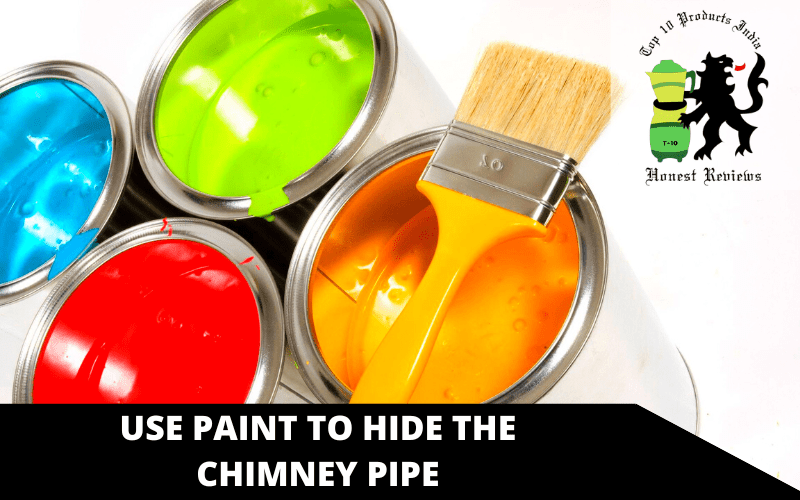 An efficient kitchen looks as good as it functions, and covering up the chimney pipes is important to ensure your kitchen looks great. Using paint is one of the best options for covering up those unsightly chimney pipes.
You can choose different colours or finishes so the painted finish will easily blend in with your kitchen's overall design aesthetic.
It's important to make sure that you prep the area before painting and use a high-quality brush to get an even, professional-looking finish.
When done correctly, this method not only provides greater visual appeal to the chimney area but also helps seal up any potential weak spots on the pipe so you can keep unwanted dust out of your cooking space.
3. Trying Other Chimney Options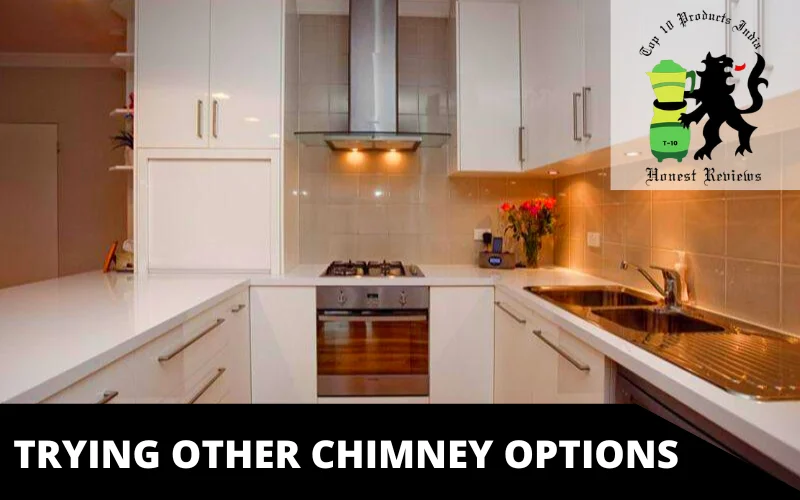 If you do not like any of other suggestions in this guide and don't have a budget to spare, you might want to look into different chimney alternatives. Many kinds of chimney installations can conceal the chimney pipe from your kitchen design.
One of the most innovative choices is building a ceiling chimney. This method will come with the strongest suction system with low disturbance. This can help reduce the waste of kitchen space and will make you feel large.
Another option is installing downdraft chimneys where your cooktop is situated on the rear. It is among the most sought-after systems in modular kitchens today. It helps make the kitchen appear cleaner and more noticeable when the kitchen is used.
4. Covering Chimney Pipe With Soffits And Columns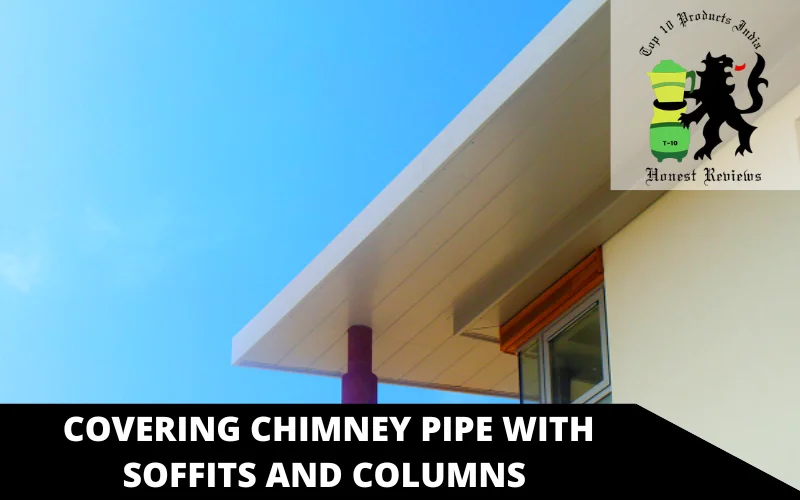 A great way to cover a chimney pipe in a modular kitchen is to use soffits and columns. Soffits, while they may not provide the same aesthetic appeal as other methods, exceed at concealing pipes from view.
Furthermore, they are produced from high-quality materials that offer superior protection from weather or other damage.
On the other hand, columns are excellent for adding style to a setting that already has many setup features installed. Columns draw attention away from the chimney pipe, making it disappear in plain sight.
They also make it easier to move the positioning of the pipe without disturbing the rest of the kitchen decor. With the right combination of soffits and columns, covering a chimney pipe in a modular kitchen can be done easily and elegantly.
5. Use Accessories To Hide Your Kitchen Chimney Pipe
A modular kitchen is an important part of any home and the design should be made keeping in mind one's style, preferences and needs. While a pipe attached to the chimney can be an eyesore, there are many ways to cover it and make your kitchen look beautiful.
One great way to hide your chimney pipe is by using stylish accessories such as hanging plant baskets or paintings. These elements can help bring color, texture and vibrancy to your kitchen.
Alternatively, opting for mobile cabinets that feature shutters that open downwards is also a great option. This can easily provide you with plenty of storage space for food items or decorative pieces.
Not only does this create a great ambiance, but it also serves the purpose of covering up pipes attached to your chimney from view.
Conclusion
Installing chimney pipes in a modular kitchen can be an intimidating task, but with a few key tips, it can be done quickly and easily.
Key amongst these tips is to measure the space available before shopping for the right size pipe and taking into account the overall design of your kitchen while selecting appropriate colours or materials.
Additionally, opt for additional sealing to ensure that unwanted odours don't escape or combustible gases seep out of the wall walls.
Finally, seek professional assistance if required to ensure that installation is done perfectly without any issues or delays.
With this advice in mind, one should be comfortable enough to cover their chimney pipe in their modular kitchen.