Every kitchen in India has at least one container of rice. For centuries, rice has been an integral part of Indian cuisine. However, not every brand of rice offers the ancient, and best quality of rice that Indian public prefers. Therefore, choosing the right type and brand of rice is important to ensure tastiness and good nutrition.
An array of brands in India offer various raw and processed rice, such as basmati, Sona masoori and brown rice. To help narrow down choices for home cooks, it is useful to have a list of some of the top-rated brands that offer varying qualities and prices.
To learn more about the best rice brands available in India, read on to find out!
1. Kohinoor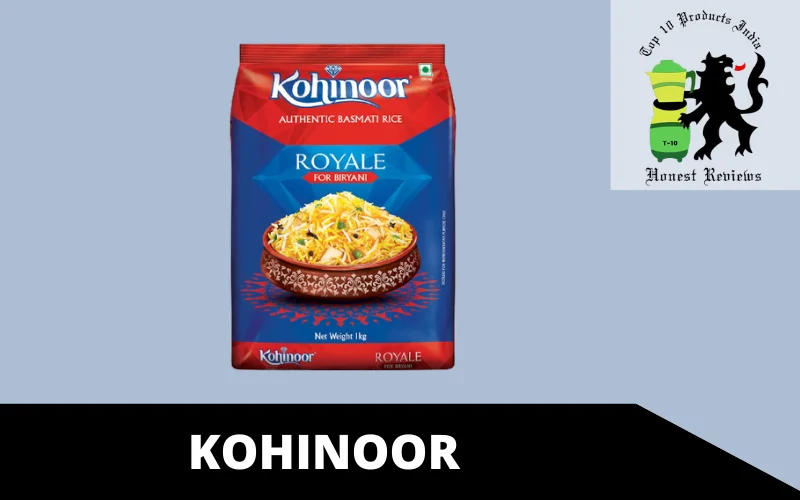 Regarding quality rice, Kohinoor is one of the best brands available in India. The company has been around since 1947 and produces a variety of rice types, such as Basmati, Jeeraga Samba, and Sona Masuri. Every grain of Kohinoor's rice is aged to provide a unique aroma and taste when cooked.
Due to the meticulous process by which it is made, the grains maintain their shape despite being cooked for a long time. Furthermore, each brand pack contains minimal starch and cooks quickly without losing texture or flavour.
Moreover, Kohinoor guarantees that its products are free from unwanted chemicals and are 100% organic in nature. Thus, Kohinoor is ideal for customers who prioritize quality and health when buying rice products.
2. India Gate
India Gate is a product of KRBL Ltd, an organisation that was founded by the pioneers in India's Basmati rice, Khushi Ram, and Behari Lal.
This brand has emerged as one of the most preferred rice choices among consumers due to its reputation of providing premium quality long-grain basmati rice that remains non-sticky after cooking and retains the flavour.
Furthermore, it is free from any impurities, foreign matter or pesticides, making it safe for consumption. India Gate basmati rice comes in various sizes ranging from 1kg to 5kg packing, making it more affordable as per an individual's needs.
With proven tradition over generations, this brand provides a unique combination of taste and nutrition with every dish cooked using India Gate basmati Rice.
3. Nature Land Organics
Nature Land Organics rice is one of the best brands of rice available in India. With its high levels of purity, Nature Land Organics provides perfectly cooked rice that tastes great and is rich in nutrition.
From flours to individual grains, Nature Land Organics offers a wide range of varieties and grades of rice. Its variety packs provide unique flavour combinations that make for an unpredictably delicious experience with every meal.
Every grain from this brand is grown without chemicals or fertilizers, creating healthier and more sustainable food options. Plus, it's affordable and comes with a seal of quality guarantee.
With Nature Land Organics rice in your cooking arsenal, you can be sure you're getting all the nutrition you need and delicious flavours that will tantalize your taste buds every time!
Features
Low Glycemic Index

100% non-GMO

Easy to digest

Rich in dietary fibre
Cost: 100 INR/Kg
4. Fortune
Fortune Rice is a well-known and highly-rated brand of basmati rice in India. It offers a variety of options with its packaged products, from basmati to regular to brown rice. Fortune Rice stands out from its competitors because of its distinctive flavour, which comes from its special blend of aromatic spices and herbs.
Their grains are aged for a full 12 months, making them strong, fluffy and flavorful. Fortune has carved itself an impressive share in the Indian market with its pure quality offerings at competitive prices.
Aside from being able to cook delicious dishes everyone can enjoy, customers can also be sure that they're getting healthy dishes as Fortune promises to provide only the best food safety and hygiene standards. If you're looking for lip-smacking basmati rice, then Fortune is definitely the brand of choice!
5. Daawat
Daawat from LT Foods Ltd. is among the top of the most popular rice brands in India for many reasons. A longer grain in biryani rice, as well as its shiny white finish and golden hue, makes Daawat one of the top-quality rice on the market.
It has a certain charm and flavour to it that cannot be compared with other brands. Daawat has been a part of Indian households for more than 30 years and is always appreciated for its traditional feel and taste.
It has a long, slender grain that enhances the look of dishes and makes them easier to digest. Moreover, this brand uses age-old production methods which ensure every grain's quality and ensure no compromise on taste.
From biryani to pulao, Daawat basmati rice never fails to bring delight to every plate!
6. 24 Mantra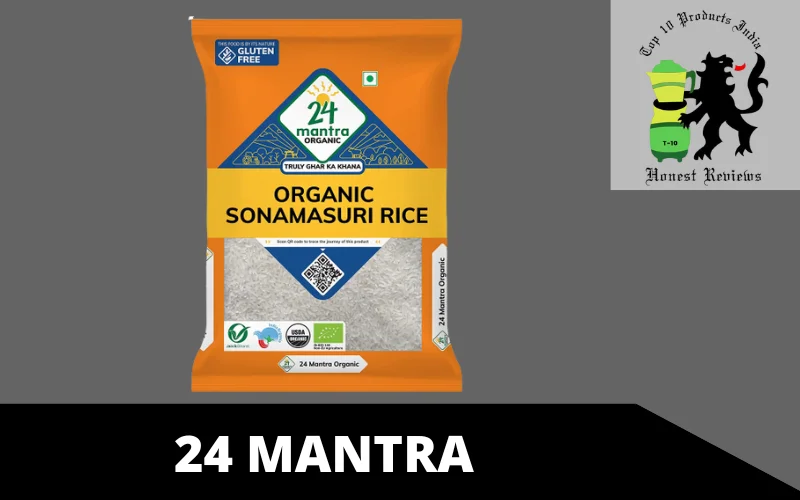 24 Mantra is quickly becoming one of the best rice brands in India due to its focus on quality and sustainable farming. Their commitment to eco-friendly agricultural practices ensures that no harmful chemicals are used in the growth and processing of their rice.
24 Mantra sources all its ingredients from traditional farms that use natural inputs and use age-old methods that have been practised for centuries.
Regarding taste, 24 Mantra rice has a distinct flavour and texture that is smooth and enjoyable. With an array of options, including organic red, sugandha, basmati and more, this brand has the perfect option for any kind of meal or recipe.
24 Mantra's range of succulent treats make a great addition to any kitchen pantry.
Features
Purely organic

It is gluten-free and free of all

Free of synthetic GMOs

It is produced without the use of any pesticides synthetically produced
Cost: INR 188/Kg
7. Lal Qilla
Lal Qilla has established itself as one of the leading rice brands in India. Over its humble beginnings, the company has grown to become a household name today. It offers various rice varieties, ranging from nutritious Basmati to aromatic Jeera and flavorful Sona Masuri.
The grains undergo stringent quality checks to ensure that they are of the best quality and are free from impurities.
Moreover, Lal Qilla uses advanced milling technologies during production, ensuring each grain is healthy, delicious, and aromatic. The brand prides itself on its eco-friendly packaging and sourcing process, ensuring that customers get only the best produce.
8. B&B Organics
B&B Organics is one of the best rice brands in India. With a solid heritage and decades of goodwill in the market, B&B Organics is a trusted brand that provides the best nutrition your family can trust. B&B Organics strives to provide its customers with top-quality, healthy, and safe rice.
The company sources its organic and non-organic varieties from India's finest organic farmers who use traditional farming techniques. Each grain is designed to retain all its natural oils and minerals while also containing fewer calories than other leading brands.
B&B Organics' promise of sustainability, food safety, and wholesome nutrition has made it a popular choice among health-conscious consumers.
Features
100% vegan product

High Fiber Content

Simple to prepare

The rice is not polished.
Cost: INR 262/Kg
9. Aeroplane
Aeroplane from La Taste originates from Amir Chand Jagdish Kumar Exports Ltd, A company with its headquarters in New Delhi, operating for over 50 years. This remarkable Basmati Rice developed on the lower Himalayan hills with traditional practices.
Over the years, this company has earned customers' trust by offering high-grade basmati rice cultivated from some of the best regions in India, such as Punjab, Uttar Pradesh, and Haryana. Their long-grain Basmati rice has an aroma that can't be matched, making it perfect for various dishes!
It's also reasonably priced and widely available, making it accessible to most shoppers. Aeroplane basmati rice is among the top choices for many Indian households thanks to its delicate texture, pleasant taste, and affordability.
Plus, cooking with this brand's Basmati rice rarely requires any presoaking – just rinse before you cook to get the best results!
10. Vedaka
Vedaka is one of the best rice brands in India. Known for its consistently high-quality and flavourful grains, Vedaka is a household staple throughout the country.
Not only is their rice packed with nutrition and boasts a superior texture that rivals other leading brands, but it can also be prepared in multiple ways to satisfy every palate. It cooks faster than other kinds of rice, making it even more attractive as both an everyday meal choice and a special occasion indulgence.
Whether you cook it into fluffy white basmati or hearty biryani, you can trust Vedaka to give you incomparable flavour and ease of use time after time.
Features
Enrich in fibre content

Easy to prepare

Organically certified

All food products are inspected and certified to meet FSSAI standards for food safety.
Cost: INR 80/Kg
11. Ella Foods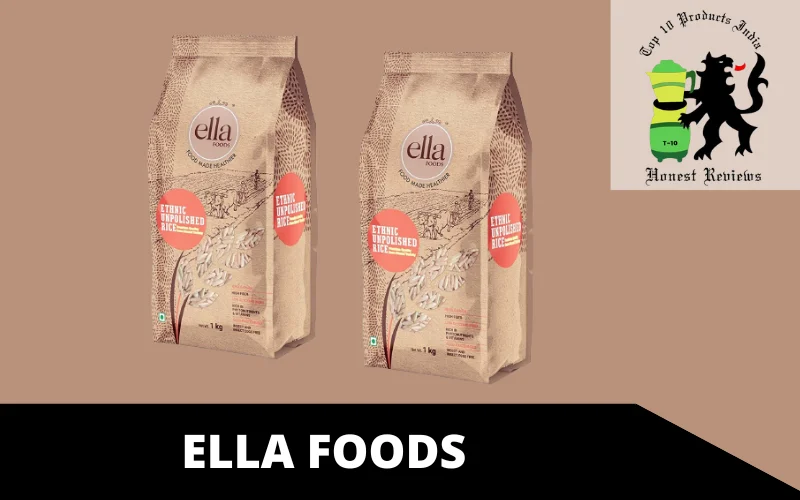 Ella Foods is one of the best rice brands out there, boasting an impressive selection of high-quality and delicious options. Every product is free from artificial preservatives and processed ingredients, allowing you to enjoy all-natural grains straight from the farm.
Their long-grain white rice is beautiful and fluffy, while their glutinous black rice is fragrant and rich in flavour – perfect for any meal!
Ella Foods also offers a variety of exotic varieties like wild rice, Valencia red rice, basmati and jasmine, each giving your recipes a unique twist on traditional flavours. Whether you're aware of health or just looking for some superior-tasting grains, Ella Foods should definitely be your go-to brand.
Features
The grains are crystal clear and free of impurities.

It has a pleasing aroma and tastes

Gluten-free

100% authentic and genuine
Cost: INR 125/Kg
12. Tilda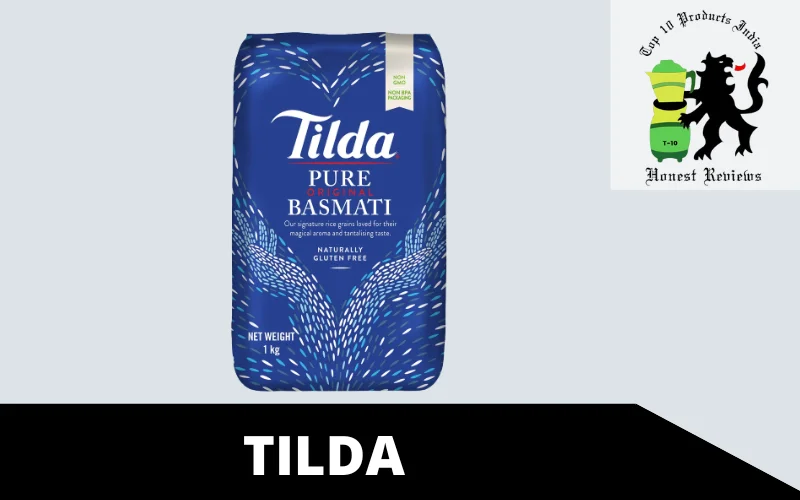 Tilda is one of the most recognizable and beloved rice brands around, known for its reliably delicious and authentic offerings from Basmati to jasmine.
Tilda ensures that it procures only the highest quality ingredients, specializing in fragrant long-grain varieties with no preservatives. Each grain of its aromatic Basmati has been aged for a minimum of 12 months to release a unique flavour that garnered its own award nomination back in 2011.
With such an impeccable track record, it's no wonder why consumers continue to recognize and prefer Tilda as their favourite brand.
13. Dosti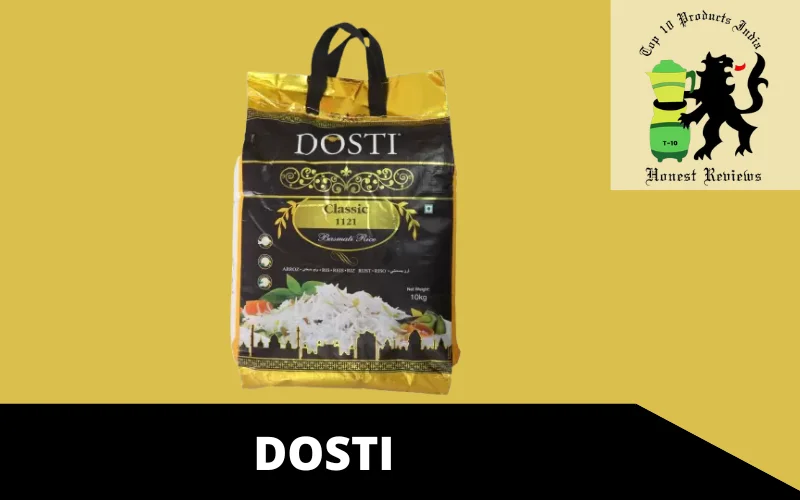 Dosti is India's leading brand of rice, known for its unmatched quality and nutrition. The company has been producing high-grade, long-grained Basmati and non-Basmati varieties since 1945. Dosti rice is renowned for its signature aroma and taste, attracting customers from all over the country for decades.
In addition to providing delicious rice, the brand also offers other products like atta, besan and more.
All of their products are made using advanced milling technology and strict quality control standards to ensure they deliver a superior flavour in every packet. For healthy, tasty meals packed with nutrition, go for Dosti rice every time!
14. Organic Tattva
When it comes to finding the highest quality, most responsibly sourced and produced rice, Organic Tattva is the brand that stands out. Organic Tattva sources most of its sustainable rice varieties from organic farms in Northern India.
It employs responsible production processes that help preserve the surrounding environment, minimizing pollutants and working towards sustainability. The rice has a rich flavour without any preservatives or added chemicals and cooks faster than most other organic varieties, making it an ideal addition to any dish.
Regarding nutrition and health benefits, Organic Tattva rice is packed with essential minerals like iron, folate, zinc and magnesium, which are essential for bodily function.
With their commitment to sustainability and rigorous quality control standards, Organic Tattva is one of the best brands for eco-friendly rice on the market today.
Features
Organic Certified Rice Brand

No chemicals

It's pure and unadulterated.

It's vegan and 100% organic.
Cost: INR 81/Kg
15. Sungold
This one is located in Delhi and was started in 2009.
When it comes to finding the best rice brands, many shoppers turn to Sungold. This well-known brand offers long-grain white and brown rice and parboiled varieties.
All of their products are certified as non-GMO and are also organic, giving you the peace of mind that comes with knowing no pesticides or synthetic fertilizers were used in production.
The grains remain fluffy yet separate after they are cooked, making them excellent for pairing with an array of dishes. Whether served as a side or used to create a main course, this rice brand will surely be a hit every time you prepare it.
16. Tata Sampann
Tata Sampann is one of the best rice brands available in India, and for a good reason. All Tata Sampann rice is grown in the organic fields of traditional farmers in the Indian states of Punjab, Haryana, and Rajasthan and has been processed without bleaching or preservatives.
Their unique process of carefully sorting grains and removing up to 25% of impurities ensures that only the finest quality rice is delivered to customers.
The brand also offers speciality basmati variations such as Nature Super Long Basmati Rice and Traditional Basmati Rice that are ideal for special occasions.
Not only is Tata Sampann extremely delicious and fragrant, but its nutritional value makes it a great choice for health-conscious consumers. The brand's commitment to product quality and customer satisfaction has allowed Tata Sampann to become one of India's leading rice brands.
17. Conscious Food
Conscious Food is a popular producer of sustainable and organic food products in India. Among their offerings is an extensive line of delicious and healthy rice options. Conscious Food offers both brown and white basmati, short grain, long grain, and red and black varieties.
Their different types of air-flown, traditionally grown grains are a favourite among Indian households looking for an eco-friendly alternative.
The unique blend of traditional agricultural methods and modern technologies ensures every family can enjoy the highest grain quality without any added additives or preservatives.
Even more impressive, Conscious Food's innovative approach helps farmers curtail environmental damage due to industrial farming methods. What's not to love about Conscious Food? It's the perfect brand for those who care about their health and the environment!
Features
It is free of artificial colouring.

The plant is not cultivated using chemicals

Free of pesticides

Low Glycemic Index
Cost: INR81/kg
18. Avadata Organics
Avadata Organics is one of the best rice brands in India, renowned for its top-notch quality and taste. This brand's rice's delicious flavour and freshness make it a preferred choice among Indian households everywhere.
Several age-old processes are used to refine their rice to give it its characteristic flavour and texture. This brand also pays special attention to the safety aspect, ensuring that it provides premium organically produced products.
Before packaging, every grain of Avadata Organics rice is thoroughly checked for dirt, dust, sand and other foreign materials. Additionally, customers can rest assured that the promotional claims are certified by agencies like the Food Safety and Standards Authority of India (FSSAI).
Features
Easily digestible

It has a small amount of starch.

It is lower in calories than other brands of rice.

It is produced without the use of any chemicals or pesticides.
Cost: INR 94/Kg
19. Praakritik
When it comes to finding the best rice brands in India, Praakritik stands out among the competition. Not only is this basmati rice of excellent quality and taste, but it is also sustainably farmed and sourced directly from farmers.
This ensures that the local community is supported while providing customers with the best possible product. Furthermore, Praakritik offers a full range of rice at reasonable prices, so customers can pick their preferred type and budget.
With its abundant nutrition content, exceptional taste, and sustainable sourcing process, Praakritik is definitely one of the top choices for those seeking to serve up wholesome meals with rice.
Cost: INR 95/500G
20. Pro Nature
Pro Nature is one of India's most respected and popular rice brands. Boasting 100% organic and naturally-grown ingredients, every Pro Nature product is immune to chemical compounds and farmed free from any artificial fertilizers or pesticides.
Its wide selection of products includes different varieties of rice like Basmati, Kali Jeera, Sona Masuri, Pachari Jeerakasala, Matta rice and Organic Rice, among others. Unique to this brand is its patented "Dehusking Technology", which ensures users get only premium quality grains as a result.
As such, Pro Nature has become a popular choice for discerning health-conscious consumers who recognize the value of truly organic produce that retains its natural flavour and nutritional content.
Features
There are no preservatives in it.

Simple to Take in

No additional colour

GMO-free
Cost: INR 124/Kg
Conclusion
After researching the top rice brands in India, it is clear that each brand offers its own superior quality grains.
These companies have created various products with versatile flavour profiles, from the traditional Basmati rice to its modern hybrids.
LS Exports, Sharbati and Royal are some excellent options for those seeking traditionally grown rice options, while HMT Rice can be relied on for innovative hybrids.
Whether looking for an aromatic rice experience or something nutty and crunchy, these selections provide an extensive pool of high-quality Indian rice to choose from.