India has always been the land of culinary tradition. Indian recipe dishes are not only popular in India itself but have also made their way into Western appetites. The main ingredient which is common in every food recipe is the use of cooking oil.
When you live in an Urban City area, it is pretty easy to find multiple cooking oil brands, which can confuse you.
Many people choose healthier cooking oil options by opting for olive oil, which has high nutritious quality.
You can find foreign brands of cooking oils as well. Foreign oil brands include well-known Italian and Spanish brands to locally produced options.
However, many buyers are looking specifically for good olive oil brands out of the many options available. Many buyers of olive oil read some reviews and go to buy the olive oil, which seems a budgeted fit.
Others take one step further and do better research, gain insights and then opt for a good olive oil option. If you are from the second category of customers, you have come to the right place. In today's Blogspot, you'll get to know about top Olive oil brands in India.
15 Best Olive Oil Brands in India(Most Healthy Choice)
1. Figaro 
Figaro has been making Olive oil available in the market for over 50 years now.
Even after many generations have passed, their commitment to providing the best quality Olive oil for customers hasn't changed a single bit. The brand has been awarded for the same.
Figaro brand olive oil is made from extra virgin olive oil, which is full-bodied, and it has an intense flavour as well. Figaro has become very famous for providing buttery, mild extra virgin oil, which has a smooth and mellow flavour which enhances the taste and aroma of your dishes.
Are you looking for oil with a robust cooking purpose in mind?
Extra Virgin olive oil is perfect for sauteing and roasting purposes. The flavour of the food and its aroma will truly stand out because the oil withstands even high heat temperatures.
Up till now, we were just talking about regular olive oil, but do you know that some companies also make garlic-infused, citrus-flavored olive oil and even basil-infused olive oils? Figaro is one of them.
Figaro's taste profiling experts work to add a unique dose of flavour, which can intensify the flavour sense very intensely.
Figaro caters to many customers' tastes. Hence, its olive oils have been preferred by many for over 50 years. Figaro promises quality which matches the assurance standards.
2. Borges
When you hear about Borges company Olive oil, you'll be amazed to know that its quality is of award-winning excellence. Their products meet all the customer needs.
For customers who prefer uniqueness in their oil and, together, prefer some flavour, Borges provides an additional range of classic oil varieties. These options include Extra Virgin, Refined oil, Low Fat Olive oil, Kalamata Olive oil, Garlic flavour olive oil, etc.
Are you a picky customer? Want to choose after seeing multiple different options of olive oils? The Borges brand is just for people like you.
You can select your favourite olive oil or change your oil as per your new food tastes from Borges 200 varieties of finest quality Olive oils sourced from sustainable sources. Their naturally harvested oils enhance the aroma and flavours in your food dishes.
Are you a traveller who likes to cook for himself but doesn't want to carry too much overload with you? Borges got you covered by making its olive oils available in small to big packaging along with refillable bottles to add to your convenience.
3. Del Monte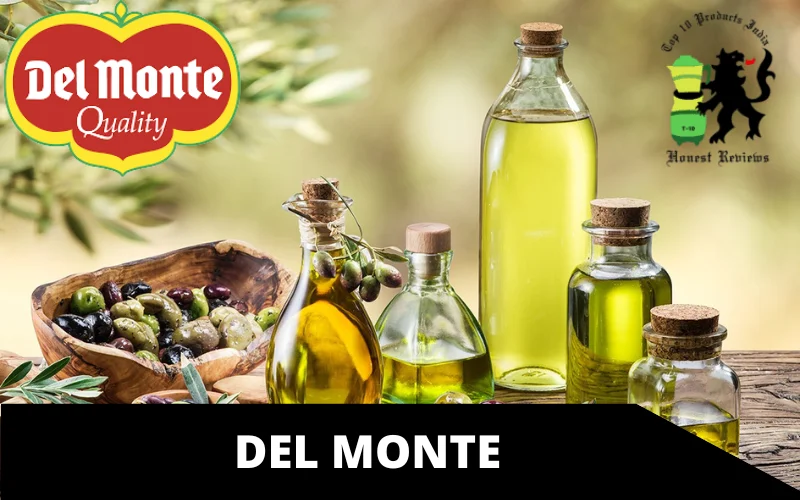 Customers who like to change their appetite and look for healthier oil-switching options are constantly searching for the next best cooking oil options.
Del Monte breaks this monotony of choosing regular olive oil by bringing in new olive oil options for their demanding customers.
Del Monte provides a specialized, unique flavour to satisfy any palette.
It's been 100 years since the company has produced unique olive oil qualities.
They provide premium light, extra virgin olive oil, classic mild and fruity flavour and an organic range of olive oil together with many different options to search from.
They extract prime-quality Olive oils from regions like Spain, Chile, and Europe.
Del Monte olive oils can be used in salads and other recipes because of the benefits of olive oil, such as improved cardiovascular health and better digestion.
Del Monte is passionate about their quality standards and providing special varieties like pesto sauce, sun-dried tomatoes and tapenades-flavoured olive oils.
Due to olive oil's rich health benefits and Del Monte's quality assurance, the brand has become an essential everyday item.
Del Monte also provides nutrient-rich cold-press olive oils for customers who do not prefer refined oils. You can make your pasta sauce pesto toast with Del Monte's olive oils.
4. DiSano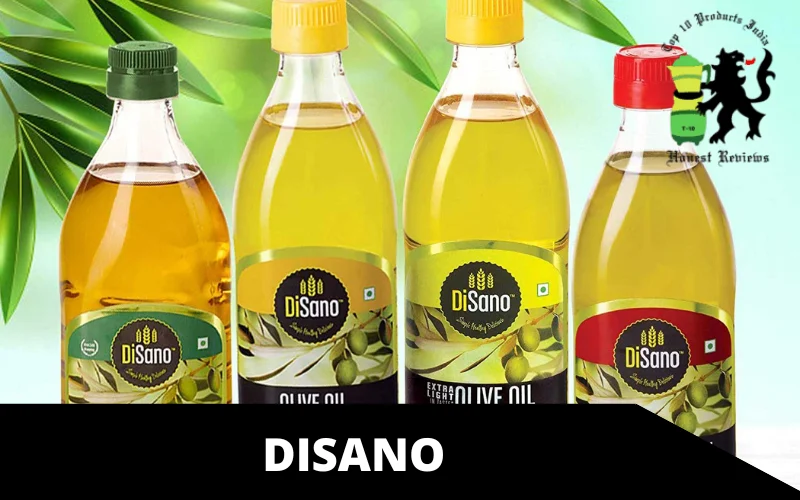 DiSano Olive Oil is another olive oil-making brand. You can get Disano's brands of extra virgin olive oil of high quality to fit your cooking oil needs.
DiSano company offers many affordable prices, attracting many buyers looking for budget-friendly, healthier cooking oil options. But this doesn't mean that Disano's quality will be of poor quality.
To ensure its customers, the company has passed through all the food grade authorisations to develop the quality rich olive oils that customers love. The company takes extra care in selecting good olives for extracting olive oils from it.
Their olives are sourced from places like Spain, Greece, and Italy to ensure customers receive the highest quality possible.
The company is very attentive in the extraction of olive oils by focusing on oil extraction within 24 hours of harvesting olive oils so that the natural flavour stays intact and doesn't fade away. You can rest assured about its richness as Disano's olive oils are extracted from organically grown olives.
5. Amazon Solimo
Many people have nut allergies, so they have to naturally opt for plant-based oils for cooking. Plant-based oils include oils like olive oil and oil extracted from avocado.
These plant-based oils do not come with any preservatives or flavours added to them. This makes plant-based oils a healthier cooking choice than processed vegetable oils.
By opting for Solimo's plant-based cooking oils, you can skip traditionally processed vegetable oils in the market. The company ensures its ethical sourcing of oils from worldwide. They add no artificial preservatives or flavours to their edible oils.
Every oil gives a unique flavour and brings a rich taste to food. You can use Amazon Solimo oil for grilling, roasting, sauteing and deep-frying purposes.
Avocado oils have a delicious nutty taste and are used in salad dressings and baking. Olive oil is perfect for making savoury sauces and even dips.
Amazon Solimo brand also offers cooking staples like ready-to-use sesame seeds and ghee for you to create mouth-watering recipes.
You can rely on Solimo to provide good quality plant-based olive oil and nicely sealed packaging to avoid any spillage or wastage of oil.
6. Sol
With all the love, care and respect for the environment, Sol has been extracting olive oil to provide its customers with the highest quality cooking oil.
The nutritional value won't be compromised at any cost when the Sol brand delivers good quality olive oil for customers' kitchen needs.
Sol gets its olive oil extracted via the cold press method, which helps preserve all the oil's nutrients while maintaining its natural flavour. Many chefs appreciate the quality and flavour of Olive oil by Sol brand.
With Sol, customers are guaranteed maximum health benefits because of its extra virgin olive oil quality, which is packed with all the nutrients.
The company offers many attractive offers at shopping malls and shops so that customers can buy Sol olive oil at budget-friendly prices and enjoy good quality oil while also saving their hard-earned money.
7. Bertolli
Are you fond of Italian olive oil for cooking some flavorful dishes? Bertoli has been in the business of providing olive oil for 150 years.
Known for its rich flavour, it's no wonder that Bertoli olive oils have become so popular worldwide. Bertolli olive oil is of the purest quality range, which also comes in garlic flavour infused with basil leaves.
Many chefs appreciate the flavour of the Bertoli brand olive oil range, especially their lemon and rosemary flavours, which are mostly preferred in savoury dishes, sauces, marinades, dressings, etc.
When selecting olive oil for your cooking purposes, you must know about its extraction process and nutrition quality. You can get this information by looking at the ingredient list on their packed olive oil bottles.
Bertoli guarantees its product's freshness and nutrient-rich quality, which is taken care of at every stage of the oil extraction phase.
Bertoli brand started from family-owned olive farms in Italy's Tuscany region. They worked together to harvest olive oil from freshly bought olives from their farms.
Bertoli company takes extra precautions to attain an assurance level of optimal quality control measures for providing that perfect taste and texture to your recipes made with olive oil.
Its nutrition standards match that of excellent quality. You will get a robust aroma and golden green colour, guaranteeing best results in the health benefits you look to receive.
Chefs who require sauteing and roasting their dishes in high flame and higher smoke points can rely on Bertoli brand's extra virgin olive oil.
Its premium oil quality can enhance the flavour of any new dish you want. Whether you want to drizzle or pan-fry vegetables, Bertoli brand's olive oil can be used for every recipe you want to cook.
Gift yourself olive oil's great health benefits by using Bertolli olive oil for that rich, savoury experience.
8. Colavita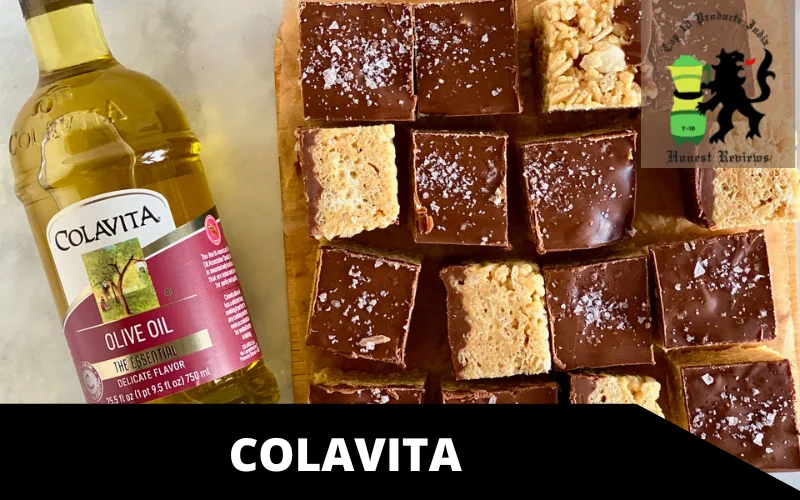 Colavita is one of the most iconic brands that produce amazing quality extra-virgin olive oil. They have over 100 years of experience in producing extra-virgin olive oil and have perfected the art of Italian olive oil extraction.
Gaining all the good recognition, Colavita has become a recognised leader in the olive oil production field. Colavita focuses on carefully choosing olives for good oil extraction and superior quality, aroma and flavours.
For people who prefer Italian olive flavours, Colavita brings 100% Italian Extra Virgin Olive Oil for every cooking purpose like cooking, baking, marinades and savoury salads.
You can dress your salads up with rich and nutritious olive oil from the Colavita brand and enjoy them to the fullest. The making process of Colavita olive oil requires chopped olives for their rich aroma and flavour to stay intact in the oil.
One noteworthy fact about Colavita olive oil is its non-GMO-based olive oil delivery. GMO quality means Genetically modified olives. Colavita's quality standards are that of European Union standards.
For herb lovers, Colavita also produces olive oils infused with herbs and spices, which increase and add more flavour to the dishes. Colavita's refined olive oil is a great option for heat-temperature cooking as it won't burn off smoke when exposed to high temperatures like 240 degrees Celsius.
If you are seeking a milder taste, you must try Colavita's mild, delicate extra virgin olive oil, rich in fruity notes and herbs infused oils to add other herb nutrients to your olive oil.
You can try Colavita's limited edition Basil and Mint Extra Virgin Olive Oil, which is very citrus in flavour to make any summertime savoury dishes.
You can go for the regular Colavita olive oil range for robust flavours. Elevate your food and salad preparing experience with excellent quality Colavita brand's standard range of olive oils.
9. Oleev
Oleev, just like its name suggests, provides pure and light varieties of authentic quality olive oil.
They make premium olives from the Mediterranean region, which are cold pressed within 24 hours of picking to preserve the natural flavours and aromatic sense of the olive fruit.
The brand has also created special flavoured oils with unique lemon, garlic, oregano, red pepper and basil flavours to connect with its customers' taste buds. The market has countless varieties of olive oil options or different products related to olive oils.
But the reason which sets the Oleev brand apart from the rest is its top-quality ingredients chosen to maintain its best taste and is nutrient-packed.
You will get outstanding quality olive oil from Oleev company, which is very affordable at rates many buyers can access. You can buy Olive oil by browsing through the company website or even from the retail store outlets spread in multiple countries.
Enjoy delicious meals with your family members by cooking them with Oleev olive oil.
10. Saffola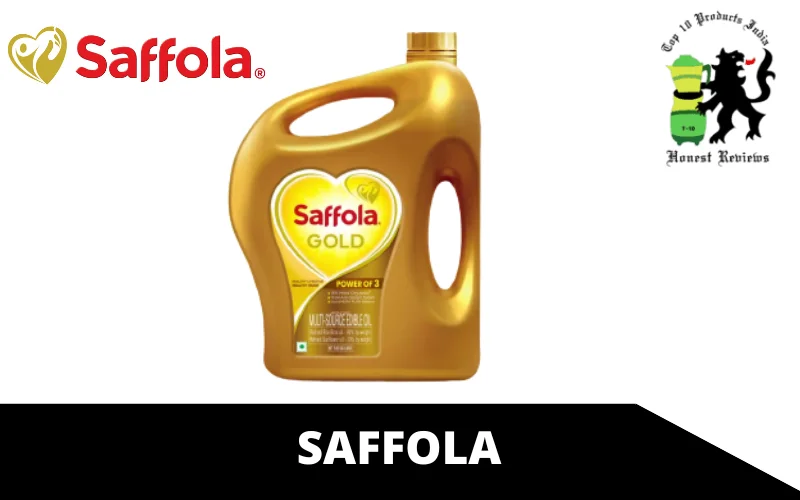 When life is long and heavy, why would anyone prefer weight to carry? We are talking about people's weight loss issues here.
As life in urban cities has started to run very fast, people don't get time to look after their health. This is why the Saffola brand took the initiative to carry out its work process around the precious health of its customers.
Founded in 1991, Saffola has been a renowned brand and the country's most popular food brand in providing healthier food options in the market.
By this, we mean to say that Saffola stepped into the market by coming up with a superior quality cold pressed olive oil range to benefit the health of its customers.
The cold press method of extracting olive oil keeps essential fatty acids like Oleic acid polyphenols intact while keeping cholesterol low and trans-fat free.
All such benefits allow people to easily switch to healthier cooking oil options rather than going for refined and bad cholesterol-boosting oils.
Moreover, people with dietary restrictions such as diabetes or heart issues or diseases are advised by their doctors to cook their meals in healthy cooking oils, one of which is olive oil.
The brand specializes in providing its product line packed to cater to various customers' needs and preferences.
Saffola brings many types of cold-pressed oils under the category of names like Total Heart Pro, which comes in the combination of three healthy oils, namely Soybean oil, Sunflower oil, and Olive oil, packed together for heart-health balance, which makes them rich in Omega 3 & 6 fatty acids.
Customers who like to use less oil in their dishes can smile after knowing that Saffola provides cooking sprays and flavoured oils with basil and garlic twist to enhance the food flavour without being used in heavy quantities in everyday dishes.
It's an amazing step taken by the Saffola brand with the goodwill thought of customers' health, which makes people value the brand's value more in their eyes.
Those looking to buy healthy cooking plant-based oils in India can definitely look up Saffola oil products on the supermarket shelves, grab a bottle of Saffola oil, and put it in their casket.
Opting for Saffola will ensure its customers choose their health and fitness because health shouldn't be compromised at any cost. Saffola oil is available at many retail shops for convenient access from anywhere. Pick Saffola olive oil and see the difference!
11. Urban Platter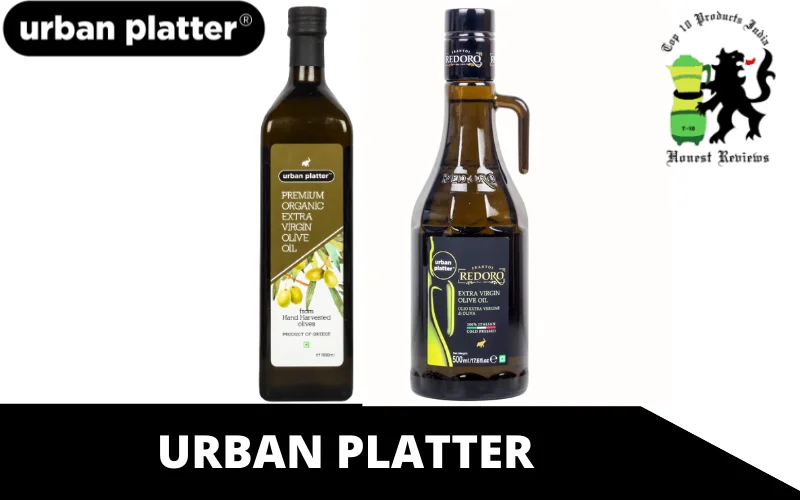 People worldwide are becoming fans of Olive oils extracted from olive-rich regions like Spain, Italy, Greece and other Mediterranean countries.
The Olive oil market is growing like a fire in the bushes. As the word is spreading about the nutritional benefits of olive oils reaching many ears, many customers are becoming conscious about looking after their health by choosing to go with healthier cooking oil options like Olive oil.
Urban Platter is one such Indian brand which specializes in providing a high-quality olive oil range for its customers in India and abroad.
Let's first talk about how the company got this idea of making olive oils and turning it into their business. How about you hear a brief backstory?
The company was founded by two friends who were passionate about cooking delicious meals without compromising the health quality of the food.
This made them set up a goal to bring every healthy ingredient into the food they prepare. One such health ingredient which plays an essential role in preparing tasty foods is cooking oil.
This is where the idea clicked in the two healthy brains to start a business of providing healthy cooking oil to many people who are concerned about their health but do not know where to start.
This is how Urban Platter came into the picture with its quality-rich extra virgin olive oil range, which is extracted from the olives which come from olive-rich regions like Spain, Italy and Tunisia.
The company prepares the oils in fresh quantities so that the nutritional value of the olives stays preserved with vitamin E and polypeptides. This makes Urban Platter olive oils bring numerous health benefits to their customers' food tables.
Olive oil not only boosts immunity but also gives rich flavour to your food dishes, and the company assures its quality each time it delivers constant quality products to its buyers.
The brand also provides its users with the ingredient list of where its olives are sourced from, along with a list of fatty acids and short information about the health benefits of olive oil in their daily use.
The company also provides olive oil in different food packaging sizes ranging from 500 to 1 or 5 litres. So that customers can choose and buy olive oil depending on their requirements and family members in their house.
Chefs also choose olive oils in their professional dishes to enhance the rich flavour of olives in the food they prepare and gain lots of appreciation for providing quality food at their restaurants. Isn't it great? You can buy Urban Platter olive oil from retail outlets near your area; it's available in many cities.
12. Kinsfolk
People who love the taste of Mediterranean cuisine know the importance of olive oil in their cooked dishes. Kinsfolk sources olive oil from freshly bought olives from Southern Greece. The company closely works with local farmers to spread a good distribution channel of olive oils.
When we talk about olive oils, how can we not mention a renowned Spanish brand, Columela brand's Extra Virgin Olive oil? Its unique flavour profile sets the brand different and apart.
The brand has won awards for preparing olive oil from handpicked Hojiblanca Olives grown in their estate and made using the traditional practice of cold press technique.
Are you searching for something very unique and special in your search for cooking oils? California Estate Olive oil may be just the oil you want.
They took a great task in hand to provide authentic cold-pressed olive oil made from distinct varieties of olives with mild to buttery concoctions that will surely impress your taste buds.
It doesn't matter which style of taste you prefer; you will get all ranges of olive oils at budget-friendly prices at Kinsfolk olive oils. They offer Australia's all-natural extra virgin olive oils produced by multiple small farms spread across different regions of Australia.
13. Rafael Salgado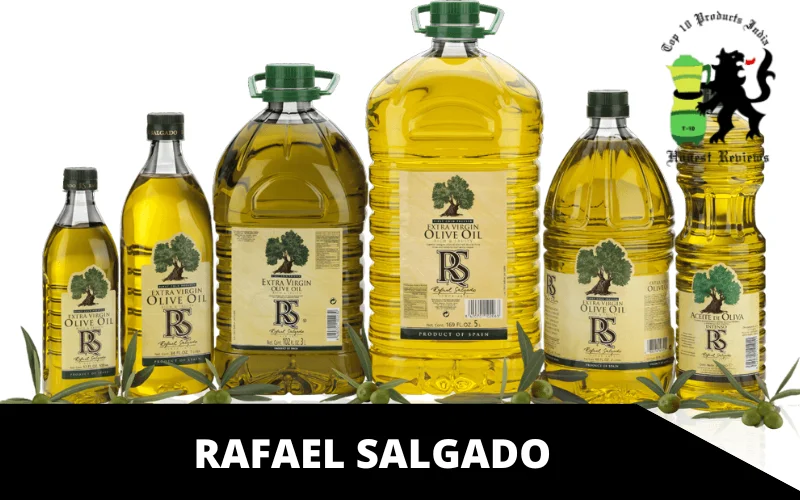 Olive oil is sourced from sunny regions of Andalusia, Spain. Rafael Salgado is a family-owned company specialising in providing high-quality olive oil that passes all the health standards in accordance with all the food grade standards of nutritional value.
There are many classic varieties brought to you by Rafael Salgado for each and every customer. The brand's cold-pressed extra virgin olive oil has unmatched flavours, which boosts a strong aroma into any of your food dishes, which fill up for all your nutritional requirements.
Rafael Salgado fruity flavoured oils can impress even the pickiest customer's taste buds.
You can make perfect dipping sauce or drizzle some olive oil over your salads to add the essential qualities of olive oil's richness of healthy fatty acids into your food dishes and make them healthy and high in nutritional value.
Take away the rawness of any dipping sauce by drizzling some warm olive oil over it from Rafael Salgado and see the difference yourself.
Customers who like to seek new limited edition flavours made by Rafael Salgado. They achieved unique flavour by blending Arbequina and cultivars, which have a mild sweetness and subtle hints of pepper, which brings out the brand's signature flavours.
For garlic lovers, the brand especially packs its olive oils with garlic flavour, hereby garlic olive oil, lemon, and garlic chilli oil; once you try these oils, you'll keep buying them again and again. These flavours are unforgettable once you get their taste.
Once you have decided to buy olive oil, you should definitely choose and try Rafael Salgado's rich and authentic Spanish produce olive oil and enjoy different flavours, too.
14. Dolce Vita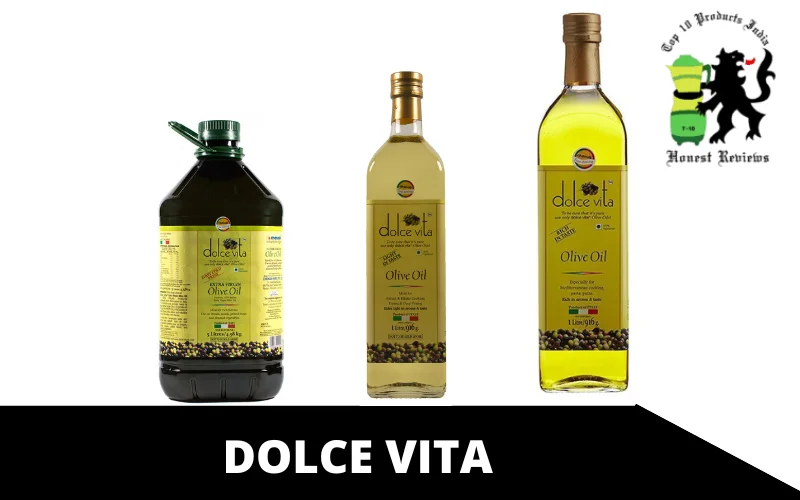 Dolce Vita is another popular olive oil brand that has worked in the cooking oil industry since the 1950s. Dolce Vita is a premium brand when it comes to extra virgin olive oil, which is made from freshly sourced olives from the Apulia region, where olives grow in abundant quantities.
Dolce Vita olive oil is made with handpicked olives to make sure what their customers get is of truly authentic quality. People who love flavours in their food and love to taste rich, robust flavours, which include fruity, spice and herb flavours in olive oil, can get it from the Dolce Vita olive oil range.
The source of olives is regions like Marche Umbria, which Marche is known for its green hills, which provide excellent environmental conditions for growing good quality olives which have a generous amount of olive oils in them.
The Umbria region is located near the Adriatic Sea in central Italy. This region has the finest quality of olives to produce extra virgin olive oil, which is only sourced from olives which passed through long summers and mild winters, which brings extra richness to their olive oils.
Do you want to add some spice to your dishes and flavours, too? Dolce Vita will do the hard work for you by bringing forth its lime and lemon blend and multiple herbs' unique flavour twists.
Just add a little Dolce Vita olive oil range, drizzle, and your salads and dips are ready to eat.
Many people love garlic flavour in their dishes. Dolce Vita takes notice of this and adds garlic kick into their olive oils, and you are ensured to get that strong kick of garlic flavour without using salt or fat in any of your dishes.
People who are big fans of refined oils available in the market can choose to go with Dolce Vita's organic-cold pressed olive oils, which are free from pesticides and chemicals. Their oil is processed without any pesticides or chemical substances.
No compromise has been made from the company's side over the quantity and quality production of olive oil at Dolce Vita company. You can trust Dolce Vita olive oil for preparing healthy dishes. Dolce Vita makes sure to enrich everyone's taste buds.
15. Fragata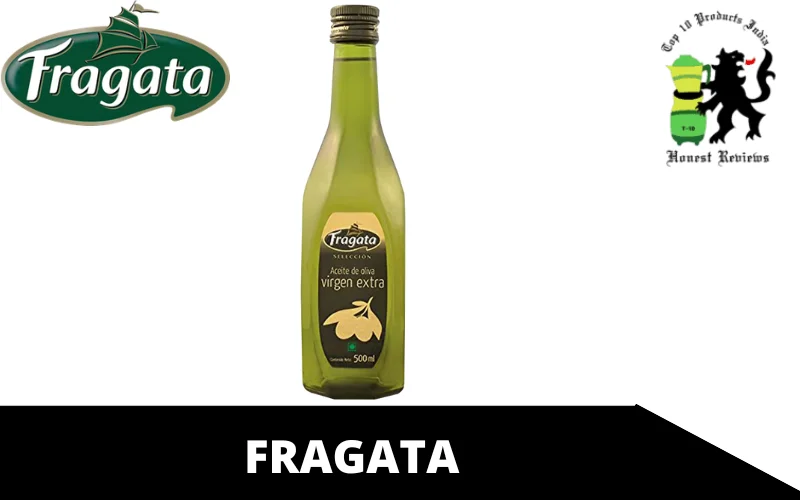 Fragata is a Spain-based olive oil brand which is based in Spain. They source their extra-virgin olive oil from Spain's rich and diverse regions.
Andalusia and Valencia are the two most well-known regions with a very idealistic region and climate for growing olives.
The Pasodoble variety of Olives, which Fragata prefers to make its olive oil, is sourced from Andalusia's hillsides and the Mediterranean coast's Elion variety. Both these places have perfect climatic conditions for producing rich quality extra virgin olive oil, making olives grow.
You will be able to enjoy the rich Spanish flavour of your dishes, which offer an additional taste of garlic-infused, herb-infused flavoured olive oils. These oils come with a good fatty acids twist to be a healthy addition to your dietary choice.
Fragata ensures its organic range of olive oils by introducing its product line of cold-pressed extra virgin olive oils, which are author-cited by USDA Organic and free from synthetic ingredients or artificial flavouring substances.
Fragata olive oil has a deep, rich green colour with a slightly peppery taste with a unique olive oil texture.
Prepare any food dish with the Fragata olive oil range and thank the company later for bringing in the traditional flavour by introducing flavoured olive oils, which are lemon-flavoured and herb-infused. When choosing Fragata olive oils, you choose health without compromising on the nutrition or taste.
How to buy Good Quality Olive oil?
It's natural to be confused with wildly different prices. We are now going to provide you with a few simple tips which you can follow for making quality, rich, nutritious olive oil.
Nancy Harmon Jenkins, who is a well-known producer and grower of olives, mentions in her recent work Virgin Territory in the 2013 edition of Exploring the world of olives.
1. Check the label to see if it's mentioned that the olive oil that you are buying is of the extra virgin olive oil category or not
What's the importance of looking for this label? The importance is extra virgin olive oil is extracted via cold press method, which ensures that the nutritional value of the olive oil does not get lost. The cold-press method also mentions that the olive contains antioxidants and other beneficial health benefits.
Many brands fool customers by making refined olive oil, which has gone through a chemical process for its filtration and refinement process.
You should also look out for the packaging material of the olive oil; glass is the best packaging material to store olive oil because of its non-reactive nature.
Look for food-grade plastic packaging; the plastic must not be recycled. So that toxic qualities of plastic don't enter your oil.
2. Check the label before purchasing olive oil
This helps you to not be worried about the authenticity of the olive oil product. You should look for terms like "extra Virgin olive oil ", which is extracted via the cold press method and is of the highest nutritional quality.
Check for the country of origin of olives to know if the oil is sourced from the best olive-producing regions or not. Countries like Italy, Spain, California and Greece produce the best quality olives as compared to other countries.
Ideally, the oil from olives must be extracted within 18 months of olive harvest. Dark glass or metal packaging helps the oil to stay protected from losing its nutritional value due to exposure to the sun.
3. Beware of anything unclear, regardless of the tempting packaging of the oil
Quality and authenticity go hand in hand when it comes to choosing healthier olive oil options for yourself. The oil bottle must be dark to avoid overexposure of the oil to the sunlight and losing its national value while staying on the shelf.
Olive oils are best stored in cool and dark places away from the sunlight and heat. Clear bottles do not protect from sun exposure, which degrades the quality of olive oil.
4. Make yourself aware of the oil extraction methods, especially the "Cold-Press method" 
The term cold-press is used to derive extra virgin olive oil without heating up seeds and oil for oil extraction, which ensures that all the nutritional benefits of the olive oil do not get lost in the extraction of olive oil.
Many brands offer a taster packed along with their 1-litre packaged olive oil bottles. You should grab this opportunity to test the olive oil authenticity by tasting it then and there.
You can also smell the oil, and if the smell feels authentic, you can now proceed to buy the whole bottle of olive oil on the go.
5. Extra-virgin olive oil doesn't get better or rich in nutrients as it ages
Hence, you must always try to make a fresh purchase of olive oil to not lose out on its authentic quality and nutritional richness.
How to ensure that the olive oil you bought is of rich quality. You should look for manufactured dates or harvested dates to decide whether the olive oil is authentic.
The olive oil, in its authentic quality, comes unrefined. Hence, it's best to consume and finish it within 18 months of opening to get maximum health benefits.
Keep the oil away from sunlight to avoid its degradation process and ageing. You must smell and taste the olive oil before purchasing it in large quantities. If the oil tastes rancid, do not buy it.
6. Light is the enemy of olive oil
Keep the oil in dark containers protected from sunlight exposure. This is to ensure that the nutritional value doesn't fade away as the shelf time of oil keeps on passing by.
Always check for the label and the harvest date to buy fresh produce, not old ones. Make healthy cooked dishes with authentic olive oils.
7. Make sure you consume and use the oil in the products mentioned timeline so as to receive maximum health benefits
For deep frying purposes, olive oil can be used for over 360 degrees F at optimal temperatures.
8. Take it all in! 
You can use olive oil to make a pesto sandwich or drizzle olive oil on potatoes and bake them to eat. Add pepper and bring a new peppery flavour to your dish. Tomatoes taste awesome when cooked in olive oil. Do try it and let your health go pro.