Sujata Dynamix and Bosch Truemixx are among the most popular mixer grinders that are heavy-duty on the market. They have a comparable power rating.
However, if we talk about grinding efficiency, it's not solely about RPM or power. The shape of the jars, as well as the blades, also play a significant impact on the mixer grinder's efficiency.
Sujata vs Bosch Mixer Grinder – Which is a Better Choice? 
Let's look at the several aspects of both mixer grinders to ensure you know which one best suits your requirements.
Sujata Mixer Grinder
Bosch Mixer Grinder
Performance Comparison of Sujata vs Bosch Mixer Grinder
Dry and wet grinding efficiency are two important factors when analyzing the effectiveness of mixer grinders.
Bosch Truemixx Pro mixer grinder offers you a 1000 watts power. Without load, it offers an RPM band from 21-23.5K cycles. However, Sujata Dynamix is powered by a motor with 900W. Also, the RPM is a bit lower, ranging from 19-21K cycles.
This mixer grinder from Bosch c0mes with better power and RPM, but its grinding performance isn't as great as Sujata Dynamix due to its form and blades.
Dry grinding spices such as garam masala and turmeric Sujata Dynamix was able to do a much better job. The leftovers left after sieving and grinding were smaller. There's a noticeable distinction when you grind smaller amounts of ginger-garlic paste.
According to our research, it's due to the chutney jar of the Bosch mixer grinder, there is a large space between the blades as well as the surface of the lid. Therefore, the ingredients can sit in such a gap, and even touching the blade won't be necessary.
When it is time to grind wet, it is the Bosch Truemixx that does a fairly good job.
The jar for wet grinding has an air breaker designed to mixer the batter in the best way possible. However, in our experiences, grinding without and with the flow breaker did not discern any big difference in the aeration.
We even thought it was more efficient to grind after removing the flow breaker because it'll exclude one thing from washing!
Sujata is also a great option for equally effective wet grinding capability. It's quick and efficient and efficiently grinds ingredients into a fine powder.
For Dry Grinding, Sujata is better. However, for wet grinding, both are equally efficient.
| | |
| --- | --- |
| Sujata Dynamix | 1 Point |
| Bosch Turmixx Pro | 0 Point |
---
What About Motor Housing?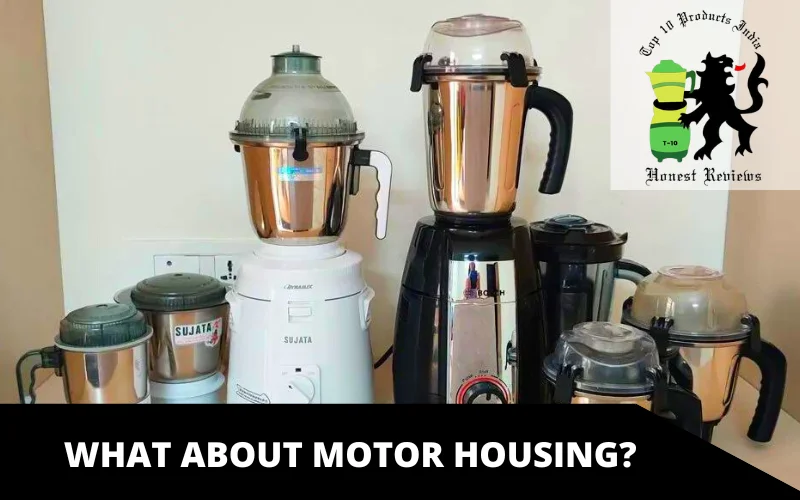 Bosch provides you black motor housing with a stainless steel finish. Its height is about 25 cm. Sujata Dynamix's base is 22cm.
Bosch Truemixx lacks the power-on indicator feature. However, Sujata is equipped with it.
Being larger, Bosch mixer grinder wobbles slightly more than Sujata when grinding inside the wet grinding 1.5L container.
However, one drawback to Sujata has to do with the fact that it does not come with an overload protection device.
Each has particular pros and cons, making it hard to determine which is better then the other.
Winner – No obvious winner.
| | |
| --- | --- |
| Sujata Dynamix | 1 Point |
| Bosch Turmixx Pro | 0 Point |
Cleaning in Both Models is Easy
The Sujata Dynamix's Jars are sleeker and have fewer curvatures and grooves. The lids with tinted covers hide any staining. The gaskets are simple to clean and wash.
Bosch, however, has lids, which are susceptible to permanent discolouration. Bosch has lots of grooves and curves that can be difficult to scrub. It is also difficult to remove spices from lids.
Furthermore, the jars from Bosch are slender and narrow. Also, the food can get caught in the flow breakers. This is why it's not very simple to wash.
| | |
| --- | --- |
| Sujata Dynamix | 2 Points |
| Bosch Turmixx Pro | 0 Point |
What Are The Noise Results?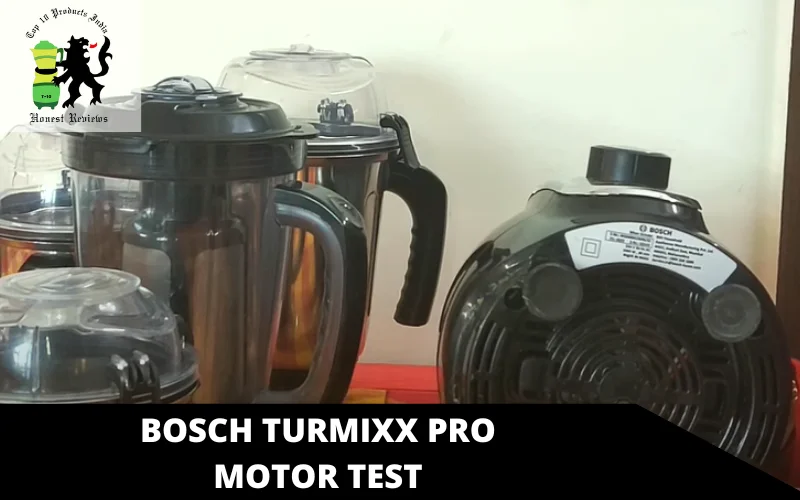 If we talk about Bosch Truemixx mixer grinder, the noise levels are too high among other mixer grinders that we've ever tested. It's quite noisy and annoying. However, Sujata Dynamix is a more mellow sound that's not as loud or irritating as Bosch.
If we tested it with the decibel meter, we observed that Bosch mixer grinder will make from 95  to 100 dB noise, whereas Sujata produces 90-95 decibels.
| | |
| --- | --- |
| Sujata Dynamix | 3 Point |
| Bosch Turmixx Pro | 0 Point |
---
Sujata Mixer vs. Bosch Mixer Jars Comparison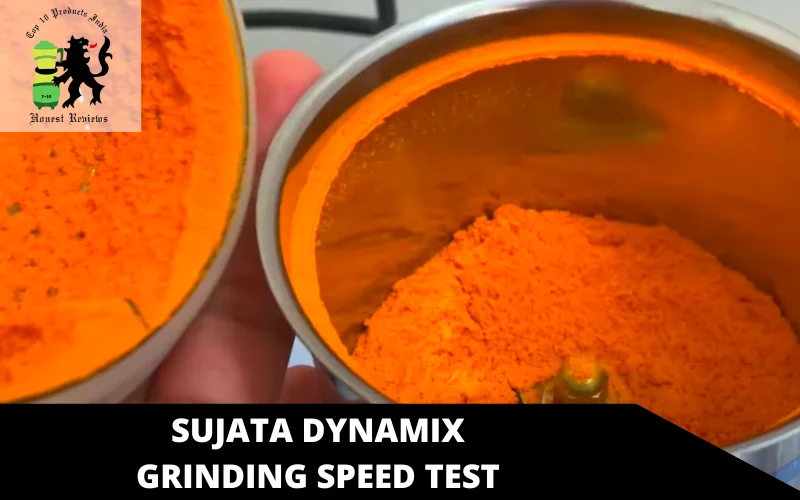 If we talk about the jars, Sujata Dynamix offers you three containers in total: a 400ml chutney jar, a multipurpose Jar (1L), and a 1.5L wet grinding container.
They're all made from stainless steel, with the lid made of polycarbonate. The largest wet grinder is equipped with a lock for the lid. There is an additional chop blade and whipping blade which can be associated with a container for wet grinding.
The most distinctive feature of the jars made by Sujata is that the lock on the Jar contains steel material and white colour. The paint can peel off after a couple of years. However, its lock with durable metal material is stronger. It also prolongs the coupler's longevity.
Bosch Truemixx Pro offers you four containers. The three main jars are capacities of 500ml 1, 1L, and 1.5L. They are made from stainless steel and feature lids of polycarbonate that lock. Also included is a blade for pounding that can be affixed to the multipurpose 1-litre Jar.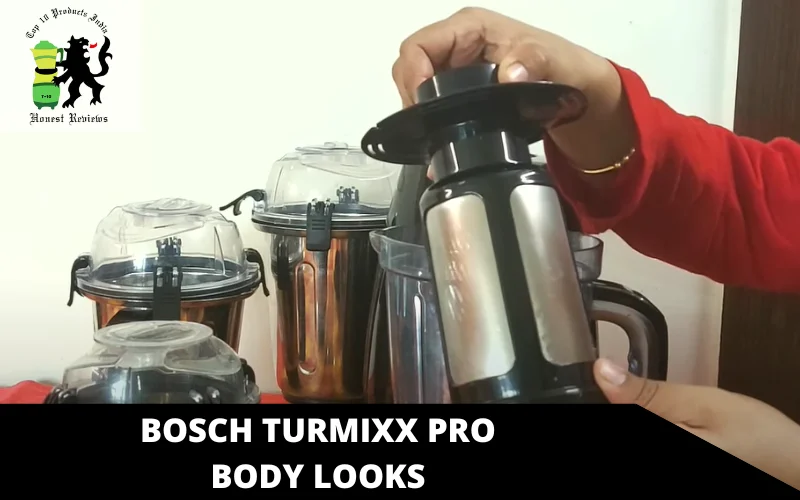 This juicer is constructed from polycarbonate and features a lid made of plastic. The lid don't have an opening where you can put in pieces of fruit to extract the juice. One of the advantages that Bosch Truemixx has is the waterproof mixing jars.
In terms of cleaning, Sujata's containers are much simpler to operate. The lids made of polycarbonate that are tinted aren't easily stained. However, Bosch Truemixx comes with lids that have many curves, making them hard while you clean them.
If you measure the thickness, you will identify that the Bosch mixer grinder jars are slightly smaller at 0.6mm. However, Sujata's container is 0.8mm thick. However, their blades are similarly thick, at 1.4mm.
Overall, the build qualities of the two brands are decent. Sujata's is cleaner, and Bosch's containers are waterproof. We rate them as equal in this respect.
| | |
| --- | --- |
| Sujata Dynamix | 4 Point |
| Bosch Turmixx Pro | 1 Point |
Is Safety Top Level?
Sujata Dynamix doesn't come with vacuum suction base or contains the switch to prevent overload, whereas Bosch includes both. Additionally, Bosch mixer contains locks for all of its jars' lids, and Sujata has only a lid lock for its grinding Jar that is wet.
This being said, although Sujata Dynamix doesn't contain vacuum suction base, it rarely shifts, even when doing high-end grinding. The absence of an overload safety switch is an issue.
| | |
| --- | --- |
| Sujata Dynamix | 4 Point |
| Bosch Turmixx Pro | 2 Point |
What About the User-Friendliness?
Bosch, as well as Sujata Dynamix, both models are pretty simple to use. When you lock its jar to its base or controlling the grinder for mixing, they're close to being comparable. Tiny things like the lid lock in Bosch or the power-on indicator on Sujata make a distinction.
| | |
| --- | --- |
| Sujata Dynamix | 5 Point |
| Bosch Turmixx Pro | 3 Point |
How Much is the Pricing Difference?
Also, Bosch company recently raised the price of its Truemixx model. If we talk about when this artilce was first published, Bosch Truemixx's 1000-watt mixer grinder retails for around 6500-7000 rupees, based on the location.
However, Sujata Dynamix has approximately Rs. 5500 of price. In light of the excellent performances of Sujata mixer grinder, and the affordable price it has, Sujata is certainly the winner.
| | |
| --- | --- |
| Sujata Dynamix | 6 Point |
| Bosch Turmixx Pro | 3 Point |
Warranty &

Customer

Support Comparison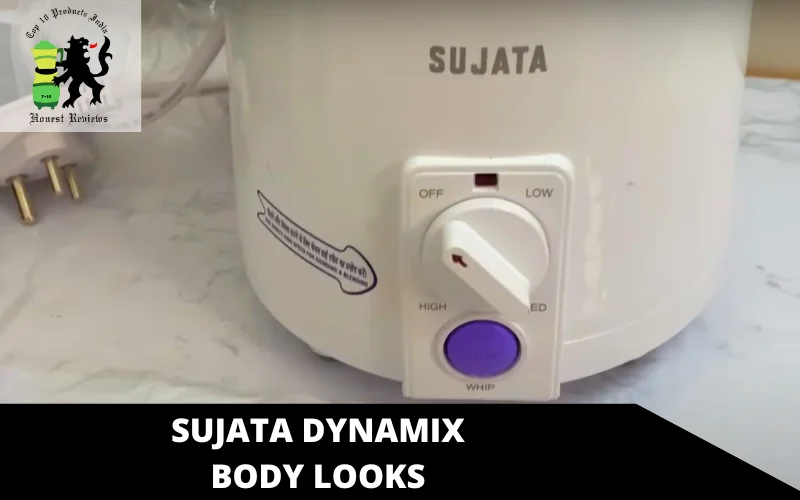 Bosch Truemixx mixer grinder offers you a 2-year warranty on the product and a five-year motor warranty. Similarly, Sujata provides you a 2-year warranty, but there is no additional warranty for the motor.
For after-sales support, Sujata company's service locations are not too vast. It is necessary to contact Sujata's Delhi office and obtain the number of technicians in the area. You then bring the product in to be repaired.
However, Bosch offers a wider range of service centres and contacting this brand will be easy. Bosch will send the technician comfortably according to your issue for repairs.
| | |
| --- | --- |
| Sujata Dynamix | 6 Point |
| Bosch Turmixx Pro | 4 Point |
Conclusion
Sujata Dynamix and Bosch Truemixx, both are powerful mixer grinders with their strengths and drawbacks. If you're searching for a top level model to grind spices and everyday grinding tasks, the Sujata Dynamix can be a versatile alternative to Bosch Truemixx.
If a good wet-grinding performance, hands-free operation, and a simple after-sales service are your top priority, Bosch Truemixx mixer grinder can be the best option. Through our thoroughly testing results, we conclude that Sujata Dynamix is the most efficient mixer grinder.
---