Hair straightening brushes are one of those beauty tools that just appear to improve your hair days! A hair straightening brush is a must-have item in your bag since it swiftly works to smooth out hair, untangle it, and straighten it in an instant.
Consider it an electronic brush that combines the benefits of many styling products in one. It aids in the rapid and equal distribution of heat, allowing you to achieve a smooth, sleek style faster than ever before.
Hair brushes are a massive investment, so be sure you have all of your hair needs met in this philips hair straightener before purchasing. What makes us believe this is the best model for you? Find out by reading on!
Philips Hair Straightener Brush Review
Read below to find out why philips hair straightener brush is the best for you! 
SPECS
Shape: Straight
Brand: PHILIPS
Hair Type: All
Material: Plastic
Colour: Black
Other Information:
Voltage: 230 volts

Size of the product (mm): 350 L x 75 W x 48 D

The total number of bristles is 247.

PTC heater type

LED light indication in white

1.8 m cord length
Why We Loved the Philips Hair Straightener Brush? 

1. Argan oil infused instrument 
The bristles of the brush are impregnated with Argan oil for easy glide and maximum shine. With the best  technology, the brush may reduce heat damage and promote healthy-looking, naturally lustrous hair. This brush is ideal for all hair types since it has 50% longer and denser heating teeth.
2. Different temperature settings 
The philips hair straightener brush features a variety of temperature settings to meet a broad range of needs. Do you want to control your frizzy hair? There are two temperature settings (170°C and 200°C) to fit your hair type and can give you an excellent hair brushing experience.
The straightening brush coasts through your hair rapidly and easily, detangling like a standard hair brush and fixing like a hair straightener.
Credit: SKAllure
3. Triple bristle design for a comfortable experience 
This hair straightening brush, when combined with a revolutionary anti-scalding brush and a superb heating system, is designed for rapid, safe, and professional hair styling at home!
Stay prepared with the triple bristle designed hair brush whether you're in a hurry or rushing late – as it will help you look your best in minutes! We also love how it has a classy body with a cool appearance.
4. Thermo protected intelligent technology 

ThermoProtect innovation keeps the brush at a predictable temperature to prevent it from overheating, bringing about safeguarded, awesome looking hair.
The fibers slide effectively through your hair, tenderly detangling and fixing it while safeguarding your scalp from heat. The option to get your dream hairstyle in the comfort of your own home is an extra plus.
5. More Hair, less tear
Remember how your scalp screams when the straightener stretches your hair to its limit? Moreover, this is done in small small compartments of hair.
The rectangle shape of this hair brush is such that you can treat a significant bulk of your hair in one go! Need a gorgeous hairdo but are short on time? The Phillips Hair Straightener Brush will rescue the day!
6. Fast Styling with Fast Heating 
There are some days that start bad – you wake up late, your dog pees on your floor and your milk spills. On such days – you got to get ready without wasting time and the phillips hair straightening brush is just the perfect tool for such days!
When the brush is prepared for usage, the LED on the handle light will turn on and you can brush your hair to get the lustrous iconic look that you want! 
7. 1.8m cord for flexible styling benefits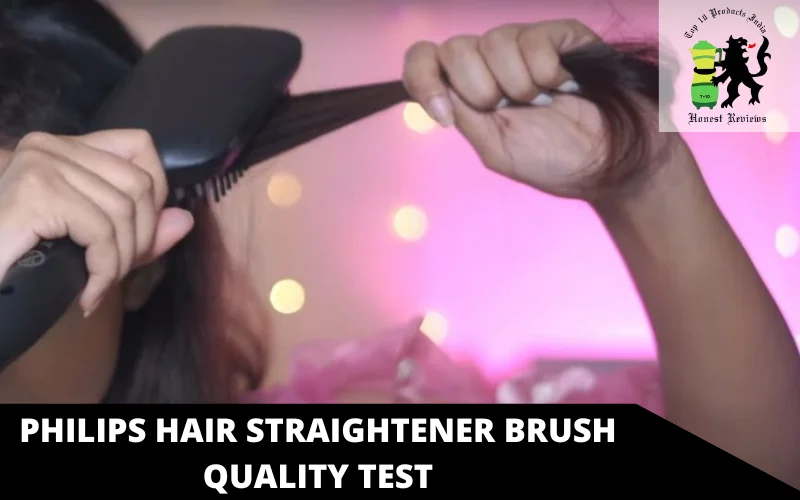 Noone likes being held back – least of all by their hair brush. The irritation is maximum when you move slightly and the plug pulls off and you are left with nothing but your switched off brush in hand.
In spite of the fact that we love and regard the expert level smoothness that a reliable level iron can bring, just a single hot device can give you smoother, pin-straight hair at home. If you've at any point had braced closes or a feeling of dread toward seared edges, the best hair straightener brush might become one of your new styling basics.
8. Two years of warranty!
This Phillips Styling Kit accompanies a 2-year warranty that covers substitution in the event that the product does not perform as per expectations.. This thing incorporates a decent guarantee as well as fix damages for any little challenges that might create.
Whether you are an expert salon proprietor or a an amateur teen, any harm to this phillips hair brush might be fixed on the grounds of its warranty period and  its service contract term.
Pros and Cons of philips hair straightener brush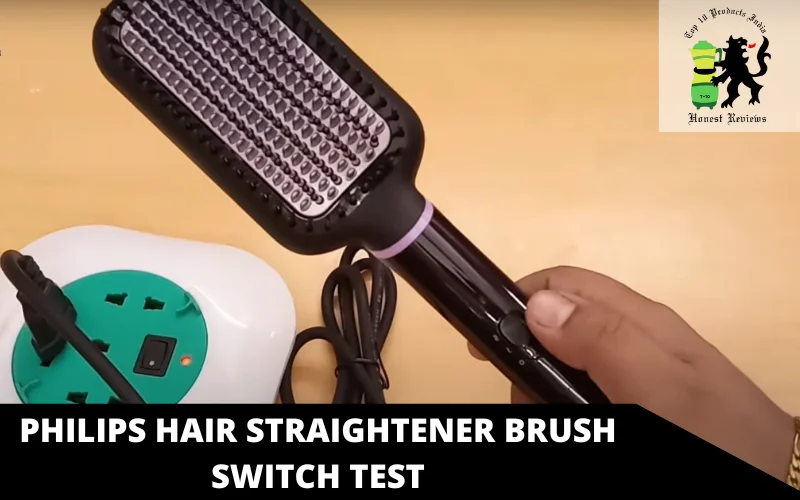 PROS
Get sleek hair with only two passes through your hair 

No more burning your hair with direct heat 

A swivel cord is included for ease of usage.

Allows for two temperature settings (170° C and 200° C)

It has a 60-minute auto shut-off timer.

It comes with a 2-year warranty.
CONS
Mechanical damage can occur because the bristle tips might grab on the ends of the hair strands.
FAQs
1. Can I use the Philips brush on wet hair?
It is best to use your Philips Hair Styler on dry hair. This is due to the fact that damp hair is more prone to damage when styled at high temperatures. Straightening damp hair will not yield the intended effects and will simply cause harm to your hair.
2. What is the best way to clean my Philips Hair Styler?
After you've finished using your Philips Hair Styler, turn it off and unplug it.

Set it aside on a heat-resistant surface to cool.

Remove any stray hairs from your hairstyler.

Using a moist towel, clean your styler.
3. Is an electric hairbrush beneficial for your hair?
Any usage of heat on your hair can cause damage, but straightening brushes are a great alternative for avoiding possible harm because they have less direct heat contact than other products like blow dryers and hair straighteners.
Expert's advice 
We had recieved numerous positive remarks on the Philips Hair Straightening Brush, so we chose to check it out. Is it beneficial? The warmed level brush is a great instrument for accomplishing blow-dried straight hair, however it doesn't create similar outcomes as a hair fixing iron.
It is truly speedy. At the point when you really want to hustle, 5 minutes is all you really want. The wide tooth level brush detangles and defrizzes every hair through and through. The warmed fibers are safeguarded by plastic fibers, which take care of yourself from consuming and make the brush inconceivably simple to utilize.
With regards to hairstyling, any woman's most frequen choice is a salon – yet the exorbitant costs wear out your spending plan too. This could undoubtedly prompt a breakdown in your month to month financial plan.
For this situation, you'll require the phillips hair brush that can satisfy both your hairstyling requests and your financial plan – a one-time buy! The choice to get your fantasy haircut in the own house is an additional bonus!