Meet the Havells Prolife Grande 6.5L Air Fryer – your new best friend in the kitchen! This air fryer is sure to make cooking a breeze, offering you style, convenience and an easy-to-use digital touch control panel.
It boasts innovative Rapid Air Circulation Technology, which will cook up delicious snacks and meals while keeping fats and oils to a minimum.
Its 6.5L capacity is perfect for family dinners or entertaining guests. Plus, with the digital timer setting, you'll never have to worry about under- or overcook again! Bring a little joy into the kitchen with the Havells Prolife Grande – it'll change how you cook forever!
However, buying it without knowing the product in-depth is not what we recommend!
Quick Overview:
The Havells Prolife Grande 6.5L is an efficient and versatile kitchen appliance that can help make your cooking life easier.
This air fryer has various features that make it stand out from the competition, including an adjustable timer, temperature control settings and a powerful fan that ensures even cooking results.
Taking a closer look at the features of this air fryer and why it could be the perfect addition to your kitchen, we find it worth recommending it.
Vital Features of Havells Prolife Grande 6.5L Air Fryer
This air fryer is one of the top-of-the-line models available today – and it has many features to offer! Let's take a look at some of its most vital features.
Rapid Air Circulation Technology
The Havells Prolife Air Fryer utilizes rapid air circulation technology to cook food quickly and evenly without needing oil or butter.
This helps reduce the fat content in fried foods by up to 80%. The rapid air circulation also ensures that every bite is cooked evenly, with no cold spots or overcooked edges. Plus, it's easy to clean due to its non-stick coating on the basket and pan.
Digital Touchpad Control Panel
The Havells Prolife Grande 6.5L has a digital touchpad control panel that gives you complete control over your cooking experience.
You can easily adjust settings such as temperature and timer so that you get the exact results you want every time – no more guessing or worrying about whether your food is done or not!
The digital control panel also includes preset programs for popular dishes like French fries, chicken wings, and more so that you don't have to adjust settings each time you use it manually. If you want oven cooking functionalities in an air fryer, Hestia Appliances Air Fryer can be a good choice for people who love baking. 
Large Capacity Basket & Cooking Tray
This air fryer boasts an impressive capacity of 6.5 litres, making it perfect for cooking larger batches of fried food at once – no more waiting around for multiple batches!
Plus, its extra-large cooking tray allows you to prepare full meals in one go – great for busy weeknights! It also has two removable baskets: one large basket for larger items like French fries or chicken wings and one smaller basket for smaller items like onion rings or shrimp poppers.
Convenience Features
The Havells Prolife Grande has several convenience features designed to make it easy for you to use. For example, the adjustable timer allows you to set a cooking time of up to 60 minutes, depending on what dish you prepare.
This helps ensure that your food won't be undercooked or overcooked, giving you perfect results every time. Additionally, this air fryer also has a temperature control setting to adjust the heat according to your needs. This way, you can cook different types of food without worrying about them being cooked too quickly or slowly.
If you want a professional air fryer that contains more features to ease in cooking with an extra large capacity, Proscenic T31 Air Fryer is our top recommendation.
Healthy Cooking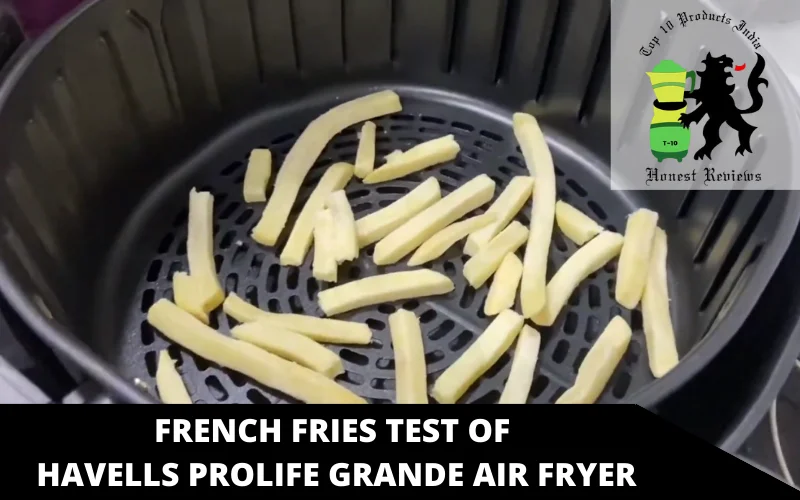 This 6.5L Air Fryer is equipped with a powerful fan which helps circulate hot air around the food for even cooking results.
This feature helps reduce fat content in foods by up to 80%, making it a great choice for those looking for healthier cooking options.
The air fryer also comes with removable accessories such as trays and baskets, making it easier for you to clean after use and store away when not in use.
Easy Clean Up 
The non-stick cooking surfaces of the Havells Prolife Grande 6.5L Air Fryer make it easier for you to keep your kitchen and dining area clean.
As food does not stick to the surface, all you need to do is wipe off any residue or excess oil from the surface after use. This makes it so much easier to maintain a neat cooking environment.
Additionally, due to its non-stick nature, minimal oils and fats are needed while cooking, which further helps keep things clean and eliminate unnecessary mess. If cleaning is your most important factor in choosing an air fryer, we suggest you to pick Solara Large Digital Air Fryer. This handy air fryer model is the easiest to clean.
Additional Benefits
Another benefit of using this air fryer is that it is energy efficient due to its low wattage consumption – requiring just 1500W – making it one of the most efficient appliances on the market today.
Additionally, this model is easy-to-operate thanks to its digital display panel, which provides clear instructions on best utilising all its features and functions, so there's no need for guesswork!
Finally, the Havells Prolife Grande comes with a two-year warranty ensuring peace of mind while using this appliance in your kitchen setup! 
Pros & Cons
PROS
Large Capacity:

Can hold up to 6.5L of food, making it ideal for large families or gatherings.

Audio Alerts:

Audio signals alert you when it's time to check on your food.

Multiple Accessories:

Comes with a basket divider, which allows you to cook multiple foods at once and a recipe book with over 80 recipes to choose from.

Versatile & Convenient:

Can be used to cook various foods, from steak to desserts and can easily be stored away when not in use.

Easy Clean-Up:

Non-stick cooking surfaces make clean-up simple and fast.

Healthy Meals:

Uses little to no oil and is a healthier alternative to traditional cooking methods.

Temperature Setting:

Has adjustable temperature settings so you can customize your cooking experience.
CONS
 No colour choices are available.

Good, but not the best for a few veg dishes
Conclusion
The Havells 6.5L Air Fryer is an exceptional kitchen appliance with plenty of features designed to make mealtime easier and healthier than ever!
With its rapid air circulation technology, digital touchpad control panel, and large capacity baskets & trays, it's sure to become a staple appliance in any kitchen looking to create delicious fried foods without the added fat content from traditional frying methods.
Whether you're looking for quick snacks or full meals, this air fryer has covered you! This appliance will make meals easy with great tasting results every time! So don't wait any longer – get one now and enjoy healthier meals faster!