The Agaro Elite 14.5L 1700W Air Fryer is the perfect kitchen appliance for those looking to fry food healthily without oil. This amazing appliance can be used to bake, grill and roast, and fry food with no oil needed!
With its powerful 1700 Watts of heating power, the Agaro Elite 14.5 Litre air fryer can quickly and evenly cook various delicious dishes.
Its adjustable temperature control also allows users to set their desired temperature, while its digital touch-panel display makes operation and programming simple and easy.
Moreover, with its generous max capacity of 14.5 litres, this handy air fryer is bound to meet all your cooking needs in one convenient package!
Let's discuss this further!
Summary
The AGARO Elite 14.5L 1700W Air Fryer is a great option for those looking for an efficient, economical, and healthy way to cook. Its features include:
An auto-shutoff timer.

Eight pre-programmed settings.

Temperature control up to 200°C.

Dishwasher-safe removable parts.
Furthermore, it also boasts of Italian technology with a patented starfish design which ensures optimal heat distribution inside the cooking chamber resulting in faster cooking time and less energy consumption. All these factors make this air fryer ideal for consumers looking for convenience and healthier lifestyles.
In conclusion, if you're looking for an energy-efficient appliance that is packed with interesting features such as auto-timer shut off, adjustable temperature settings, dishwasher-safe removable parts and Italian technology with patented starfish design, then AGARO Elite 14.5L Fryer is definitely worth considering when shopping around for a new kitchen appliance.
Interesting features of AGARO Elite 14.5L 1700W Air Fryer
Auto-shutoff timer
The auto-shutoff timer on the AGARO Elite is a great safety feature which allows you to set a specific time after which the heating element of the air fryer will automatically shut off.
This helps to ensure that there are no potential hazards associated with leaving the appliance running for too long and also gives you peace of mind knowing that you won't have to worry about forgetting to switch it off.
The adjustable timer can be set anywhere from one minute to two hours, allowing you to customize your cooking times according to your preference and needs.
It's also equipped with an audible alert that will go off once the time has elapsed, so you know it is safe to turn off the appliance.
The auto-shutoff timer feature makes it very convenient for those who work long hours or have busy lifestyles. They don't have to constantly check in on their meals but can instead trust that the appliance is monitoring itself and shutting off when necessary.
8 pre-programmed settings
The AGARO Elite 14.5L Fryer has 8 pre-programmed settings that can be used to make different types of food quickly and easily.
These settings include 'Fries', 'Fish', 'Rice', 'Vegetables', 'Pork', and more, all programmed to the optimal temperature and cooking time for the given dish.
This means that instead of guessing how long or what temperature to cook your food at, you can simply select a setting and let the air fryer do the rest.
The intuitive interface allows you to easily select the setting and provides recommendations for specific dishes, so you know exactly what temperature and time will yield the best results.
Additionally, the pre-programmed settings come with detailed instructions on preparing each dish, so even users new to air frying will find it easy to use. If your cooking requirement isn't too much, models such as Solara Large Digital Air Fryer can also be sufficient and you can save up to 4k plus rupees by choosing such models.
Perfect construction
The AGARO Elite 14.5L 1700W model is equipped with the latest heating technology, ensuring that your food cooks evenly and efficiently without any hot spots or burnt edges.
This is achieved by directing the heated air evenly throughout the chamber while allowing for ample circulation so that heat reaches all of the surfaces.
The air fryer also features a durable PTFE-coated non-stick interior which makes it easy to clean after use, as well as adjustable thermostat and timer controls which provide you with full control of your cooking temperature and duration.
The clear LED display allows for easy viewing of all settings and reminders, so you can get started immediately without worrying about double-checking temperatures or timings.
If you love baking over other cooking methods, we suggest you to read about Instant Pot Vortex Dual Basket Air Fryer, since it provided better baking results in our testing process.
Temperature control up to 200°C
The AGARO Elite 1700W Air Fryer is a healthier alternative to traditional deep frying, with no added oil needed. The air fryer circulates hot air around the ingredients to cook them evenly and efficiently while preserving more of their natural flavour than regular frying methods.
This ensures you get perfectly cooked meals every time, with minimal effort and little risk of having undercooked food.  Additionally, the air fryer has an adjustable temperature range of up to 200°C, so you can be sure that you are cooking your food at the optimal temperature for maximum flavour and texture.
The air fryer also features an auto shut-off function that turns off the appliance when the timer is up, reducing the risk of overcooking your food or creating unwanted messes in your kitchen.
Dishwasher-safe removable parts
The AGARO Elite 14.5L Air Fryer also has dishwasher-safe removable parts, making it very easy to clean and maintain. This makes the air fryer especially suitable for busy households, as no additional time is needed to clean up after cooking.
The removable parts also make it much more convenient to store in the cupboard when not in use.
Patented Starfish Design for optimal heat distribution and faster cooking time
The AGARO Elite 14.5L features a patented Starfish Design that helps to cook food faster and more evenly by providing optimal heat distribution.
This design uses five separate heating points and three-dimensional airflow to ensure that the hot air circulates evenly around the food so everything is cooked at an even temperature.
The result is faster cooking times and less time spent hovering over the oven or standing in front of the stovetop – giving you much more time to do other things!
The appliance's smart technology makes sure that no part of your meal is left undercooked or overcooked, resulting in perfectly cooked dishes every time. Just Inalsa Aero Crisp Air Fryer was able to compete with this model in terms of even heat distribution during our test.
The hot air also helps to provide crispy, delicious results with minimal added oil needed. Additionally, the anti-grease filter ensures that your kitchen remains clean and free from unpleasant odours during use.
Italian technology with less energy consumption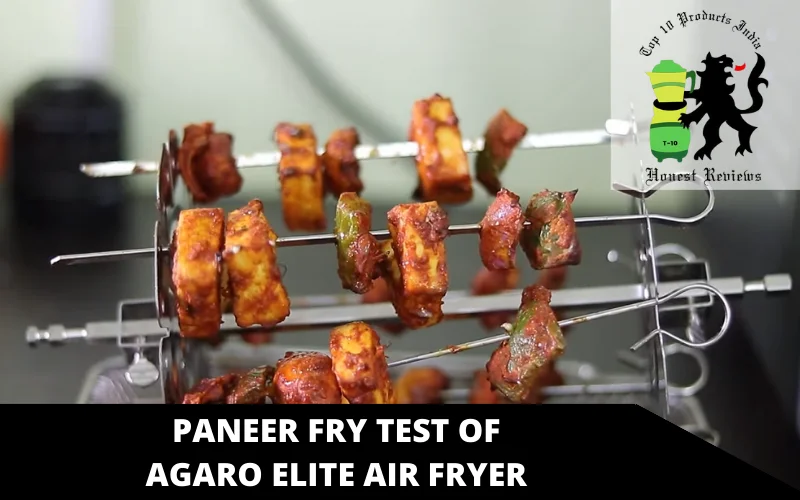 This air fryer uses Italian technology to cook food quickly and effectively with less energy. The appliance is designed for maximum efficiency, so it takes less time and energy to get the same results as other air fryers. This helps you save on electricity bills and reduces your carbon footprint.
The technology behind the AGARO Elite is based on a special convection system that ensures hot air circulates evenly throughout the cooking chamber, resulting in fast and even cooking with minimal energy usage.
The powerful heating element also allows it to heat up quickly, saving time while still achieving perfect results every time.
In addition, the fryer utilizes advanced temperature control algorithms to automatically adjust to different settings like time and temperature according to what type of food you are cooking.
This means optimal cooking performance with no guesswork or fuss. All these features combined result in an air fryer that cooks faster and more efficiently with less energy consumption than traditional air fryers.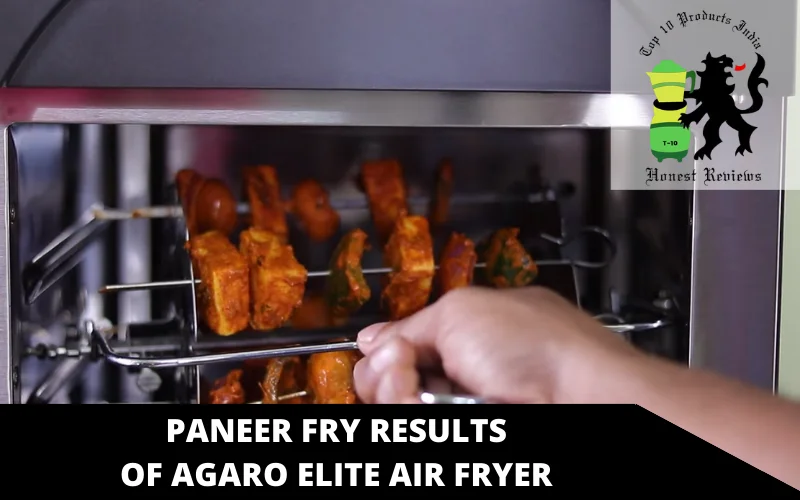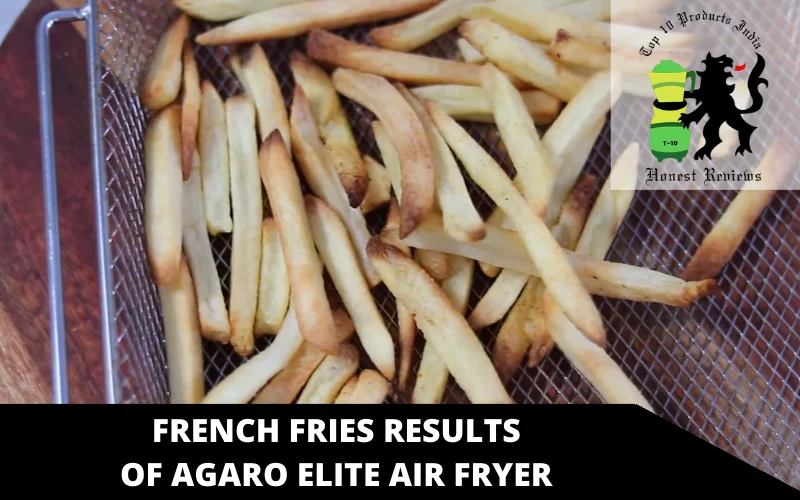 Pros & Cons
PROS
Patented Starfish Design for optimal heat distribution and faster cooking time

Italian technology with less energy consumption

Smart technology ensures that no part of your meal is left under or overcooked

Anti-grease filter ensures that your kitchen remains clean and free from unpleasant odours during use

Advanced temperature control algorithms for optimal cooking performance with no guesswork or fuss
CONS
Comparatively higher cost than some basic air fryers
Conclusion
The AGARO Elite 14.5L 1700W Air Fryer also has various convenient features that make it an ideal all-in-one appliance for your kitchen.
Along with 8 pre-programmed settings and adjustable temperature and timer controls, it also offers the option of adding oil or marinade to your cooking ingredients via a built-in oil dispenser. This ensures that even when using pre-set programs, you can still customize your dishes' taste to suit your palate.
The air fryer is also equipped with an automatic shut-off system, which prevents overheating and overcooking food, ensuring safety while also conserving energy.
Additionally, it has a viewing window so you can check the progress of the food without having to open the lid, as well as anti-slip feet that help keep it in place during use.
All of that together makes AGARO Elite 14.5L model a highly suitable one for modern-day Indian kitchens!