Many people are unaware that Vidiem is controlled by Maya Appliances, the founders of the world-class brand Preethi.
As of 2011, Maya Appliances sold Preethi to Philips, and then they introduced Vidiem selling a broad range of products ranging in size from gas cooktops and mixer grinders. This review looks at Vidiem's Mixer Grinder MG-541A, which is among the mid-segment versions.
Before we examine its different aspects, we suggest you looing through the top 11 mixer grinders in India guide. We've recommended the top models of 2022, which proved themselves even better than Vidiem mixer grinder.
Vidiem Mixer Grinder – Should You Buy?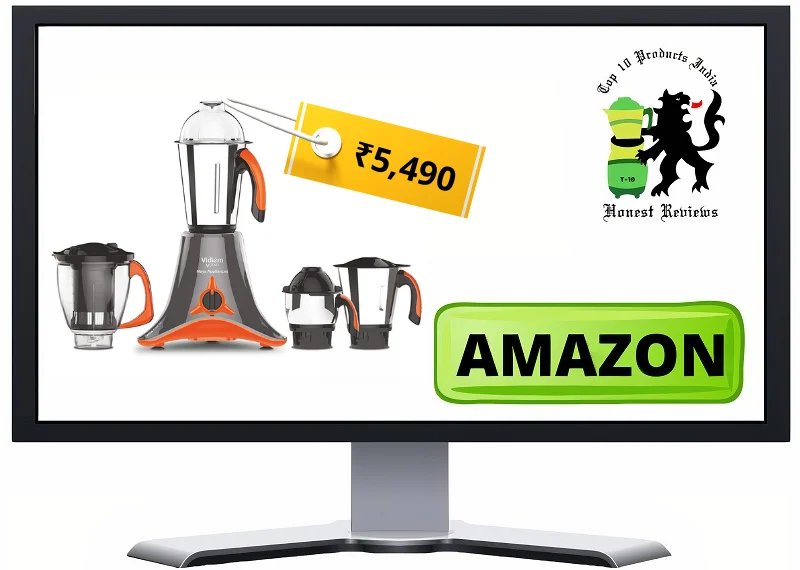 PROS
Very good performance in wet grinding.

Dry grinding performance, however, could be improved.

Excellent quality built.
CONS
Moderately loud.

Simple to secure the jars to the base.
What Makes Vidiem Mixer Grinder A Good Choice?
1. Motor Housing
The housing for the motor of Vidiem 541A is available in vibrant colour. It features a tripod style similar to Preethi Zodiac but lacks that classiness.
It does not have an indicator for power-on. With the knob, you can adjust the speed to 3 levels. Turning to the left will allow you to whip or pulse the ingredients.
It has a motor that is 750 watts. Its RPM ranges between 19500 and 20700 cycles.
One of the main differences you will see in the Vidiem model is a distinct difference. Vidiem can be seen in the locking mechanism of the jars that connect to that motor's housing.
Vidiem describes it as an auto-locking system. While we can't see it locking itself, We found that the odds of jars getting misaligned or caught on the motor's housing are virtually none. Prestige Delight, too, has a similar locking mechanism.
If we talk about the motor power, Philips mixer grinder and Bosch model can be a better choice.
2. How Many Jars Do You Get in Vidiem Mixer Grinder?
Vidiem MG 541A is a set of three Jars. The jars are all made of stainless steel. In comparison to Prestige Delight, the jars are smaller. However, they are almost the same as the ones you get from Philips. The smallest chutney jar is 400 milliliters in size.
It comes with a dome-shaped lid that is fixed to the lid. It is followed by a 750 ml dry-grinding container with a lid made of plastic. And finally, you will find a 1.5-millilitre wet grinder with a lid made of polycarbonate.
The handles are sturdy and have an orange accent, which allows you to easily spot the jar in a sea of other kitchen utensils.
The blades in the jars are constructed from stainless steel 304 grade. They have zig-zag edges and aren't removable.
The coupler on Vidiem Mixer Grinders generally differs from what you find on different mixers. Vidiem says it has greater strength and endurance. If we talk about durability, Morphy Richards and Sujata mixer grinder are far better alternatives.
3. Grinding Performance
The mixer grinder provides decent grinding performance for everyday use. However, it isn't the most efficient choice to grind spices in dry form.
When we were grinding garam masala, there were plenty of fine leftovers after the sieving. The various textures, hardness, and sizes of different elements in garam masala could make it more difficult.
If you'd like to understand the engine's strength, grinding the turmeric ( among the toughest ingredients found in kitchens) will give you a better understanding.
Vidiem didn't provide a satisfactory outcome with garam masala. The residue left after the screening was quite large. It produced an impressive result with turmeric, even with only a few pinches of fine leftovers.
What we particularly liked was the wet grinding process. Mixing the right proportion of rice and urad with water is a recipe that won't spill all over.
This is due to the jars of the mixer grinder generating a powerful vortex that pulls the ingredients toward the blade. This means that the batter is thoroughly ground in a short amount of time.
Even when grinding urad to make medu vada, the mixer was able to do a great job.
However, when mixing smoothies and milkshakes, it is possible to notice that the milk splashes everywhere. But the ingredients are completely blended to create an even consistency.
While grinding curry paste, ginger-garlic paste, and chutney, the mixer performed well. But, you must include ingredients at least half the capacity to achieve more effective outcomes.
According to our recent reviews, Sunflame and Panasonic mixer grinder was a lot better in terms of overall performance.
4. How Good is Vidiem Mixer Grinder's Durability and After-Sales Service?
As we mentioned earlier, after having the mixer grinder for one year, it still appears and works as well as it did when it was new. Based on user reviews, we can see that the mixer grinds without issue for quite a while.
The after-sales service isn't as extensive as that of Philips and Preethi. Vidiem's service networks appear to be more focused on South India. It is therefore recommended to choose an on-site program for service when purchasing it on the internet.
5. Cleaning Ease
These mixer grinder jars can be easily cleaned. The lids made of plastic of smaller jars are black and do not show any marks. Even after being used for an entire period of a year, the containers are like new.
6. Are There Safety Features Available in Vidiem Mixer Grinder?
The mixer grinder is equipped with all the standard safety features found in other machines. It features a tripod design and vacuum suction feet which provide solid stability.
Even when you grind full-load ingredients, you won't notice it wobbling or bouncing. It is shockproof and comes with a tri-pin plug. The body also comes with an overload protection switch.
7. Noise Levels
This mixer is fairly loud. It emits a loud sound between 90 and 95 decibels, similar to the noise you hear on Philips or Preethi Mixer grinders. While it's not too loud, it's not exactly enjoyable either.
However, Prestige mixer grinder performed the most silent operations. So, if noise levels are your concerns, we suggest you doing with Prestige mixer grinder. 
8. Some flaws, but not Deal Breakers
The biggest flaw we can be aware of is that dry grinding isn't the same as alternatives. You might be able to create spice powders in the form of a coarse texture.
But It's not the best choice for grinding dry regularly. However, it's not what you can expect from other mixers available at this price.
The noise level is moderately loud, similar to any other mixer available at this price point.
Comparison with Other Models
Compared with Prestige Delight, Philips HL7701, and Preethi Blue Leaf, which sell at the same price, We discovered Vidiem's grinding performance to be superior. Prestige Delight had a better build quality.
However, when it comes to grinding performance, the Prestige Delight suffers as it takes more time to grind to an even consistency. Philips HL7701 was not the same quality of construction as Vidiem.
In the end, we think Vidiem is on par with Preethi regarding building quality. However, it is a bit better regarding its grinding capabilities.
Another model made by Vidiem worth considering is Vidiem MG576-A, priced at a lower cost than MG521A.
If you're looking for more than one jar, such as one that is a juicer and the option of grinding small amounts of ingredients into the desired consistency, then the MG518-A is also worth looking into.
Conclusion
In the end, if you consider the price, the Vidiem MG-521A is a good choice for a typical Indian kitchen that utilizes mixer grinders every day. It's quick and comes with an acceptable build design and quality. This is why the majority of users are extremely satisfied with its capabilities.