Gym clothes, now commonly known as activewear, have become a part of workout routines for both men and women. Some people still might not be using it, but they must wear it during physical tasks like running, cycling, weight lifting, and exercising. Why? It's because such gym clothes specific materials, which is great in terms of gym workouts. Activewear makes you more comfortable at the time of workout.
You might be all sweaty and annoyed or feel sore and tired after a hard workout. It happens because of the non-athletic clothes you're wearing. However, all this can be fixed by making one simple change, i.e., opting for activewear during your workout sessions. There are several options of gym wear available in stores and online to choose from, including sports bras, athleisure tops, leggings, gym pants, gym shorts, etc.
For men, shorts and pants are the hardest choices to choose when doing the workout. Also, with these many options available, pick the one that helps you throughout the workout. 
Also, it must improve your right lifting performance and get the desired outcome. In this article, you'll read gym pants and shorts comparison to see which one is better at doing its job. Keep on reading to find out top gym short & pants models. Also, the buying guide will help you understand what factors to consider when comparing the two.
Most importantly, no matter which exercises you do, consuming the ideal amount of protein becomes confusing, while it's the biggest path that leads to a muscular body. Therefore, visit our Asitis Protein Review. It will surely bring good results, and don't forget to cherish expert tips.
Let's start with the comparison of shorts vs. pants for gym workouts in India
First of all, here's the list of the most impressive shorts and pants in India for workouts and running.
PRODUCT 1
1.) Van Heusen Athleisure Men's Shorts
Now, the biggest reason for these shorts to hold the top position in our listing is their amazing comfortability and sweat-draining material. First of all, no matter if your preferences for colors are different, there are several color variations to choose from. The best thing we found in these shorts is its Quick dry technology, which draws perspiration, and it'll keep you cool and dry during your gym workouts.
There is a stain release feature available that helps in releasing the tough stains from the garment easily. This can be highly effective if you prefer running as your best exercise to lose weight. Also, the extra soft fabric it contains will highly increase the touch and feel while you wear these shorts.
The front pocket is the ribbed welt. It offers a sporty look. A premium encapsulated drawstring fastener is present in these shorts. The branding is embroidered, which means you'll not have to worry about it disappearing soon after some washes. Most importantly, it also arrives with an anti-stat technology, which neutralizes electrostatic charges.
The work it completes has an undesirable clinging effect on garments. The stain release will be highly effective with these shorts. The entire weight of these shorts is just 400 grams. Also, a wide variety of sizes is there to select the best fit for you, no matter your size is L, XL, XLL.
PRODUCT 2
2.) Nivia Running Urban Peach Shorts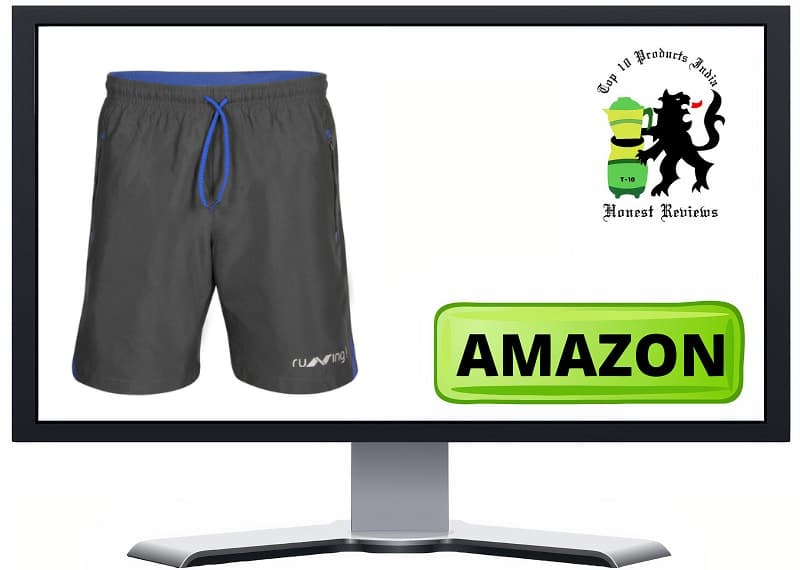 Nivia offers you so much comfort in their shorts at the time of workout. While running, the stretchability of these shorts is just on the next level. A person can also complete any marathon wearing these shorts within his comfort zone. It's amazing in terms of running.
The urban peach shorts have fabric that manages sweat for quick evaporation to keep you dry at the workout. And especially at the time of summer when sweating is the major problem because of excessive heat, nivia shorts will make your workout more cool and comfortable.
One more advantage is cut for a regular fit of nivia shorts, which gives you the option of deciding the size of the shorts. Isn't it amazing? Nivia running urban peach shorts have 2 side zipper pockets, which can hold your keys, mobile, or any other tinny stuff very easily. Also, the zippers on both sides are so good that they can hardly stop functioning properly even after using the shorts for more than 3 years.
Besides that, you won't have to worry about your precious stuff falling from your pocket, such as your smartphone. The material used in these shorts is Polyester, and it comes with a Grey/Royal Blue finish. The total weight is just 210g (even lighter than the first model).
PRODUCT 3
3.) Quada Men's Skin Tight Shorts for Gym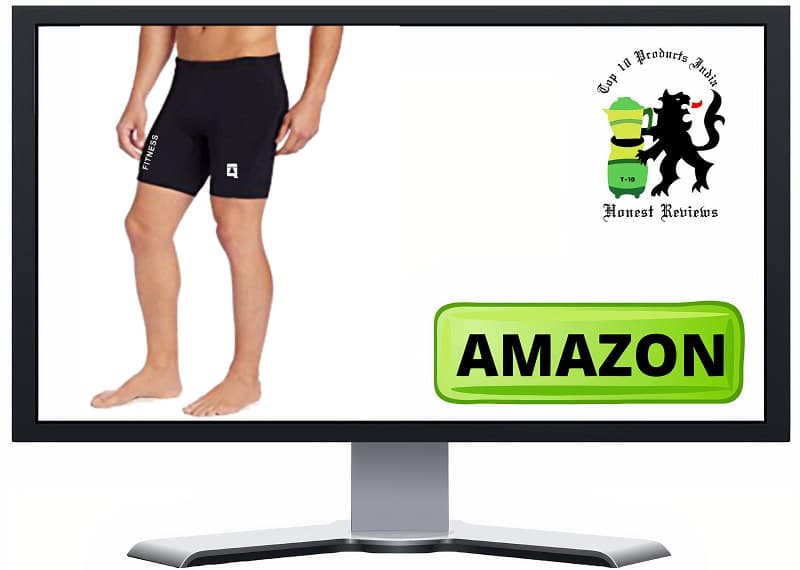 Quoda gym shorts specializes in Less Muscle Strain & Injury. The full pant compression it offers helps you to reduce your risk for strains. Besides that, Four Needles Six Lines Stitching is there, which contains the latest sewing technology. This professional technology usually comes in sportswear. It makes the clothes highly elastic, flat, and solid. 
The stretchability of these shorts is of advanced level because of this feature at the time of workout your leg movement can work according to their comfort zone. Also, even during the time of yoga, the shorts will automatically take off your posture and make you more comfortable. It also offers you the opportunity to easily use it with the help of your washing machine. The material used is highly durable; even after several washes, it'll remain the same when you purchased it the first time.
Mainly the material which is used in the shorts maintains Body Temperature in a better way. The weave construction of this short is a perfect manner to ensure less itchiness due to sweat and offers more comfortability. The short comes with a budget-friendly price while offering many benefits.
PRODUCT 4
Notice – As running and jogging is the most convenient way to decrease the fat still, it should not be done excessively. You must control your calorie burn percentage. Therefore, a good calorie counter fitness band can assist you the best way.
1.) FINZ Men's Slim-Fit Track pants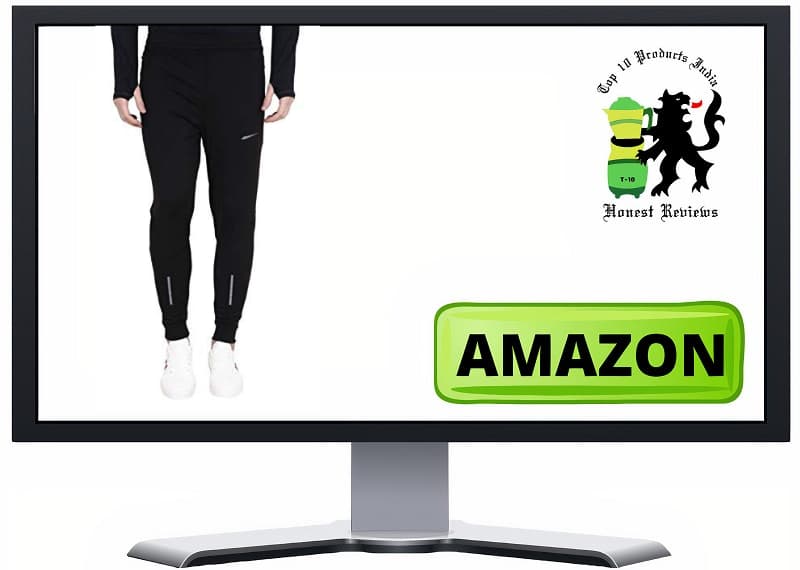 Who doesn't love to wear fit track pants? After all, they are so comfy and cozy. But wait, you certainly can't buy anything that comes your way. If you buy one such pair of pants, it shouldn't be just comfy, but it should also be good for your skin. 
The quality of cloth matters a lot. Finz men's slim-fit track pant is made up of 100% Lycra, which is a super comfy material, and a sweet one for your skin. Not just that, even the sweat-absorbing qualities of this fabric are amazing.
It's a perfect tracker for active folks who love rushing to the gym every day, running, sports, etc. It's perfect for cycling as well. Not just is the material easy on the skin, but also, it's so durable. We tested it by washing it in the machine, using some harsh chemicals, and not once, but 8 times. Each time, we hang it out in burning heat of 36-41 degrees centigrade.
We used magnifying instruments to check out the impact on the fabric. The results were stunning, proving that the sports pant is going to be your buddy for a long time. You can buy a pack of 5 of these and forget about buying more for 3 years or so! Not just for gyming or activities, but even if you put a cool t-shirt on it and go out for a walk in the evening, it's gonna suit you a lot.
PRODUCT 5
2.) ENDEAVOUR Men's Lycra Stretchable Regular Fit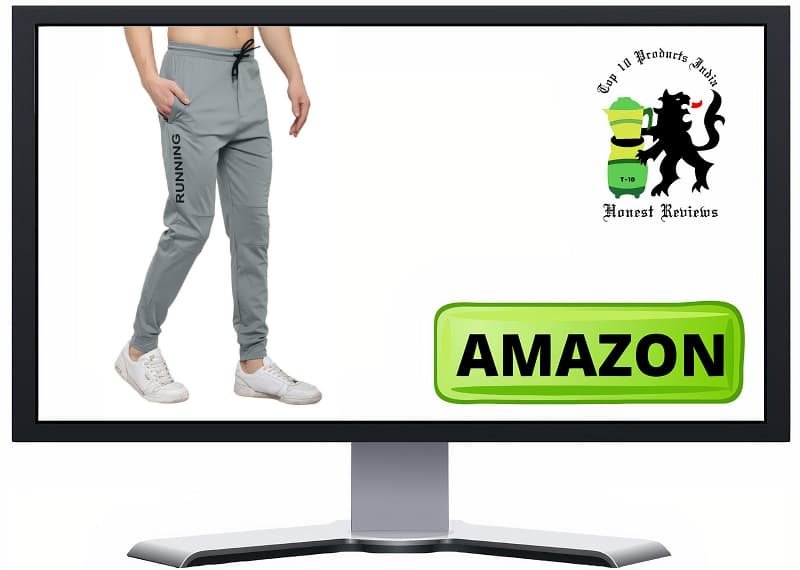 This ENDEAVOUR pant is an amazing fit under your budget with fabulous quality and looks. Olive Green, Black, Grey, and Dark grey are the color choices available. This pant is perfect for workouts such as gym, cycling, jogging, etc. 
The pockets are zip protected, which means worrying about your phone, keys, wallet, or any other stuff is not required. Besides that, just like the other pants, they will also not lose after you wash them several times. The fabric is machine washable as well. 
The design at its knees not just adds a professional look but also helps you in jumping and stretching. Your knees while working out wearing this pant will never be an issue. It has enough room.
Most importantly, we suggest you going with the true size only if your body is like a normal individual. Even if your weight is a bit heavy, still the true size will be great. Only go with the other sizes if you really differ in terms of weight or waist size.
PRODUCT 6
3.) FINZ AIR Unisex Slim Fit Track pants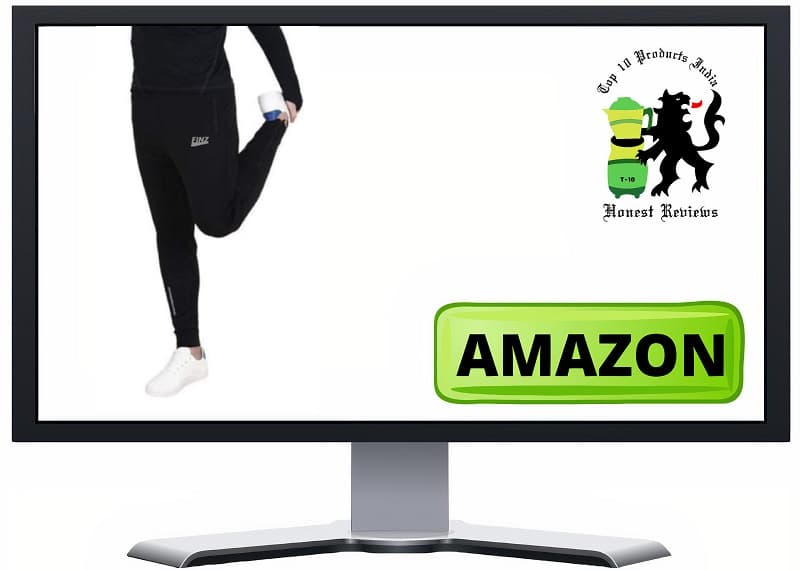 Affordable, quality, and everyday sportswear by FINZ. The company offers numerous distinctive sports clothes. It includes joggers, pajamas, boxers, track pants, vests, sportswear, shorts, tee shirts, thermals, socks, etc. Now. Talking about this gym pant, it specializes in jogging, fast running, stretching, and equipment exercises as well.
It's Slim and feels so comfortable to wear. There's a wide size range available for this track pant to choose from. The brand logo gives it a professional look. However, ensure to not iron on the logo, or it'll get damaged. The fabric is 100% Lycra, which the among the most suitable wearing fabric for sports and fitness.
The elasticity makes it easily stretchable. The stitching quality makes it highly durable and perfect for long runs. With many gym pants, the issue is that the fabric gets loose after some washes and using it for a few weeks. However, this FINZ's material of fabric will remain the same even after months. The fitting is so perfect, no matter even if the size is bigger, it'll be suitable for you. However, please select the size according to your needs.
Most of the time, it becomes hard to jog outside due to most Indian cities' hot weather. The most convenient way to job anywhere, any time, is to opt for an ideal treadmill model at home. You can burn your calories effectively while enjoying TV shows at home.
Functionality Factor
Aside from having different looks, both the activewear items have different functionalities. Gym shorts being shorter and quintessential for workouts, are great for activities like running or cycling in summers as they will keep the wearer cool and comfortable.
On the other hand, the pants available in the market today are in trend in terms of looks. However, its special design must cover the legs, and the fitted fabric provides compression. These pants contain special material that blends to help in improving blood circulation. It gives additional support while not letting your sweat gather.
Safety
Surely the athletic pants provide more support and help in reducing muscle pain and injuries. However, are those safe to wear? What about the skin?
Athletic shorts look great, provide you comfort, and are meant to make you feel breezy. Such gym clothes are not different from normal clothes in terms of material and everything. So, of course, it'll not harm your skin, just like normal clothes. However, you might take a fall or bump into something while performing physical activities, and your bare legs will be more prone to an unfortunate injury.
Don't worry. With athletic pants, your legs are covered, and the material is specially made to stretch well and keep you protected from uneventful accidents.
Wicking Moisture
Another important aspect of gym wear is its moisture-wicking ability. When you sweat like crazy during the workout, imagine if all that moisture remains on your skin. How irritated will you be? The synthetic fibers that athletic pants are made of wick away the moisture. Fortunately, its material will let your skin breathe even through the fabric.
These gym pants allow the sweat to evaporate, keep the clothing dry and keep you comfortable even in the summertime. Whereas the gym shorts do not cover your legs completely, they aren't able to wick the sweat you might be producing, resulting in it to be accumulating on your body and dripping.
Durability
You do not want your gym clothes to rip apart outdoors when doing extreme physical stunts because that would be embarrassing. Durability and resistance are very important for activewear because you'll be doing extreme physical tasks. Most gym pants & shorts are made of blended fabrics that are designed to withhold pressure and have resistance as well.
Comfort Zone
There are several tangible factors to consider when choosing leggings for your workout sessions. However, it all comes down to comfortability. Comfortability here does not regard as the easiness or softness of the material, but it is the way the wearer feels after wearing certain clothing.
Many prefer to go for athletic shorts because it is convenient. Also, it does not irritate, and they feel better with fewer clothes sticking to the body. Whereas many people, especially women, prefer to dress modestly for their gym sessions. They prefer to buy athletic pants or leggings. It helps to reduce too much skin showing when they are outdoors. When a person is in their comfort zone in regards to their clothing, their spirits perform better at the task at hand.
Gym Pants vs. Shorts – Bottom Line
Reading the article and going through all the aforementioned points, surely it would have helped you decide between gym shorts and pants, from materials to length and durability. Where pants can protect you from muscle pain and soreness through compression, shorts prove to ideal for summers to feel easy and breezy. If you prefer to dress modestly, you know you can rely on athletic pants.
Give a thought to the best shorts & pants for the gym we listed and pick the right style for yourself that can boost your spirit, make you feel confident, and also your performance in the gym.