Making bread brown on your gas stove surely is possible. However, can it give you the grilled texture? Will your sandwich turn out like what taste you prefer at restaurant's sandwiches.
You will love the Gas Toaster-Grill, which is a very easy-to-use, durable, robust, and affordable gadget.
A quality gas toaster makes a great addition to your kitchen. You can make homemade stuffed sandwiches.
These can be made simple with just a few slices of cheese, or you can make a healthy breakfast using leftover sabzi from last night.
The gas toaster has an enclosed area where you can place your bread. This traps heat and makes it one of the most efficient ways to make a crisp breakfast, dinner, or evening snack.
However, many people are confused about the toaster, grill, and gas toaster. What's the difference between them? Also, which of these toaster types is the most impressive?
Well, that all explanation about toasters is very well explained in the buying guide portion.
In short, we have reviewed Tosca T2STSR Sandwich Gas Toaster, which turned out as an excellent model among 14 other gas toasters.
You'll find every detail on how this under 300 rupees toaster promises the grilled and crispy texture of the bread and help you prepare restaurant-like sandwiches.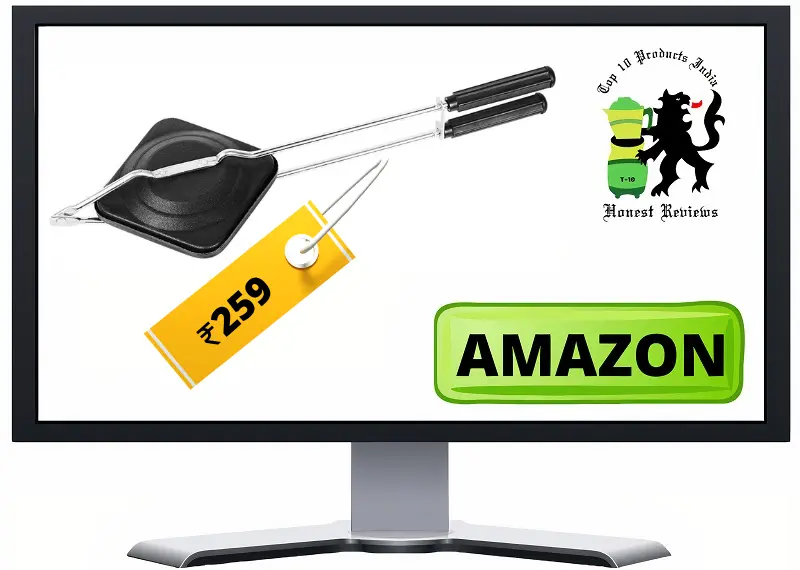 First Impressions of Silver Touch's Gas Toaster
WHAT'S COOL?
These gas toasters can last for many years. Even a few years is good for this price. What should you expect when purchasing a gas toaster?
You can expect a gas toaster that is reliable and will do the following:
It must be strong – it will be used over direct heat, so it should be solid. The paint should also not peel off.
The nonstick inner coating should be used on toasting blades. You don't want sandwich sides to stick while you take it out. However, even nonstick ones toast best when you drizzle some butter/oil on both.
A toaster seals the edges and keeps the filling inside. This isn't possible if you grill in a skillet. You will likely have pieces of the mixture (fillings) falling off each bite. The gas toaster should have a curvy center so that edges can be pressed together without spillage.

Finally, the size of the bread should be uniform. Small toaster plates can ensure that the edges of the bread are not used. This is the part that gets crispy upon toasting.
The Tosaa T2STSR Sandwich Gas Toaster did a remarkable job on all these counts. It cooks evenly, quickly, and, most importantly, the handles aren't hot when you place the contraption on an open flame.
This manual tool will prepare delicious sandwiches in no time. This is an excellent option for quick snacks, whether you are a small family or a large family.
Which Features This Gas Toaster Comes With?
Features
Plates coated with a nonstick coating
Just like the non-stick cookware sets, the nonstick coating on the plates is safe and free of toxic chemicals. You can cook your sandwich using less oil because of the nonstick surface.
Nonstick plates make it easier to clean your toaster. The Heat resistant ergonomic design this gas toaster has will make toasted sandwiches with customized fillings easily and conveniently.  
Long handles

These handles are so long that your hands will not touch the frame. The handles are covered with heatproof material to prevent heat from reaching your hands.
A lock is also there on the handle to ensure that plates are held together so your sandwich, which leads to even cooking.
Ergonomic Design
This model arrives with heavy gauge aluminum with a stainless steel base. Also, it has 3 layers of nonstick aluminum coating, which is lightweight.
Besides that, it will conduct heat well and is fairly inexpensive, making it a popular choice for cooking.
Non-electric
It does not require electricity to work. To heat the sandwich maker evenly, you will only need a gas flame. This appliance is ideal for use in remote areas without electricity. Also, it consumes less gas, making it more economical.
Warranty
No matter the price is just under 300 rupees, The manufacturer warranty on this gas toaster is six months. This is really a huge advantage to cover all the manufacturer's defects.
It's simple and safe to use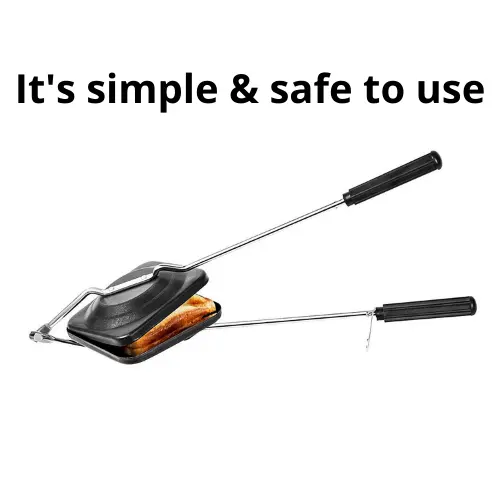 The appliance is easy to toast and grill bread and does not require any special skills. The device is basic, and even grown-up children with the proper safety precautions can use it.
There is no danger of electric hazards since electricity will not require in the working process.
Lightweight
It's lightweight, which makes the grilling and toasting highly simple. Also, this appliance you can take to picnics to prepare sandwiches in no time!
Sturdy Handles
It has two handles, which ends are covered with thermoplastic sleeves, which prevents heat hazards. The handle of the sandwich toaster permits you to easily get a grip on it and use it. The handle also secures you against burning.
How to use a gas sandwich toaster?
It is very easy to use a gas sandwich toaster. It doesn't even require electricity to work. This gadget can be used on a gas stove, a Barbeque, or fireplace. You can make sandwiches with this gas sandwich toaster by following these steps:
Place your favorite stuffing in the sandwich.

Use very little oil/butter to grease the sandwich maker
Place the sandwich in the toaster.
Make sure to keep the sandwich maker on medium heat. For crispier results, you can turn it down to low flame.
Make sure to cook the sandwich on both sides.
Once the sandwich is golden brown, turn off the gas. Let the sandwich continue to cook on the heat for a few minutes.
Now your sandwich is ready!
Guide to Buying
Before buying, consider these factors to help you choose the right product.
This is box title
Different types of sandwich toasters
Panini Press
Panini Presses can be used to make many types of sandwiches. The Panini Press is useful and can work as a griller or as an alternative to a toaster.
The press has heat plates at the top and bottom. It heats the food when it is closed. Panini Presses can bring amazing results in making pancakes and burger patties, kebabs, and chicken snacks.
Four-Triangle Sandwich Maker
The electric sandwich maker can be found in nearly every Indian home. Four square plates cut the sandwiches into four triangles.
This machine can cook up to two pairs of sandwiches simultaneously. Sandwiches can be made in just 5 minutes using this sandwich maker.
Gas Sandwich Maker
We now know how to use a gas sandwich machine and the types it can be used for. Let's look at some of its uses and benefits.
Benefits Of Using A Sandwich Maker
Sandwiches that are healthy, nutritious, and delicious on the inside, as well as crispy and soft on the outside, are a favorite of many.
Many of us may also wonder, "Why to invest in a gas-powered sandwich maker when you can make the same type on the chapati tava?"
Let's look at the following gas toaster advantages to answer that question:
You save time
Sandwich makers allow you to simply fill your bread with stuffing and then reduce heat. You can enjoy delicious sandwiches right away!
Sandwich makers trap heat and cook the sandwiches perfectly. Unfortunately, this is not possible with conventional tawas. One must always be present prior to the tawa so that the sandwich doesn't burn.
It's easy to use
It can happen a lot when you make a sandwich on the Tawa. You can lock your sandwich in a sandwich machine to prevent it from leaking.
Cook at the Right Temperature
When you cook your sandwiches on a barbecue or tawa, there is always the possibility of them burning. Sandwich makers make this a non-issue.
You must turn off the gas sandwich maker after about a minute. It cooks sandwiches perfectly at the right temperature.
Discover New Recipes
You can try many different recipes that are impossible to make without a sandwich machine. You can make delicious sandwiches and burgers.
These sandwich makers can make delicious sandwiches, burgers, and other food items. The sandwich maker allows you to create new recipes and satisfy your hunger pangs. Sandwiches with air fried potato chips can make a great combo for your snacks.
Electric Sandwich Makers Vs. Gas Sandwich Maker
People have a different opinion when it comes to the types of sauces and stuffings they use for sandwiches. As with sandwiches, there are two types of sandwich-making machines: one that is electric and the other is gas.
Both sandwich makers make great sandwiches, and they are almost identical in their cooking. The only difference is that the Electric Sandwich Maker uses electricity while the Gas Sandwich Maker uses heat or flame to cook the sandwiches.
Two flat plates are used in sandwich-making machines. They evenly distribute heat so you can get crisp and finely cooked sandwiches. Open-flame gas sandwich makers can be used in BBQs and Fireplaces.
What else can you make in a gas sandwich maker?
This gas sandwich maker can cook more than just sandwiches, as we mentioned. Sandwich makers allow foodies to experiment with new recipes.
These are some things recipes you can do with your gas sandwich machine to make it more efficient and get the most from it.
Pizza Pocket: You can make delicious Pizza Pockets with lots of Mozzarella, salami, and sauces using a gas sandwich machine. It will melt your cheese to the perfect level and bake your vegetables perfectly. Agaro OTG is specialist at making this dish though.
French Toast: Make golden brown French Toasts on a gas sandwich machine, and you will enjoy the best French Toasts. However, this recipe will be the best if cooked with a Bajaj toaster or 

Morphy Richards OTG

.
Triangular omelets & Fried Eggs: Make omelets that your children and guests will love. This could be a new and exciting experience for everyone.
Waffles: A great gas sandwich maker makes waffle making easy. A gas sandwich maker is all you need to make crispy waffles.
The Final Advice!
The Conclusion
Gas Sandwich makers are great for everyone, whether you're a working person or a child who loves sandwiches. Gas Sandwich makers allow you to create delicious and easy-to-make sandwiches.
As the safest and most impressive model, Tosaa T2STSR Sandwich Gas Toaster turned out the best. Also, this toaster has over 4900 ratings on Amazon that makes it a famous yet preferred choice for people.