Symphony was established in the year 1988. They manufacture products in very nearly 60 nations like residential air coolers, modern air coolers, etc.
Symphony's almost 25 percent of the turnover is from the global market as they cover the United States, Europe, West Asia, Mexico, and South-East Asia as well. This company is giving a few fantastic and tough products at the cheapest costs.
For cheap coolers, you can rely upon Bajaj, but if you are ready to shed around 10K, then the company provides you some amazing ever-lasting cooler options!
No worries, we've one amazing cooler under 6000 rupees also. At last, we've got a bonus suggestion form other brands also!
Most importantly, we've also justified the wall mount model in this article. Currently, cherish the following price list with models now:
Here's some amazing Symphony air cooler models & its price list
Best SYMPHONY Air Cooler – Reviews
1) Symphony Siesta 70 litre air cooler



With a perfectly designed front grill, Symphony Siesta 70L provides maximum air delivery and high aesthetics. The very large 70L water capacity makes it a perfect night cooler, as even after running this cooler at its top speed throughout the night, you'll see, a bit more than half water is used.
Its power is 150 watts, and the warranty is of 1 year. It measures 50.5 x 61.8 x 111.5 cm. We recommend it over the Symphony sumo air cooler, as This 70L model is a much better value purchase. Well, how's this Symphony cooler able to provide you thrilling performance?
Features
There's an exceptionally powerful 16-inch fan that doesn't let you complain regarding wind thrust.

The wheels of this 70L cooler aren't just smooth but also very strong.

The design is nothing much fancy, and due to the grey color, one cannot see duct on it. It means you'll have to clean this Symphony cooler model less often from outside.

Noise and vibration levels are low.

The automatic vertical swing is very useful.

Cleaning the cooler from the inside is straightforward. You'll open this cooler in no time and drain the remaining water through its drain plug.
The Final Advice
If you're thinking that this cooler isn't justifying its price, as it doesn't come with a remote, then let us tell you, over 70%+coolers of this price don't come with a remote.
However, it fulfills that deficiency by high durability and incomparable power. Also, it scored 9.4/10 in our testing, making us highly recommend this cooler to all. To know this Symphony cooler price in India, tap the button below.
---
Notice – We have some other air cooler brand's recommendations as well. You should cherish Kenstar coolers variant, and you'll get impressed bythe #1 model from that company.
2) Symphony Jumbo 70 Ltrs Air Cooler
Now, the water capacity is the same, and the cost is almost a thousand lesser. However, this Symphony cooler is entirely different. It measures 65.5 cm x 63.4 cm x 83.8 cm. You'll be surprised to know, 420 sq.ft is what the makers say this cooler covers.
However, in our testing, 580 sq. Ft. area was what it covered and decreased the temperature by 5 degrees in just 17 minutes!
The warranty is 1-year, and 185 Watts is its power. Most importantly, the Symphony Jumbo cooler price will please you. This cooler can run efficiently for hours consistently. Thanks to the superior Symphony cooler motor! 
Features
The rapid cooling time of this cooler is amazing. It comes with an automatic vertical swing, due to which every single person in the room receives enough wind.

The quality of the trolley is appreciable and very well handles the cooler's weight very well, no matter you've filled full water. However, if you add more weight to it, then it might bend. We can't criticize that.

It can cool a big hall. Cool retention capability is appreciable. Adding a bit of ice means cool air for a long time.

You feel a bit irritating smell with most of the coolers at some point in time, but such chances are less with Symphony jumbo 70L model.
The Final Advice
The cooler won't give anything to complain about. However, the trolley has troubled a few. In testing, everything was fine, but we haven't tested by placing this cooler on the trolley for months, though.
So, the recommendation is, avoid keeping your cooler always full to the max. Still, we didn't find the trolley department to complain, as, after all, you are getting it for free.
Something is better than nothing. Talking about the cooler, it's a golden purchase! To know Symphony Jumbo air cooler price, tap the button below.
---
3) Symphony Touch 55 Ltrs Air Cooler



It's such a high-selling Symphony room cooler. Again the price has decreased by a thousand! It's a sort of cooler that brings relief to your pocket.
7/24 meters is the air-throwing distance range of Symphony touch cooler. The room will be cool throughout.
Yes, the running cost of this cooler is similar to a normal high-quality fan! The design is awesome. Its handle also does the job of a cord winder.
It's good for a room measuring 71m³ /2500 m³. We were also pleased by running the Symphony air cooler without water. 
Features
The Water outlet passage is there, which is helpful in case you overflow water by mistake. Water won't spread all over. It will come out from one outlet, which makes cleaning easier in case of water overflows.

Double blowers are present for providing additional cooling instead of a fan. At this price, finding such power double blowers is rare.

6 removable cooling pads don't just help in making the surroundings cool but also make the cooler easy to clean from within. This air cooler pads replacement process is also too simple.

205 W is the energy consumption. This favors low electricity billing, making the users' faces shine!
The Final Advice
Most importantly, Symphony Touch 55 Ltrs Air Cooler is inverter compatible. It's truly a genius appliance that suits every sensibility. Removing its cassette-type pads takes no time, making cleaning easy.
The looks are also stunning. If you want a cooler with a dependable cooling mechanism and high performance, then do buy Symphony Touch 55 Ltrs Air Cooler. It's more recommendable than Symphony air cooler touch 35.
---
Notice – If you wanna cherish cheap yet powerful models, Voltas is the best in terms of providing that variant.  
4) Symphony Hicool I 31 litre air cooler
If we keep the water storing capacity aside, then there is hardly anything in which the competitors beat Symphony Hicool I Air Cooler! 31-liter capacity isn't less either, and that's enough for running this cooler for over 12 hours.
There are certain advantages to the Hicool model. The air delivery rate is 1,750 cubic meters, and most importantly, the water inside it remains cool throughout the day due to the honeycomb cooling pad. Most importantly, Hicool I 31-liter air cooler with remote costs less than expectations! 
Features
The humidity control feature of this portable evaporative model works amazingly and always keeps you away from sweat, no matter you aren't sitting in front of direct air.

The user-friendly remote cuts the hassle of manually going to the air cooler for turning it on/off and setting the sleep timer.

The dust and mosquito net protection is there, ensuring clean airflow, and it also shields the cooler from external damage.

Moving this cooler across the rooms is very easy due to multi-directional wheels.

You enjoy uninterrupted cooling as Hicool I Air Cooler is inverter compatible.

Talking about the noise level, you just experience some medium humming sound even at the top speed, which every buyer will accept.

The inner swing strip is automatically movable. The outer swing strip is easily adjustable in two different levels for bed height as well as floor surface at the same time. So, if people in your home prefer sleeping on the ground mattress and on the bed, then this cooler serves all equally.
The Final Advice
Even after being so fully featured and with great air delivery, the energy consumption is nothing above 185W. This cooler is sturdy enough to cool your rooms effectively for several years to come.
Power is already the basic thing, but the way it decreases the room temperature makes it a highly recommendable one.
---
5) Symphony Ice Cube 27 L Air Cooler



The Symphony Ice Cube 27L Air Cooler is a perfect tower-style model that comes with i-Pure technology. 150+ Amazon customer reviews are there.
1-year warranty also accompanies. It arrives with High-efficiency honeycomb pads, ensuring cool air output. 40 feet air throw range is also impressive.
This one is designed for providing high powerful air throw. As a result, this air cooler isn't among the silent coolers out there, but at least this one is bringing much more relief than those silent models. The blower does a great job in this air cooler.
Features
27 Litres capacity means this air cooler runs for the whole night once you fill enough water in it. Draining is also easy, as the plug is conveniently provided at the tanks' lower backside.

It comes with Multi-directional wheels, making it easy to move.

Suppose you have just entered the room, all wet with sweat, then Symphony Ice Cube 27L Air Cooler provides you instant relief!

As it's compact and lightweight, Symphony Ice Cube is highly suitable for dorms.
The Final Advice
Regarding spot cooling, nothing serves you better than Ice Cube 27L model near this price. It is suitable for small rooms, and that's not a con as that's what a tower-styled air cooler is supposed to do.
If your room space is within 1200-1500 cubic feet, then rather than spending high, buy Ice Cube 27L Air Cooler, as it will bring needed convenience. It's far better than Symphony Diet 12T Personal Air Cooler model.
---
Notice – In terms of durability, orient models served the best! Look at their range of coolers if you wanna ensure long-term usage with issues.
Symphony Wall Mounted Air Cooler 15 L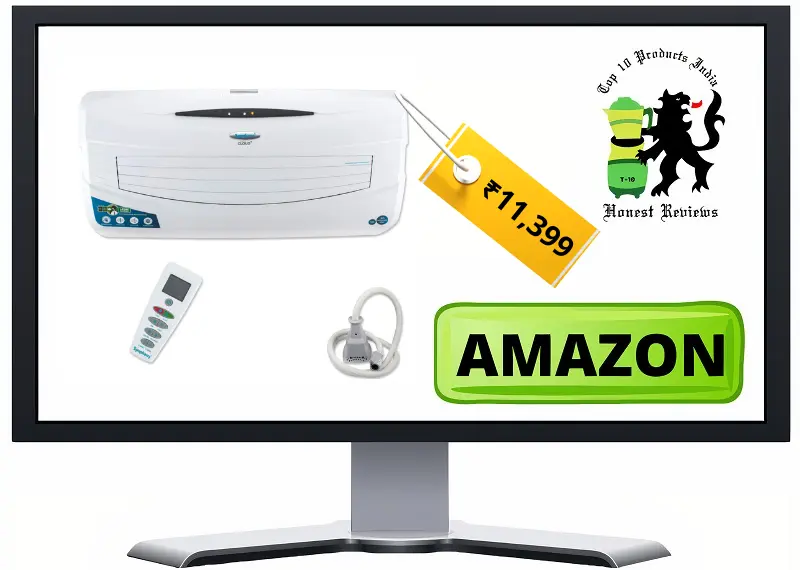 It's definitely not a new cooler, and there are so many buyers of this one. Still, there's a big confusion regarding whether the Symphony wall mount cooler price is acceptable for the features or not. This model brings you chilled air with a 15-liter capacity, and the way it works is just like an AC.
Now, it's the brand new innovation from Symphony. There's no such unique wall-mounted air cooler available; it's the only one, but is this air cooler worth money?
Will this AC-type cooler provide you sufficient cooling during the hot summer days? How much will it consume power, and will it last long?
After deeply testing this wall-mounted model, our expert team concluded every single point. We'll mention all of this here.
Now regarding its design, it pretty much looks like the Split AC; many people will get confused. Not only design but controlling, it is also similar to split AC.
Most people prefer large-capacity air coolers for the long run, and of course, large capacity means large-sized air coolers, which cover enormous space in your room. Whereas, as it's a wall-mounted air cooler, there will be no issue regarding space.

For knowing its fabulous features, cherish the following section:
Features
The magic fill feature automatically fills the water inside it whenever it's empty by its remote controller. The water will pour through your water tank or the water pipe provided with it; there's no need to do it manually.

There's no lever or buttons available in this advanced air cooler for changing speed, settings, mode, etc., the remote controller will manage easy operations. The remote has 10 hours of incredible timer capacity.

You'll get alerts whenever its water tank is empty, which you can easily fill by pressing the 'fill tank button' presented in its remote controller. You'll also hear a 'beep sound' when the water is full so that it doesn't overflow.

In most of the air coolers, the high noise issue is very irritating during the night, but in Symphony Cloud 15 Litre Room Air Cooler, the Silent mode is present, which you can activate by its remote. It will provide you cool & restful night's sleep.

If the heat is out of control, you can utilize the turbo fast mode available in this air cooler, which will bring down your room's temperature very quickly.

Want to save water but also want to utilize it? Tap the cooling button two times in its remote controller, and the water pumping will automatically off, but the fan will still run.

Electronic humidity control is there, which will ensure non-humid air cooling as well as cool airflow.

Its expandable water tank capacity is 15 liters, which is good enough for a wall-mounted air cooler.

Does power cuts are often in your area? Don't worry; it's compatible with the inverter.
Water Inlet & Water outlet
This is a unique cooler due to which many make mistakes regarding filling and draining water. Every single air cooler requires ventilation to work properly, but as it's wall-mounted, you're supposed to install it above the window or ventilator, in which it'll get fresh air and will work more effectively.
Water filling and draining
Now here comes its water inlet process. There' are two effective methods of pouring water inside Symphony split cooler easily; please read carefully:
Method no. 1
You can easily connect your water tank with a Symphony wall-mounted air cooler from its pipe. It is present in the backside, in which it'll automatically refill the water inside it from your water tank.
Method no. 2
The second method is of utilizing the water pipe provided with it. Now, connecting the water pipe with it is pretty simple. Rotate the knob backward for opening it, which is available in the lower portion of Symphony air cooler with remote. Then pull it.
After doing that, the pipe fitting knob will appear, in which you've to connect that water pipe. Then simply dip the water pipe in the bucket or tub.
The water pipe is long enough, and a motor is fitted inside it, which will suck the water from your bucket or tub for pouring water inside it whenever it's empty.
Pouring water: How easy?
Thus, putting the water inside your bucket or tub is what you have to do; there's no need to pour water again and again inside the air cooler.
The water outlet process is pretty simple in this wall-mounted air cooler. Just pull over the left bottom knob by rotating it and connect the light blue pipe provided with it, which is very long.
Now, just turn the lever on the connector and whole water will completely drain through the pipe. This process won't baffle you, guarantee!
Symphony cloud tower air cooler: Negatives and justification
Truly, this model isn't just unique, but a bit controversial also. So, what about a deep justification?
Issues and justifications
Firstly, the Symphony cloud cooler user review brings a negative impact. Certain complaints are there. As a result, this cooler with remote's testing went too long.
This wall cooler was something we were not adding when we read public reviews, but we believe in diving deeper.
So, our professionals deeply analyzed the mentioned negatives of this cooler and further weighed how many complaints prove to be legit.
The major complaint was that it increases humidity too much. Guys, we operated this cooler in a properly ventilated room and tracked the humidity levels.
There wasn't anything serious. Yes, this cooler might not be perfect for spot cooling, as it's a wall mounting model.
Besides that, the setup might seem a long process to a few of you, as you need to attach the pipe to the take for refilling purposes, and some processes you don't need to carry out with any other air cooler models.
Also, the installation height of this cooler matters a lot. If you're installing it too high, then you might not receive much relief from the heat. According to our experts, installing it at 7 feet height is a cool idea.
Is it really worth a recommendation?
After knowing the positives and negatives, the question is that, is this cooler's price point good for the features?
The Final Advice
The maintenance of every cooler is necessary. It becomes very hard while cleaning the air coolers, especially the large ones.
Symphony has made it simple with its advanced technology. Yes, the auto-clean function is available. This function automatically drains unclean water as well as maintains the hygiene of the cooler.
Here comes the main point; its 'power consumption.' Don't worry; it's much better than AC regarding power consumption. It runs on the operating price of a fan.
This wall-mounted air cooler is beneficial in every type, no matter regarding floor space, energy consumption, features, value for money, etc.
Notice – Do you wanna cool big halls/rooms? You should read Bajaj's high capacity variant.
Symphony Winter XL 56 litre air cooler: Really worth purchase?
Now, how worth is Symphony winter cooler? Looking at this cooler's Amazon customer reviews can baffle you. Certain complaints came up with this cooler in the past, but how many of those complaints are legit? 
Do its functions really work well? We brought this winter air cooler to our lab for testing. Firstly, we'll discuss why you should buy, and then we'll expose the negatives and try to justify them.
Features
The motor comes with 3 speeds. Set it to what you want.

The dura-pump technology of this cooler ensures for long life.

Cool flow dispenser ensures channelizes water distribution, further leading to superior cooling in your room.

Multi-directional castor wheels make Winter XL's mobility easy.

The operation noise is low, and the air-throwing mouth is big. This, joined with the powerful motor, together provide a larger coverage area.

A huge tank capacity of 56L decreases the hassle of frequent refilling.
Issues and justifications
In the video, manufacturers have shown a remote control, while in actuality, you don't get one. However, that can be called a mistake, not a deficiency, as only 20% of coolers around this price come with remote control. Still, a remote control would have been better here.

The guiding manual brings fewer details. We expect a better manual in the future.

Some exclaim the issue of water dripping noise, which is a bit irritating. The fact is, in most of the cooler, water dripping noise is there, but as most of the coolers make high noise, the water-dripping noise is hidden somewhere behind. Now, the Winter XL operates at much lower noise, due to which you're able to hear water dripping. We don't consider that as an issue.
The Final Advice
While testing Symphony winter, I air cooler; we didn't find any major issues. The operating noise was below par, and so was shivering.
Features are enough for money, and complaints regarding malfunction are also minimal. Putting all the things together, we do recommend Winter XL 56 liter model to you for efficient cooling.
Haven't you bought any of the Symphony coolers online yet? No worries! Symphony is undoubtedly cool, but about trusting Maharaja? We've one amazing Maharaja air cooler that we are sure won't let you down.
---
Maharaja Whiteline Rambo AC-303 65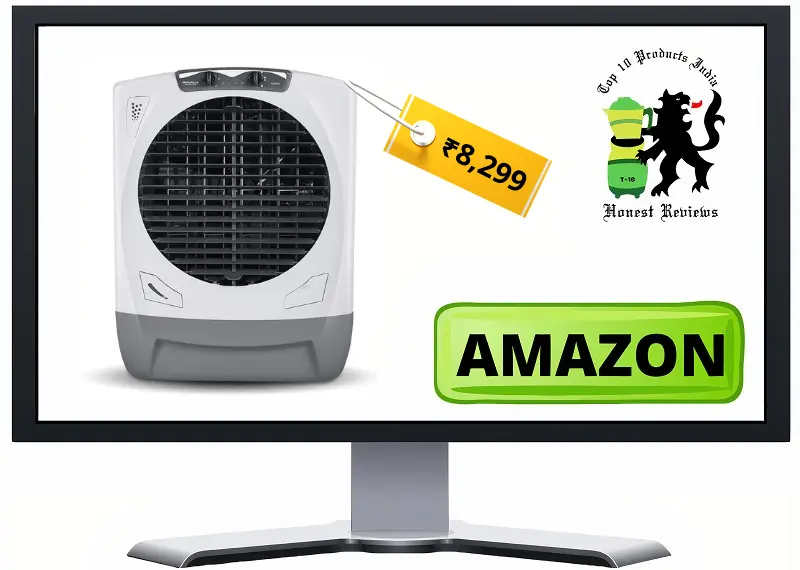 Now, this is the best air cooler in India under 8000. This cooler is of huge size, and provides proper air throw to all directions of the room, letting no one complain concerning air not coming in their direction. 3000 m3/hr is the air delivery, and that's impressive!
Before making a quick decision to buy Symphony cooler online, we do need you to check this one once. The air throw range is 45 feet, and with just that, you can imagine the power.
We would say, not just for the room, but even for a lobby or a gathering, Maharaja Whiteline Rambo AC-303 is good enough. 
Features
During testing, we tested this cooler in a 30 x 30 feet room, and it passed the test perfectly, as firstly, we noticed that the airflow was adequate throughout the room, and secondly, we noticed a rapid drop in the room temperature. However, the makers mention 700 sq. Ft. as the coverage area, while we insist that 900 sq. Ft. is the coverage area.

Most importantly, it has an anti-bacterial tank and very suitable for your kid's room also. Bacteria are in full form during the summers, and that's the time when doctors get cheered up as infections get high during the high summer months. No mosquitoes, dirt, dust, etc., can enter this air cooler.

The tank capacity is 65 Liters meaning that just fill the water once and enjoy fresh cool air for a longer time without the requirement of refilling it again.

Even after being a huge design, powerful motor, and big air-throwing mouth, the noise this air cooler produces is minimal. In this department, Maharaja is a bit better than the Symphony water cooler at this price.
The Final Advice
Maharaja Whiteline Rambo AC-303 65 makes you benefit from all directions. If you have the 5-6K budget, then we really insist that you better add a bit more money and buy Rambo AC-303 65, as the features, convenience, and safety are much higher than the coolers costing in that price range.
Besides exceptionally powerful air throw, the perfect packed design highly pleased us for safety purposes, and most of the air coolers are constructed considering features, build quality, etc., but safety isn't concentrated upon much. Maharaja Whiteline Rambo is definitely worth a recommendation.
Symphony cooler service center & customer care nu,ber
Pretty few chances are there that your Symphony products might trouble you. In case malfunctioning takes place in your cooler, then the customer care number is – 07930130111. Not just help, but you can also get some amazing tips by visiting the site – www.symphonylimited.com. During testing, we called the company's service center and got instant help.
The Conclusion
If you're wondering who's better in Kenstar air cooler vs. Symphony, then we recommend you cherish Kenstar's review.
Talking about the overall best air cooler from this brand, then it's Siesta 70 Ltrs. Model. Its power is incomparable! Regarding power, the Jumbo 70 Ltrs model grabs the second spot. 
However, the additional benefit of the jumbo model is that it comes with a stand. It covers 580 sq. Ft. area, which is enough for the money! 
If your room is of medium size, then buy Touch 55 Ltrs Air Cooler. After that, for smaller rooms and offices, the most recommendable model is Hicool I 31 Litre, costing below 10K.
Now, if you're looking for an air cooler with huge water capacity at a very comfortable price, then Maharaja Whiteline Rambo AC-303 65L is the sweetest choice for you!