Best Manual Juicer in 2021 Reviews: Undoubtedly cold press, masticating, and centrifugal juicers are pretty expensive. Now, for enjoying fresh fruit juice, you don't always need to spend 10-15K rupees! Several cheap mixer grinders are also a good solution, but here, we are talking about the cheapest solution.
It's none other than hand juicers if you want fruit/veggie juices without spending any high. You just need hand efforts here, and as the price is low, expecting features won't make sense!
What if we say, 6 decent quality hand juicers we've chosen have feature-rich side also?
Now, the main reason behind taking fruit juice besides taste is health! The question is, is your juice nutrient-rich? This heavily depends upon your juicer, and the technique it is using for juicing.
Cold press is the most expensive juicers generally because they use the technique, in which the nutrient loss in the juices is minimal.
So, are really these hand juicers capable of retaining nutrients?
Not as much as cold press, masticating, or centrifugal juicers, but actually, if you buy the perfect hand juicer, the nutrient retention is going to be high, but the fact is, over 80% of the cheap hand juicers fail in retaining the right amount of nutrients, and squeeze enough juice from the food item.
But the 6 we have chosen actually do!
Let's know more!
Best Manual Juicer Reviews in 2021

For knowing the manual juicer price, cherish further.
Best Hand Juicers in India Review
| | | | | |
| --- | --- | --- | --- | --- |
| IMAGE | JUICER NAME | BUY NOW | SCORE | PRICE RANGE |
| | BTC Hand Press | | 8.7 | Under 1500 |
| | Qualimate Hand | | 8.6 | Under 500 |
| | Qualimate Portable USB | | 8.4 | Under 700 |
| | Royal World Hand Press | | 8.4 | Under 1500 |
| | Kitchen Bazaar Plastic | | 8.1 | Under 500 |
| | Chefware Aluminium | | 7.7 | Under 1500 |
No matter these juicers are cheap, still, build quality isn't a concern, as we take that as our primary measurement of our testing. After our 6 top recommendations, we have got an amazing manual fruit juicer all-metal body model as our professional recommendation.
PRODUCT 1
1.) BTC Hand Press Juicer Review – Best manual fruit juicer
Here comes the cutest hand juicer. This is also the best durable manual citrus juicer, and the price will highly surprise! It costs near 1500 rupees only! It is built from impact-resistant BPA-free ABS plastic and high quality steel. It's easy to pack and store. Full marks to its simple mechanism!
It easily juices Wheatgrass, Kale, Chard, Parsley, Spinach, Collard Greens, Lettuce – anything leafy. It works for carrots also, but the experts say, avoid that if possible, as the juicer is actually not built for that purpose.
Why should You Buy?
All manual juicer parts are easily detachable, ensuring super convenient cleaning. Also, all parts are dishwasher safe.
The handle is very convenient. While juicing, you don't need much exertion.
When you turn the juicer on, its vacuum base very well holds the mixer in place. So, spillage and other accidents won't happen.
The juice BTC Hand Press model delivers the nutrient-rich outcome. The right amount of vitamins and minerals are there, revitalizing your health.
The Final Advice!
By buying BTC Hand Press Juicer, you are ensuring great health without spending much. Most importantly, juicing doesn't take long. This 500 rupees thing might make you feel that it won't last that long, but it actually will! We've tested it fully, and concluded BTC Hand Press Juicer is entirely worth purchase.
PRODUCT 1
2.) Qualimate Hand Juicer Review – Best cheap hand press juicer
Would you believe if we say a cool, stylish, and durable hand juicer is what you can buy at 500 rupees? Yes, that's true! Qualimate Hand Juicer is available in 3 colours, green, red, and blue. These appear pretty much like toys, but do an exceptional job! Impact-resistant BPA-free ABS plastic and steel is utilized for construction.
This is the best manual carrot juicer India. This juicer makes juice in a very simple way. Neither any hot motor is there, nor fast-spinning blades. As a result, the nutrients never decrease from the juice.
Why should You Buy?
Its simple design ensures hassle-free juicing. The handle is very easy to handle. Very little exertion is required for making juice.
No matter it's lightweight, but when you turn it On, you'll find that it stays very stable while operating. No accidents will take place that way.
Assembly and disassembly of Qualimate Hand Juicer is a breeze, and so is the whole juicing process. So, early morning, you won't feel lazy in preparing juice for yourself!
Because of less vibration operation, you can operate this juicer on any surface!
The Final Advice!
The Qualimate Hand Juicer is ideal for novices also. Even a kid can operate it for making juice for himself! 1 minute is what you need for cleaning. It is sure that at 500 rupees, Qualimate Hand Juicer isn't going to hurt anyone!
PRODUCT 1
3.) Qualimate Portable Electric USB Juicer Review – Unique add-on
Adding around 300 rupees over the price of Qualimate Hand Juicer, you get Qualimate Portable Electric USB Juicer which looks exceptionally stylish! This electric USB juicer can be easily carried anywhere. Although it isn't actually a handheld juicer, still we've added it to the list of best handheld juicers because it's equally simple and equally cheap!
Your kid can also carry it to school! The operation is simple enough for a middle school kid. Cleaning is very easy and safe. There is a smart safety protection device. Besides that, there is a magnetic sensing switch, which is very useful.
Why should You Buy?
Enjoying fresh juice wherever you want isn't always possible, as juice stays fresh only for a given time. Also, you can't carry a juicer to office, parts, etc. That's actually not true! Qualimate Portable Electric USB Juicer sizes equal to a water bottle and brings all convenience.
You can easily charge it by a power bank, car, computer, laptop, etc.
Its built-in 2000mAh rechargeable battery lasts pretty long.
Although it's a little juicer, it actually is powerful enough to make juice of a large variety of veggies and fruits!
The Final Advice!
It's a very useful juicer for busy moms for preparing baby food, and as this works silently, this won't disturb the baby even if it is sleeping. Besides that, you can teach the basic of juicing to your middle school kid, and make him/her take it to the school, and enjoy healthy juice with afternoon meal. Just don't think twice, and buy Qualimate Portable Electric USB Juicer!
PRODUCT 1
4.) Royal world Citrus Hand Press Juicer Review – Best manual orange juicer
First of all, Royal world Aluminium Hand Press juicer looks truly amazing. It arrives with a comprehensive 20 years replacement warranty. This juicer lasts very long, and it was the tallest juicer in our testing.
It weighs 4.5 kg and is super stable. 58 cm x 23 cm x 20 cm are the dimensions. In the box, you get the hand press juicer, one juicer jar, and one original invoice/bill copy. Due to its heavy-duty strainer, the seeds don't get passed into the juice. This strainer is very easy to open.
Why should You Buy?
This juicer is made from aluminium of appreciable quality and cast iron.
You can operate this juicer with just one hand, without putting much pressure.
It's pretty easy to stand. Cleaning it takes no time.
While testing, we juiced oranges, pomegranates, and grapefruits and gathered 2 litres juice to check whether how much does the user's arm pain in juicing with Royal world Aluminium Citrus Fruit Juicer model. Surprisingly, it didn't strain the arm at all. Juicing is breeze with this model!
The Final Advice!
For citrus fruits, you can't buy a better hand juicer than this one. This tall juicer, besides being stylish, is powerful also. The warranty is the best in the industry. Most importantly, neither you are burning electricity, nor are you putting strain on your arm for juicing. Undoubtedly it's a super-convenient juicer. It is highly recommendable and for knowing the best manual juicer online price, tap the button below.
PRODUCT 1
5.) Kitchen Bazaar Hand Citrus Juicer Review
The design of this juicer pretty much matches to Qualimate Hand Juicer that we previously discussed. It's a set of three. This is a tremendous combo actually. It saves tons of time. If you want to grate and slice huge quantities of vegetables, cheese, fruits, etc. then you don't need a knife.
Constructed with Food Grade ABS Plastic, the weight of this juicer is 890 grams, and 16 x 18 x 29.5 cm are the dimensions. Most importantly, the hand juicer works very smoothly, and holds its consistency. For money, this juicer's construction is appreciable.
Why should You Buy?
The vacuum base is non-skid, eliminating chances of juice spills while operating.
This 6-in-1 combo includes a grater, thick slicer, thin slicer, chips slicer, thin shredder, thick shredder.
With the adjustable slicer, you can cut numerous food items like the beat, tomato, cucumber, potato, onion, carrots, etc. without any effort. The juicer is capable of juicing stuff like collard greens, chard, parsley, wheatgrass, kale, spinach, lettuce – anything leafy! Its performance is appreciable with carrots also.
The stainless steel blades ensure high performance. For cleaning it, you just have to place it under running water.
The Final Advice!
It's one of its type kind of combo, and even after costing near to 600 rupees, the juice that comes out of Kitchen Bazaar Hand Citrus Juicer is of very good quality. It's a very useful kitchen tool and deserves a place in your kitchen.
PRODUCT 1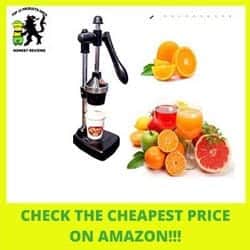 6.) Chefware Aluminum Citrus Juicer Review – Best aluminum manual juicer
Talking about the most convenient hand juicers, Chefware Aluminium Hand Press Citrus Juicer stands high. It measures 50cm x 20cm x 20cm and weighs 4.5kg only.
We tried making juice of 4 grapefruits in our testing, and 2:45 minutes was the time this juicer took. The quality of juice for pleasing. You can feel smoothness while juicing. Thanks to good quality build. Only sturdy materials are used, and Chefware claims 20 years as the lifespan of this hand juicer.
Why should You Buy?
You enjoy 5 years replacement warranty and 5 years spare parts warranty with this aluminium hand citrus press manual juicer.
This juicer passes through 3-step testing for ensuring full satisfaction to the buyers.
The base is pretty wide, so it holds the kitchen platform or table very well and operates in a stable manner.
There's a side handle in Chefware Aluminum model providing a better grip on the juicer.
The Final Advice!
Even several high price hand juicers fail to give as good results as Chefware Aluminum model. It's pretty user-friendly. This juicer doesn't trouble regarding cleaning either. It's a great long term performer. However, in our tests, this citrus fruit juicer actually failed in a couple of tests.
As a result, we recommend you to pick. BTC hands press (rank 1 in this review) and Royal world hand presses juicer (rank 4 in this review) over this one. By the way, chef ware citrus juicer is also value for money.
EXTRA SUGGESTIONS!
However, our whole Best manual juicer review is based on the home use model, but if you are finding a commercial hand press juicer, then we're up with a cool recommendation. Kalsi products Aluminium Citrus Manual Juicer is the most suitable for you. Not just very powerful, but it's very speedy also. It defeated highly popular Black and Decker juicer manual model in our testing surprisingly! Tap HERE to know the manual juicer stainless steel price.
Best Manual Juicer Review in 2021: Buying Guide
Manual juicers are incredible for making a glass of juice for you for enjoying with easy & simple methods. Quieter, less expensive, and much easier in cleaning, they're an absolute necessity in any kitchen. Basically, these Hand-operated juicer types are what the old generation used for making juice.
It requires a little bit of effort of exertion and time for preparing the produce as well as extract the juice. The juice yield's amount is also low. So we'll be wasting a big amount of produce as well as effort for just for very little juice. They're also not great with handling a lot of produce. For example, the manual citrus juicer can handle just a one half at once.
What to Look For In A Manual Juicer Machine
There are various different categories of manual juicers available, but inside every category, there are some distinct brands & models to select from too. In case you're only getting into juicing, it very well may be overwhelming to explore these various options.
It's useful in case you can determine what the best option for you is. Following are probably the most vital points to see while picking a manual juicer. Let's buy manual juicer online in India now!
BUYING CONSIDERATIONS
Juice Yield: The first thing to look at in your manual juicer is the yield, which the juicer produces from every ingredient. As a manual juicer needs you to use your some muscle, the yield will somewhat rely upon how much effort you're putting into the procedure.
Moreover, some manual juicers are specially designed for producing higher yield when compared with others. A manual juicer with high yield will surely produce pulp, which is very dry.
BUYING CONSIDERATIONS
Juice Quality: The best manual juicer in expansion to the quantity of juice your machine produces, you must also consider the quality of the juice produced by the juicer. Manual juicers commonly produce exceptionally excellent juice since they don't create any heat at all during the procedure of juicing. However, looking at the quality of the strainer is also very essential that prevents seeds as well as a pulp from getting into the juice.
BUYING CONSIDERATIONS
Size and Portability: The size of the juicer is another essential consideration. Numerous individuals only pick the manual juicers, which are lightweight & portable, so taking them while travelling will be a breeze. Many individuals also go with the compact juicer with the goal that it will surely fit into their little kitchen.
You might need to measure the space of your kitchen before you shop a manual juicer, so it'll be easy to pick the manual juicer, which fits into your kitchen or anyplace else you may want to keep it. In case you're deciding on a handheld juice press, ensure it's small enough so that fitting it in your kitchen drawers will be easy, but the huge enough for gripping properly.
BUYING CONSIDERATIONS
Stability: As you'll use your body strength for pushing or cranking the juice out of the ingredients, it's essential to pick a manual juicer, which is entirely stable. Numerous manual juicers accompany grips on the base, which use suction for sticking to the countertop and preventing the juicer from getting slipped.
Another stability feature, which numerous manual juicers have is the clamp that, which attaches to the edge of the counter. A brace is extremely strong and is a great solution for preventing the juicer from moving around; however, it can also be a little bit finicky for tightening it and putting in place.
BUYING CONSIDERATIONS
Design: While selecting kitchen appliances, the design is an essential consideration, along with functionality. Pick a juicer, which has a sleek look as well as perfectly fits with the things, which you already have in the kitchen.
Everybody has their very own taste, regardless of whether it's something colourful or bright or something edgy or minimal. Numerous juicers are specially designed in light of style, so finding something that looks attractive and suits your needs will be easy to find.
Step by step instructions for using a manual juicer
Next on how to utilize your manual juicer, we'll discuss the step of using the manual juicer gadget. Manual juicers usually work flawlessly with citrus fruits.
USING TIPS
The first step is to wash the manual juicer's external rind of the citrus fruit you need to use. Then put your fruit on your cutting board and cut them down in half.
On your counter, set the manual juicer and then take half of your fruit using the dominant hand. Position your fruition to the part of your manual juicer, which sticks out, with the plump side of your fruit facing downwards. Press your fruit solidly and turn it in reverse and forward as you push it for extracting your fruit's juice. Remove every one of the juices from your fruit by continually pushing as well as turning your fruit.
Do a similar process with other fruit halves.
When you're done extracting juice from the total of the halves, you can then easily pour it into your glasses. Get rid of the rinds of your fruits. Rinse your manual juicer and wash according to the manual's directions.
Manual Juicer Advantages
What better place to begin with all incredible benefits manual juicers has over electric ones.
ADVANTAGES
Quieter – Your manual juicer won't make a lot of noise. This means you can use manual juicer even in the midnight time when your family is sleeping; there's no danger of awakening them. It's impossible with the electric juicers. Sound pollution aside, the manual juicer is also very simple to maintain.
Can be used without consuming your electricity bill – You don't need to stress over your electric bill shooting up because you'll in general use your muscles for crushing the juice from the fruit of your choice. What's more, manual juicers do not come with a retrofitted electric motor inside. This implies you'll need to use the hands for creating the power, which is also a decent exercise in case you ask me.
Easy to clean – Less moving parts and far less difficult designs make manual juicers a lot simpler in cleaning. Fewer gears for getting in and about for trying to scrub clean and most manual juicers are even dishwasher safe for making the cleaning process quick & simple.
Can be carried while travelling – Carrying the manual juice while traveling is a lot easier because the today's best manual juicers are available in lightweight as well as compact size, which means they can be easily fit in your bag or other luggage you choose for carrying them in.
Materials of a Manual Juicer
Another thing that we're going to look at is which material you actually want your manual juicer to made of, do you want your manual juicer to be made of plastic, metal or glass? Plastic, obviously, the least expensive but metal is durable whereas the glass is a decent mid-range however it's difficulty in finding the manual juicer made completely of glass, which is, indeed, any great.
MATERIALS
Plastic – less expansive, cheerful and great quality, they just thing you might pay special mind to is that it uses BPA free plastic, BPA's are the plastic's firm that can end up getting in the food and afterwards into your body so you must avoid them.
Glass – Practical, basically strong, but all of the glass juicers might not be good. They were much popular during the 70s, but today, It's better to go with the plastic manual juicers only.
Metal – A decent selection in case you're trying for minimizing the usage of plastic through life but difficult to find. A few crank juicers are made of all metal, but if we talk about manual citrus juicers, they probably have metal components but with a few plastic parts included. Still, in case you can find a manual juicer, which is made of metal, then it'll do wonders for you.
Types of Manual Juicer
Following are the main four manual juicer types:
TYPES
Handheld Manual Juicers: These are where you hold the half lemon in one hand, the reamer in your other and you pushing both together wriggling away for getting the juice out. But you're also getting the one, where you can place a half lemon on the little platform inside the handheld juicer. Then, press the handles together.
The second kind is the just one worth discussing; they cost less. They also produce much more juice when compared with the other type. So in case you see a wooden handle, simply step back gradually.
Jug Reamers: These are the sort with a juicing cone that focuses up in the center of a dish or a container. You press the lemon down on top, curving it and crushing it to get all the juice out. This type of juicer works pretty nice while you are juicing oranges. You gather the whole juice in a jug, from which you can directly serve it.
Table Top Press: These are sturdy & heavy duty. After pulling the big crank handle and pushing lemon onto the juicing cone will squeeze all the juice out effectively. The tabletop press can be a bit excessive for home use, but you can't deny that tabletop press work truly well, and it's the total levers, so you don't have to put much effort for getting the juice out.
Crank Handle: These are best used for leafy greens & wheatgrass, and they attach to your table you put the ingredients in the top and turn the huge handle for getting the juice out. These can also manage different vegetables but it' actually hard going, far harder when if any individual is eager for getting a glass of juice.
Best Manual Juicer Reviews in 2021: The Conclusion
26 hand juicer models we cherish and chose 6! Those 6 were amazing! Now a revision will be good. BTC Hand Press Juicer Review proved to be the best hand juicer for fruits! Looking for a cheaper one? Buy Qualimate Hand Juicer then! the most attractive manual juicer in our list was Qualimate Portable Electric USB Juicer!
It's truly amazing! In our testing, Royal world Citrus Hand Press Juicer impressed the most regarding juicing citrus fruits. Kitchen Bazaar Hand Citrus Juicer tops regarding versatility, and at the end, for those who're finding aluminium manual juicers, Chefware Aluminum Citrus Juicer is our top recommendation.
Now, if you are interested in a cold press juicer, then rather than spending blindly, read our expert's deep analyzing in our Best Cold Press juicer in India Review! Also read Best Induction Cooktop Reviews.
REVIEWS RECOMMENDATION BOX
[/su_table]
| | | | |
| --- | --- | --- | --- |
| Best Convection Microwave Review | | Best Induction Cooktop Review | |
| Best Dishwasher Review | | Best Air Cooler Review | |
| Best Sewing Machine Review | | Best Home Theater Review | |
| Best Inverter AC Review | | Best Kitchen Chimney Review | |
| Best Refrigerator Review | | Best Water Purifier Review | |
| Best Air Fryer Review | | Best 43″ Smart TV Review | |
[/su_table] [/su_box]