A lot of parents come up with the question, "which bicycle is the most suitable for their kid, and which brand to rely upon?"
Now, that's a huge question; after all, it's a matter of kids, and besides a hobby, you need to ensure safety. Different bicycles suit different age groups. Now, if you are having a kid below 6 years, you can go with any little tricycle, having a soft seat, good looks, and a sturdy frame.
That's isn't tough for any Indian parent, but when the kid is anyway between 6-12 years, then the consideration highly increases. At this age, your kid will learn the control and balance of a bicycle, so the cycle itself needs to be an outstanding teacher.
Unfortunately, most of the kid cycles in India let us down. Either the frame is not durable, the handle shape isn't perfect, or at least something you will discover inconvenient in a kid's cycle in 80% cases.
We're concentrating on Hero cycle for kids, and we've chosen 5 here, after deeply concentrating on wheel size, frame durability, stability, quality of paint, etc.
All 5 passed our testing, and these cycles, besides being too attractive, will help your kid in developing muscles and better growth. These will make your kid fit!
Also, if you teach your kids riding cycles from an early age, they can later easily handle electric cycle.
Best Hero Cycle For Kids – Quick Comparison
| | | | | |
| --- | --- | --- | --- | --- |
| Hero Cycle Model | Ratings | Price Range | Buy Now | Warranty |
| Hero Blast 16T Single Speed Cycle | 4.0/5 | Under 4000 | Buy on Amazon | 10-day replacement only |
| Hero Brat 16T for Kids 5-6 years old | 3.9/5 | Under 3000 | Buy on Amazon | 10-day replacement only |
| Hero Freak 14T | 3.9/5 | Under 3000 | Buy on Amazon | 10-day replacement only |
| Hero Blast 12T Single Speed Cycle | 3.7/5 | Under 3000 | Buy on Amazon | 10-day replacement only |
| Hero Peppy 16T | 4.1/5 | Under 3000 | Buy on Amazon | 10-day replacement only |
Most importantly, the following Hero cycles are very durable and will come in use for even your next child when he grows up enough to ride a bicycle. We have covered Tire size from 12-16 inches. Here is a small chart helping you in knowing what size bicycle will suit your kid.
Bicycle size recommendations
| | | |
| --- | --- | --- |
| TIRE SIZE | AGE | KID'S HEIGHT |
| 10 | 2-5 years | 80-90 cm |
| 12 | 2-5 years | 90-100 cm |
| 14 | 5-7 years | 100-110 cm |
| 16 | 7-10 years | 110-120 cm |
| 18 | 10-12 years | 120-130 cm |
What makes a cycle simpler to ride?
The factor of a bicycle is the separation between inside petals' edges. If the pedals on the bicycle are far in the distance, kids will have to spread their legs out to pedal, which is really inefficient & regularly awkward.
At the point when pedals are close together, then kids can pedal without spreading their legs, giving a simpler and progressively efficient pedal stroke. The younger or smaller your kid is, the more essential the factor is.
Chain versus Belt Drive
With stained pants or sticky fingers, bicycle chains may be a pain. They'll fall off and also are difficult to get back on. When you do get them back on, they regularly fall off again. With an objective to simplify the kid's bicycle without sacrificing performance, Priority Bicycles utilizes a grease-free & maintenance-free belt drive on the entirety of their cycles.
With no compelling reason to grease or clean, and with little, if any, the possibility of the belt falling off (we've NEVER had a belt fallen off), belt-driven bicycles make bicycle ownership simpler, cleaner, and increasingly straightforward.
The rounded teeth on a belt and cogs also increase the total safety of the bicycle. This is particularly essential, especially for younger riders, who regularly need to explore their new bicycle while it's lying on the ground.
Benefits of Riding cycle for Kids
Cycling balances your kid completely. Following are a few cycle learning advantages for kids that bring amazing health benefits:
Your child gets out of the home into the sunlight, and that ensures exposure to the natural source of Vitamin D, coming to form from the sun. Besides that, they enjoy fresh air, which calms them down. At night., they sleep well.
Cycling adds to the confidence, increases road sense, and increases balancing & coordination of their bodies. As they enjoy going out more with their cycle, they reduce TV addiction and their gadget obsession. Furthermore, they get more active in school and prefer participating in various activities. However, ensure that your kid eat proper protein if he rides too much.

Also, as they spend time outside, it permits them to make friends, and be more social. Indirectly, that develops communication skills also, if you think deeply.
Best Hero Cycle For Kids – Reviews
1. Hero Blast 16T Single Speed Cycle
Kids are going to be crazy with the colors and appearance of the Hero Blast 16T Single Speed Cycle. Both black and yellow colors are truly amazing. Here also, the makers are providing it 85% assembled.
Just by using some common sense, the remaining 15% assembly can also be done. You're already getting Allen Key & Spanner in the box. Max rider height is 4.5 feet here (135 cm). The perfect structure of this bicycle helps your kid in balancing, which further makes learning much easier.

Features
As the steel frame is super sturdy, nothing will happen to the bicycle, even if your kid rides it on rough paths.

Due to the perfect material and shape of the seat, your kid can practice cycling for a longer time without feeling hurt.

The front and back caliper brakes work extraordinarily for ensuring max safety. These are very useful for kids learning to ride.

The training wheels are perfectly aligned, and due to these wheels, the rider feels confident, by which we mean that even if your kid is scared of riding a bicycle, he/she will get the sense that he/she won't fall down while learning due to these supportive wheels. The confidence level will be high.
The Final Advice
If you want your kid to attract everybody's attention (especially his/her friends), then just buy Hero Blast 16T Single Speed Cycle! The overall sporty design will make your kid look unique from his/her little biker's gang. Riding this bicycle in the mud is equally safe, and cleaning isn't a hassle after that! To know the Hero kids cycle price, tap the following button.
---
2. Hero Brat 16T Single Speed Cycle

Any kids aging between 6-10 years can ride hero Brat 16T (However, the makers suggest it for 5 years kids). The frame size is 11.4 inches. This cycle is not heavy at all, meaning that your kid will not have to struggle much in gaining the right balance. This Hero kids cycle price highly impresses.
Front and back caliper brakes highly impressed our testers. These breaks are ensuring great security, which is necessary also. Your little one is always safe! let's know more!

Features
High-quality steel is used in this 16T kids bicycle construction. The frame promises for a very long run.

The color combination and paints can highly attract any child, and that's why this cycle is going on as the premium choice of kids nowadays.

Your kid gets comfortable seating as the material and shape of the seat of Hero Brat 16T Single Speed Cycle is perfect.

Training wheels are also there for safety.

This cycle comes power-packed with anti-skid pedals. No injuries there!
The Final Advice
If you're searching the Hero cycles for a kid, then undoubtedly, Hero Brat 16T Single Speed Cycle is a durable choice, but if your kid is aging 10, then better don't buy it, as after learning he/she will demand a bigger one, and you'll have to spend twice. 
No matter 10 years, a kid can easily learn bicycle riding with this model, but still, the sweet spot age for this bicycle, according to our recommendation, is 6-8 years. Now, in case you'll be willing to go with an expensive cycle for your kid, then we recommend you R for Rabbit Tiny Toes Jazz Bicycle. It's actually the most stylish cycle available.
NOTE – If you found this hero cycle out of stock, then try the Hero Blast 20T Single Speed Kids' Bike, which is also an similarly fantastic product while offering a few more functionalities!
---
3. Hero Freak 14T Single Speed Cycle

While forming our test, Hero freak 14T highly impressed us. The Hero Freak 14T comes with a great color combination of light blue, red, and black, which can attract any kid.
Besides being reasonably priced, this 14T cycle is very safe and durable. You've got a yellow color choice also, and the price is the same. The pedals are going to move very smoothly, which will make your kid's ride fully enjoyable. The color combination of this bicycle is something that can attract both boy and girl children.

Features
Most people hesitate to buy a bicycle due to the hassle of assembling it, and definitely, that's not easy work. Fortunately, Hero Freak 14T Single Speed Cycle comes 85% assembled. You just need to put it together, which isn't tough at all. You already get Allen Key & Spanner in the box for the final assembly.

Due to the chain cover, the looks get better. With this cycle, the chain slipping out won't happen. Your kid won't be stuck anywhere in the hassle of putting the chain back on the place.

The steel frame of Hero Freak 14T Single Speed Cycle is very sturdy.

All kids that we involved in testing these bicycles appreciated the shape of the handle.
The Final Advice
This bicycle is costing at least 1000-1500 lesser than the retailers. So, buying Hero Freak 14T Single Speed Cycle from Amazon is cheaper and also reliable. The pedals are of perfect size, and your kid's feet won't slip on these pedals. Due to the pedal's perfect size and non-slip qualities, your kid will learn to cycle pretty fast. Just grab Hero Freak 14T Single Speed Cycle, and the color is suitable for both boys and girl child.
NOTE – This hero cycle might be out of stock sometimes, therefore, we recommend R for Rabbit 14T Inches as this hero cycle is also similarly fabulous, while providing some additional cool features!
---
4. Hero Freak 12T Single Speed Kids Cycle
If you feel that your kid is still too little to start learning bicycle riding, but he/she is showing stubbornness regarding this, then better don't stop your kid. Don't bother about safety, and Hero Freak 12T Single Speed Kids Cycle will take full care of that!
This 12T cycle is a tremendous teacher! The seat is easily adjustable, and this cute little bicycle is suitable for both a girl and a boy child. The handle's shape and structure are perfect for supporting your kid's shoulder. As a result, the kid can spend more time learning continuously.

Features
The build quality is great, and the colors are exactly what is shown on Amazon.

The chain cover is of very good quality, and most other cheap cycles lack this!

Hardly any maintenance is needed. As the bicycle is so small, cleaning it won't be tough, even after your kid brings it home fully covered with mud!

Of course, you get convenient side training wheels for developing confidence in your kid and motivating him/her to learn to ride a bicycle.
The Final Advice
No matter you explore the whole market, Hero Freak 12T Single Speed Kids Cycle proves to be a perfect choice. Costing around 2000 rupees, the overall convenience with this bicycle is so high. The assembly is very easy. Undoubtedly, Hero Freak 12T Single Speed Kids Cycle is a hassle-free purchase.
---
5. Hero Peppy 16T Junior Bike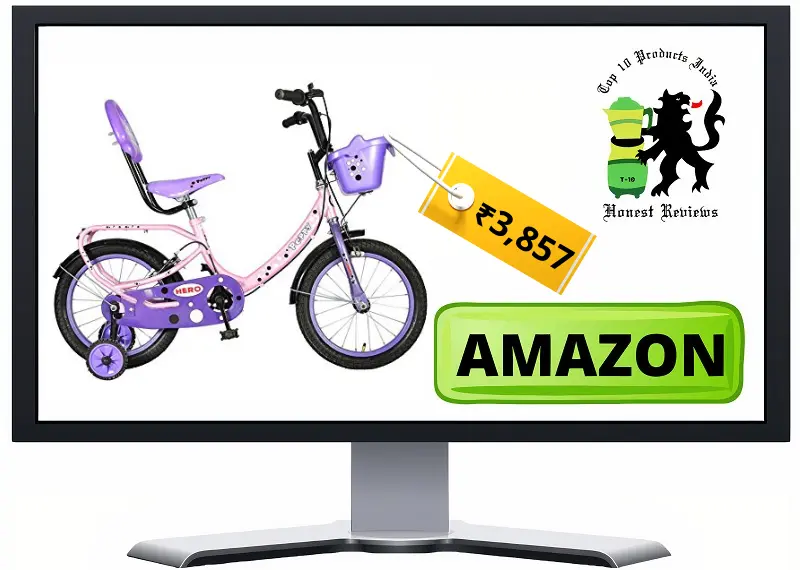 Here comes the 5th model, which is perfect for your daughter. Any kid aging between 5-10 can try out their cycling skills on this 16T bicycle. The backrest of this bicycle is really impressive. The color and design highly meet the requirement.
There are no complaints regarding sturdiness and comfort, making this bicycle a supreme choice. Around 4 feet is the max rider's height. The cycle is of great value for money, and that's why all buyers are happy with this cycle's performance and durability.

Features
As this cycle comes 85% assembled, the remaining 15% assembly proves to be fun, actually!

The pedal's construction is very impressive. The big size and non-slip quality of the pedals make riding this cycle in mud also easier than other cycles. Perfect quality wheels are also playing a great part here.

The trainer wheels are perfectly aligned and very sturdy.

The handles, besides being so stylish, are in perfect shape! These provide a great grip.
The Final Advice
The weight, design, and construction of this bicycle highly impressive. Learning is so easy on it. Buy Hero Peppy 16T Junior Bike and find your son/daughter asking for removing those learning wheels from the sides, and you'll be glad to see her/him riding on two wheels!
NOTE – Unfortunately, in case you encounter this hero cycle out of stock, then try Hero Blast 20T, which is also a similarly advantageous hero cycle and has numerous features too!
---
Buying Guide
Kids grow, so if that they're in a kid seat or trailer soon, they exceed it. At 2-4 years, they can proceed onward to their own ideal-sized tri-cycle. On a bicycle, kids can understanding/learn the laws of inertia, controlling, accelerating, braking, and sitting on the saddle. Tricycles don't do a lot to grow a feeling of balance, and they can be tippy (keep out low-lying "huge wheels").
Most kids try a bicycle with two wheels around age 3 years. Physical coordination, as well as agility, great balance, and master beginning and stopping on the tricycle or training wheels with the goal that they are prepared to figure out how to ride a bicycle. Kids basically don't have the coordination & strength for hand brakes until a minimum of 5.
However, alongside physical skills, it additionally takes mental readiness (self-confidence) as well as motivation for learning to bicycle. A few kids don't build up this until they are a minimum of 10 years of age. It a few times takes much patience on the part of parents. Confidence and interest are needed in your kid to quick learning a bicycle.
Give your kids motivation about how good riding a bicycle is, talk about riding bicycles with friends and show your kid that you're ready for a bicycle, and tricycles are what a baby should ride.
Size
The very first step in picking a bicycle is getting the correct size. Where adult bicycles are measured by the frame (estimated from the center of the bottom bracket to the highest point of the seat tube), bicycles for kids are measured by their wheels: 12″, 16″, 20″, and 24″. The bicycle should fit the kid. The rider must be able to dismount and easily straddle the bicycle flat-footed.
Afterward, with a slight lean of the bicycle, get their bottom back onto the seat, put your kid's foot on the pedal, and, when the body position and balance are there, ride away. They're not supposed to ride scrunched up, having their knees hitting the bicycle's handlebars, and also, they shouldn't be incapable of turning handlebars effectively.
At the moderate speeds that kids begin riding at, steering by turning the bicycle's handlebars is much more of a component of riding rather than at quicker speeds where controlling is done largely by leaning. If there' are training wheels available on the bicycle, then all the controlling will be done with the handlebars.
Cost
If there's a range of costs available in your kid's size, get a couple of bicycles. It's likely the heavier bicycles will be less expensive. They're likely made of steel, where the lighter bicycles are made with a few composite metals. Other than the simplicity of handling with the bicycle, the one spot the decision of metal can have a huge effect on the bicycle's wheels. Fortunately, Hero cycles for a kid cost reasonable.
Brakes
The essential mechanical parts of a bicycle, overall, are the brakes. Whatever has gotten the bicycle moving, you need your kid to have control to get it stopped.
Kids' bicycles basically have either coaster brakes (the brakes on the bicycle's back wheel that are locked in by accelerating in reverse) or handbrakes (brakes connected by a grasp on the handlebars, which pinches brake pads against the wheel's rim) or both. As a result of their small-sized hand and limited strength, the smallest kids' bicycles have coaster brakes.
Until your kid's hands are big enough and powerful enough to utilize a handbrake effectively, they should depend on coaster brakes. Before they start using a multi-speed bicycle with a derailleur, it's beneficial for them to gain some knowledge and experience on a bicycle with both sorts of brakes so they get used to handling brakes, since bicycles with a derailleur can just have hand brakes.
There are various designs of the brake mechanism of handbrake activated brakes, which go by names, for example, side-pull, u-brakes, center-pull, v-brakes, and cantilever. There are good as well as bad quality results of every design, so it depends upon your decision.
Furthermore…
When accessing the mechanism of braking, you need to ensure that it's stiff and sturdy enough to deal with the weight as well as the speed of the rider (many times velocity equals momentum, mv = p.) If your bicycle just has brakes, which work by rubbing on the rims of the wheel, it's ideal to have alloy-made rims.
Steel rims are chrome plated and also are particularly risky when they get wet. Steel rims have a low co-effective of friction, and that's why it takes longer to stop the bicycle—which may be dangerous! If the bicycle's brakes use brake pads, then ensure the pads are adjusted over the rim and the nuts are tight enough.
If appropriately adjusted, the drag-end of the bicycle's brake pad must touch slightly before the lead end. We call it "toe-in." Suppose the brakes squeak while braking, then they aren't toed inappropriately. On the low-costor kids' bicycles, basically, it may be agonizing trying to get this adjustment perfectly without holding pliers and twisting the brake caliper a bit.
Wheels
The CPSC needs the front wheel to have a safety mechanism so that regardless of whether the nuts on the axle are a bit loose, the front bicycle's wheel won't fall off. In a perfect bicycle, the hub, spokes, and rim must be of metal. If you're holding the tyre and trying to wiggle the bicycle's wheel from side to side, you shouldn't detect any play, and also, the wheel must spin freely.
Frame
Basically, the frames are sturdy enough for handling moderate abuse. A strong enough adult must not be able to twist it by hand. The frame must be in alignment. You can easily check the frame alignment by standing two or three meters in front\behind your bicycle and verifying whether both wheels are on a similar plane.
Check to ensure that the posts (seat post as well as handlebar stem) leaving the cycle's frame are all tightly bolted and can't be twisted. The seat post & handlebar stem are what you need to grease before assembling to avoid them from freezing up after a few drops of rain.
You can't basically check this until you get your bicycle home. After you take the seat post & handlebar out, oil them properly and then reassemble them but ensure that the bolts are tight.
Handlebars
A littler cockpit gives less room to the rider and may cause kids' knees to hit the handlebars while turning. The design & shape of the handlebars can also limit the cockpit and heavily affect the maneuverability of the bicycle.
Tall handlebars that sweep back, regularly found on the store of bicycles, limit the rider's space as well as prevent them from using more power & force on the handlebars. This is particularly essential for starting riders. Having the option to lean in towards their handlebars highly helps them in improving the position for starting accelerating, just as for getting more leverage on the handlebars.
Despite what might be expected, handlebars, which are too low, spot starting riders in an extremely forceful position, which may make the riders tire out more simply as well as putting a strain on their neck.
Drive train
The CPSC requires a bicycle with no derailleur for having chain guards. They can be successful at keeping shoe bands as well as pant legs from getting caught between the chain & chainring, which may cause an accident. Ensure they don't rub against the chain. You need to keep them on.
The better crank arm or bottom section sets are three pieces in which the crank arms jolt. Second-best is 3 piece sets, in which the crank arm is held in place with cotter pins. The third spot goes to one-piece wrench or bottom bracket sets.
These are the most basic on kids' bicycles. Almost in all cases, if you try to squirm the wrench from side to side while holding the pedal and you shouldn't feel any type of play, and while turning the crank, the bottom bracket must run freely.
Types of Hand Brakes
Before buying the Hero cycle for kids online, do know about various hand brakes' types. Notwithstanding being easy to reach, it's essential to note the kind of braking mechanism utilized as their quality & performance can vary. There are three braking system types present in kids' bicycles, which are v-pull, single-rotate, and circle.
The kind of braking system in a bicycle is really simple to determine just by looking at the bicycle. Single-turn & v-pull brakes join to the bicycle's frame and pinch the bicycle's rim, whereas disc-brake systems are simple to spot through the big circle in the bicycle's tires.
Single-pivot
Single-pivot braking mechanisms are found on most budget-friendly bicycles and are essentially more finicky when compared with v-pull & disc brakes. Even if they're appropriately aligned to work, they offer less braking force and commonly hold up with time and utilize when compared with v-pull.
Indeed, most bicycles with the single-pivot braking mechanism also accompany a coaster brake as a backup. Having a few poor experiences with the single-pivot brakes may want bicycles with v-pull brakes. But the quality of a single-pivot brake also matters and also tends to vary incredibly with a cost.
V-pull
We find V-pull brakes on basically all mid and high-run kid's bicycles. These brakes are also the standard stopping mechanisms utilized on most adult bicycles, too (with exemption to better quality claim to fame bicycles).
Sturdy, simple to-change, and rough enough to keep up arrangement after some time, V-pull brakes offer more halting force than single-rotate brakes essentially and are regularly constantly worth the extra cost. With different makers creating v-pull brakes, generally speaking, quality and execution can shift, yet regardless we lean toward them over single-rotate brakes.
Disc
Disc brakes aren't normal on kids' bicycles, but we easily find them on high-end bicycles, particularly mountain bicycles. These brakes can be mechanical or hydraulic. However, for the normal regular rider, the extra-braking force offered by any disc brakes is frequently not worth the extra cost.
In any case, the power of braking on disc brakes is top-notch, so if it fits your budget, you can't go wrong regarding disc brakes.
Do I Need to Worry About Bicycle's Gearing?
Yeah, you do need to!
Single-Speed Bicycles
Single-speed bicycles may just be one speed, but still, it's an essential consideration that actually what the single-speed bicycle is! The gain ratio of the bicycle decides that how simple it is for starting pedaling a bicycle, just as how quickly you can get going on a bicycle. All 12″ to 16″ bicycles are single-speed, while 20″+ bicycles are either single or have gears.
A gain ratio is a number, which is dictated by the (pedal arm length), crank arm length, wheel size, and the number of teeth on the front and back cogs. The high gain ratio needs more effort to begin. However, it allows the bicycle to travel further with each pedal stroke (such as a high gear on the adult bicycle).
A low gain ratio needs less effort for getting the bicycles started but needs more "pedal spinning" for getting the bicycle going (like a low gear on the adult bicycle). The older and stronger a youngster, the higher the gain ratio they will be comfortable for riding.
Bicycles with Gears
Gears are available on a few 20″ bicycles and most 24″ bicycles. Geared bicycles regularly need substantially more maintenance than single-speed bicycles and can be difficult for a kid to utilize. The main worry with gear bicycles is the shifting system. We call it derailleur that is present on the bicycle's back axle.
In case you drop down the bicycle, you damage these derailleurs. Therefore, we suggest only getting a bicycle with gears if your kid genuinely plans to utilize them.
20″ and 24″ bicycles are commonly accessible with 7/8 gears, which you a shift with one shifter on the correct hand. Unlike most adult bicycles, which have two shifters (each hand shifting the front or back derailleur), kids' bicycles regularly have fewer gears and just one derailleur on the back tyre.
Gears prove to be a big attraction among the kids, and the kid with a geared bicycle gains more respect in the friend circle. That's true! If you can afford it, then better look for the geared cycle firstly, and if it isn't available, then you can choose a simple non-gear one. However, what we advised implies for the kids over 10 years age, as before that, gear changing might bring confusion.
Grip Shifter versus Trigger Shifter
Geared bicycles are accessible with withholding/trigger shifters. Grip shifters can be activated by twisting the grip forward or back with your hand's palm. The trigger shifters are activated by pushing or pulling on levers with the fingers.
In general, grip shifters are favored by timider or beginner riders as they are frequently simpler and more intuitive to use. Aggressive riders, especially mountain bicycles, always like trigger shifters.
Low-end versus High-end
The total quality of the derailleurs in a gearing mechanism may vary greatly from bicycle to bicycle. Parts on lower-end bicycles are infamous for effectively getting out of tune. At the point when a derailleur or shifter isn't working appropriately, it's regular for just 1 or 2 of the gears on the bicycle to really be usable.
Shifting to different gears will make the chain come off. On different occasions, the chain will try to move but can not. It will result in the bicycle making a loud noise while pedaling. High-end bicycles ordinarily have progressively robust systems, which will better handle the wear & tear from kids.
Despite the measure of cash you put into a bicycle, training kids to constantly lay a bicycle down with the gears, as well as chain pointing up (it must not face towards the ground), will go a long way in helping for keeping the bicycle in tune.
The Conclusion
Learning how to ride a bicycle has been a sweet memory for all of us. That joy is incomparable when we first ride our bicycle ourselves, without friend's/ dad's support! Removing those supportive wheels from the side pumps up the confidence so much. All the cycles mentioned above are well-tested, and your kids are definitely going to learn faster due to the right shape, balance, handles, etc., of these bicycles.
We were talking about kids till now. What about grown-ups? Now, if your elder son/daughter has grown up to 18 years, then why not gift him/her a helmet? You are ensuring high safety as well! Isn't that a cool idea? Cherish our bundle of the safest and most stylish bike helmets in our Best helmet for bike reviews.
Note: By adding a few accessories, you can add extra charm to your kid's bicycle. Also, you need to buy safety stuff such as pads and all (they cost very cheap) to avoid your kid from getting injuries. To view such accessories, tap HERE.