In true words, finding a good smart LED TV with better resolution is pretty daunting as it has been a long since you bought a large screen TV, right?
Get yourself in a nearby TV showroom, and trust me, you'll find all smart TVs almost the same. The salesman will force you to buy the one, which actually he is targeting to sell, and you'll buy also.
After all, you aren't a TV expert to figure out small conveniences and inconveniences in a smart TV.
Man, it's a huge investment, so firstly, investigate properly.
No, you don't have to make efforts except reading this review, which we have written considering 40+ models and selecting 10 out of them.
Besides that, we have added 3 extra models of other sizes, which are the best in their respective size categories.
MI 43 inch smart TV is highly trending, but do you know one model is dominating over it? See the chart below, and then move further in this article, as we've many surprises!
15 Best 43 Inch Smart TV in India
LED TV

SCORE
PRICE RANGE
BUY NOW

Kodak 43UHDXSMART

9.0

Under 25,000

Buy on Amazon

Mi TV 4A PRO 108 cm

8.8

Under 25,000

Buy on Amazon

Micromax L43Z0666FHD

8.8

Under 25,000

Buy on Amazon

VU 43GA

8.7

Under 25,000

Buy on Amazon

Sanyo XT-43S7300F

8.6

Under 25,000

Buy on Amazon

Sanyo XT-43A081F

8.5

Under 25,000

Buy on Amazon

Samsung UA43N5300AR

9.2

Under 50,000

Buy on Amazon

LG 43UM7290PTF

9.2

Under 50,000

Buy on Amazon

LG 43UK6360PTE

9.0

Under 50,000

Buy on Amazon

Samsung UA43NU6100

8.8

Under 50,000

Buy on Amazon

LG 43LJ554T

8.7

Under 50,000

Buy on Amazon

Sony Bravia KD 43X7002G

8.7

Under 50,000

Buy on Amazon

Mi TV 4A PRO 49″

9.2

Under 30,000

Buy on Amazon

Kodak 50FHDXSMART 50″

9.1

Under 30,000

Buy on Amazon

LG 32LJ573D 32″

9.1

Under

20,000

Buy on Amazon
Best 43 Inch Smart TV in India — Reviews
1. Kodak 43UHDXSMART 43 inch smart TV 4k (108cm 4K Ultra HD)
Finding a 43 inches 4K Ultra HD TV under 25000 that too from a big company like Kodak sounds impossible hearing the first time, but actually, it is true. Kodak has made a significant mark with 43UHDX in the market. You find sleek bezels around its display. However, the design is just a bit fatty, but I know everyone will happily compromise with that.
Also, Kodak has highly improved the software front. The built-in media player perfectly plays full HD and 4K video in numerous formats. This Android-based Smart TV comes with Wireless Media Playback from a smartphone. 3840 x 2160 Pixels is the resolution here. By the way, this one beats MI LED smart TV 43 inches regarding color saturation! However, MI LED TV 4A Pro 43 inch dominates in sound! So, the clash is a close one. Have a close look!
The Specs
LED TV

Table Top Stand

User Manual

Warranty Card

Remote Control

2 AAA Batteries
Features
You'll find a majority of the ports conveniently lined up on this TV's back. The USB port for quick connectivity, headphone, and HDMI are also conveniently placed on the left side.

Talking about the cheap 4K Ultra HD LED TVs, you need to compromise with picture quality and contrast, but while testing the picture quality and contrast of Kodak 43UHDXSMART Smart IPS LED TV, we were entirely surprised! It was fabulous.

Picture quality and upscaling capabilities are far better than the price.

The color and pin-sharp details of this 43 inches LED TV are highly impressive. Brightness is about 550 nits, and this is impressive considering most other competitive TVs in this price range max out at 450 nits.

Audio quality from this TV's dual speakers is double awesome. This model is loud enough for a humongous hall, and bass is never an issue.
The Final Advice
This model supports apps like Netflix, Hotstar & YouTube, meaning that you have unlimited hours of streaming to enjoy and kill boredom. It also comes with an automatic volume level. The professionals will provide free installation and demo. The warranty is for 1 Year. 8 Milliseconds is the response time. Good connectivity with several HDMI ports, Wi-Fi is also supporting the purchase. The remote control is also simple. 
Besides HD, non-HD channels also appear cool ( got 8.4/10 points by our experts regarding that). Also, playing games with your PlayStation or consoles will give you an amazing experience with this tv. Besides that, a unique app (MiraCast) supports casting your smartphone on Kodak 43UHDXSMART Smart IPS LED TV and further use it as a remote or keyboard! That much is enough to get you into the mood of purchasing Kodak 43UHDXSMART Smart IPS LED TV (43 inches), right?
You can read everything about this 43-inch model by reading Kodak TV Review.
---
2. MI TV 4A Pro 43 Inch Review (108 cm Full HD)



We know many of you want to read the MI TV 43 inch review. This MI model is the best seller, with over 3000 customer reviews on Amazon. It delivers great performance for gaming and media consumption and comes with a minimalistic functional remote. However, it is not 4K, but most importantly, the picture quality is highly appreciable with non-HD Content also, and this quality lacks in most of the lower range smart LED TVs of this size.
It isn't the slimmest TV around, but the built quality makes us feel dependable. Our advice is, put this TV on a tabletop and a couple of plastic feet. It will firmly hold this TV, and also make it look amazing when relatives come. First cherish properly, then know MI TV 43 inch price in India. Now, let's go in detail of MI TV review 43 inch! 
The Specs
LED TV

Remote Control

Base Stand

Wall Mount

User manual

2 AAA batteries
Features
Considering all the features, Mi LED TV 4A PRO Android TV is providing, it is good to buy for people searching for a 43 inches LED TV. It comes with a functional, fluid, and perfectly laid out UI, which brings you advantages of both PatchWall and stock Android TV.

3 HDMI ports are provided for connecting a set-top box, gaming console, and Blu Ray players. 3 USB ports enable connecting hard drives and several other USB devices.

MI43 inch TV is far better than the very popular TCL 43″ 43P65US-2019 mode. If you're planning about buying the TCL model, then she highly advises you to flip your decision and go with this MI model because TCL 43 inch smart TV stands nowhere in the competition.

20W is the DTS-HD sound 20W output, and pretty few people will feel unsatisfied by the sound quality and invest in some sound devices. Even if you keep the volume at 50%, it can very well fill up a large hall.

A big positive is MI smart tv 43 inch price in India! It's too low!

It comes with PatchWall with Set-Top Box and Android TV integration. You get a built-in Chromecast and 700,000+ hrs of Content. The MI remote comes with Google Voice search. You enjoy Content in 15 different languages.

Mi LED TV 4A PRO Android TVs the best at their price regarding gaming. This TV can support 60FPS. As a result, Xbox One X and PS4 Pro owners can enjoy the high frame rate modes in their games.
The Final Advice
You get a 1-year warranty on TV and 1 year extra on Panel. Dons features like full HD and HDR display, DTS-HD audio, google voice search, ultra-bright resolution, and furthermore, things can highly attract anybody to buy Mi LED TV 4A PRO Android TV.
When we switched off HDMI 2.0 option, this TV's performance was amazing. A standard set of Content is what we ran on this TV from the Xbox One X, which included Netflix and Amazon Prime videos. We tested various files, and the results were very pleasing. Both bright and low light scenes were brilliant. HDR performance was also more than money!
So, Mi LED TV 4A PRO Android TV is highly recommendable. To know the RedMI TV43 inch price in India amazon, tap the button below.
---
3. Micromax L43Z0666FHD LED TV  (109 cm/43Inches Full HD)
MI 43 inch smart TV price was impressive, right? So is this one! Now, Micromax L43Z0666FHD LED TV is the cheapest TV under this price category. Micromax brought the best smartphones in India at the beginning of the era of the smartphone in India and in the field of manufacturing, 4K LED TVs. Also, Micromax has earned a big name. Over 900 Amazon customer reviews, Micromax L43Z0666FHD LED TV has earned. Success is also high. Price is a major factor targeted by Micromax in this case, due to which their 43 inches TV is selling more than the leading competitors. 1920×1080 is the full HD Resolution, and 60 hertz is the Refresh rate. The warranty is for 1 year. 
The Specs
LED TV

Remote Control

Base Stand

Wall Mount

User manual

2 AAA batteries
Features
Connecting Micromax L43Z0666FHD LED TV to the Blu Ray players gaming console or set-top box is convenient, with 2 HDMI ports provided. 1 VGA Port is there for connecting your laptop.

Wide range connectivity lets you convert Micromax 43 inch LED TV to a multimedia entertainment center via connecting it to several devices for playing tracks, videos, etc.

Suppose you are watching TV at night, and suddenly, you fall asleep without turning off the TV. The sleep timer feature helps in this case. Just set the sleep timer, and the TV will switch off automatically.

This TV comes with an energy-efficient feature. It saves energy even when you put this TV on standby or sleep mode.

On Amazon, Micromax L43Z0666FHD LED TV is sold consistently at 3000-4000 rupees than the market. (Analyzing data for the last 4 months). 3 Years warranty rolls perfectly.

Our hired professional experts concluded no other company is providing such amazing sound quality at this price level by testing 28 TV models around this price. Buying an additional soundbar is not needed.
The Final Advice
Fortunately, in the current time in Amazon, Micromax L43Z0666FHD LED TV is exceptionally low. Its current price states that even if you enjoy this TV for two years, and sell it second-hand, then also your return will be pretty close to your investment. Buying Micromax L43Z0666FHD LED TV is a win-win situation. Many people feel confused when they get a 43 inches superior quality LED TV online at such a low price. That's why we have fully tested this TV and concluded that not just safe, but it's a very beneficial deal. The return and exchange policies also highly support you.
---
4. VU 43 inch smart TV HD 43GA (108cm Ultra Android LED)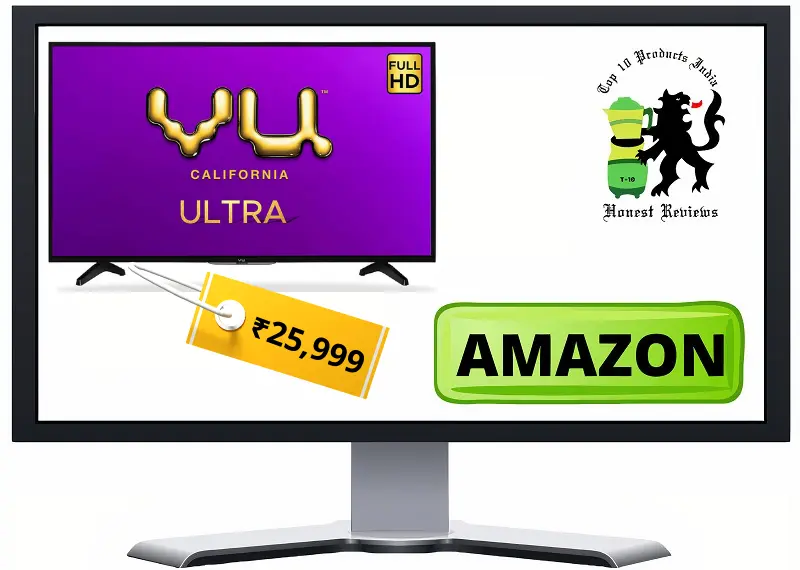 Now, certain Indians don't know about the VU brand, but actually, it's pretty successful! Amazon customer reviews have crossed 900! This TV is full HD 1920×1080 Resolution, and the refreshing rate is 60 hertz. 2 HDMI ports are there. With this TV, You can explore more Content via the official Android OS! Brightness, contrast, features, everything is more than money! No major complaints about the VU 43 inch LED TV either. You enjoy picture details with intense contrast! Automatically lighten light areas and darken dark areas of images for enjoying more details. 
The Specs
LED TV

Table Top Stand

Wall Mount Bracket

User Manual

Warranty Card

Remote Control
Features
The sound output of the VU 43 inch TV is 24 watts, which is very impressive. Just by its sound clarity and power, one can expect its price over 30000! Dolby Audio will truly win your heart.

Also, you can watch videos on youtube as much as you want for free on this tv with great resolution & refresh rate.

Vu charges nothing for the installation of this TV.

Vu uses a High-intensity panel with perfect white balance, due to which your viewing experience is the best even in bright daylight. The brightness is even throughout the screen. You enjoy bright color tones with calibrated white balance.

You've got certain apps to play like YouTube, Hotstar, Netflix, Prime Video, and Google Play with its remote. So, you can unleash all never-ending entertainment in no time! To access your most preferred apps, just tap a button.

The Dolby Multistream Decoder of this model provides it with a one-package solution for decoding various universal audio Content worldwide. It supports audio formats – Dolby Digital and Dolby Digital Plus.

The MPEG noise reduction feature is truly awesome. It reduces MPEG block noise for bringing you clearer edge transitions. The picture appears much clear after this noise reduction.

VU Smart TV 43 inch model is powered by Powered with Android PIE 9.0, providing you access to the whole Google ecosystem, including Play Store, Google Movies, Google Games, etc.
The Final Advice
Official Google Play Store having Storage of 8GB and thousands of shows, movies, and games from Google Play, your favorite apps, and YouTube is alone feature enough never to let you feel bored! While testing this TV, we came across an immersive surround sound experience, and the dialogues were pretty close to real-life human voice! Especially watching horror movies is going to thrill you! The sound quality is something you'll be a fan of. So, yes, the VU TV 43 inch model is superbly beneficial.
---
5. Sanyo XT-43S7300F IPS LED TV (109 cm Full HD)
The Sanyo XT-43S7300F IPS LED TV comes enhanced with a Full HD display and ensures decent picture quality. This TV allows you to enjoy watching your Content at 1920 x 1080 p resolution. The super-bright Panel is enhanced with Sanyo's IPS technology, letting you sit back and enjoy a sharper and clearer image than your expectations. The display embraces Dot Noise Technology, which works for reducing the voice of videos and movies for retaining the well-deta8iled resolution of the image, further ensuring its high sharpness and clarity.
It was the most impressive model in India 2019 regarding sales! In testing, it defeated Onida's 43 inches smart TV in 8 out of 9 departments! Definitely, you get 43 inches led TV wall mount stand here also, and several other accessories. 
The Specs
LED TV

Table Top Stand

Wall Mount Bracket

User Manual

Warranty Card

Remote Control

2 AAA Batteires

1 Power Cable / Power Supply Adopter

1AV Cable
Features
Due to its sleek and slim design along with contoured edges, this TV consumes negligible space in the living room. Also, the premium black body finish enhances your room décor. 

It comes with 60 Hertz refresh rate for reducing motion blur as much as possible during fast-action scenes so that you get crystal clear picture quality.

16-watt box speakers come with this TV, enhanced with bass, for bringing the best experience while enjoying music, videos, favorite tracks, etc.

Sanyo is not as big a name as the other brands in this guide, due to which you are spending around 3000 less than other TVs with similar features.

There are 2 HDMI ports for letting you connect this TV to your gaming console or set-top box. So, switching between cables is not needed. 2 USB ports are also there, letting you plug your portable hard drives and pen drives conveniently.

The other convenience is that this TV comes with HDMI Sound Out Feature. Due to this, connecting the TV to the home theatre system becomes possible. That way, you convert your room to a theatre.

Before coming to the market, Sanyo undergoes a total of 24 quality checks to ensure that it doesn't bring any inconvenience.
The Final Advice
This TV brings you pleasure whether you ask listening to dialogues, enjoying music, watching fast action scenes, or anything else! Besides that, this TV provides you with decent connectivity (which is an issue with several 4K LED TVs around this price).
The wide viewing angle also attracts you to purchase Sanyo XT-43S7300F IPS LED TV. This makes the group watching very convenient.
Due to this wide-angle, no need to adjust brightness and contrast always. At the same time, watching this TV from the sides. So, the conclusion is Sanyo 43 inch TV XT-43S7300F is a golden purchase.
---
6. Sanyo XT-43A081F Nebula Series Smart IPS LED TV (108 cm Full HD)
Close to the MI 43 inch TV price comes the Sanyo XT-43A081F Nebula Series Smart IPS LED TV. Its launching took place recently in 2019, and it earned a good name pretty fast. No matter it's a new TV, but by knowing the details of its components and testing them, our experts concluded, durability isn't going to be a thing that this TV will lack. The resolution of the Full HD display is 1920 x 1080 pixels.
The images are always distortion-free, and most importantly, the contrast is pretty optimal, and you can experience that even fine details are very clear and distinguishable. Further, 178 degrees viewing angle makes this TV suitable for large living rooms and enjoying group watching.
The Specs
LED TV

Remote Control

Table Top Stand

Wall Mount

User manual

2 AAA batteries

1 Power Cable / Power Supply Adapter
Features
The audio output of Sanyo XT-43A081F Nebula is 20 W. The superior box speakers come with reduced distortion and enhanced bass.
 The Miracast app allows wireless sharing of media from your mobile phone to this TV. Playing music, photos, videos, etc., from your smartphone to TV is very convenient and enjoyable.

Downloading your favorite apps on this TV is very easy. The interface is also pretty quick and seamless.

Noise reduction technology is there on this TV for reducing picture distortion and noise and providing fine picture quality and well-detailed resolution.

There are no complications in Sanyo XT-43A081F's usage. 85% is the success rate, with almost 150 customer reviews on Amazon. Also, Sanyo is providing great post-purchase support.
The Final Advice
Wider viewing angles and great sound quality make this amazing, especially if you prefer to enjoy sports matches with your group of friends. Even the experience of watching action movies is terribly enjoyable! Use the Apps button and access the plethora of entertainment apps such as Hotstar and YouTube. Besides that, the Fast Cast App ensures convenience for mirroring your mobile screen on the TV.
So, you aren't just getting a large screen, with good picture and sound quality at a very less price, but also a big bundle of benefits accompanies! Undoubtedly, at this price, Sanyo XT-43A081F Nebula Series Smart IPS LED TV proves to be a sweet bet!
---
7. Samsung 43 inch 4k smart TV UA43N5300AR (108 cm Full HD)



On Amazon, Samsung Samsung 4k TV 43 inch UA43N5300AR is touching almost 90% success rates, with 280+ user reviews on the product. Here you get Full HD (1920x1080p) resolution, and when we played a cricket match on this TV and 5 others at a similar price range for testing, the picture quality, contrast, and color saturation was looking far better than others. It's truly the most impressive LED TV at this price. There's a 1-year warranty on Samsung UA43N5300AR LED Smart TV. [/su_box]
The Specs
LED TV

Remote Control

Table Top Stand

Wall Mount Bracket

User manual

2 AAA batteries

1 Power Cable / Power Supply Adapter
Features
Nothing to complain about regarding connectivity, and Samsung always concentrates hard on connectivity convenience. Here you get 2 HDMI ports for connecting Blu Ray players, a set-top box, and gaming consoles. Further, 1 USB port enables you to connect USB devices such as hard drives.

Sound is a big factor with any TV, and we made sure that when our reader is already spending near to 35000, he must not feel the need to buy soundbars additionally. Samsung 43 inch smart TV delivers 40 Watts (4x 10W speakers) Output impressive sound.

User convenience is another benefit. You get the SmartThings app, which is one perfect app for all. It includes Mobile setup and Content sync & share.

Samsung smart TV 43 inch price in India is less for the features!

Samsung 43 inch smart led TV is a sturdy TV weighing 10.5 Kg. As Samsung is the maker of this TV, durability and built quality are never the factors to worry about.

Viewing angles are very good, and most importantly, color saturation stays the same from various angles. Also, it displays HDR content pretty well.

This TV arrives with the Samsung Tizen-based TV OS installed, which is fast enough. Netflix, Prime Video, YouTube, Google Play Movies, etc., roll on very well.
The Final Advice
Once you sit to watch anything on Samsung UA43N5300AR LED Smart TV, you'll be amazed by the color saturation and contrast especially. By this, I mean neither bright scenes are too bright nor dull scenes are too dull. Samsung provides wall mounts free of cost, and Samsung takes care of the customers really well. This TV is powerful enough to rock a huge size hall. Micro-dimming pro-technology is also a sweet add-on. Keeping sound quality, picture quality, and user convenience in mind, Samsung UA43N5300AR LED Smart TV the best TV at its price. Now, to know Samsung 43 inch led smart TV price in India, tap the button below.
---
8. LG 43UM7290PTF TV (108 cm 4K UHD IPS LED)
Almost equal to the Samsung 43 inch smart TV price comes the LG 43″ model. The LG 43UM7290PTF is a highly featured elegant black 43 inches TV. It is a highly Certified TV, and Watching videos, TV shows, movies, etc., on its large crystal clear UHD display proves to be too luxurious. Most importantly, the LG 43UM7290PTF TV comes at a comfortable price. It is becoming a highly recommended choice by technology gurus, and the reason is abundant, highly detailed features.
The Specs
TV Unit

2 Remote Controls

Wall Mount

2 AAA Batteries

Warranty Card

2 AA Batteries

User Manual

Table Top Stand.
Features
The design and appearance of this TV make it look suitable no matter it is wall-mounted or placed on the table—the picture quality is incredible. Irrespective of viewing angles, you always achieve a crystal clear view.

This TV uses patented LG Technology, which is combined with HDR 10. Via this technology, it produces 1.07 billion colors in total with crystal clear picture clarity. That's better than the Samsung 43 inch LED TV! That's crazy!

You will enjoy flawless, rich, multi-dimensional audio. Its inbuilt speakers on this TV deliver sound from all angles.

The storage memory is more than what the average 43″ Tvs provide, which is considered amazing, and 1.5 GB DDR3 is the RAM installed.

A mic button is there to allow you to search your preferred content. Just press a button and do nothing more than speaking into it. That means no painful scrolling or typing is needed for finding your desired content. It becomes very convenient, especially when your hands are coated with food! Hats off to built-in Alexa support!

Three dedicated HDMI ports allow you multi-tasking without any need to switching cables frequently. 2 USB ports are also there, letting you connect pen drives and portable hard drives for further enjoying a great time with listening to favorite hot audios, viewing movies, images, videos, and so on.
The Final Advice
LG 43UM7290PTF 43″ TV is like a synonym of convenience. This TV lets you achieve the experience of a real theatre, and its amazing sound quality plays a big role here. If looking for something more, then you can also connect your external home theatre system to this Smart TV with the help of sound-out features. The Built-in Chromecast also proves to be too beneficial. There are certain unique qualities here! Buy LG 43UM7290PTF 43″ TV, and wait no more for the stunning visuals.
---
9. LG 43UK6360PTE Smart TV (108 cm 4K UHD LED)
Now, with LG 43 inch led TV43UK6360PTE, connectivity is even wider, which means you'll be able to use this TV in more ways. 3 HDMI ports are provided for connecting Blu Ray players, set-top boxes, and certain gaming consoles. Like other TVs discussed, her also 2 USB ports are there. Most importantly, all ports are located pretty conveniently. The sound output is 20Watts, which is half of the Samsung UA43N5300AR we recently discussed, but the quality is certainly better.
After all, quality matters more than the noise level, as no one is going to play the TV on the max volume every day. We played LG 43 inch 4k TV at a very less sound level, and still, the dialogues were very clear. 
The Specs
Features
LED TV

Magic Remote Control

Wall Mount Bracket

Table Top Stand

User manual

2 AAA batteries

1 Power Cable / Power Supply Adapter
Features
The impressive 4K display, which is specially designed by LG, produces more color shades than the competing TVs with finer gradation. You enjoy over a billion rich colors in total. The viewing angle is also appreciable.

LG 4K TV 43 inch model is capable of providing pretty delicate details and lifelike colors with a huge range of contrast. Also, this TV supports multi HDR formats, including HLG Pro and HDR10 Pro.

This webOS Smart TV enables you to use various entertainment right at the LG Content Store, including TV Programs, VOD, Apps & Games. You can call it a one-stop shop providing all entertainment content.

3840 x 2160 Pixels is the maximum display resolution. The picture quality is better than certain expensive TVs around.

We were surprised to know this model, when compared with the Sony 43 inch LED TV, got more votes regarding overall sound quality!

It comes with a magic remote as well as a convenient standard mount. The remote controller is an excellent build. However, don't feel baffled if it doesn't come out of the box, as the installation team brings this standard mount along with them.

The remote of the LG 43 inch smart TV works perfectly from other rooms as well. It's a universal remote, meaning that STB or other devices can be conveniently controlled by this remote. Lan, wifi & Bluetooth, everything works very well.
The Final Advice
We tried playing all types of video files from its USB ports, and all worked pretty fine. There were no lags. You can see every single video format on LG's official website. The HDR effect is also better than expectations. Through a USB drive, it plays all audio file sorts pretty perfectly. Besides that, all apps and OS run very smoothly and are highly responsive. It detects its flash drives & disks pretty instantly.Buy LG 43UK6360PTE Smart TV, turn it ON, enjoy watching STB channels instantly and appreciate its audio and video quality! Undoubtedly, LG 43 inch LED smart TV 43UK6360PTE is worth your money. To know LG 43 inch led TV price in India, tap the button below.
---
10. Samsung UA43NU6100 TV43 inch 4k KD-43X7002F (108 cm 4K UHD LED)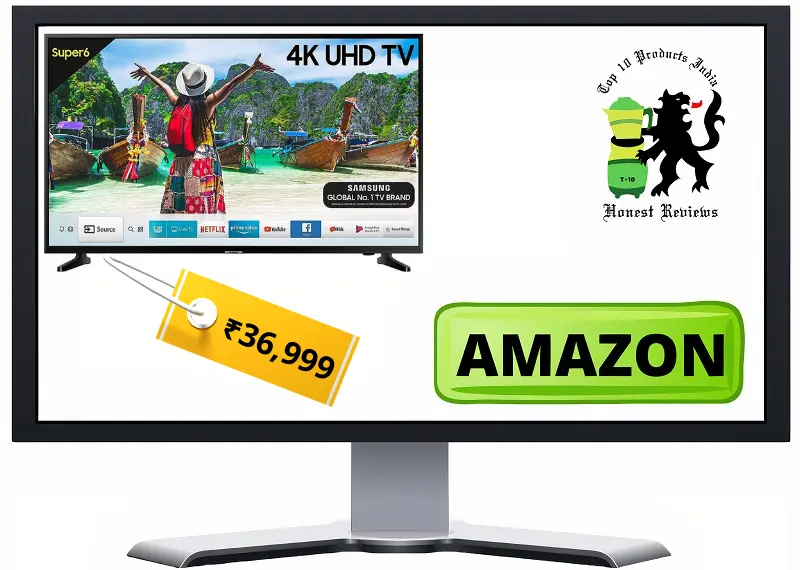 Samsung was among the very first few brands to bring the best quality 4K TVs in the Indian market, and in the beginning, even the leading brands were not able to give tough competition. Currently, also, Samsung is trending high. Later on, as the market filled up with these 4K LED TVs. Even some mobile companies also fall into this competition, Samsung lost its domination.
Well, that doesn't mean that quality is decreased. Just look at this Samsung TV! If you've seen this TV in the nearby showroom, we bet you were not able to take your eyes off at least for a while, right? Samsung UA43NU6100 smart TV is champion at its price and costs pretty near to 40000. The tag is heavy, but the performance never lets you down. Samsung has delivered some amazing features and not let anyone complain about color saturation, contrast, sound, and other such basics of a modern-day 4K LED TV.

The Specs
Warranty Card

AC Adapter

AC Power Cord

Remote Control

Table-Top Stand

User Manual

Batteries – 2
Features
Samsung 43 inch TV's crystal clear 3840 x 2160p resolution truly makes you a fan. Regarding connectivity, you get 3 HDMI ports and 3 USB ports. That's enough connectivity. Most importantly, connecting this TV to other devices is always pretty easy, and it performs very well with all connected devices.

This TV is unbelievably thin. If it is hanging on your wall, and your relatives or friends watch something on this TV even for a while, I bet they won't guess the price anything below 70000 (in the case when they aren't familiar with this TV).

With this TV, you enjoy lifelike details. 4K X-Reality Pro provides you with the best clarity. Some of the interesting features are USB Tethering, Big Flix, Live cast, Tune Station, SmartThings app, Built-in wifi, and Screen Mirroring.

A huge attraction is the Samsung UA43NU6100 TV 43 inch price in India!

Regarding the sound, watts aren't the only considerations. Clarity and quality matter even much. The compact speaker box of this TV produces rich, clear sounds from highs to lows of any audio. This isolated box ensures very efficient sound reproduction for letting you hear everything clearly.

This TV is beautifully designed with a slim, narrow frame and a highly attractive aluminum finish, and it definitely enhances the aesthetic style of your living room. The arrangement of cables is very neat. Wires always remain out of sight.
The Final Advice
Besides color, contrast, brightness, etc., the most pleasing thing we found in Samsung UA43NU6100 Smart TV was magical mirror casting. We mirrored one smartphone screen just to watch a couple of short wildlife videos, which were hardly 10 mins, and we were so impressed that we spent almost an hour mirror casting! It was a heavenly feeling.
So, buy the Sony Samsung UA43NU6100 TV and discover a thrilling world of incredible clarity. Each pixel is enhanced beautifully and perfectly by Sony's powerful 4K picture processing technology. You can't get better luxury from a smart LED 4K TV costing below 40,000. Spend money here and unwrap never-ending high-level entertainment for several years! To know Samsung TV inch LED smart TV price in India, tap the Amazon button.
---
11. LG 43LJ554T Smart TV (108 cm Full HD LED)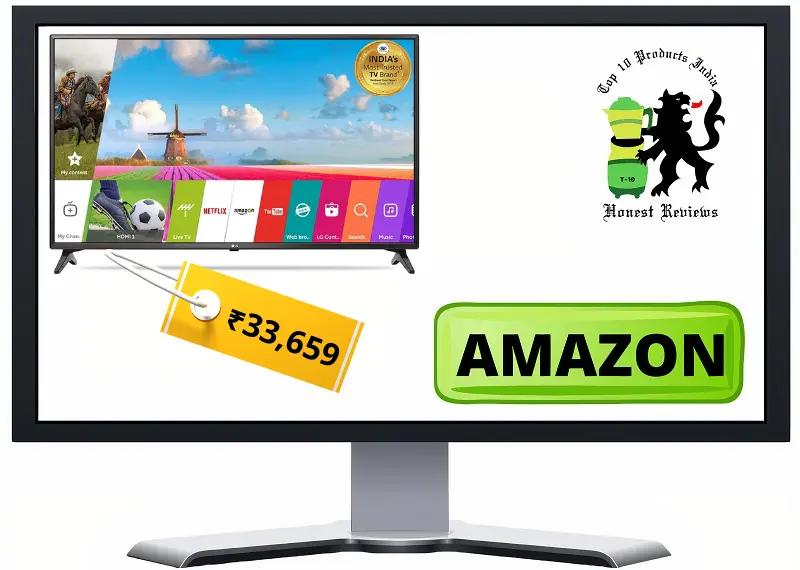 The LG IPS Panel is considered the best panel in the whole LED TV industry. It brings you Lifelike colors, and LG 43LJ554T Smart TV is a very suitable TV for group or family watching due to the wide viewing angle and uniform color and contrast from various angles. Its capabilities stand in high competition with Sony 43 inch smart TV. The image is always blur-free, and truly, the picture quality proves to be better than LG 43LJ554T's price tag. This TV brings some unbelievable features at its price. Read its features, and after that, you know LG smart TV 43 inch price in India.
The Specs
LED TV

Table Top Stand

Wall Mount Bracket

User Manual

1 Warranty Card

Remote Control
Features
WebOS allows you to appreciate LG smart TV 43 inch 4k with high convenience, ease, and enjoyment. This Tv has expanded more. Simply plug in USB and enjoy unlimited memory.

With LG 43LJ554T Smart TV, you experience its ultimate sound experience through its very powerful 20W sound output, which is very clear, due to which, understanding the dialogues is very easy even at very low volume.

Live zoom is generally found in more expensive TVs. Fortunately, with LG 43LJ554T, you are getting it. While watching anything, you can enlarge live screens. This feature brings high convenience, especially while watching sports.

LG 43 inch LED TV price will surely please you!

The music player lets the user enjoy a wide range of music via the TV speaker. You enjoy music with the use of other apps, keeping the TV's screen off. Besides that, It supports lyrics attached in the song file. So, here's a hand up over the Sony 4k TV43 inch model.

The color saturation adjustment of this TV is highly appreciable, and so is luminance. In comparison to other TVs in LG 43LJ554T, you'll find that colors are deeper and intense.

A major feature of this LG 43 inch TV is multi-tasking. You can watch TV and surf the internet in a parallel style.
The Final Advice
Besides all those conveniences, LG Content Store is a highly lovable thing. You can access all entertainment-related content at this one-stop. TV Programs, VOD, Apps & Games are all available at LG Content Store only. Another thing that makes this amazing 43 inches TV even more amazing and modern is its flexible wall mount brackets (included). You can rotate your TV by these brackets as per the viewing angle you require! That's convenience at its best. Dolby Digital Plus, unquestionable picture quality, and several big benefits make LG 43LJ554T Smart TV entirely worth purchase. Below is the LG 43 inch 4k TV price in India.
---
12. Panasonic TH-43FS630D 43 inch TV ( Sony Bravia KD)
Fewer people know that Sony Bravia was the first one to come up with an LED 4K TV in India. Sony Bravia 43 inch 4k TV has fewer reviews, but all happy customers. Costing nearly 50K, this TV has some tremendous features, and it seems like Sony has deeply worked up on even the smallest details. You enjoy natural bright colors due to its original Sony technology. It adds 3 complementary colors (CMY) to RGB, which are primary color axes. It highly elevates overall viewing pleasure.
The Specs
LED TV

Manual

Remote Control

AAA battery

Power cord
Features
For connecting stuff like gaming consoles, Blu Ray players, or set-top boxes, 3 HDMI ports are there. 2 USB ports are there for the purpose of connecting hard drives and various USB devices.

Its 20 Watts output is going to surround your huge hall, and you get the theatre-like feeling. You get a powerful woofer 2.1. The sound quality is truly tremendous.

All videos, regardless of resolution, will provide you with a superb visual experience on 1080p lines. The superior image quality of this HD TV is perfect for extra-large displays. Fast-moving visuals are also highly impressive! 

You get high light transmittance from its IPS panel, as well as a wide viewing angle. Its LED backlight efficiently increases brightness. 

The backlight system of the Sony Bravia 43 inch android TV is better than 4 TV under this price category on our list. Some amazing new features are behind its success. 

Most of you would love the Sony Bravia 43 inch LED TV price!

Smooth reduction of fast motion is another impressive feature. Most of the LED TVs lose resolution and judder while showing motion, but that isn't the issue with Sony TV 43 inch model.

Its woofers are pretty impressive, and they deliver low-frequency bass. It helps in maintaining the clarity of the sound on both lower and higher frequencies.
The Final Advice
While testing, we began by customizing its home UI. Pleasure started to build up from there onward. After that, a cricket match clip, a couple of online videos (one HD quality and another one pretty low quality), then played some songs, and guess what, we were not stopping! Everything seems so pleasureful with this TV! Especially focusing on the smooth reduction of fast motion, we didn't find something that convenient in any of the TVs as this listing.
---
13. Mi LED TV 50 Inches 4A PRO (123.2 cm Full HD)
MI 43 inch LED TV price impressed you, right? Now comes the Mi LED TV 4A PRO, which is a superb 49 inches TV. Do you know, this 49″ model costs below Samsung TV 43 inch price! Yes, it costs around 30000 rupees, without compromising with features. However, we mentioned some decent choices regarding screen quality up there, out of which, certain are beating Mi LED TV 4A PRO regarding color saturation and added features, but if you want a larger screen at a reasonable price, then Mi LED TV 4A PRO highly suits.
The Specs
LED TV

Table Top Stand

Power cable/power supply adapter

User Manual

1 Warranty Card

Remote Control
Features
The full HD resolution measures 1920x1020p with a 60-hertz refreshing rate. Gaming consoles, Blu-ray players, and set-top boxes can be conveniently connected with its 3 HDMI ports. Here' e one extra, as this price, hardly any LED TV provides you with 23 HDMI ports.

As the screen is larger, the gaming experience proves to be better here. Another benefit of a larger screen and good sound is that you can sit away for watching it and besides enjoyment, protect eyes as well.

This TV comes with PatchWall with an integrated set-top box. Chromecast is also built-in. Just download any movie on your phone, do mirror cast that movie from your smartphone's screen to this TV, and elevate your watching experience. You've got 700,000+ hrs of Content to enjoy.

Mi Remote comes with a Google voice search, and you can access Content in 15 varieties of languages. Play Movies, Play Music, Play Store, YouTube, Hotstar, Voot, Zee5, Eros Now, Alt Balaji, Sony LIV, Hungama, Hooq, TVF, Sun NXT, Epic ON, Flickstree, etc. are all easily accessible.

This remote can be further used for controlling the set-top box and other smart home devices such as Mi Air Purifier.

This TV arrives with a 64-bit quad-core processor, Bluetooth, and Wi-Fi connectivity, and 2GB RAM + 8GB storage and these specs are impressive.
The Final Advice
Features for price ratio are always a big consideration. Here, that ratio is high. If MI LED TV 43 inch price in India is around 22K, then this 49″ model costs around 30K. However, you aren't getting any ultra-luxurious features, but if you are looking for high convenience regarding picture quality, sound quality, and connectivity, then the Mi LED TV 4A PRO won't let you down.
This TV is highly recommendable for bigger size halls, and most importantly, the sound quality is also fit for such large halls. 1-year is the TV warranty and 1-year extra warranty for the panel. Warranty-related issues are solved instantly. Most importantly, even after costing near to 30000 rupees, this Tv is very sturdy and well-built.
---
14. Kodak 50 Inches 50FHDXSMART LED Smart TV (124 cm Full HD)
At a pretty similar price range, Kodak 50FHDXSMART LED Smart TV is another 50 inches TV for you. A significant price drop is noticed with this TV in the last year, and you can buy it for less than 30000 rupees, which is unbelievable. In terms of features, design, features, and performance, one has nothing to complain about. The picture quality is very sharp, and it can easily compete with some 40-45000 rupees TVs out there. You enjoy sharp images and vivid colors.
The Specs
LED TV

Table Top Stand

Power cable/power supply adapter

Wall Mount Bracket

User Manual

1 Warranty Card

Remote Control
Features
Kodak 50FHDXSMART LED Smart TV is surely not the sleekest TV out there, but at its price, it is sleek and attractive enough. However, the back seems a bit bulky, but the overall weight is 15.4, which is less than similarly sized and priced competitors.

Regarding price (which recently dropped down to 26000 recently), certain specs are highly appreciable, such as a response time of 8 Milliseconds, Image Contrast Ratio of 1920 x 1080 Pixels, an image contrast ratio of 4000:1, etc.

Sound is among the biggest issues with cheaply priced LED TVs. Generally, at low and mid-volume, the sound quality seems acceptable, but as soon as you turn the volume high, the sound quality becomes sympathetic. Nothing is clear. Fortunately, the sound quality of the Kodak 50FHDXSMART LED Smart TV remains superb even at a high volume. 20 Watts is the audio output.

You can wirelessly share media from your mobile phone to this TV through the Miracast app, and the whole process doesn't take even a minute!
The Final Advice
The multiple connectivity options allow you to enjoy this TV to the fullest. Connecting Kodak 50FHDXSMART LED Smart TV to gaming consoles, mobile, tablet, etc., is a breeze. At this price, if you visit the nearby showroom to buy a 50 inches TV, then firstly, the salesman would laugh, secondly, even if he provides you with one, then surely there will be issues in at least one department out of picture quality, sound quality, design, or durability. Most of the 50+ inches TV of this price start begging for repairs after a year or two, while Kodak 50FHDXSMART is a highly dependable one. Undoubtedly, buying Kodak 50FHDXSMART LED Smart TV is a win-win bet for you.
---
15. LG 32 Inches 32LJ573D Ready LED Smart TV (80 cmHD)
Now, if you want a reliable LED TV for a smaller living room or your kids' room, then without spending much, LG 32LJ573D Ready LED Smart TV will all conveniences and expected features. The price will stun you (it's below 20000!), and nothing unpleasing is there, no matter the functions, interface, sound and picture quality, color saturation, etc. Besides the Live zoom feature and expanded memory, there much to enjoy with LG 32LJ573D Ready LED Smart TV, and it's very durable also.
The Specs
LED TV

User Manual

Table Top Stand

Warranty Card

Remote Control
Features
Do you think that smaller TVs don't come with that powerful sound? Well, you're wrong in this case! The sound quality and output of the LG 32LJ573D Ready LED Smart TV will make you a fan. 20Watts is the audio output.

At such a low price, you experience unbelievable life-like colors with this TV, and viewing it from wider angles will also bring you the same pleasure. No need to frequently set the contrast and brightness, as it remains uniform regardless of your viewing angle.

The screen is very sturdy and can withstand minor accidents. Most importantly, LG components are considered among the least expensive, and these are widely available. So, even if you face any fault, repairing this TV will neither cause any hassle nor make a hole in your pocket.

The interface of the LG 32LJ573D Ready LED Smart TV is highly appreciable. No functions and systems in this TV are complicated enough to baffle somebody. webOS ensures convenience, pleasure, and ease.

The music player is another luxury, and you can enjoy several sorts of music via this TV's powerful speakers through numerous apps even while shutting the screen off.
The Final Advice
The only department where you are compromising is connectivity. 2 HDMI ports and 1 USB port are what you get here. So, if you are more into attaching devices, then you might have to elaborate a bit more, but as I said, if it is for your kids' room, then so much connectivity is not needed either. Compromising with 1 HDMI port and 1 USB port less must not hurt if you are saving around 10000 rupees for that, right? Be confident in buying LG 32LJ573D Ready LED Smart TV as your investment is entirely safe. Reliable LG components are used in building this TV, and LG is the synonym of durability; all know that.
---
Buying Guide



Starting right from some quick tips, we will discuss best LED TV brands, what are their types, LED TV considerations, and all necessary features. There's much to know! Let's move on! Besides concentrating on the color blend, contrast, picture quality, brightness, etc., we have deeply analyzed the internal components, and we do know what TVs will serve you for more years.
We've brought you one-time investment TVs (TVs are selected by professionals). Most importantly, the TVs will come at cheaper rates than your nearby TV showrooms, as we have selected the cheapest Amazon links. The price categories are under 25000 and under 50000 rupees.
Also, beside all these model we also recently reviewed Motorola TV, which proved itself among the best TV models out there.
Which Brands for 43-inch TVs are the best?
The following are the top 3 best TV Brands in India, which are all highly-trusted manufactures, extraordinary TVs of all kinds. Besides these three, several other TV brands are also there that we've included in our guide.
Samsung
Samsung is outstanding in the TV business. It has a huge selection of models running from little 720p budget TVs to an 8k premium TV that has as of late hit the market. The picture quality of most Samsung models is extraordinary, and the TVs are furnished with generally excellent smart features that are the aftereffect of Samsung's research for upgrades around there.
Samsung's smart platform, Tizen OS, is among the best available. Every year, Samsung includes new technologies and innovative features in their TVs to improve execution and make them outstanding. This year Samsung presented the 'Ultra Viewing Angle' technology, which improves viewing angles to the expense of lower contrast.
It was incorporated into its best quality models, the Samsung Q80R, Samsung Q90R, and the 8k Samsung Q900R. Another recent expansion is the 'Ambient Mode' which changes the TV into an artwork.
LG
LG is one of the primary TV manufacturers that created OLED TVs. The emissive technology enables the TVs to turn off individual pixels in this manner delivering flawless blacks and improving picture quality. LG additionally creates countless LCD TVs, utilizing essentially IPS panels that have more extensive viewing angles as compared to VA panels to the expense of lower contrast. LG's TVs to the lower end of the lineup are more affordable.
In comparison with different brands, LG LED TVs to have extremely low input lag and more wide viewing angles because of their IPS panels, as clarified previously. These qualities settle on them a decent decision for use as a PC screen. Shockingly, the low contrast ratio harms dark rooms performance as blacks will, in general, look progressively like the dark.
LG TVs run LG's WebOS, extraordinary in comparison to other TV working systems accessible. It's a smart TV stage that is quick, simple to utilize, and gives you access to one of the biggest application collections where you'll unquestionably discover what you need. LG ships with one of the most developed remotes that enable you to explore through the menus with no issues rapidly, and the most recent remote models even come with a pointer. 
Sony
In 1960, Sony turned out with their first transistor TV. Ever since Sony became one of the greatest TV manufacturers, continually being at the edge of technology. In 2018, they consolidated their product offerings and made it easier for buyers to pick a TV. Sony ranges the whole market and has an item for each need, from the fundamental 4k section level TV to the most technologically advanced OLED TVs for TV aficionados. Sony places a higher need for quality & picture accuracy when contrasted with different manufactures. 
All TVs in their lineup are well-assembled, have great motion handling, and incredible upscaling of lower resolution content. Sony has been updating a large portion of its TVs to Android TV 8.0. This, aside from giving you access to the Google Play Store with multiple applications, works a lot quicker than its predecessor, Android 7.0 & solves one of Sony's biggest deficiencies.
Essential Factors to consider in the Best Smart LED TVs
Resolution
Resolution shows the number of pixels that make up a picture on display, described in terms of vertical columns and horizontal rows. More pixels convert into a more sharp picture and better details, so higher resolution is quite often better. For a long time, the 1920 x 1080 resolution, also called full HD, has been the standard, is as yet the most well-known resolution in TVs crosswise over the globe. However, Television manufacturers are quickly moving to Ultra HD sets (also called 4K).
These 4K models have multiple times the number of pixels as present HDTV screens. We are talking 2,160 lines or 3840 x 2160 pixels. The greatest advantage of 4K TVs is that little objects on the screen have more detail, including more sharp content. Overall, pictures seem richer and more life-like as compared to an HDTV, yet the advantages can be subtle. The more sharp picture also has the additional advantage of letting you serenely see the screen from a shorter separation, making bigger TVs increasingly agreeable to see in a standard measured home.
Ultra HD video looks incredible, and it's getting simpler to discover. A few streaming services, like Netflix, Amazon Video, and even YouTube, have begun offering 4K content, making smart TVs and streaming sticks your best bet for finding 4K movies and shows easily. While ultra HD Blu-Raydics are becoming normal, they're still less basic than standard 1080p. Live TV hasn't completely embraced 4K yet; however, Direct TV, Dish Network & Comcast Xfinity have all begun offering 4K films. Although Ultra HD sets are capable of upscale existing HD content, the outcomes can be mixed and don't look as sharp as unique 4K programming.
Credit: TrakinTech
HDR
HDR is also called High Dynamic Range and gives genuine life-like pictures. The display of a TV with high HDR creates more colors, and the pictures will be bright. The accessible HDRs are HDR 10 and also the Dolby Vision.
Refresh rate
The refresh rate is normally the number of times a picture on the TV gets changed every second. Smart TVs have a higher refresh rate and provide display smooth pictures with no blur at all. Take the best 40-inch smart led TV in India, and you will see that the refresh rate will be high in such TVs.
Contrast
The TVs that have a higher contrast ratio give incredible details in each scene. Smart TVs increase in higher complexity when compared to ordinary TVs that have lower contrast. The TVs with lower contrast make the black color look grey, and also the details of the picture may get lost too. Samsung 43 inch TV highly impressed in this department. At a low price, MI TV 4A 43 inch impresses.
Quick Tips
In case you're rushing, here are the essential points to consider before you purchase a TV. We clarify every one of these points in more great detail in the information underneath:

Don't purchase a TV with under 4K resolution (i.e., stay away from 1080p sets) if you need a future confirmation set.

TVs that we have recommended are all having an impressive sound system but if you're looking for next-level sound output, then read Best home theaters In india Reviews, in which we've described the most amazing home theatres out there, which you can connect to your TV.

You can avoid 8K TVs for now: The forward jump in resolution is certainly not an absolute necessity have yet. 8K TVs are too costly, and you can't get any 8K films yet. It will be a minimum of a year before 8K TVs are even something that you should consider.

Try not to purchase a TV with below a 120 Hz refresh rate.

Search for an HDR-compatible set, which provides more realistic colors and excellent contrast.

Overlook contrast-ratio specs: manufacturers fudge the numbers, trust in your own eyes.

Search for a minimum of four HDMI ports and decide on the newer HDMI 2.1 format.

Most TVs are "smart TVs" nowadays, with simple access to Netflix and other online applications. Avoiding getting fooled into considering this is a big deal.
Do You Really Need a Smart TV?
With the progression in technology, Smart TVs are presented nowadays.

With a smart TV, you can do various other things as compared to watching kid's shows or films.

When you move up to a smart TV, you will encounter a fresh, better, and brilliant picture quality that you could ever envision.

The best thing about Smart TV is the way that it accompanies inbuilt network connectivity, in which you can excess multiple online services from your TV and enjoy your favorite programs.

In this way, we commend you to buy smart TV rather than an ordinary television if you want more different features.

Most importantly, we recommend you to keep your TV safe from voltage issues, as you're spending pretty high. We tested 8 top stabilizers and found that V-Guard Crystal Plus Supreme is the best voltage stabilizer for a 43 inch led tv. Besdies that, if you want a cheap solution yet wanna enjoy big screen, we would suggest you go with best projector under 200.

Benefits of having a Smart TV over an Ordinary LED TV
Technology advancements today have cleared a path to the up-gradation of the TVs that open up to a wide range of features, activities, and entertainment alternatives.

With Smart TVs, watchers can get what to watch, at whatever point they like. This choice isn't made accessible to ordinary LED TVs.

The ability to connect with the internet with an in-built Wi-Fi, connecting your smartphone or the PC to your TV, is cool.

Option for streaming your videos & music online.

Video streaming of your 4K ultra HD videos will be possible with smart TVs.

Built-in media player.

Watchers can also play their favorite games, and they also can go through a universal search with ease.

Option for installing different applications based on use.
Credit: The Tech Think
4k Ultra HD v/s Full HD Technology
The 4k Ultra HD technology provides a resolution of 2160p. This is multiple times more than what you get in FULL HD TV that is accessible in the market nowadays. With 4K Ultra HD, you would get a higher clarity of pictures. Other than this, with this resolution, you would have the option to sit near the TV and have an excellent experience of watching TV.
With FULL HD technology, you will get a picture resolution of 1080p. This resolution is additionally viewed as enough to provide you with an excellent watching experience. Watching Blu-ray movies on full HD TVs will be very easy. From the above examination, it's clear that 4K Ultra HD is unquestionably superior to Full HD.
What are the various kinds of Displays in Smart TV?
Following are the 4 types of displays available in smart TVs:
Plasma: Plasma TVs have high resolution and positively no glaze or picture distortion. The TVs with plasma display give amazing watching angles.
LCD: The TVs with LCD displays have an excellent display quality that is better than expectations and are thin. The flat panel has a small geometric deformation that gives very limited watching angles.
LED: LEDs are the updated versions of the LCDs, and two different types are there to choose from– the Direct LEDs and Edge-lit LEDs. TVs with LED display are very efficient and have a thin shape.
OLED: OLED TVs give an awesome picture quality and definitely have no distortion at all. With their thin shape and deep color, these are known for rapid image processing.
Different Connectivity Options in a Smart TV
A Smart TV can be associated with different external devices utilizing different connectivity ports.
The normal connectivity ports accessible for Smart TV are mentioned below.
USB Port: Different USB gadgets like pen drives or internet dongles can be easily connected via a USB port.
Bluetooth: Smart TVs also have an alternative of Bluetooth utilizing, in which different Bluetooth gadgets can be connected with your TV.
Wifi: Each smart TV can be associated with the internet via in-built wifi.
Display Technology: A TV is all about the display. Everything else is secondary, and to ace that display, you will need some truly advanced tech that isn't simply up to date regarding current times but should be future-proof as well to a few extents. For that very reason, we recommend you put your valuable money into an HDR-compatible set. Such TVs will effortlessly have better contrast & realistic colors as compared with normal sets.
Cost or Purity?
While the facts demonstrate that TVs nowadays have such huge numbers of varieties and styles invested in them, and there might be such a large number of various features that an ordinary purchaser might be keen on, there is another perspective to it as well. It's entirely simple for you to forget about your consumption in the presence of functionality and wind up spending more than you've planned.
To ensure that doesn't occur, we recommend you to not only consider the features in which you're investing but also think about how much you're investing. As a side note, OLED TVs regularly have an exceptional display, even though they cost a tiny bit higher than normal LCDs or LEDs. It is presently dependent upon the buyers to choose whether they truly need an OLED display or whether they could manage without spending that extra amount.
Size
Size sure does make a difference. Try not to roll on with a hurried choice into purchasing a big-screen TV since you can manage the cost of it. Picture the placement of the TV. You won't require as large a TV for your room as the one you'd need in a front room. In case you're sitting excessively near a 55-inch smart TV, the essence of its clearness (regardless of whether it's 4K) is lost. For a larger TV, it's ideal to appreciate the show from more distance.
If you're planning to buy a 43-inch TV, ensure there's a viewing distance of 6 to 9 feet, but if you are purchasing a 60-inch television, at that point, you can go similar to 12 feet for a better watching experience.
Sound
In case you're shopping for a TV online, you can just believe the customer reviews. But if you prefer to go into a store, you should think about some clarity on the sound. Usually, the shops have various models connected next to each other and all playing a similar clasp at the same time on a circle. So the sound may feel convincing. What you can do rather is demand the salesperson to quiet different TVs around the one you wish to buy and be the judge. 
You should walk back the distance where you figure the TV will be put in your house and get a good understanding of the TV's sound. If you're going for a top model, the demo zone setup for it will be like a small theatre, complete with a top home theatre system for boosting up your experience. Except if you intend to purchase the whole setup, consider the viewing of the TV with its in-built sound.
If it doesn't sound better, it most likely isn't regardless of what the salesman is attempting to sell you. But if everything else is excellent, you can generally purchase a home theater system to help the sound. There are numerous TV options in different ranges to fit your budget and luxury.
The Conclusion
Several amazing TVs were there, right? We are still doubtful that a few out of you might be confused regarding which TV to choose when every single out of them was awesome. So now, we'll mention which TV perfectly fits your needs!
Kodak 43UHDXSMART is the overall best cheap 43″ TV for you. Talking about the bestseller cheap 43″ TV, then it's none other than Mi TV 4A Pro. Now, if your budget is as low as 17000 approx and still looking for a high-feature TV, then Micromax L43Z0666FHD has everything to surprise you. 
In the under 50k category, Samsung UA43N5300AR TV is the most reliable and luxurious one. LG 43UM7290PTF TV is the best regarding color saturation. 
If you want the feel of a home theatre from your TV, then buy LG 43UK6360PT, as it brings the best sound experience.
For sports lovers, we recommend LG 43LJ554T Smart TV because you get an amazing Screen enlargement feature, helping you in enjoying close details. Besides 43″, if you're looking for a larger screen with high convenience, then Mi LED TV 4A PRO is a perfect 49″ TV for you, costing reasonably.
Similarly, the best cheap 50: TV is Kodak 50FHDXSMART, costing around 22K, and finally, LG 32LJ573D is the most recommendable 32″ TV.